This post may contain affiliate links. Read my disclosure policy here.
This Steak & Arugula Salad with Sun-Dried Tomato & Lemon Dressing is the perfect combination of flavors and textures. The steak is rich and savory, while the arugula salad is fresh and light. The arugula is slightly peppery, so the lemon adds the perfect amount of acidity to cut through the fat and balance the flavors out.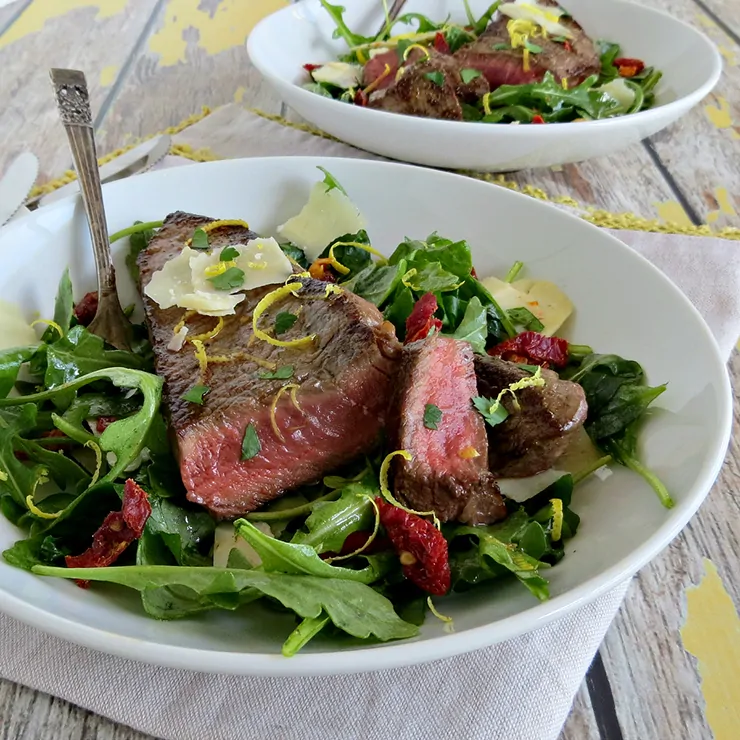 You can use any kind of greens you want. Spinach, kale, or Swiss chard would all be great options if you want to replace the arugula. If you don't like sun-dried tomatoes, leave them out. I've also made this with seared scallops for an equally delicious meal.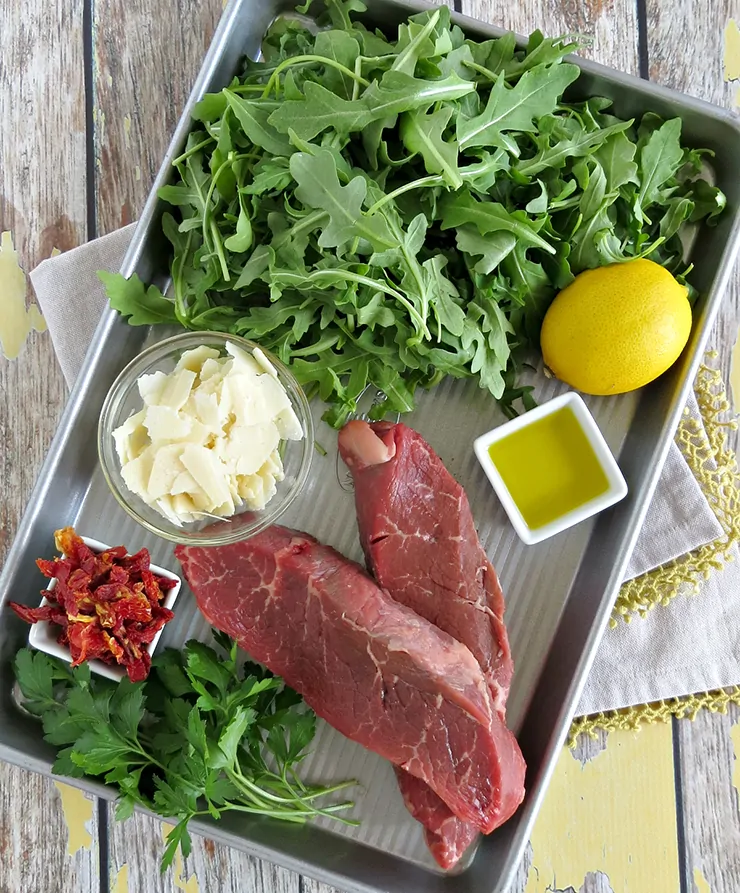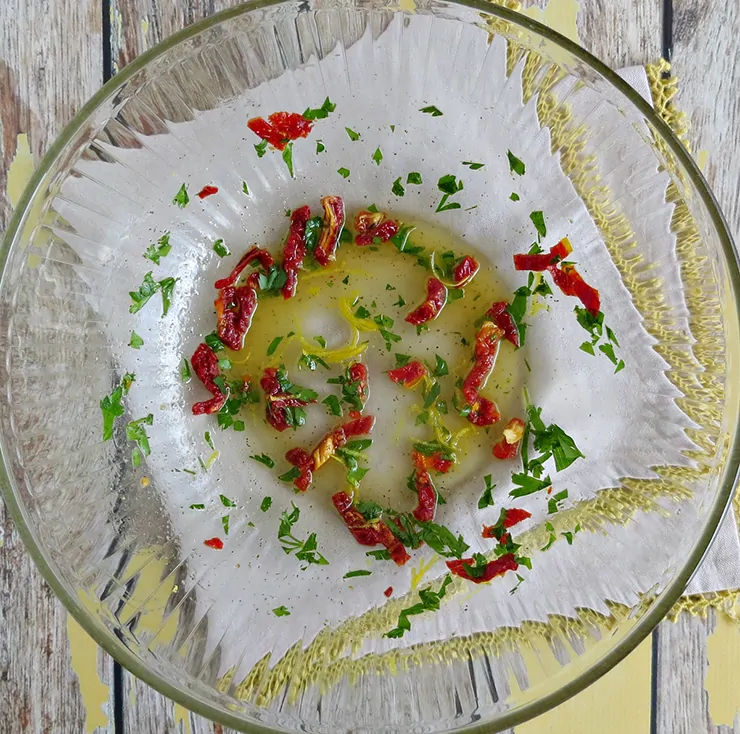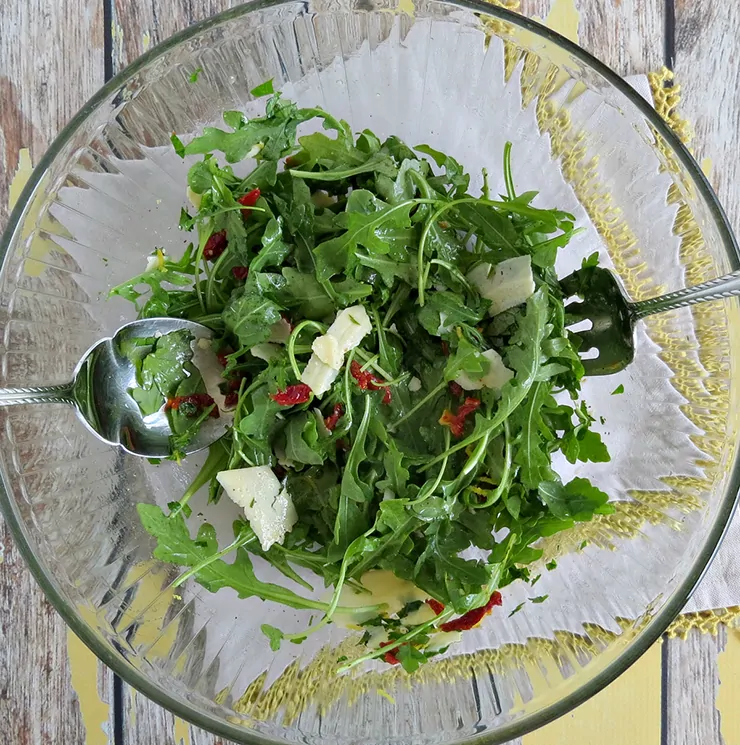 While cooking the steak, try not to mess with it too much. You can rotate it around the pan to ensure even cooking, but you only want to flip it once.
While you want a constant sizzle, you can turn the heat down a little if it appears to be cooking too hot.
We like a medium-rare steak, but you can cook yours for a minute or two longer on each side if you like it more done.
It's very important to allow the steak to rest before slicing it. Slicing a hot steak will cause all the juices to run out, yielding tough, dry meat.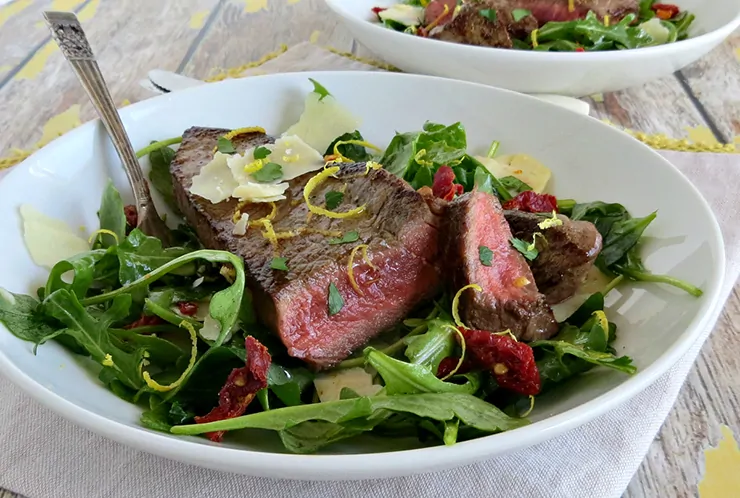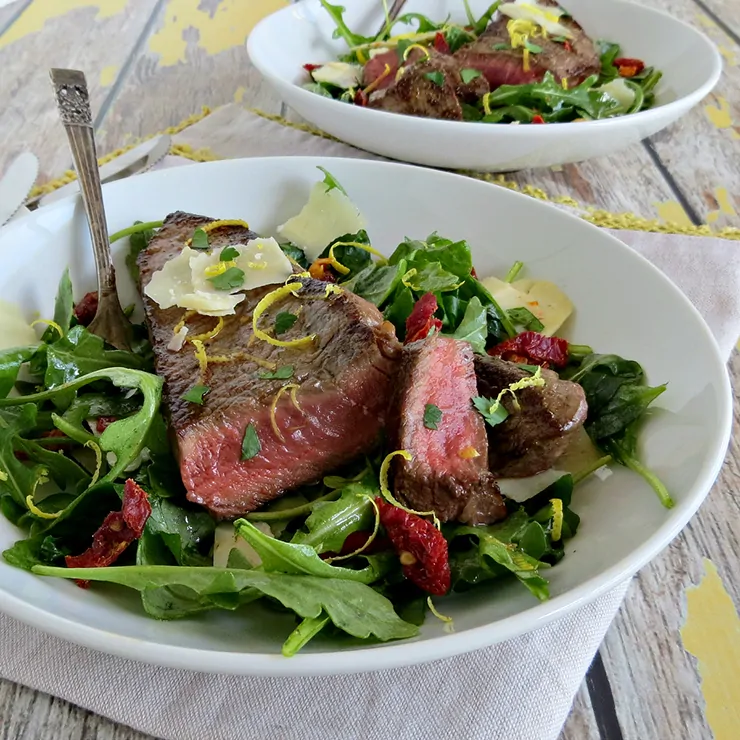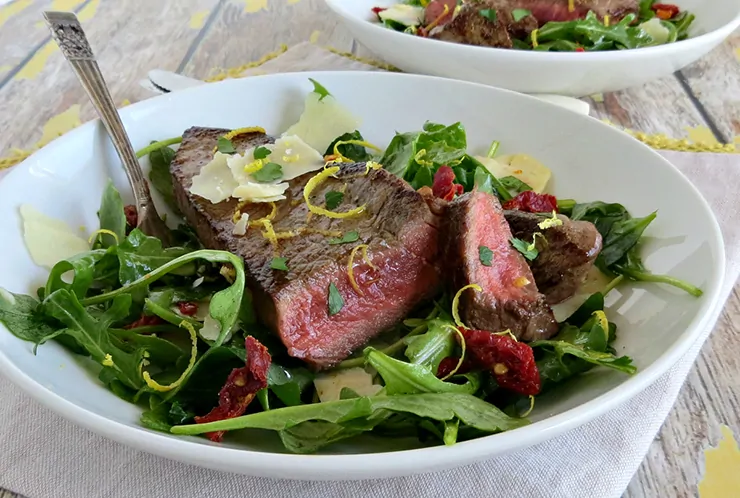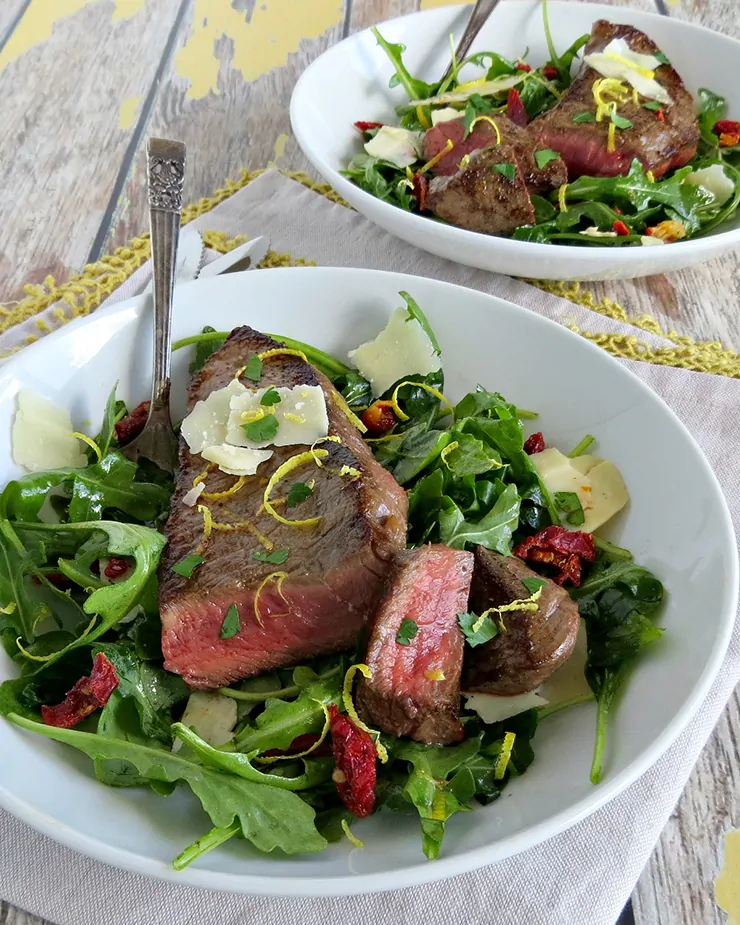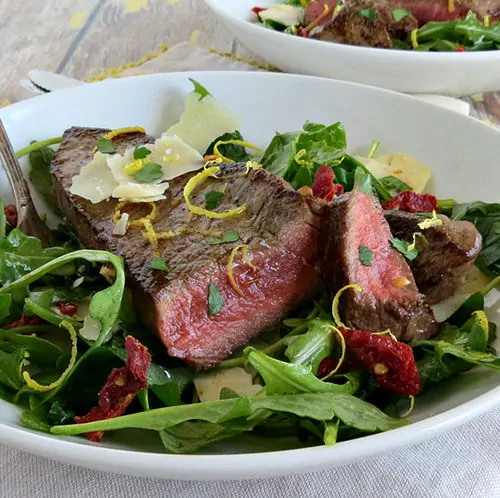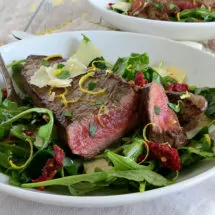 Steak & Arugula Salad with Sun-Dried Tomato & Lemon Dressing
This salad is the perfect combination of flavors and textures.
Print
Pin
Rate
Ingredients
2 6- ounce top sirloin steaks
2 large handfuls of fresh arugula
3 tablespoons olive oil divided
1 medium lemon juiced & zested
1/4 teaspoon salt divided
1/4 teaspoon pepper divided
2 tablespoons sun-dried tomatoes chopped
1/4 cup shaved parmesan cheese
Small handful fresh Italian parsley chopped (appx. 1/4 cup)
Instructions
Place a skillet on the stove over medium-high heat. When the pan is hot, add the olive oil.

Season the steak with a 1/8 teaspoon each of the salt and pepper, and carefully lay them in the skillet.

Cook for three minutes on one side, turn them over, and allow them to cook for another three minutes. Remove them from the pan, and set aside to rest for five minutes.

While the steak is resting, you can make your dressing.

Add one tablespoon lemon juice and one teaspoon zest to a big bowl.

Drizzle in the olive oil, constantly whisking to emulsify.

Add most of the parsley, sun-dried tomatoes, salt, and pepper, and stir to combine.

Add the arugula and most of the parmesan, and toss to coat.

Divide the arugula salad up between two serving plates.

Slice the steak into bite-size pieces, going against the grain, and arrange it on top of the arugula.

To serve, garnish with additional parmesan, lemon zest, and parsley, if desired.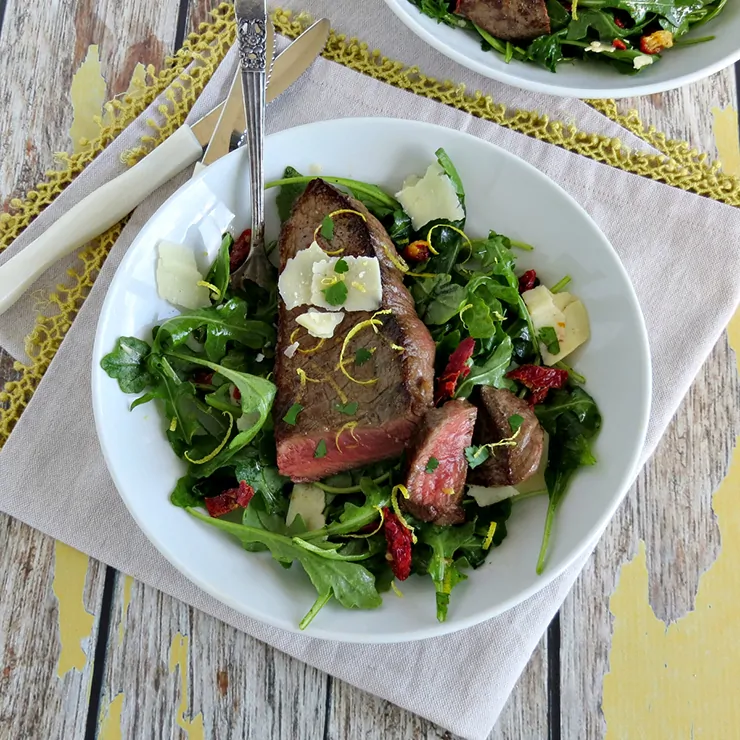 Pin for Later
Pinning & sharing is SO appreciated!

Written by Susan Carraretto, co-founder of 5 Minutes for Mom
Talk with me: @5minutesformom and Facebook.com/5minutesformom
Pin with me at pinterest.com/5minutesformom