This post may contain affiliate links. Read my disclosure policy here.
This is it. I have created my ultimate comfort food recipe: Instant Pot Dijon Chicken Risotto. This one-pot recipe brings together zesty, flavourful rosemary dijon chicken with the heavenly creaminess of buttery risotto and handfuls of healthy greens, tenderly wilted from being tossed in the risotto just before serving to create a chicken entree so delicious it is almost life-altering.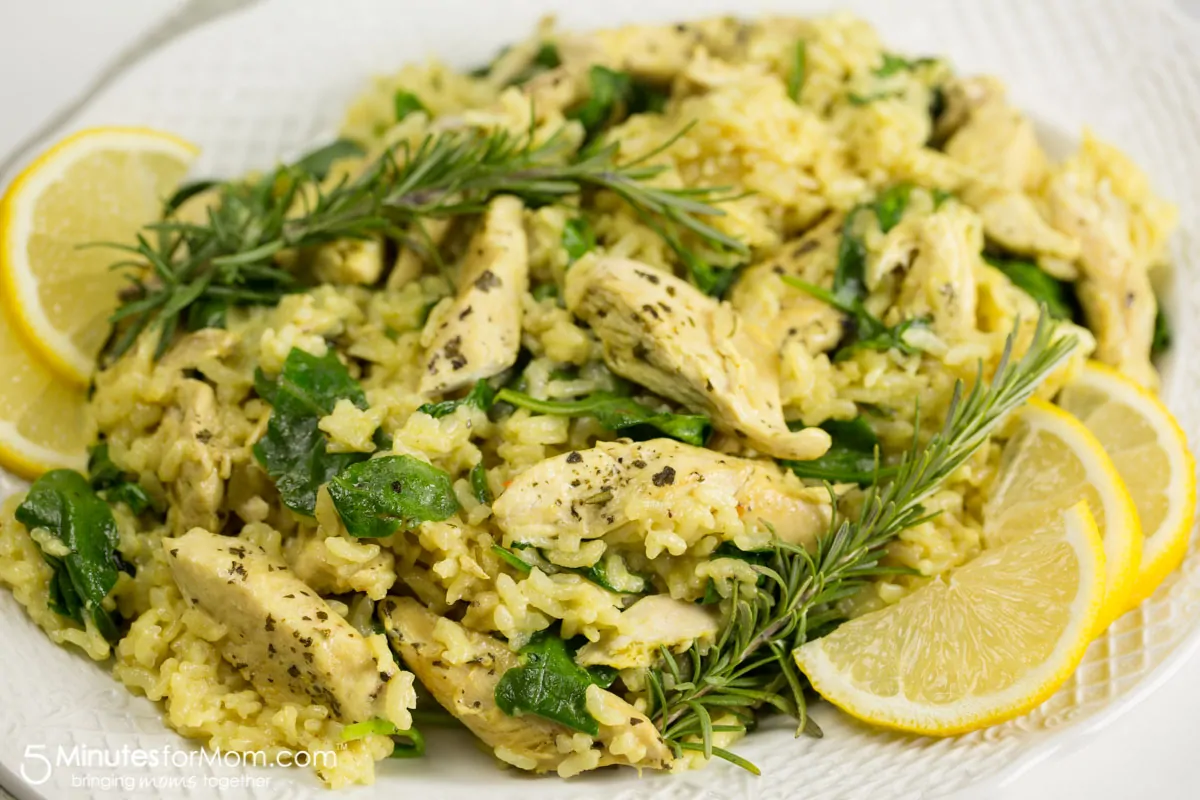 I based this Instant Pot chicken risotto recipe on my favourite go-to olive oil vinaigrette that I whip up almost daily for my salads.
The vinaigrette recipe combines my favourite Italian herbs, oregano, basil, rosemary, with the punch of dijon and yellow mustards, the tang of apple cider vinegar and the zest of turmeric, to create an intense flavour that I return to salad after salad. It is that perfect.
And because of the magical Instant Pot, this delicious one-pot chicken risotto recipe is also a quick and fool-proof recipe you can make any day of the week. I warn you though — it is such a comfort meal, you won't be able to stop making it.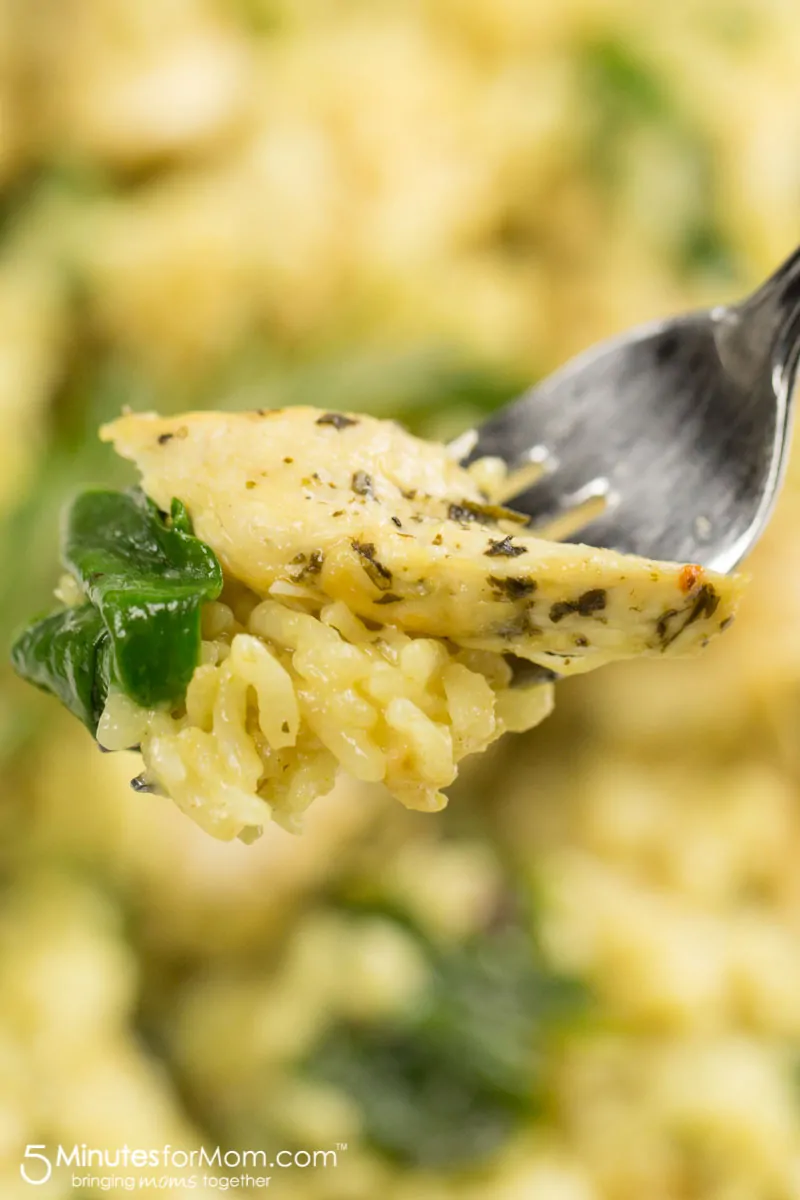 I just finished eating a heaping plateful and I am already doing the mealtime math to figure out when I can make it again.
Why the Instant Pot is MADE for Risotto
If it were for risotto alone, I would still sing of the wonder that is the Instant Pot.
I can't ever imagine making risotto without it. I learned to make risotto in the Instant Pot from the HOW TO INSTANT POT cookbook by Daniel Shumski.
The Instant Pot makes cooking risotto so ridiculously easy and impossible to mess up.
I promise you — even if you have never made risotto before, with an Instant Pot, you will kill it! I promise.
All it takes is a generous chunk of butter, four minutes to saute the risotto in the Instant Pot, and then you pour in chicken stock, secure the lid and in under ten minutes you will be eating creamy, perfect chicken risotto.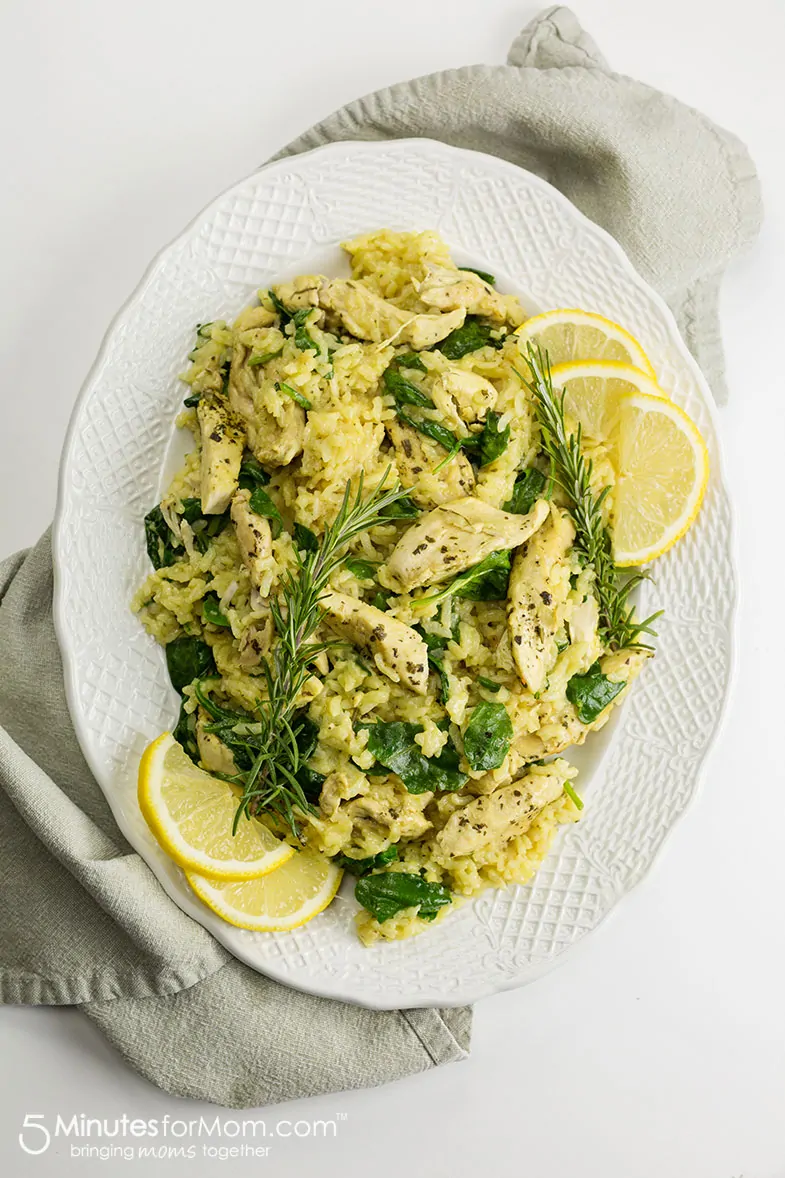 The incredible flavour of this recipe comes from browning your chicken in your Instant Pot first, deglazing the pot, adding butter and sauteing your risotto.
Then, the risotto cooks in the chicken broth, along with the chicken, absorbing all the amazing flavours and herbs.
Once it is cooked, you simply add in handfuls of fresh spinach and greens, toss and serve: a healthy dinner that is so good you might want to weep a little.
(This is the Instant Pot I bought on Amazon last year and I love it so much, Susan bought one for her house too. Please note that is an affiliate link. When you purchase through our link, you help support 5 Minutes for Mom. Thank you!)
Okay, enough talking, time to get cooking… and eating…
How to Make Instant Pot Tangy Dijon Chicken Risotto with Spinach
Let's get started… first prepare your chicken by cutting into strips about 1 1/2 inches wide and 3-4 inches long. The pieces don't have to be exact of course — this is just to have the chicken in smaller pieces to ensure they are fully cooked in the same amount time it takes to cook the risotto.
Season each side of the chicken with salt, pepper, and dried herbs.
Next, turn your Instant Pot to Saute and while it heats up, combine chicken broth with vinegar and mustards, stir, and set aside.
Then add olive oil into your hot Instant Pot and, in batches, lightly brown chicken pieces on both sides, about 2 minutes on each side.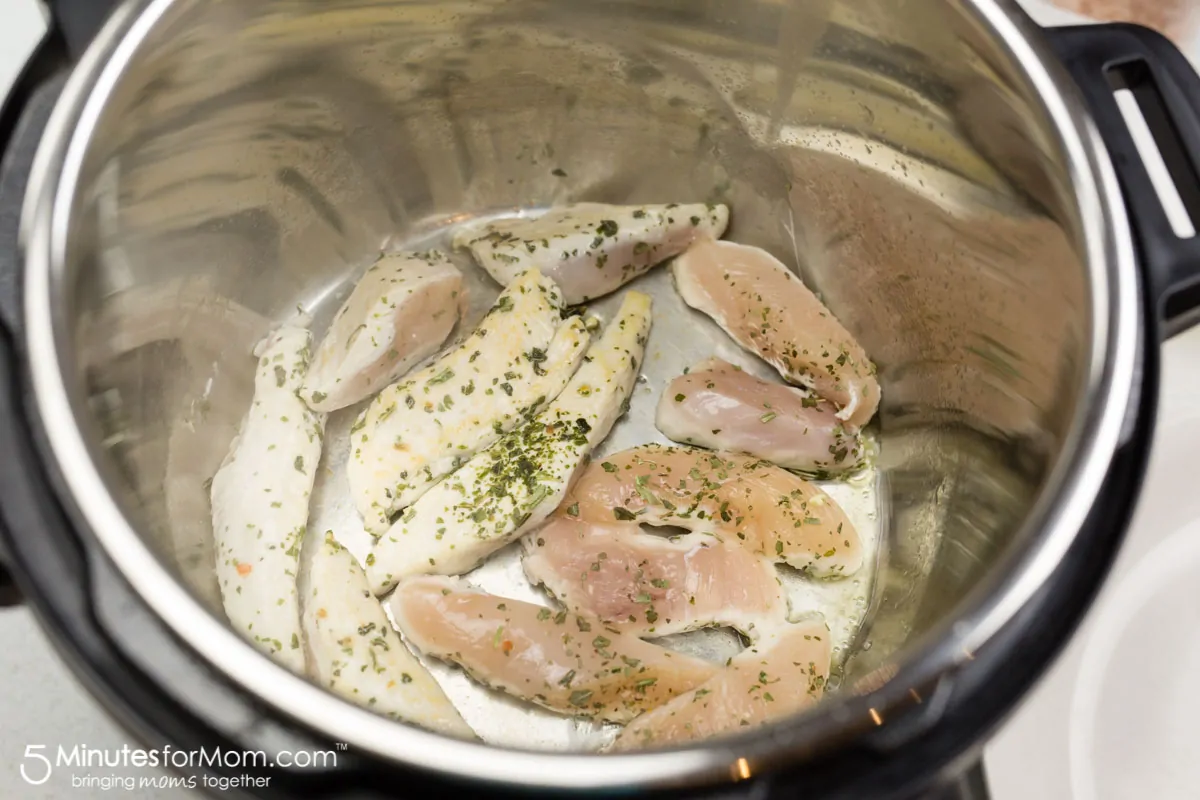 When chicken pieces are browned on both sides, remove and set on a plate while you brown the remaining chicken. You may want to add extra olive oil if you are browning a few batches of chicken pieces.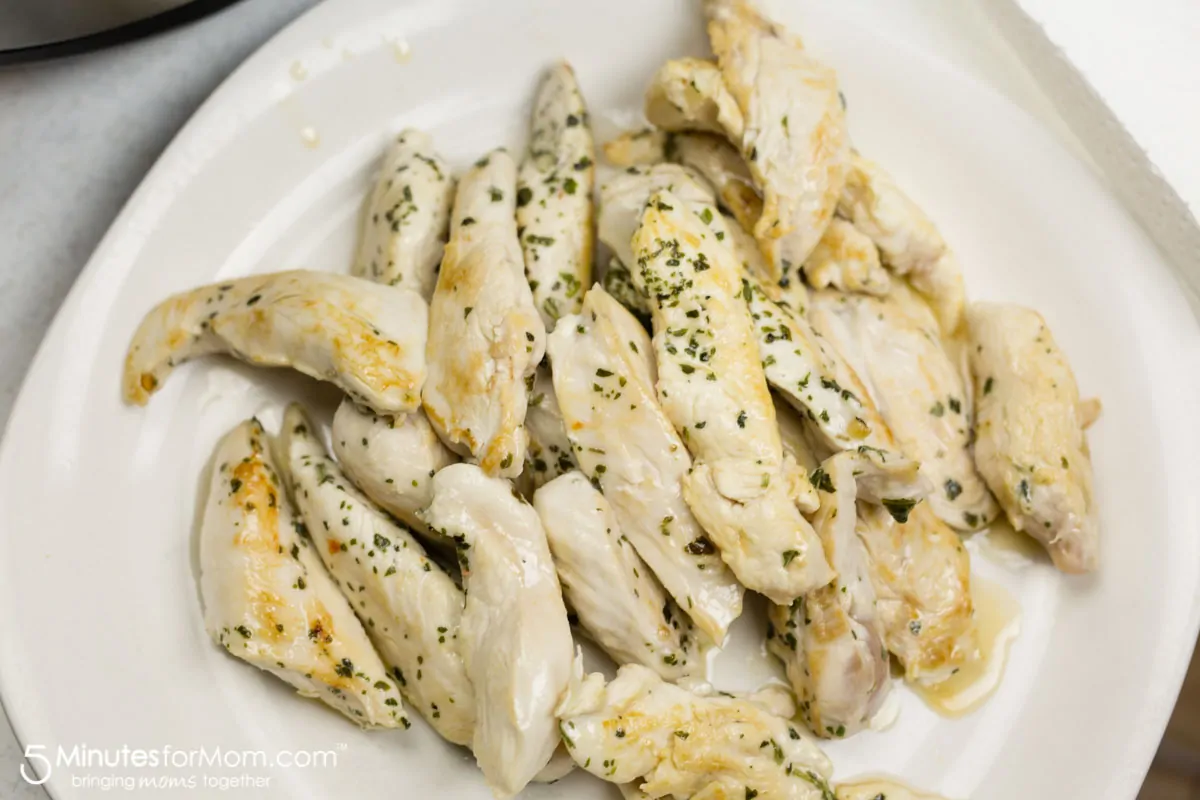 Once all the chicken pieces are browned, deglaze the Instant Pot with a couple tablespoons of water, (or white wine if you prefer.)
Add 1/4 cup butter and minced garlic to the Instant Pot and once the butter has melted, add 2 cups of arborio rice and stir to coat the rice in the melted butter.
Cook the rice with the lid off, for about four minutes, until the edges of the grains of rice are translucent. You should stir often so that the rice does not stick to the bottom of the pot.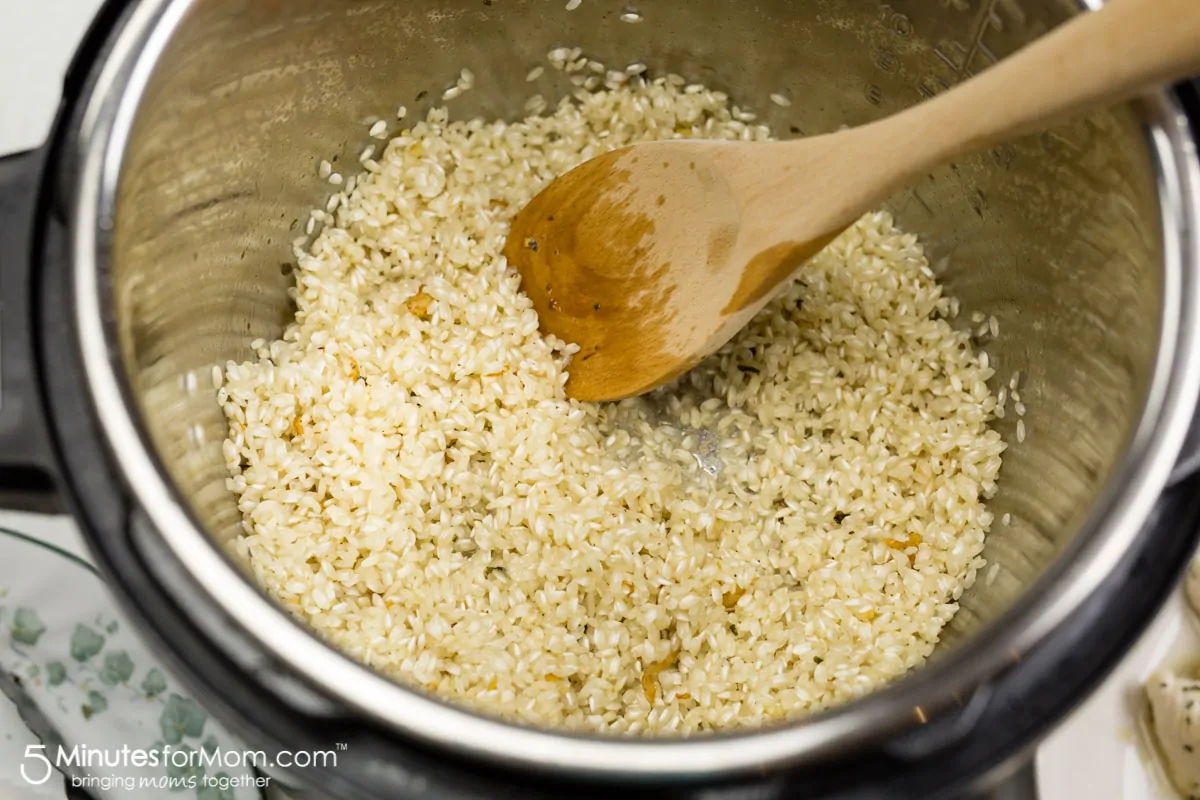 After the four minutes, return the browned chicken to the pot, resting the chicken on top of the partially cooked arborio rice.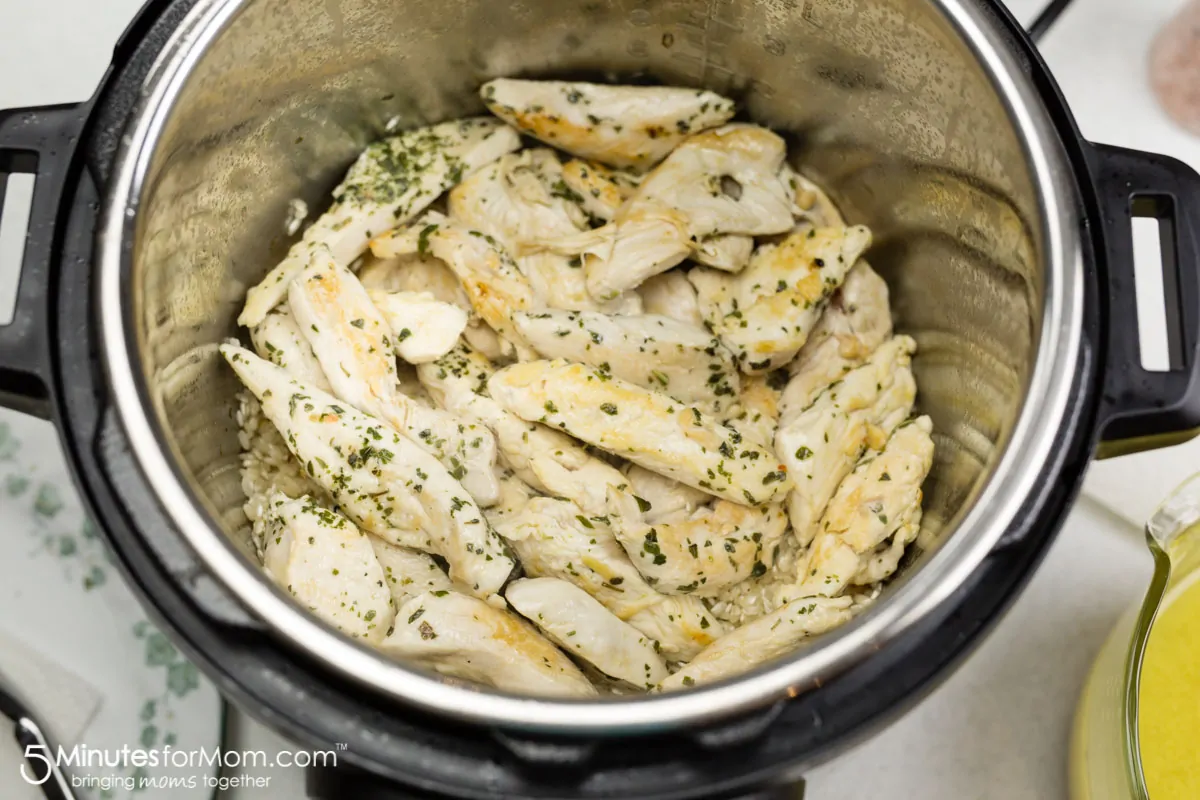 Sprinkle with turmeric and your preferred herbs…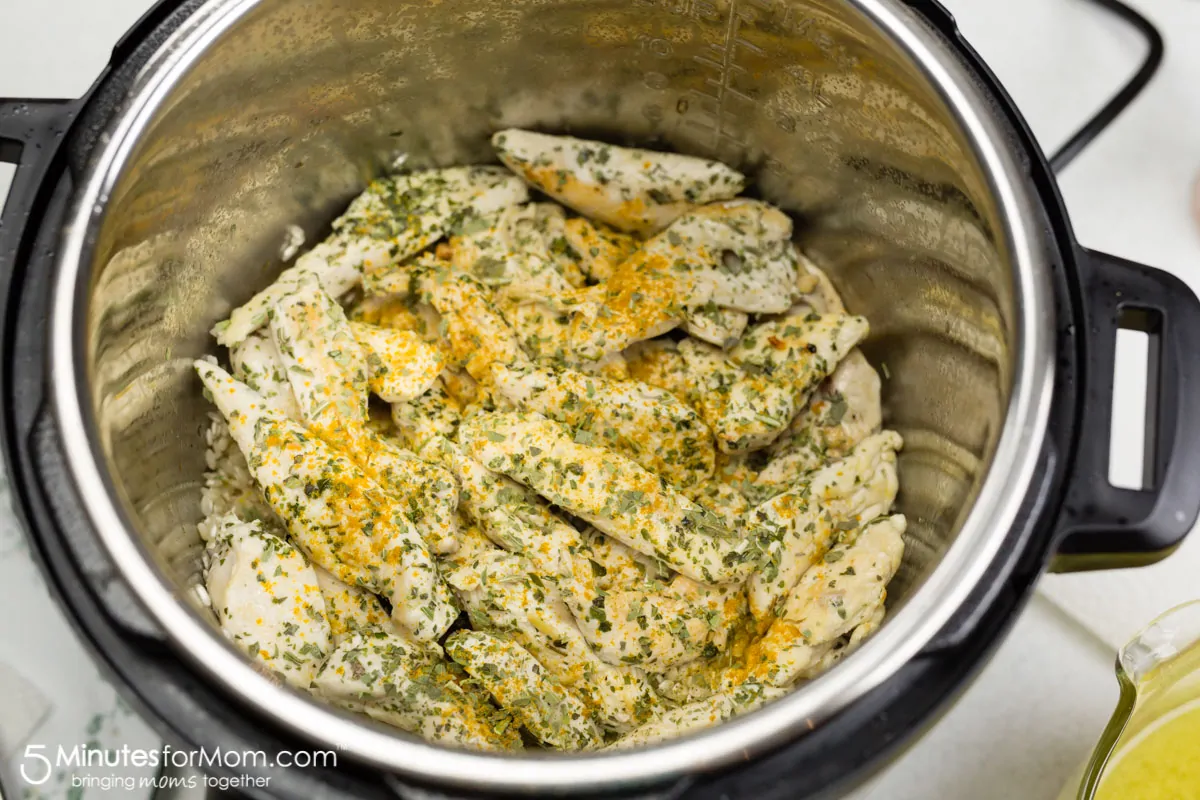 Pour chicken stock mixture into the Instant Pot overtop of the chicken and add fresh sprigs of rosemary.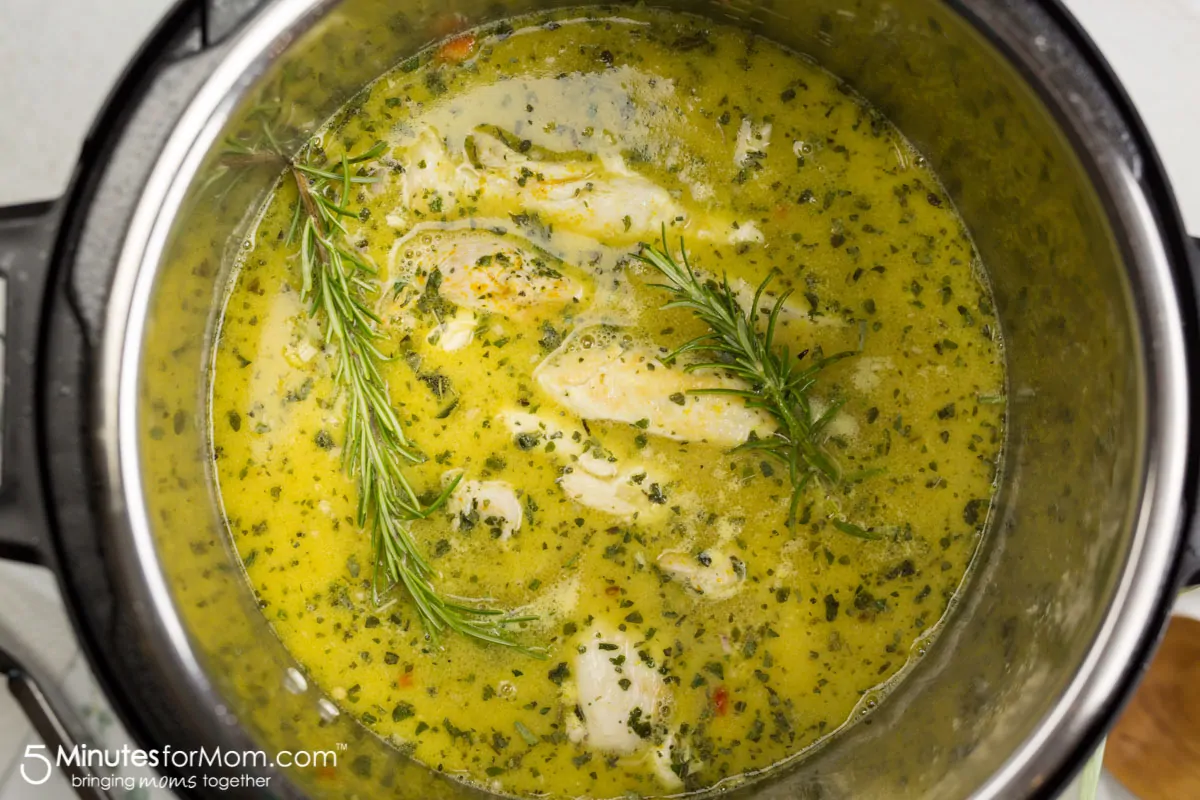 Close and lock the lid. Set the valve to Sealing. Press Cancel, then press Manual or Pressure Cook and use the – or + button to set the time to 8 minutes.
When the cooking cycle is over, allow for a 10-minute gradual release. After the 10-minute gradual release, turn the pressure-release valve to venting, (being careful not to burn yourself with the escaping steam.)
Once the steam is released, open the lid.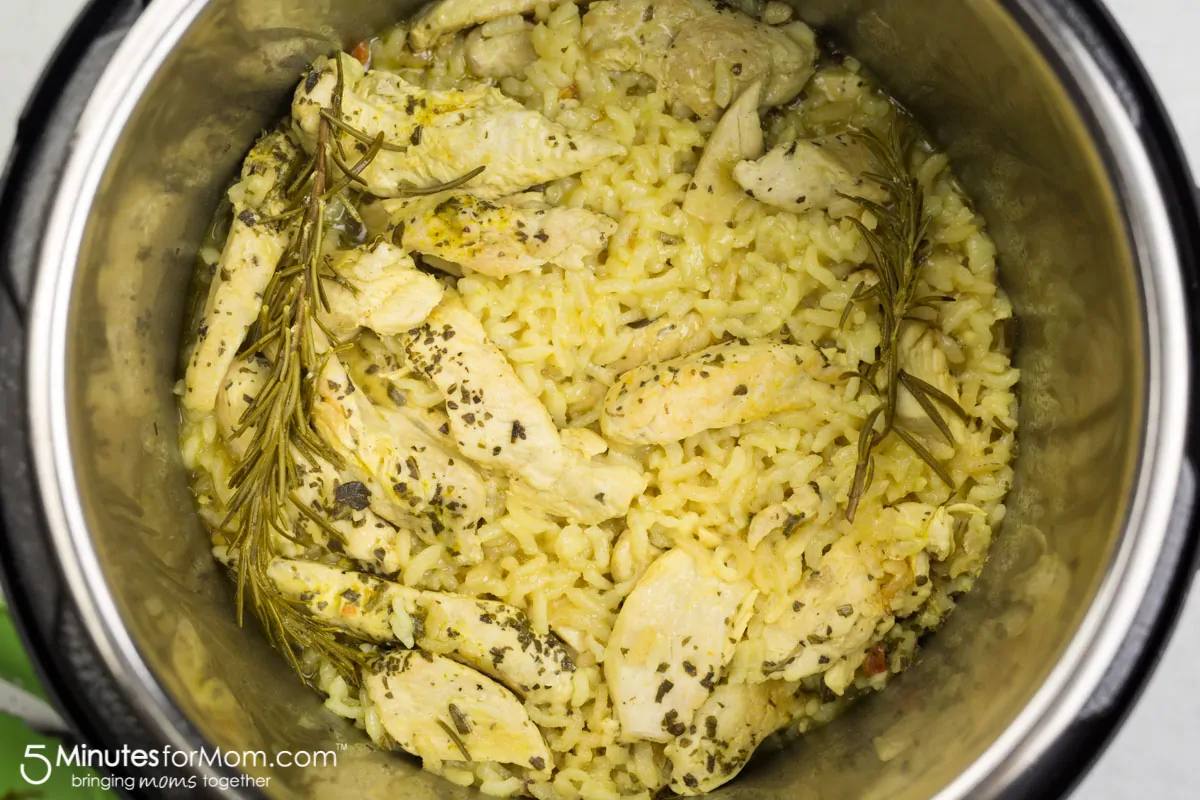 There should still be some liquid around the edges of the Instant Pot when you open the lid at the end of the cooking cycle. This liquid will absorb in a few minutes and you want some extra moisture so that your risotto does not dry out or get clumpy as you stir in your greens.
If you think there is too much liquid, before adding greens, turn the Instant Pot back to Saute and cook for a couple minutes until the extra moisture has been absorbed. (Do not overcook. You still want the risotto to have some liquid and be very creamy.)
On the other hand, if your rice looks too dry, add a couple tablespoons or so of water to ensure your rice is moist and creamy.
When your rice is at the right consistency, add fresh spinach and greens to the Instant Pot and toss until greens are distributed and slightly wilted.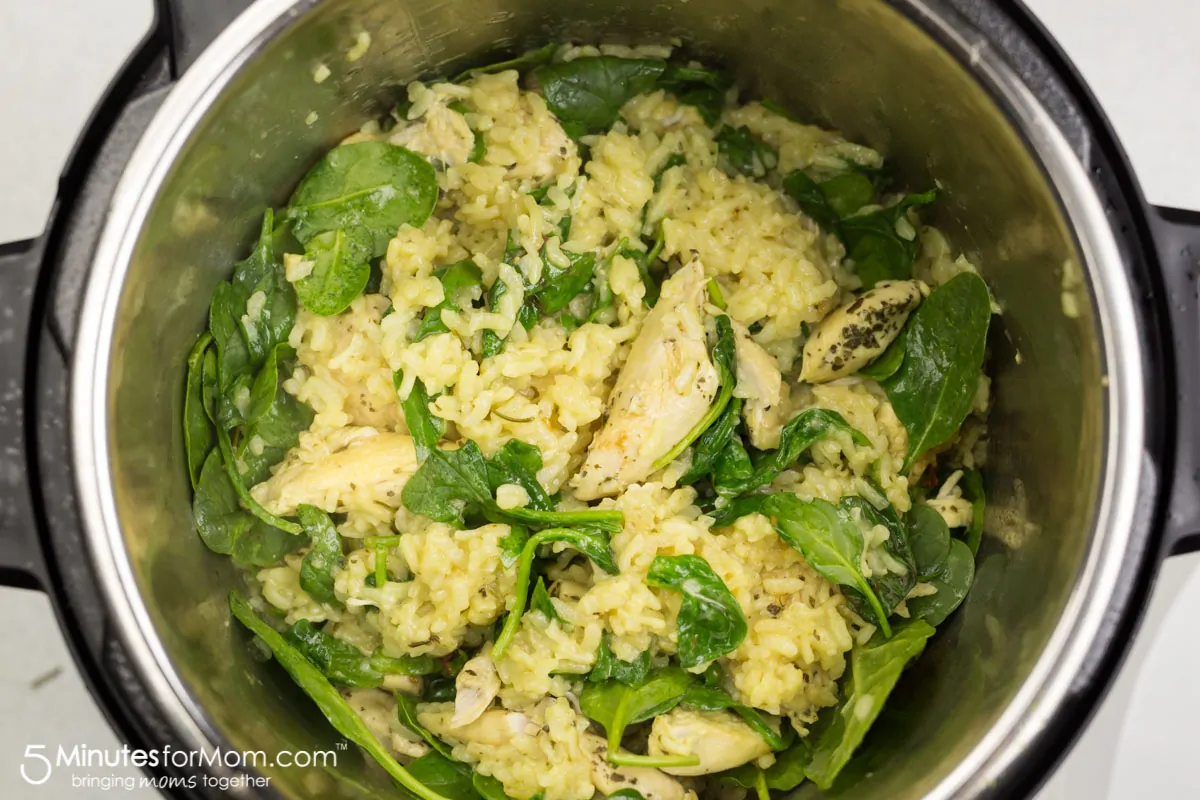 Lightly sprinkle with fresh lemon juice, garnish with fresh rosemary, sliced lemons and serve immediately.
Depending on how much chicken you used, and the size of your appetite, this recipe will serve approximately four people.
Instant Pot Tangy Dijon Chicken Risotto with Spinach Recipe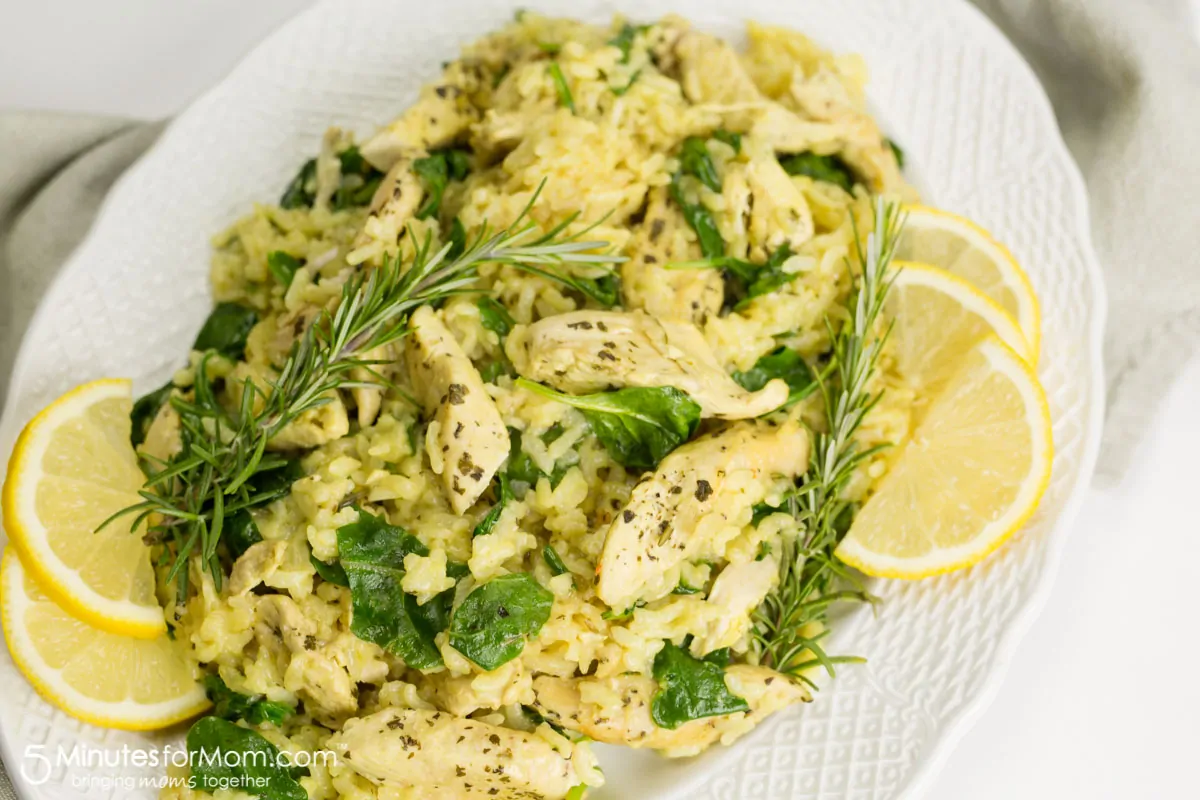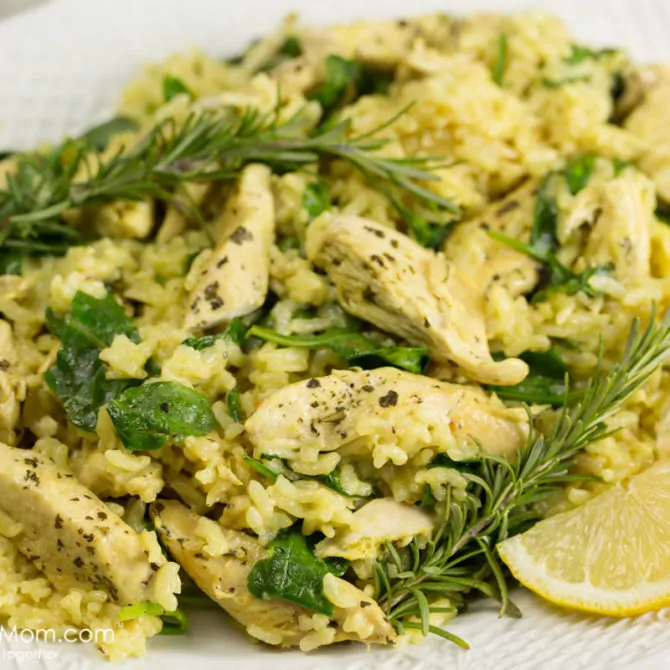 The Ultimate Comfort Food -- Instant Pot Dijon Chicken Risotto
Zesty, flavourful rosemary dijon chicken with the heavenly creaminess of buttery risotto and handfuls of healthy greens, tenderly wilted from being tossed in the risotto just before serving.
Print
Pin
Rate
Servings: 4
Calories: 690kcal
Ingredients
2 tablespoons olive oil
1 lb chicken breasts Between 1 to 1.5 lbs chicken, cut into strips about 1.5 inches wide and 3-4 inches long
4 cups reduced-salt chicken broth I use Better than Bouillon
1 tablespoons apple cider vinegar Between 1 to 2 tablespoons, depending on how tangy you want your chicken risotto
1 tablespoon Dijon mustard
2 teaspoons yellow mustard
1/4 teaspoon turmeric
1 teaspoon Dried Italian Herb Mix or your own mix of oregano basil, rosemary, etc.
Salt and pepper pinch
Fresh rosemary optional
1/4 cup butter
2 cloves garlic minced
2 cups arborio rice
4 cups fresh spinach or a mix of fresh greens
1 lemon for juice and garnish
Instructions
Cut chicken into strips about 1 1/2 inches wide and 3-4 inches long

Season chicken with salt, pepper, and dried herbs

Turn Instant Pot to Saute

While Instant Pot heats up, combine chicken broth with vinegar and mustards, stir and set aside

Add olive oil into hot Instant Pot and in batches lightly brown chicken pieces on both sides, about 2 minutes on each side

When chicken is browned on both sides, remove and set on a plate while you brown the remaining chicken

Once all the chicken pieces are browned, deglaze the Instant Pot with a couple tablespoons of water (or white wine if you prefer)

Add 1/4 cup butter and minced garlic to the Instant Pot

Once butter has melted, add 2 cups of arborio rice and stir to coat the rice in the melted butter

Cook the rice with the lid off, for about 4 minutes, until the edges of the grains of rice are translucent, stirring occasionally so that the rice does not stick to the bottom of the pot

Return browned chicken to the pot, resting the chicken on top of the arborio rice

Pour chicken stock mixture into the Instant Pot overtop of the chicken

Sprinkle with turmeric, Italian herbs, and add fresh sprigs of rosemary

Close and lock the lid.

Set the valve to Sealing.

Press Cancel, then press Manual or Pressure Cook and select poultry or use the - or + button to set the time to 8 minutes

When the cooking cycle is over, allow for a 10-minute gradual release

After the 10-minute gradual release, turn the pressure-release valve to venting, (being careful not to burn yourself with the escaping steam.)

Once the steam is released, open the lid and add fresh spinach and greens to the Instant Pot

Toss until greens are distributed and slightly wilted

Please Note: There should still be some liquid around the edges of the Instant Pot when you open the lid at the end of the cooking cycle. This liquid will absorb in a few minutes and you want some extra moisture so that your risotto does not dry out or get clumpy as you stir in your greens.

If you think there is too much liquid, before adding greens, turn the Instant Pot back to Saute and cook for a couple minutes, stirring often, until the extra moisture has been absorbed (Do not overcook. You still want the risotto to have some liquid and be very creamy.)

Once greens are tossed into the chicken risotto, lightly sprinkle with fresh lemon juice, garnish with fresh rosemary and serve immediately
Nutrition
Calories: 690kcal | Carbohydrates: 86g | Protein: 33g | Fat: 23g | Saturated Fat: 9g | Cholesterol: 103mg | Sodium: 680mg | Potassium: 700mg | Fiber: 5g | Sugar: 1g | Vitamin A: 3202IU | Vitamin C: 25mg | Calcium: 59mg | Iron: 6mg
Pin it for Later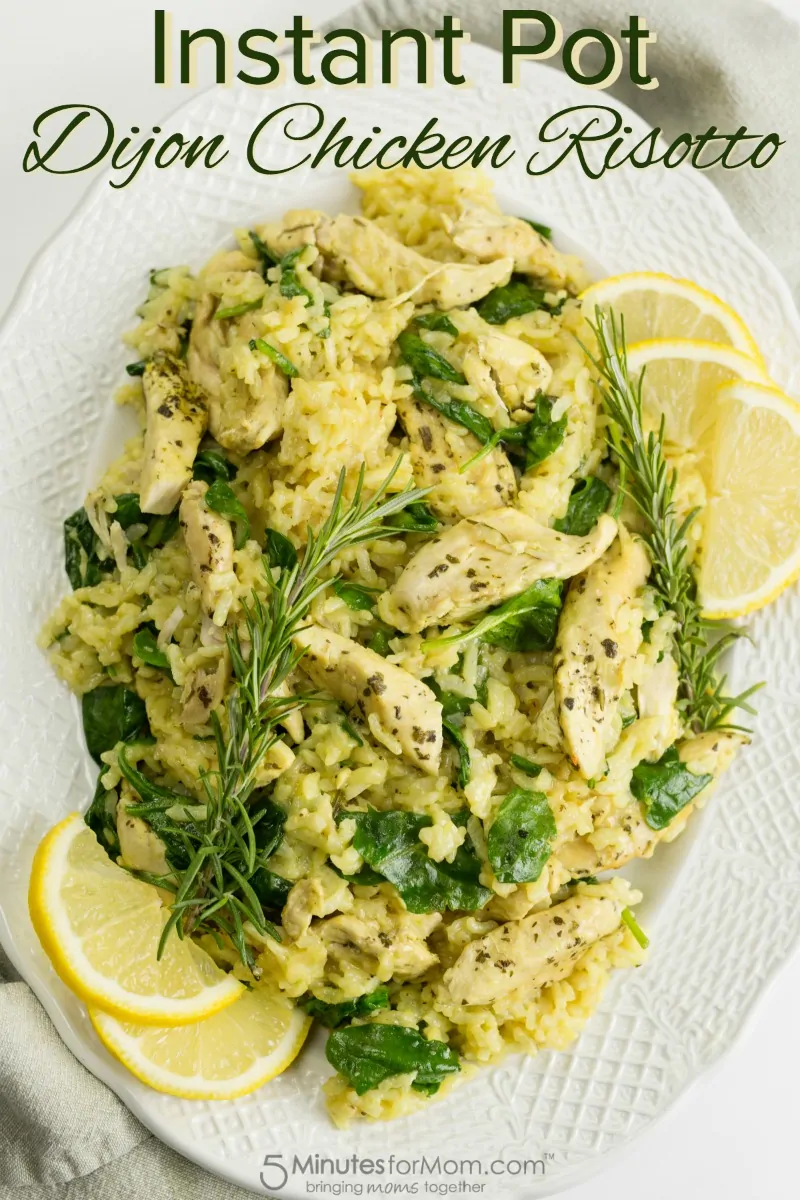 Written by Janice Croze, co-founder of 5 Minutes for Mom
Talk with me: @5minutesformom and Facebook.com/5minutesformom
Pin with me at pinterest.com/5minutesformom