This post may contain affiliate links. Read my disclosure policy here.
Janice and I are so happy we have girls who love to craft and love to have their photos taken. If you have kids who love crafting, this beautiful DIY photo frame is the perfect family day activity. We made these collage photo frames with our girls, and we are excited to share this special photo craft idea for you to make with your children. This post is sponsored by HP Canada, so extra thanks for reading and sharing.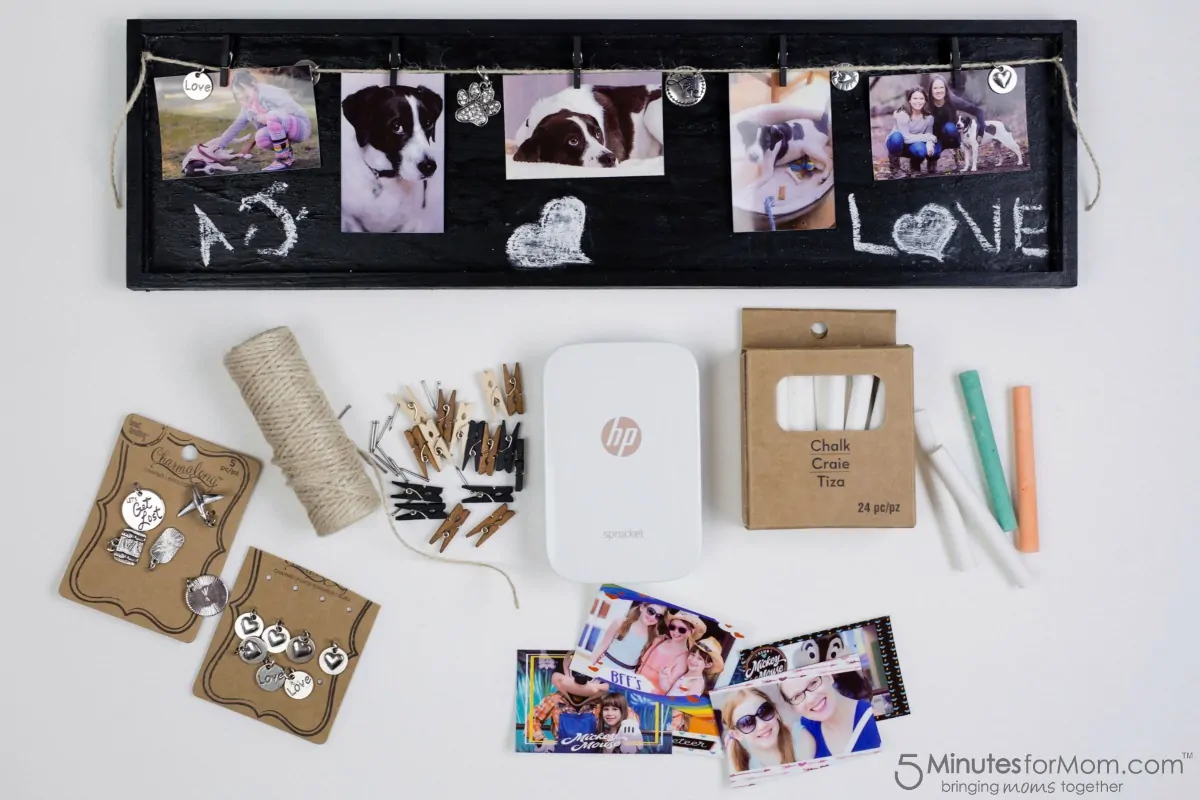 Spending time with your kids making crafts and doing DIY projects is such a wonderful way to bond, create memories, and teach your children valuable skills.
You might think doing arts and crafts is only for when your kids are small, but you want to keep working together on fun projects throughout their lives. As kids get older, the activities might get more complicated and even involve tools… and you may have to learn some new skills yourself. When your kids have their hands busy working on a project, they'll often be more open to chatting and telling you what's going on in their lives.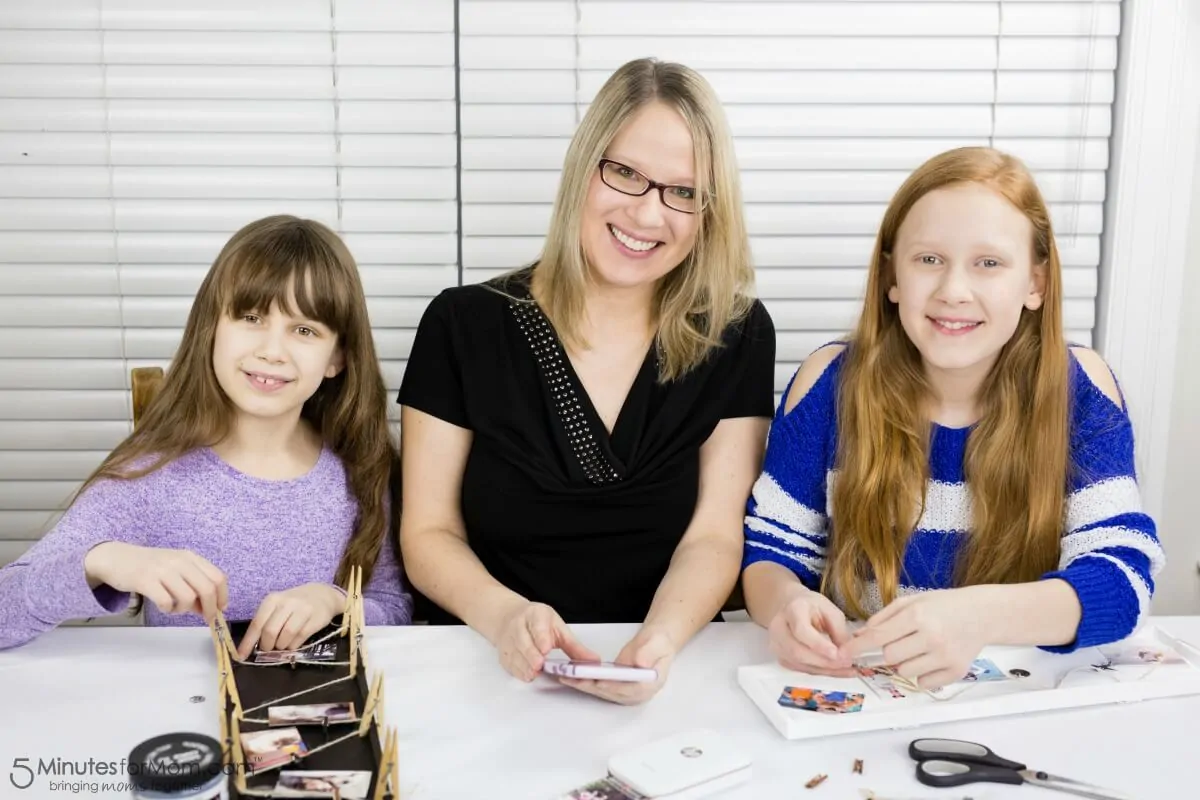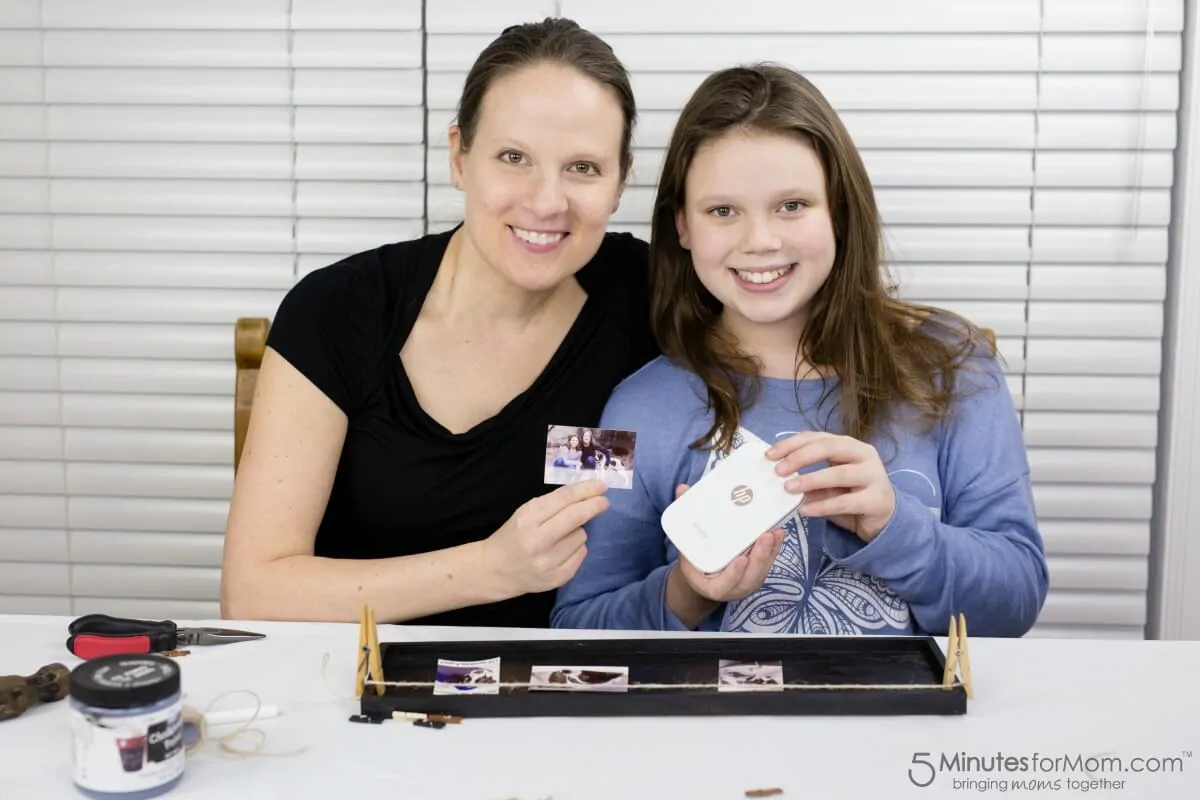 Whatever age your children are, they're likely to get extra excited when you add some fun new technology into your crafting process.

Our girls were so excited when we showed them this sweet little HP Sprocket photo printer!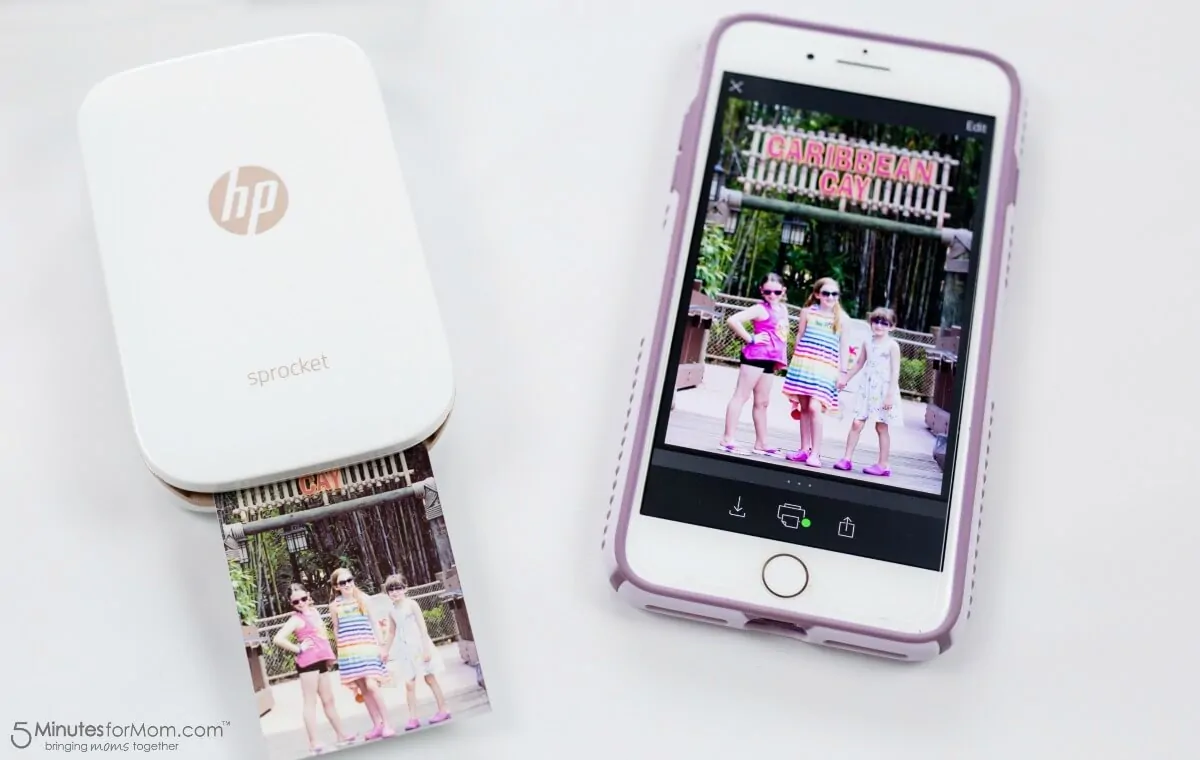 We loved using this HP Sprocket for our diy photo frame craft because it was so quick and easy to print out a set of photos for each of our girls to use in their frames.
And since the design of these photo frames allows them to switch the photos anytime they want, they can easily print new photos using the HP Sprocket and update their photo collage… even once it's hanging on their bedroom wall.
What is the HP Sprocket?
The HP Sprocket is a portable pocket-size printer that uses Bluetooth to allow you to print from your smartphone or tablet.
You simply download the free Sprocket App and you can easily print 2×3″ photos that are perfect for creating collages, crafts, and sharing with friends.
The Sprocket App makes is so easy to customize your photos with filters, colourful frames, text and stickers. Our girls loved the Disney borders and stickers they could add to their photos from our trip to Disney World.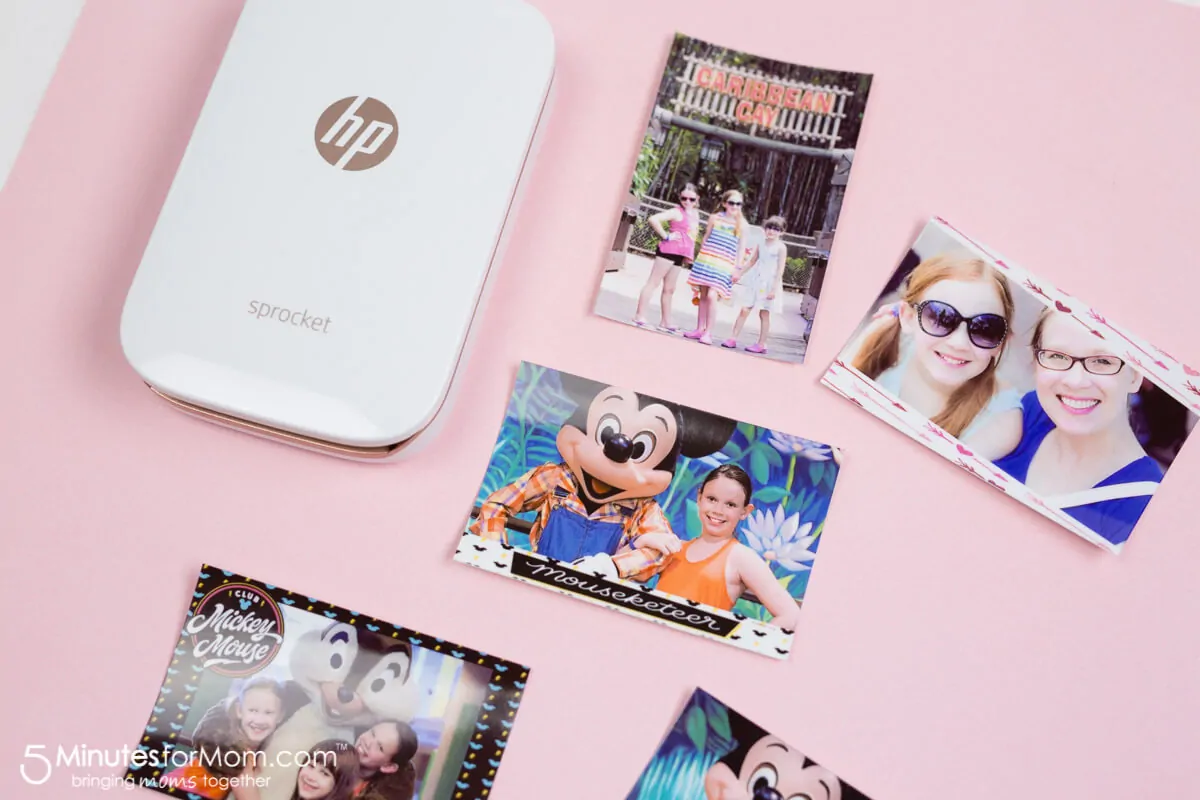 I think the ability for kids to easily edit a photo on their phone to personalize it by adding fun text and icons, print it, and then give the photo to a friend is so much fun. These days, kids take so many photos, but they don't often have them printed to share in real life with friends.
The HP Sprocket comes in white, black, gold, blue or red. And it's easy to charge with the cable that is included in the box.
Canadians can purchase a HP Sprocket for $159.99 CDN at a variety of retailers including: HP Shopping, Staples, BestBuy, Amazon.ca, Walmart.ca and others
Americans can purchase one for $129.95 USD at many retailers including Amazon.com.
DIY Photo Frame
Our girls created three slightly different styles for their DIY Photo Frames.
Sophia decided to make a vertical chalkboard paint collage photo frame with photos of her two cats. Olivia also used black paint to create the look of a chalkboard, but she laid her photos out horizontally. Julia painted her frame white and created a horizontal collage of photos from our trip to Disney World.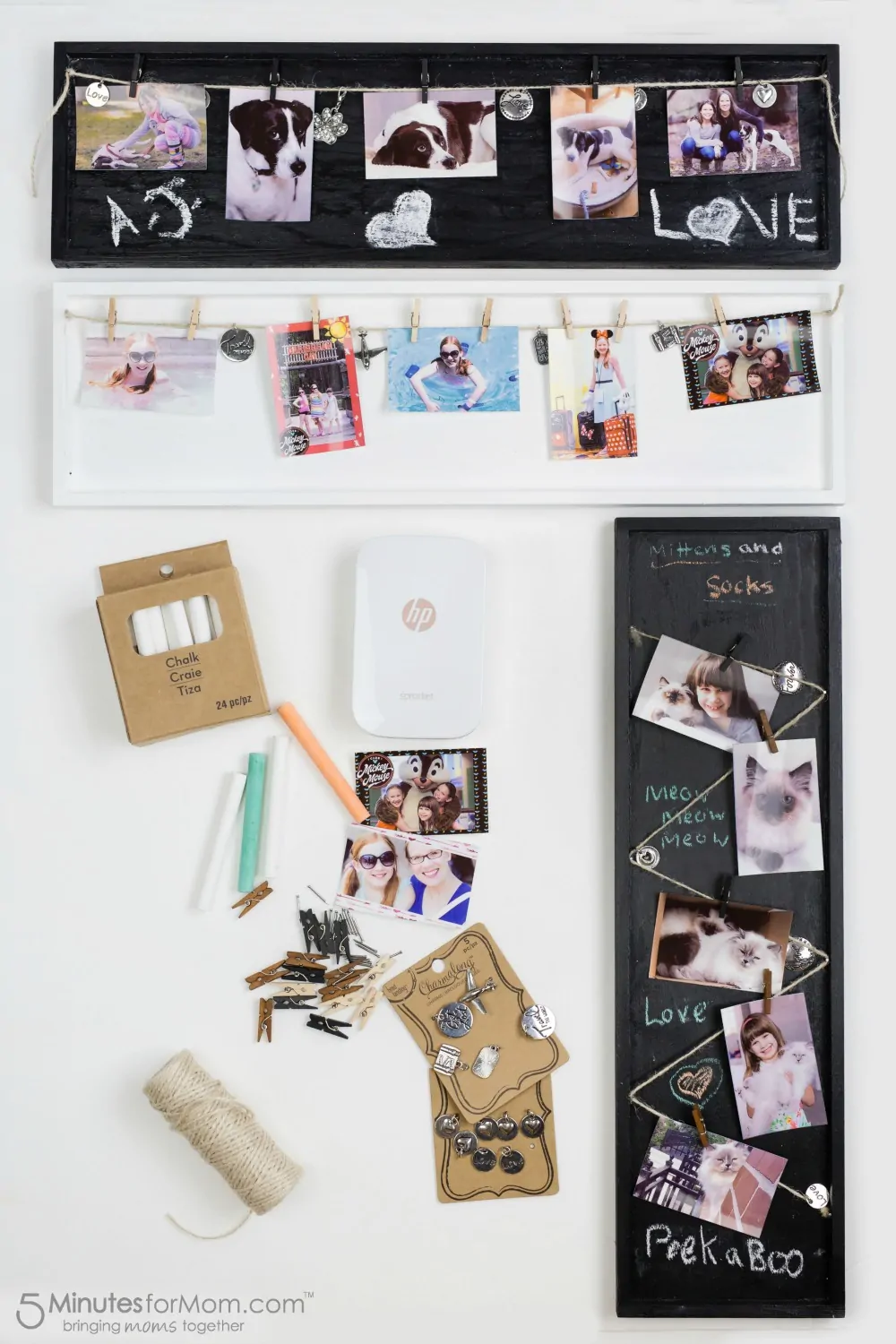 The steps to create each of their diy photo frame projects are basically the same, except that for a white frame, simply use white paint instead of the black chalkboard paint.
How to make a Chalkboard Paint Collage Photo Frame
Supplies
Unfinished Wood Plaque with Raised Edge
Chalkboard Paint
Small Foam Paintbrushes
2×3″ Photos
Large Clothespins (optional)
Tiny Clothespins
String
Chalk
Hammer
Nails
Charms (optional)
Step 1 – Print Your Photos
Our girls each picked a theme and then printed 5 photos each to make their collages.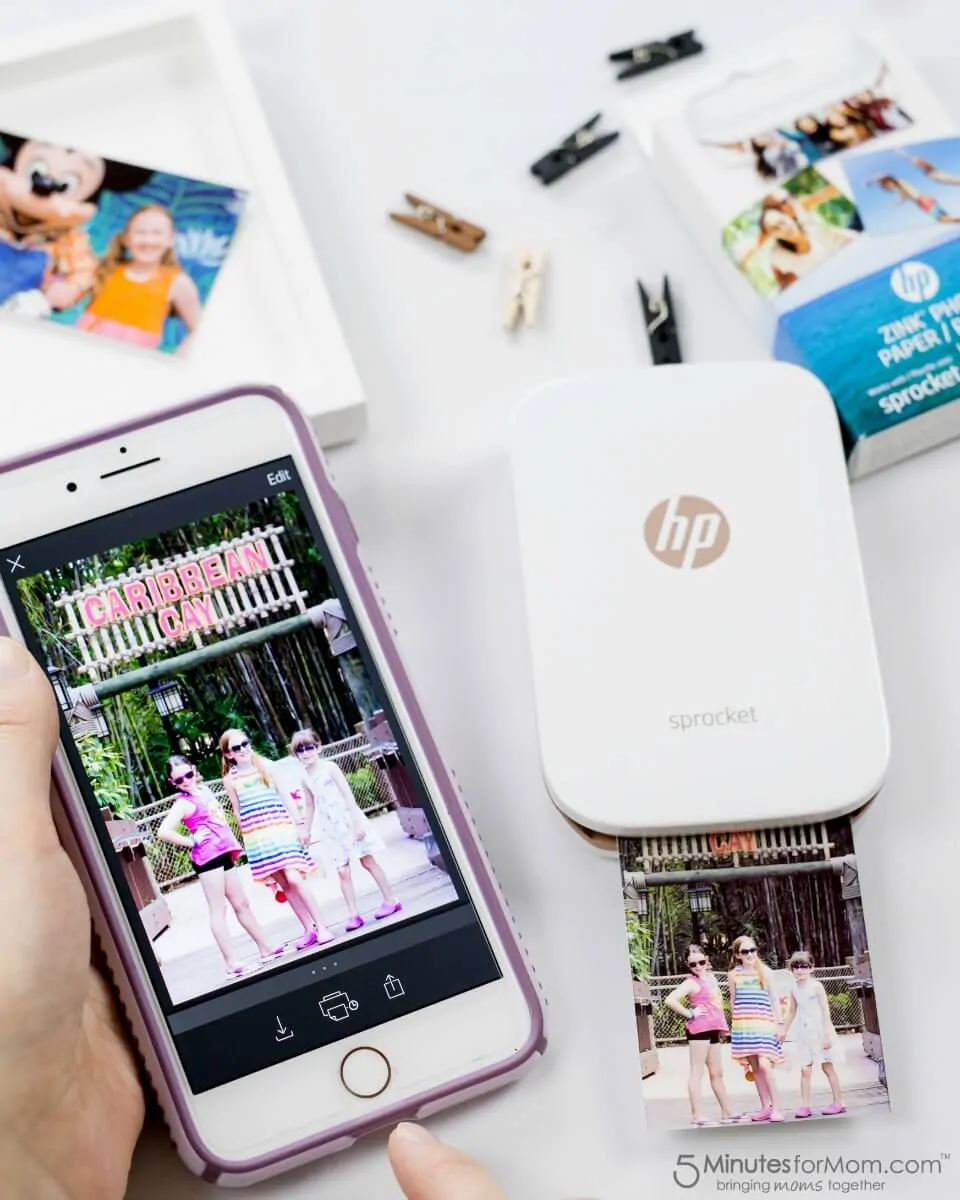 Step 2 – Paint the Wooden Tray
Paint the tray using the black chalkboard paint or whatever color you want the frame to be.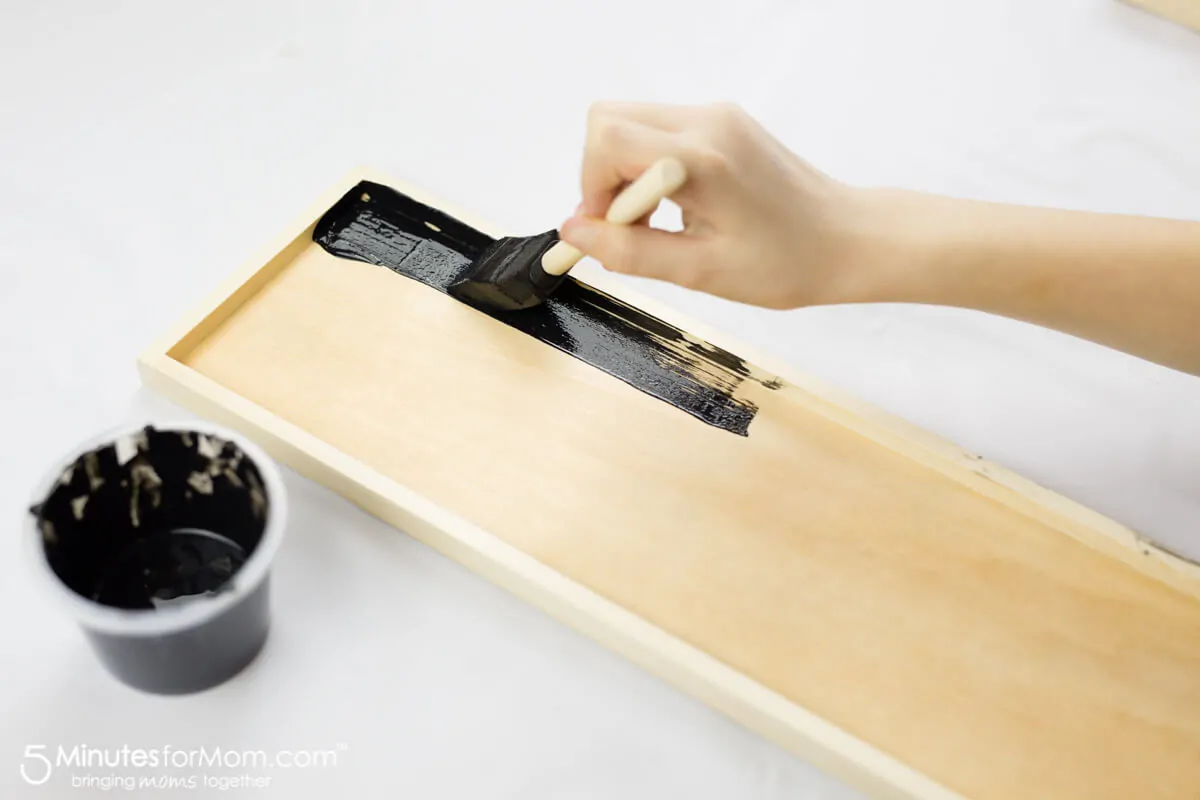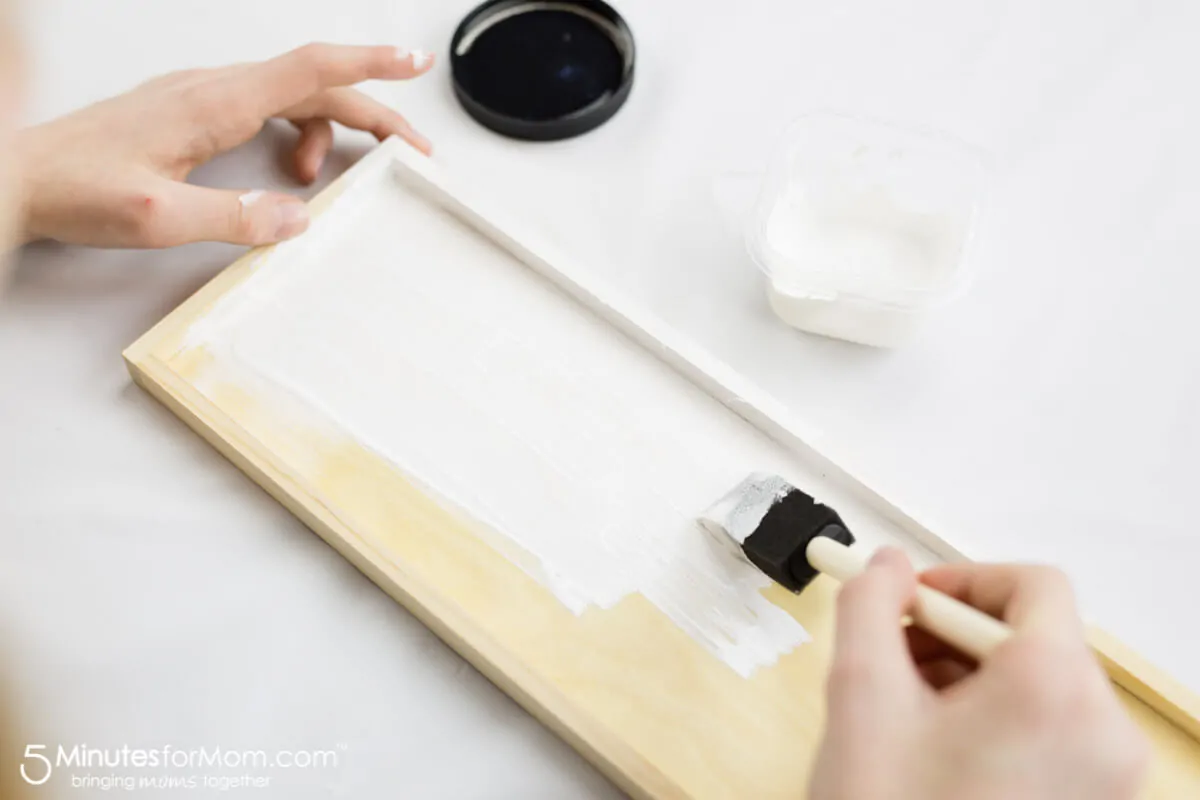 We painted three coats and used a hair dryer to dry each layer of paint quickly.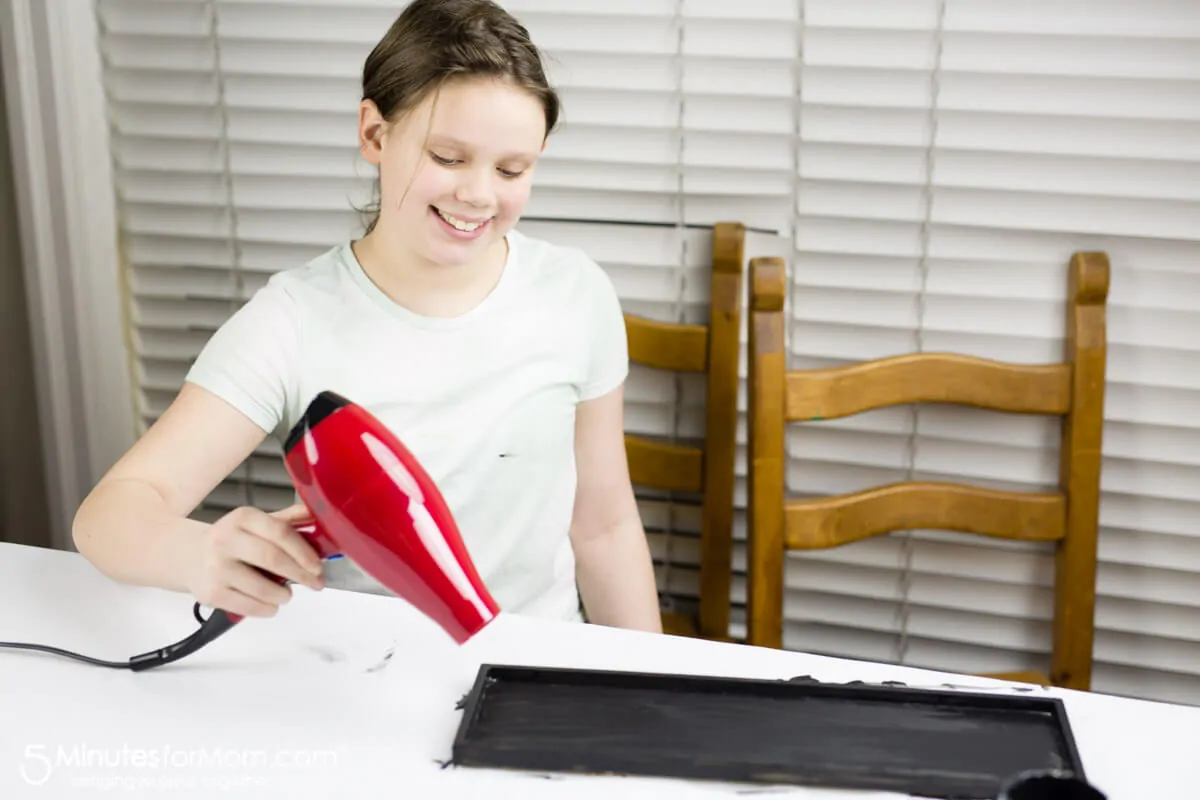 Step 3 – Lay Out Photos and Charms
Use clothespins to hold the string temporarily in place as you plan the layout of photos and charms.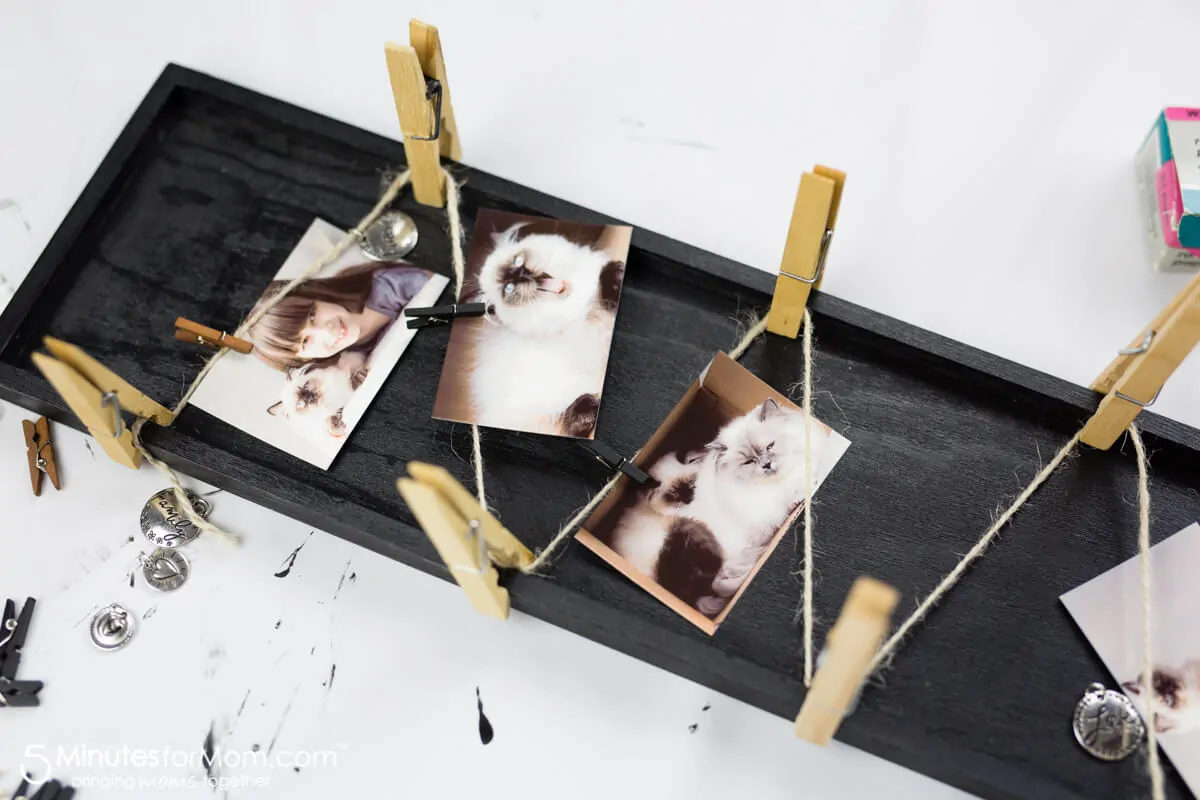 Step 4 – Hammer in Nails
Once you've determined where the strings should be placed, hammer the nails in position next to the ridge of the tray. The nails should be close to the edge, but have enough room for the string to pass through.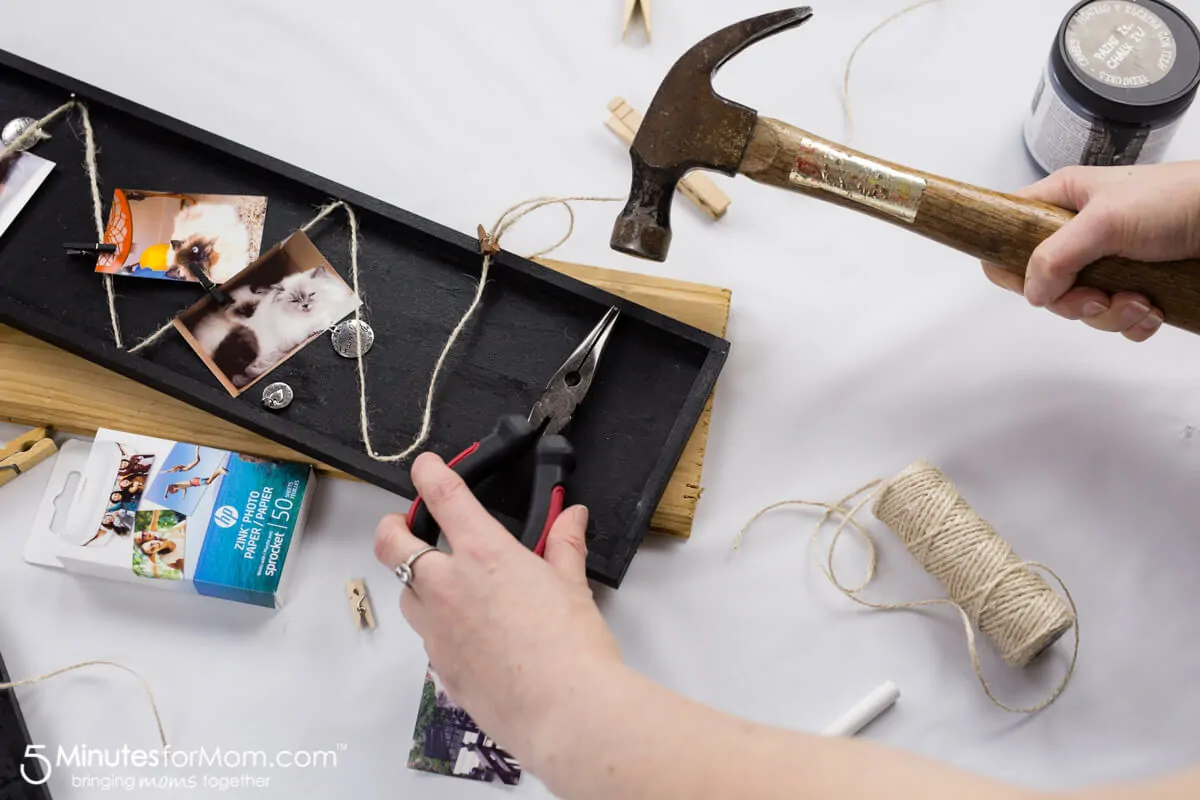 Step 5 – Tie on String
Tie one end of the string to the first nail.
If you're making a horizontal collage, you will only have two nails… one on each side of the frame.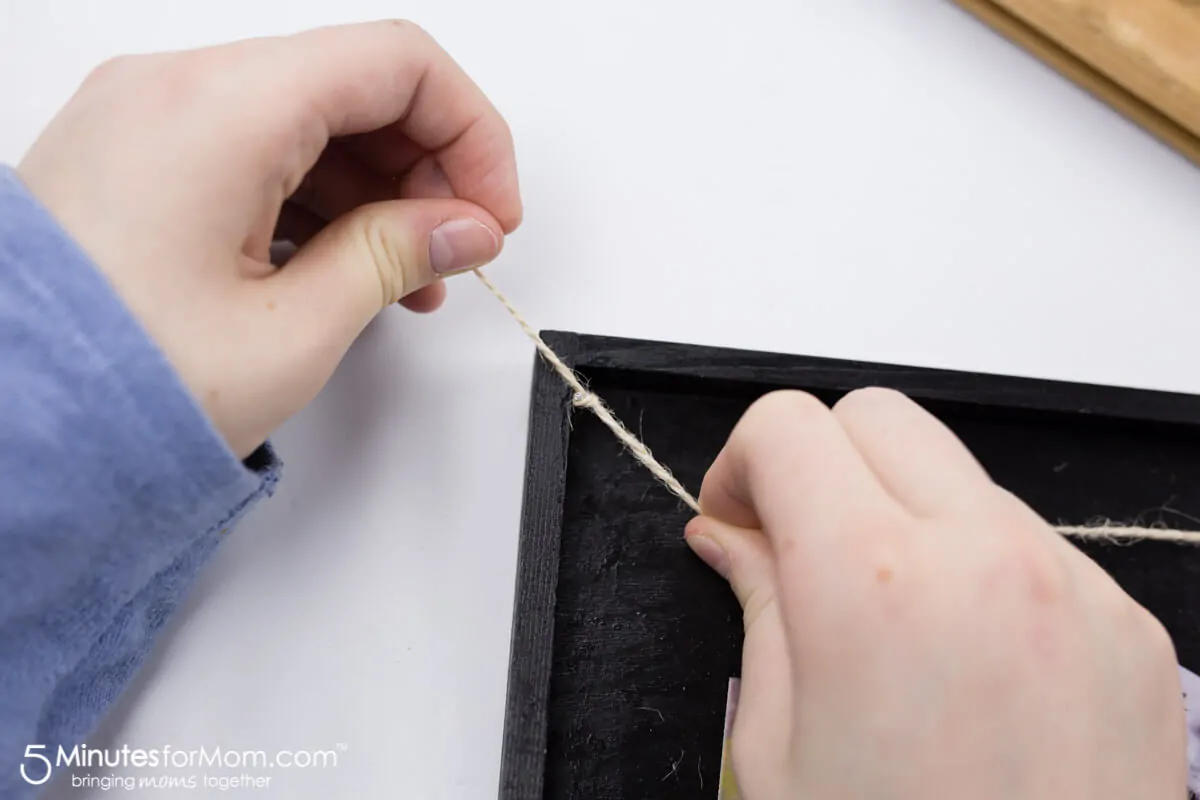 Step 6 – Thread on Charms
Thread each charm on the string. If you're making a vertical collage, thread the string through each nail, then add a charm, continue zig-zagging down the frame.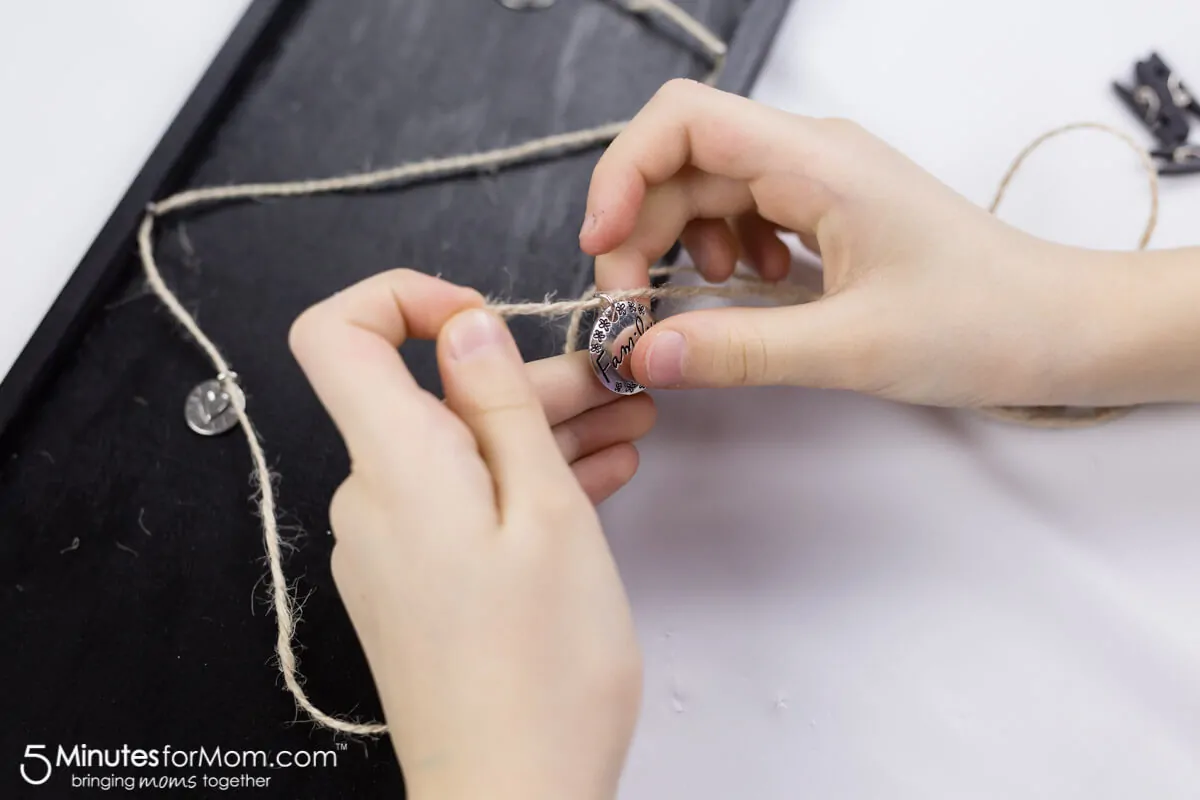 If you're making a horizontal collage, simply thread the charms on in the order you want them to be between the photos.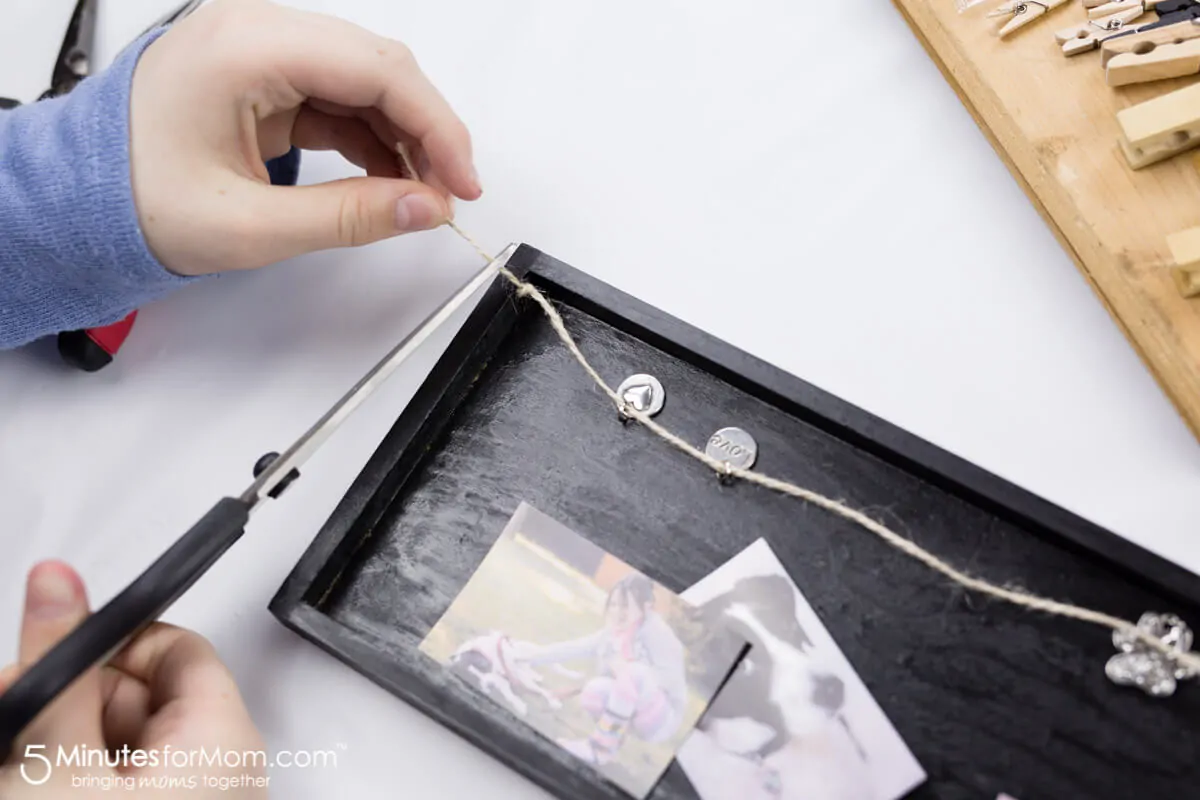 Step 7 – Tie the End Of The String
Be sure to tie the string quite tight as the weight of the charms will pull down on the string.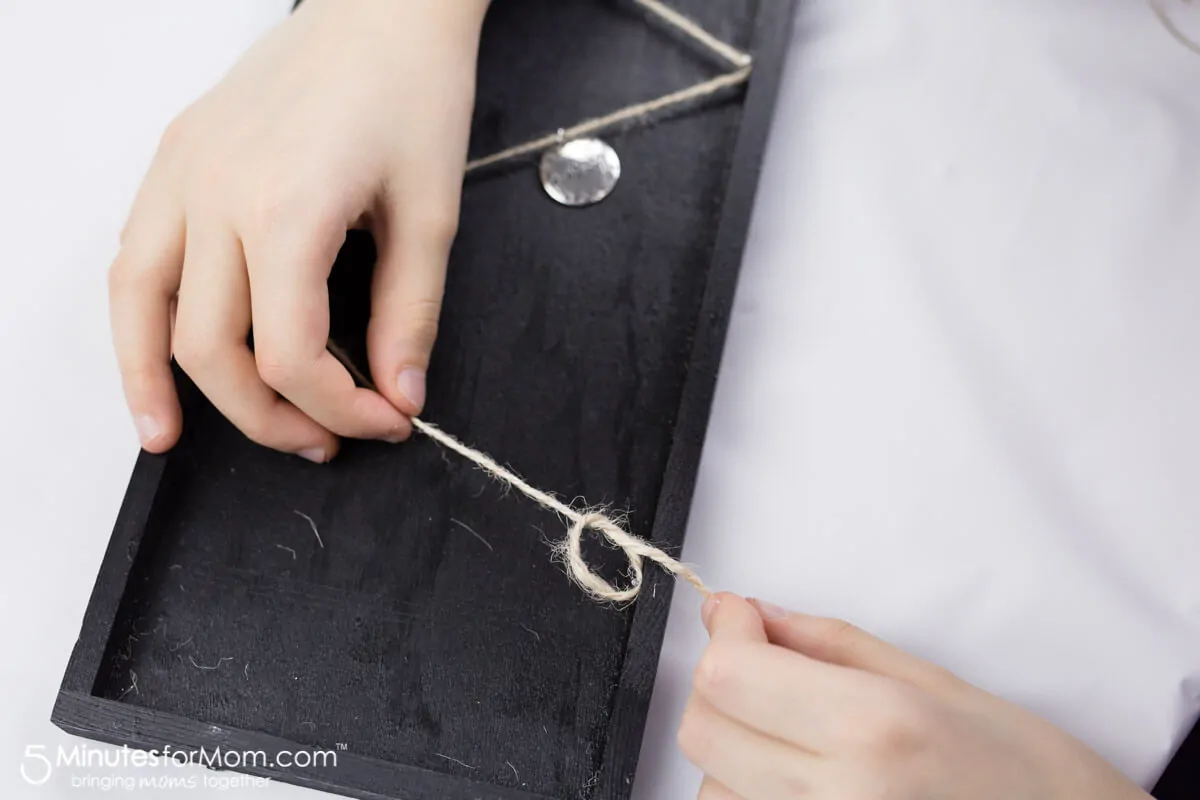 Step 8 – Clip on Photos
Using the mini clothespins, attach your photos.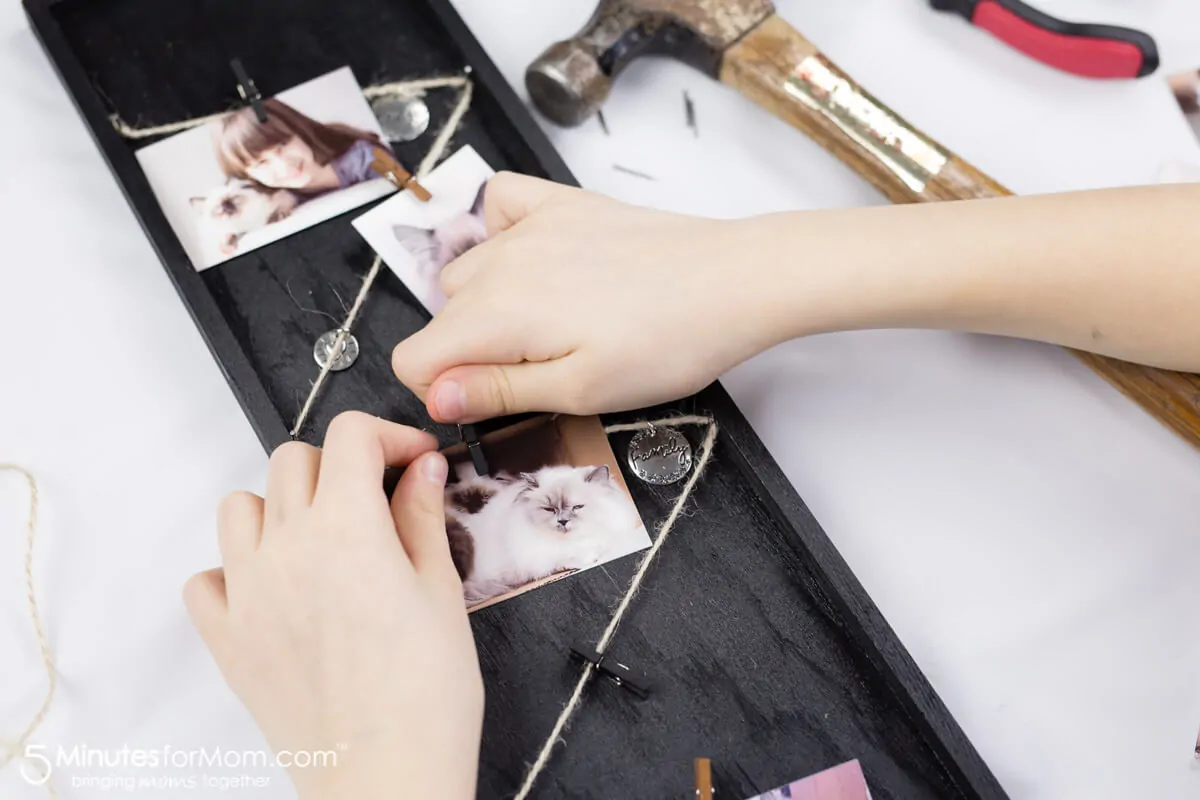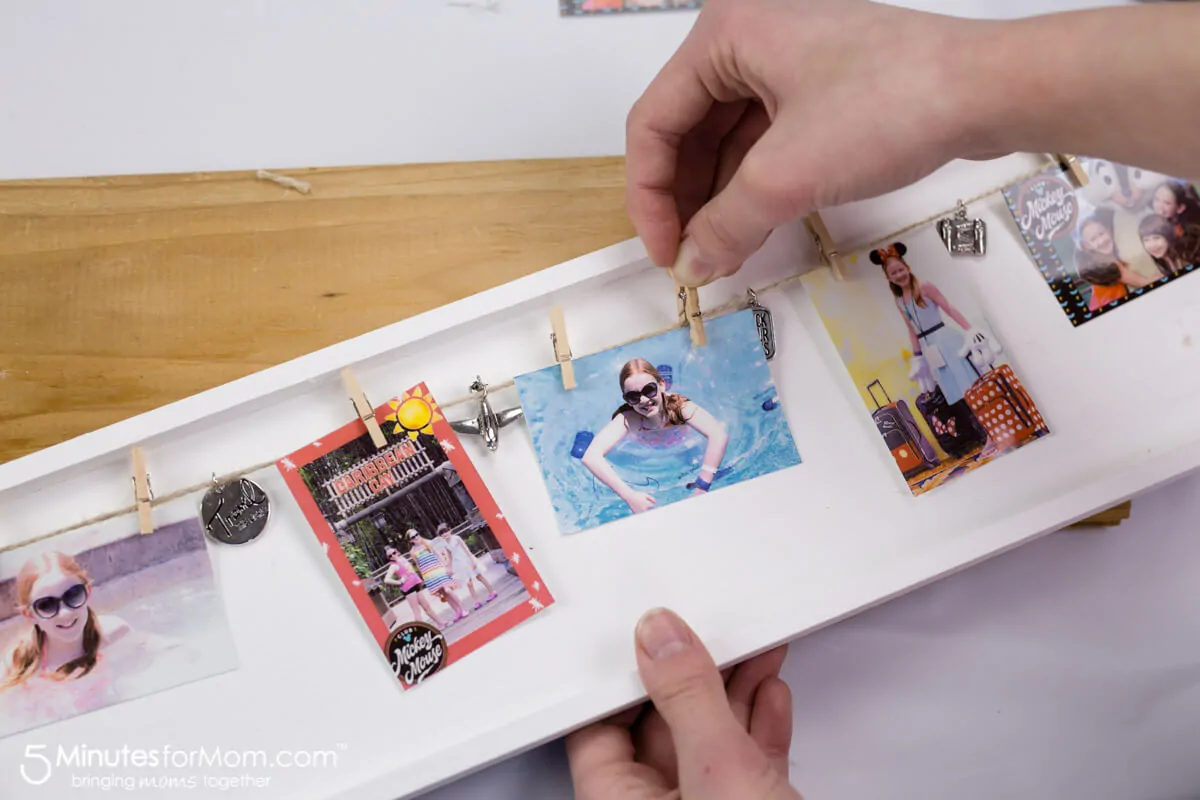 Step 9 – Write in Chalk On The Board
If you've used chalkboard paint, you can write on the frame using chalk. To fix mistakes, use a slightly damp cotton swab.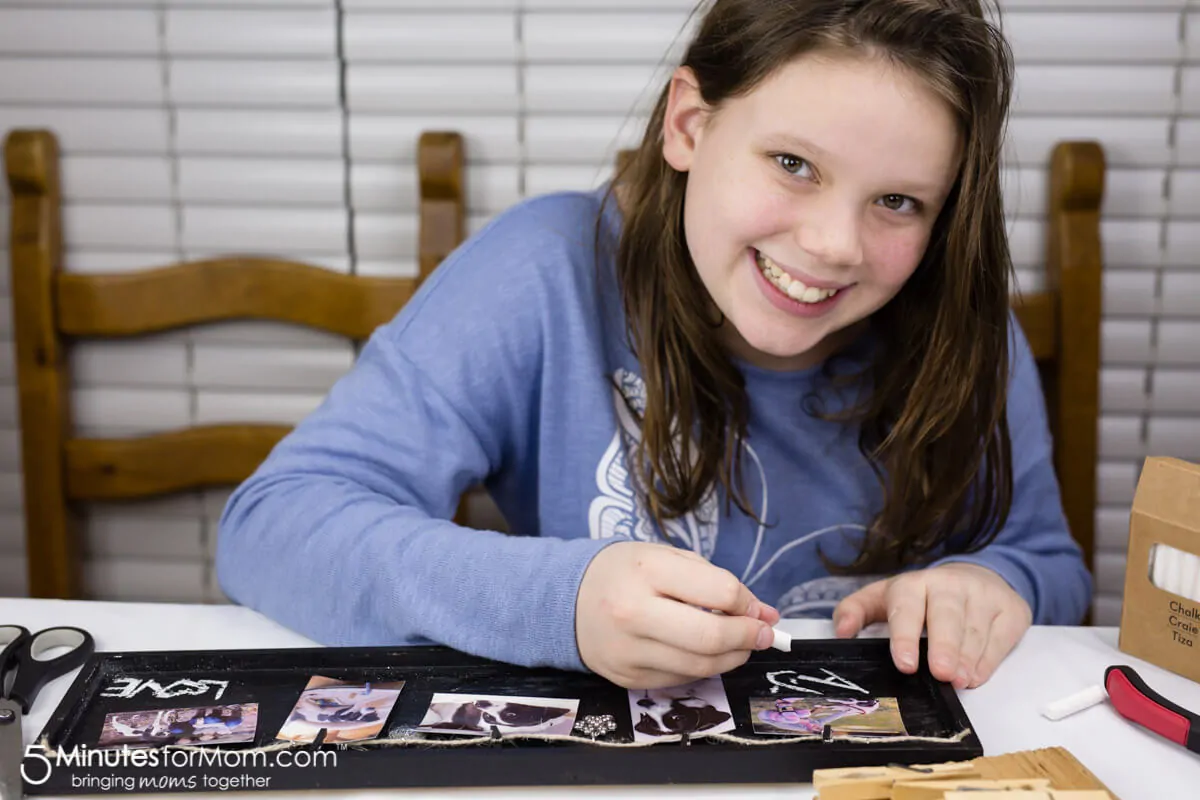 Step 10 – Display and Enjoy
This DIY Photo Frame makes a fabulous gifts! But if your children want to keep their work to admire, hang their collages in their bedrooms. They can switch out the photos anytime they want.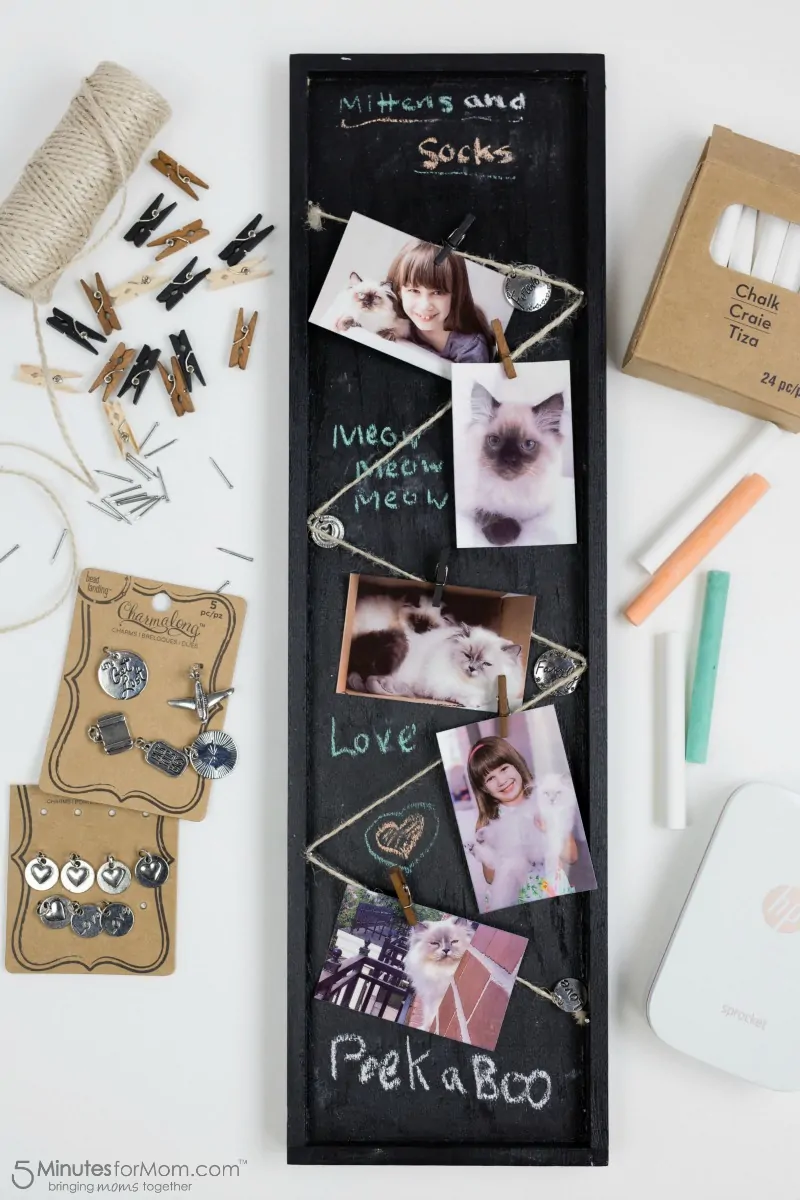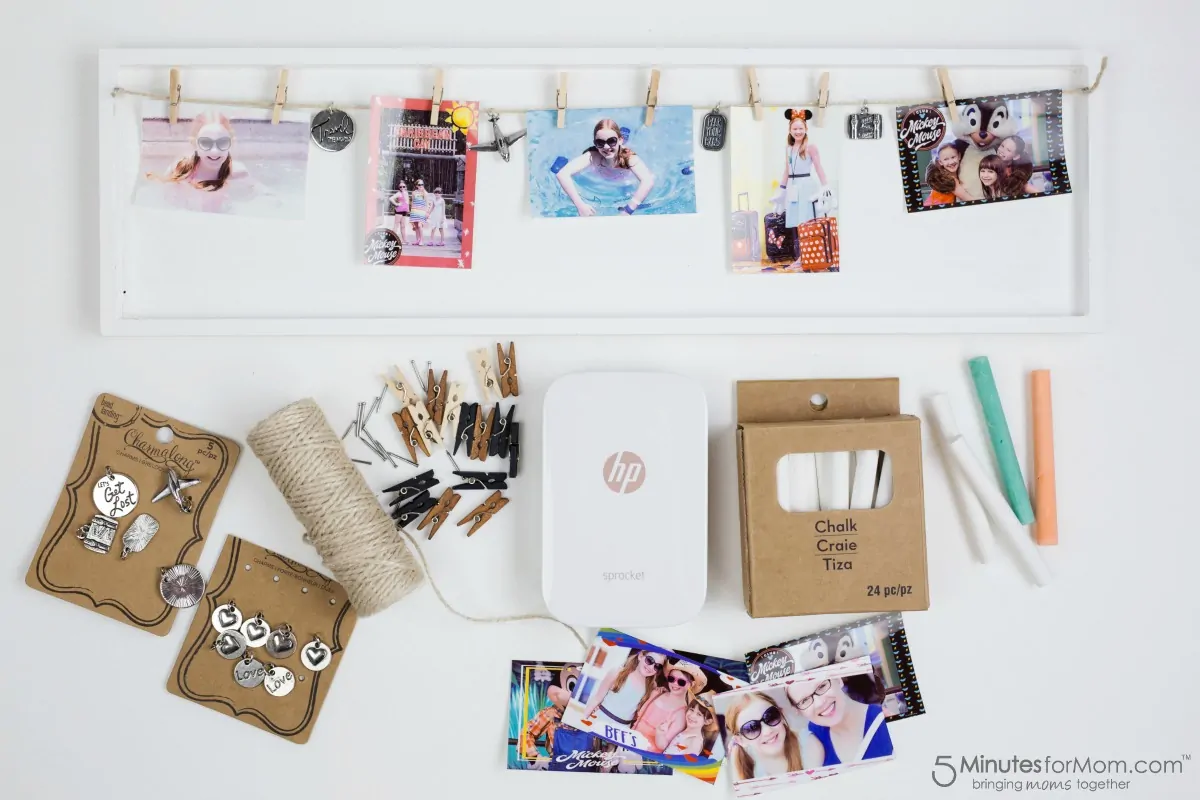 Pin it for Later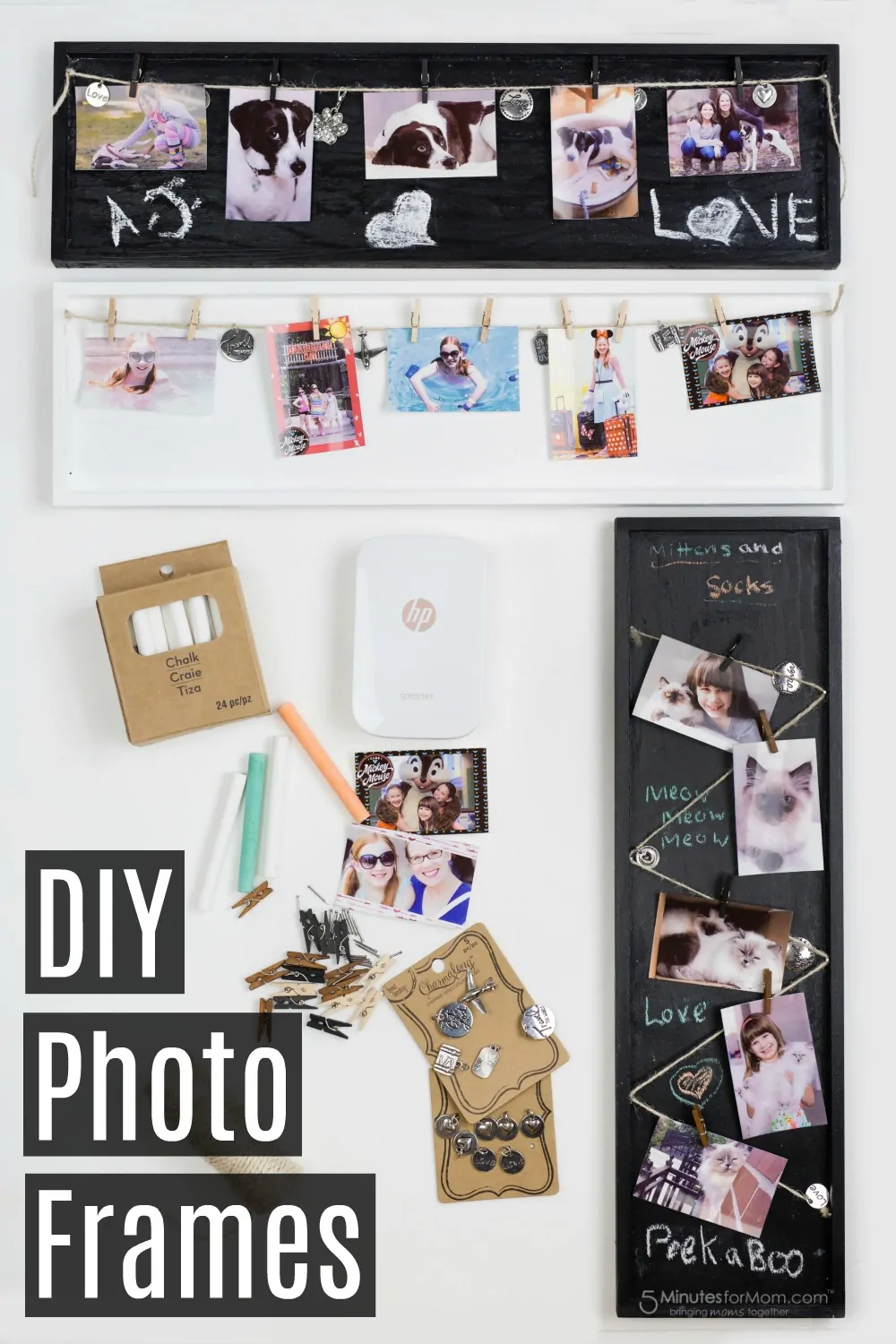 Disclosure: This post is sponsored by HP Canada, so extra thanks for reading and sharing.
Written by Susan Carraretto, co-founder of 5 Minutes for Mom
Talk with me: @5minutesformom and Facebook.com/5minutesformom
Pin with me at pinterest.com/5minutesformom