This post may contain affiliate links. Read my disclosure policy here.
Sponsored by Spin Master
Do you want to build a robot??? Your kids will flip over the latest from Meccano — Meccano M.A.X., a robot your child builds themselves and programs to create a customized, one-of-a-kind robot BFF. Check out what your child can create with Meccano M.A.X…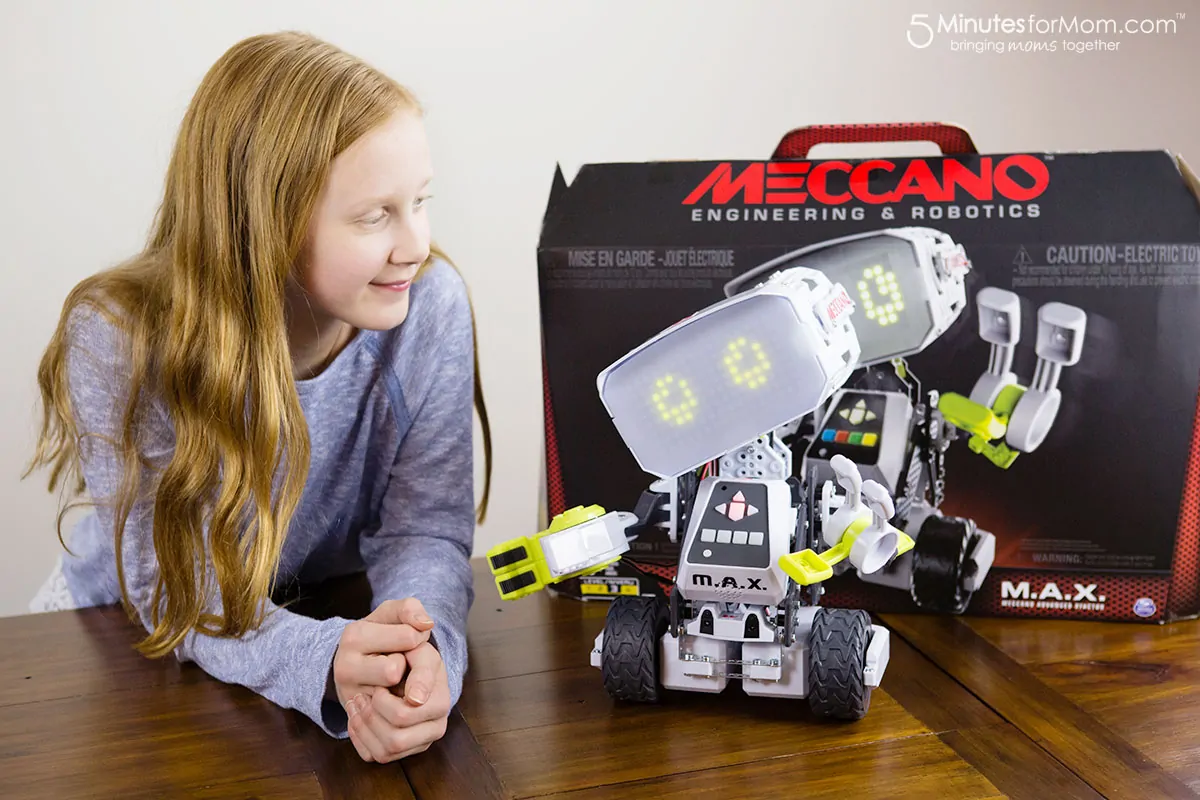 Christmas is coming and Santa has robots in his sleigh…
I can't even imagine what I would have done to have a robot under my tree when I was a kid.
I remember desperately hoping I would get a remote controlled car. I don't think it ever occurred to my parents that girls would want remote controlled cars. But man did I want one.
One year, Susan and I found my mom's stash of toys and discovered a remote controlled truck. Squeal!
But when Christmas came, I was devastated. The truck wasn't for Susan and me. It was for our cousin. A boy.
Now, in 2017, not only can boys and girls play with whatever toys they want, they can also build their own AI robots!!!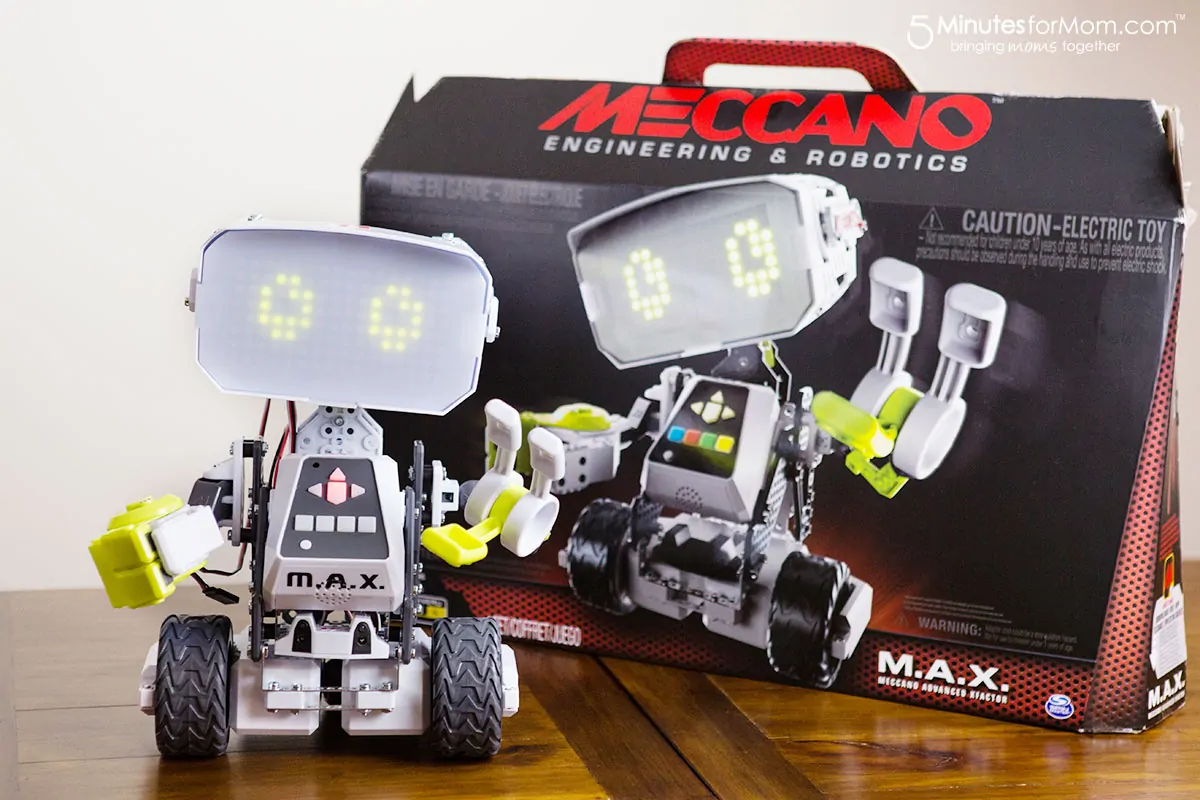 Meccano M.A.X. by Meccano, the makers of the classic Erector Sets, uses advanced robotics technology, combining Artificial Intelligence (AI) learning and custom programming. M.A.X. actually has the ability to learn about the person controlling it — so that your child's robot is truly one of a kind.
Using infrared IR Navigation, customizable apps, and a built-in gaming platform, kids have almost limitless potential for personalization, interactivity and fun with M.A.X.
The Season for STEM
Learning can't get much more fun than building your own robot!
M.A.X. is a robotic interactive toy with artificial intelligence and is part of the Meccano building system. It is a challenging and rewarding building experience for kids to do on their own, or with their parents.
Meccano has been making Erector Sets for over 100 years, giving generations of children opportunities to learn and develop essential skills while having fun.
As with all of their Erector Sets, when building Meccano M.A.X. kids get to experience hands on STEM education.
M.A.X. has kids using their hands, following instructions and building with real nuts and bolts and metal pieces.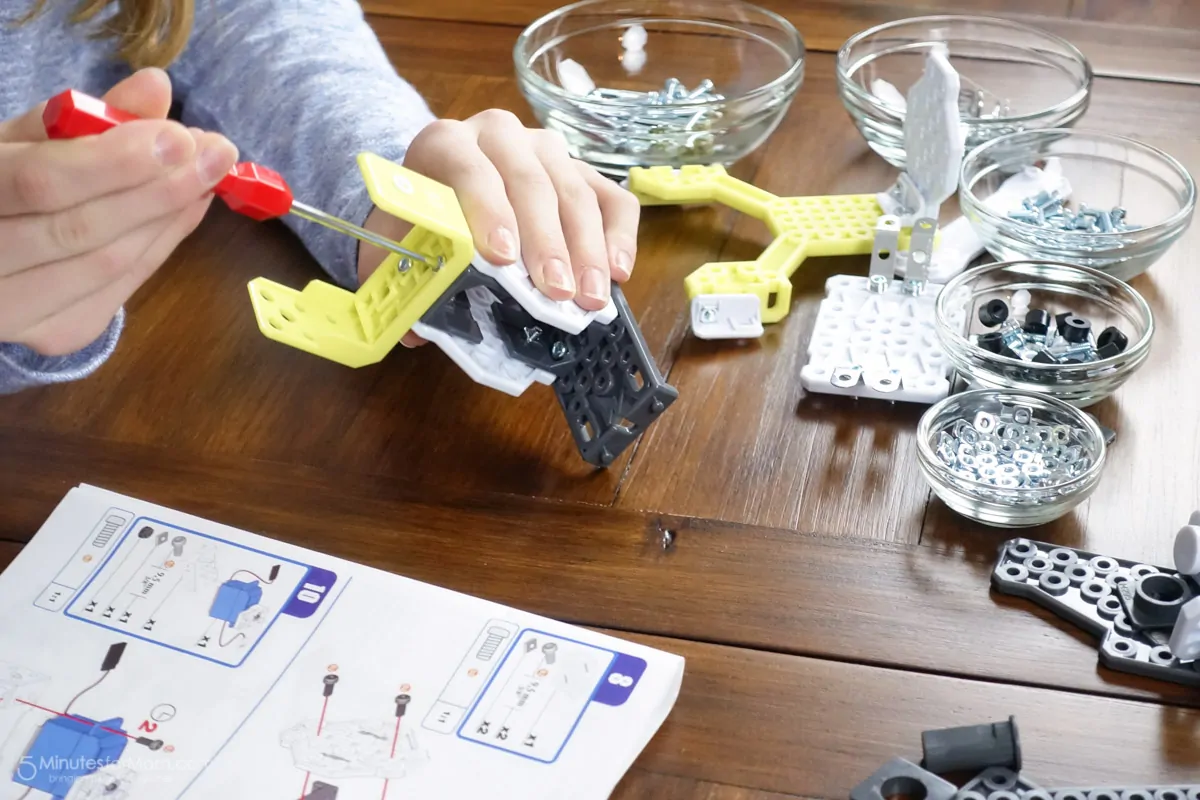 Bringing M.A.X to life not only requires robotics programming and engineering skills, but essential developmental skills such as hand-eye coordination, fine motor skills, spatial awareness, problem-solving skills — and of course, using your imagination.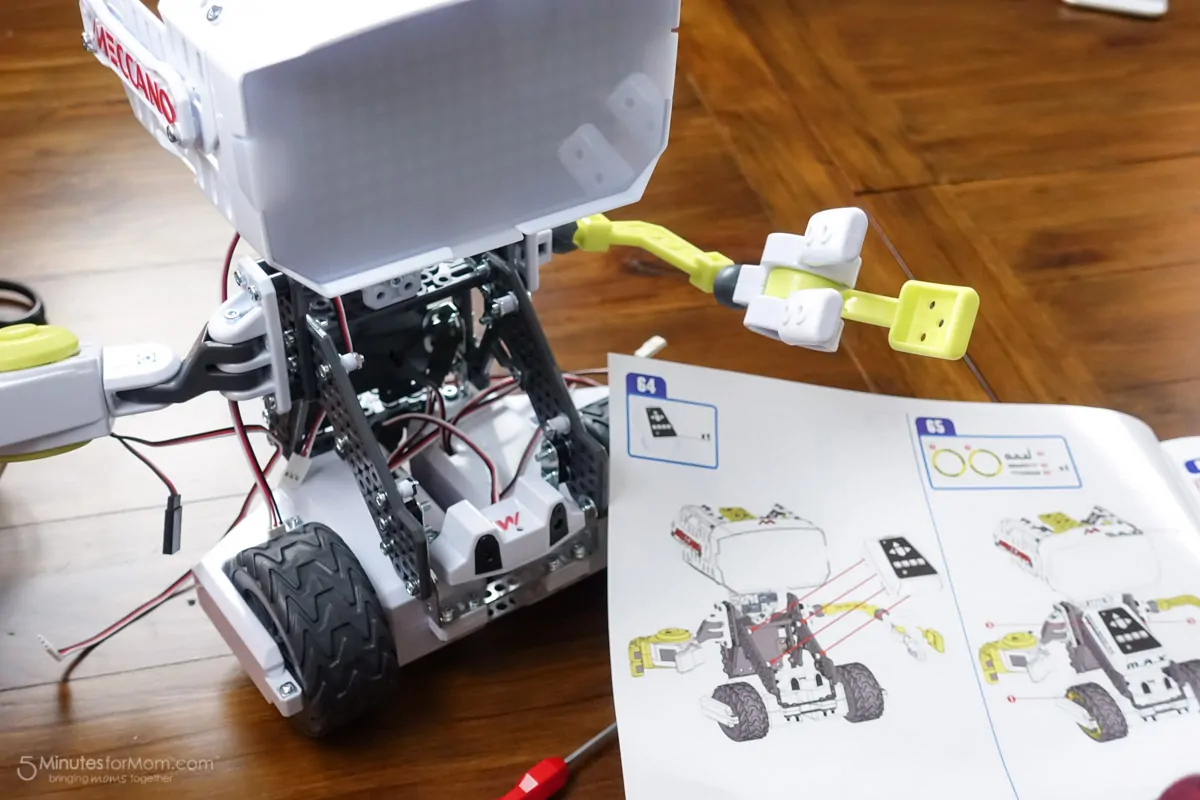 Meccano suggests M.A.X. for children ten years and older. Susan's twelve-year-old daughter Julia built M.A.X. for this review — but now our ten year olds, Olivia and Sophia, are both begging for their own.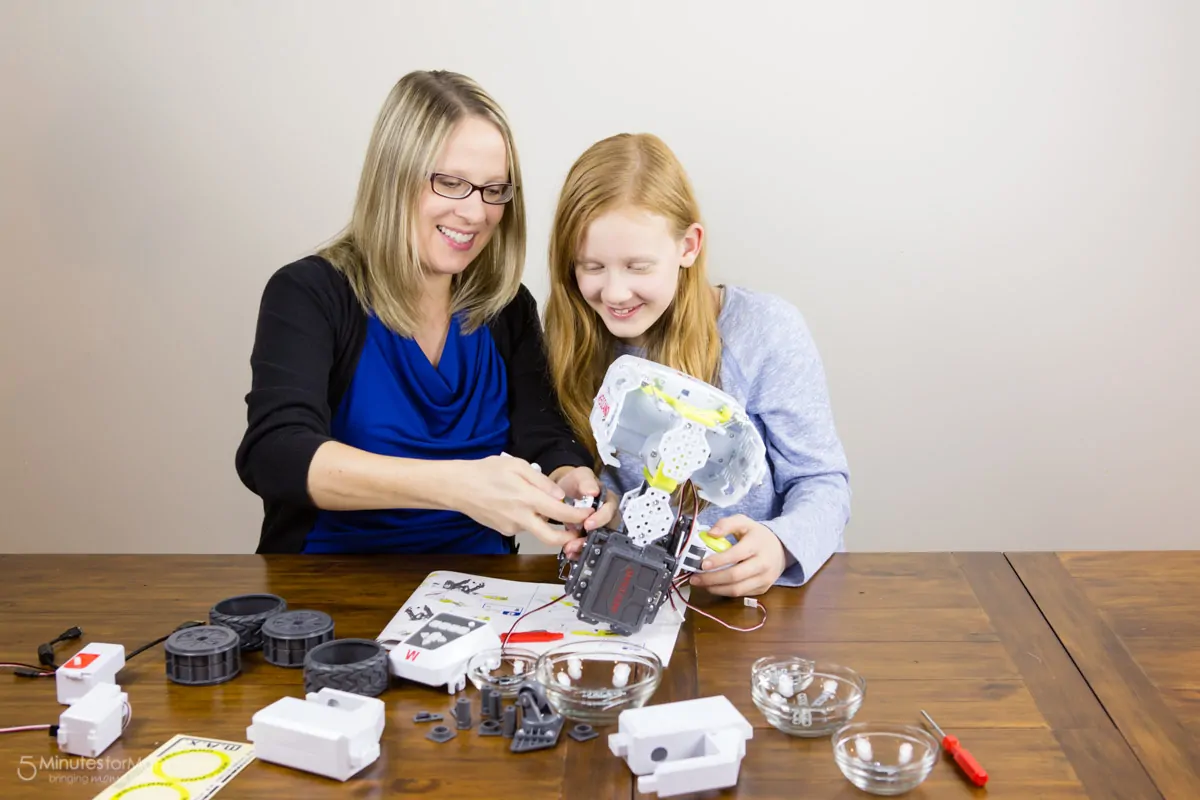 The build is challenging and some children will definitely need the help and support of a parent, which is great. It is a wonderful project for parents and kids to do together.
Social Robotics
M.A.X. is not just nuts and bolts. M.A.X. doesn't just pick up objects or navigate through a maze of obstacles.
Nope. M.A.X. is SOCIAL.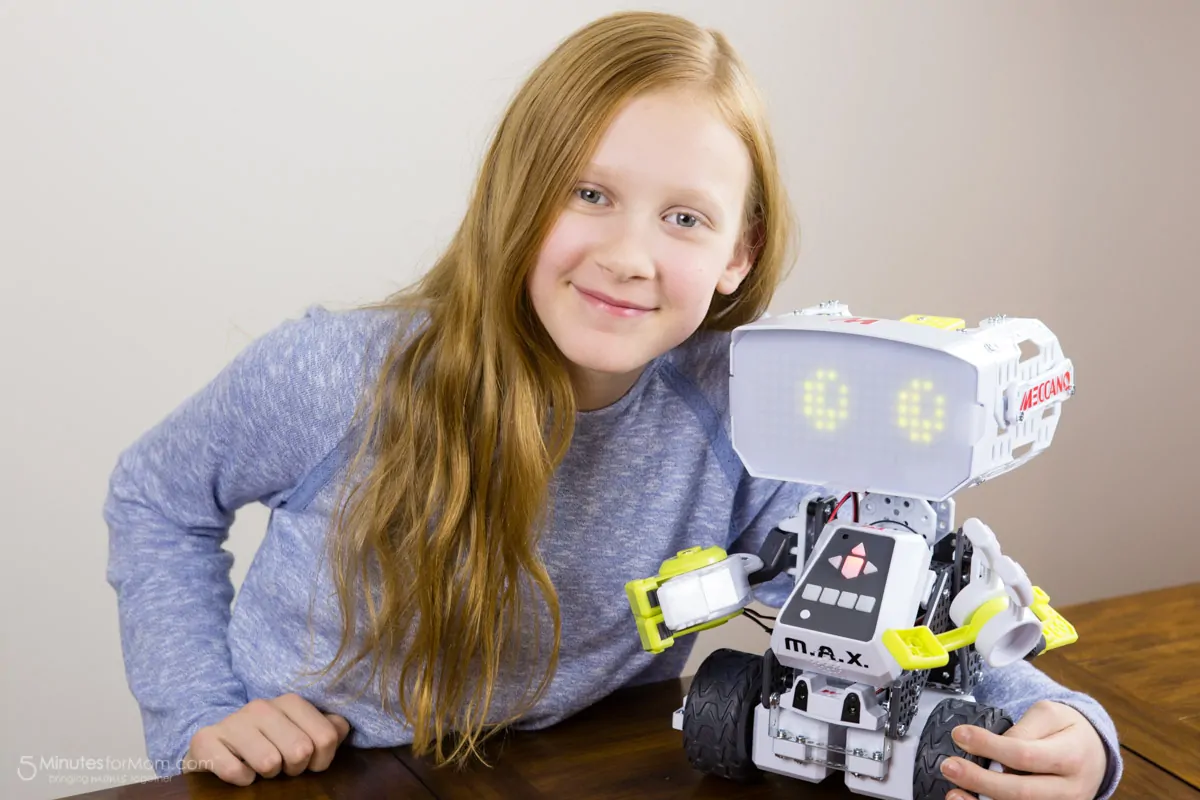 If you haven't heard of Social Robotics before, it is a cutting-edge field of robotics that focuses on robot-human interaction.
The more you interact with M.A.X. the more he learns and grows as a social robot. M.A.X. can mimic human emotion, learn new tricks, and remember things about you, such as your favorite kind of music, who won the last game of two truths and a lie, etc.
Your child can use their own imagination and ideas to uniquely program and interact with M.A.X.
The Coding Environment gives kids control over all of the individual components that make up MAX. They can custom control his motors, servos, face display, add sound effects, effect how he reacts to his sensors getting input, and build out their own flowcharts that use all of these elements to create custom behaviors.
M.A.X.'s coding capability opens up almost endless lists of things kids can do with MAX — from creating their own games, telling jokes, performing tasks, or whatever they can dream up!
M.A.X. has his own collection of cool games, jokes, and fun facts, but with the help
of your kids, he can do so much more!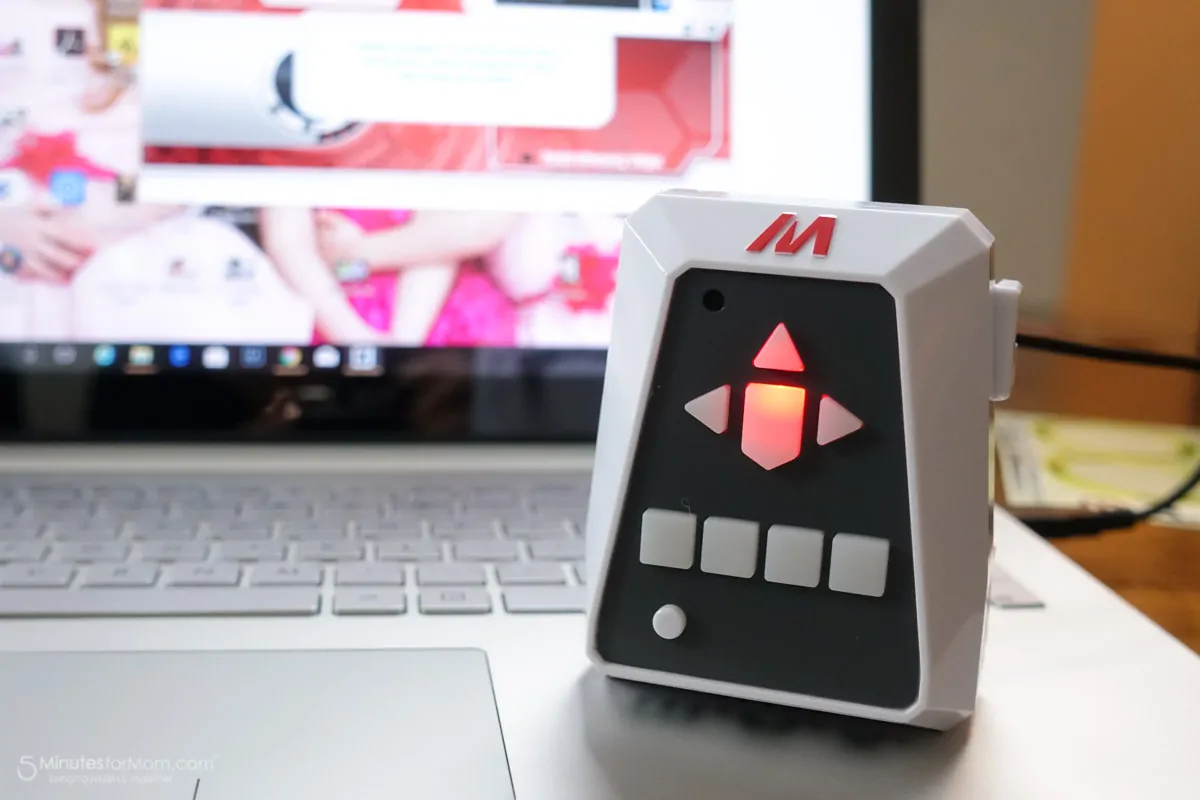 Using the included Programming Environment, your child can create their own custom programs. And don't worry — it is simple to use. The Environment utilizes a very simple and intuitive scratch based drag and drop system of large icons that is designed for beginner programmers.
Some more fun programming features are:
Delivery Mode
What kid doesn't want to have a little messenger of his own! In Delivery Mode, your child can put an item in M.A.X.'s hand and send him off find someone and play them a custom message. Your child tells M.A.X. the name of the recipient and inputs a basic navigation path on his Directional Buttons. M.A.X. then uses his IR sensor to avoid objects and his microphone to find the person he is looking for.
Custom Jokes
M.A.X loves to tell jokes. He can learn over fifty of them. But your child can also use the Programming Environment, and their mobile device's built in microphone, to record their own jokes. By creating individual sound files, intro, set up, punchline, outro, etc., and adding a custom L.I.M. animation to give M.A.X. some body language, M.A.X. can perform your kids very own comedy routines.
Choose Your Own Adventure
Using the feature of a "choose your own adventure story" where the reader makes decisions throughout, thus creating their own story, kids can create and record their own narratives with M.A.X., with twists and turns that lead to unique endings.
Kids could write a simple narrative with a few "forks" in the story and record each section as a sound file. Next, using if/then statements, M.A.X. would instruct the user to make a choice in a story. For example: Max finishes a section of the story by saying, "Press my green button to chase after the villain, or, press my red button to join them!" Max will then wait for input and can continue the unique story when a user has made a decision.
Watch Our Video Build of Meccano M.A.X.
Do you want to see Meccano M.A.X. in action? Check out our video of Susan and Julia building and interacting with M.A.X.
Giveaway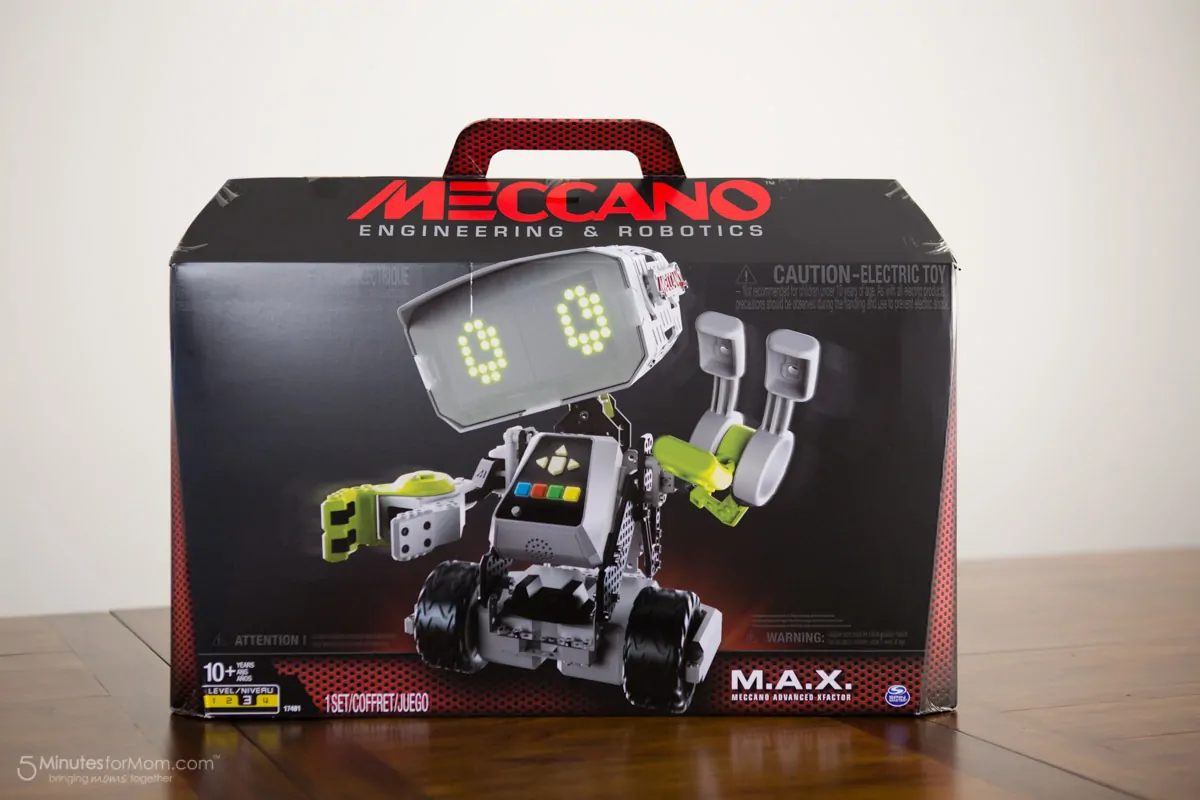 Would you like to win your own Meccano M.A.X.?
To enter to win, leave a comment below telling us what your kid(s) would like best about M.A.X. This giveaway is open to US and Canada.
Find out more about Spin Master and Meccano M.A.X. on their social channels and follow the conversations with #Meccano and #MAXRobot:
Facebook: Spin Master, Meccano
Twitter: @SpinMaster, @Meccano
Instagram: @spinmaster, @meccano
YouTube: Meccano
Pin it for Later

Written and photographed by Janice Croze, co-founder of 5 Minutes for Mom and Janice Croze Photography.
Talk with me: @5minutesformom and Facebook.com/5minutesformom
Pin with me at http://pinterest.com/5minutesformom/