This post may contain affiliate links. Read my disclosure policy here.
One of the most important steps in our Back to School preparations is taking my girls for their annual eye exams.
I time their eye exams for summer, so that it becomes part of our yearly routine and we can be sure their eyes are ready for the year ahead of learning. And I like to make their eye exams a fun part of our back to school routine. This year we partnered with Pearle Vision to share with you about my 9 year old Sophia's recent eye exam*.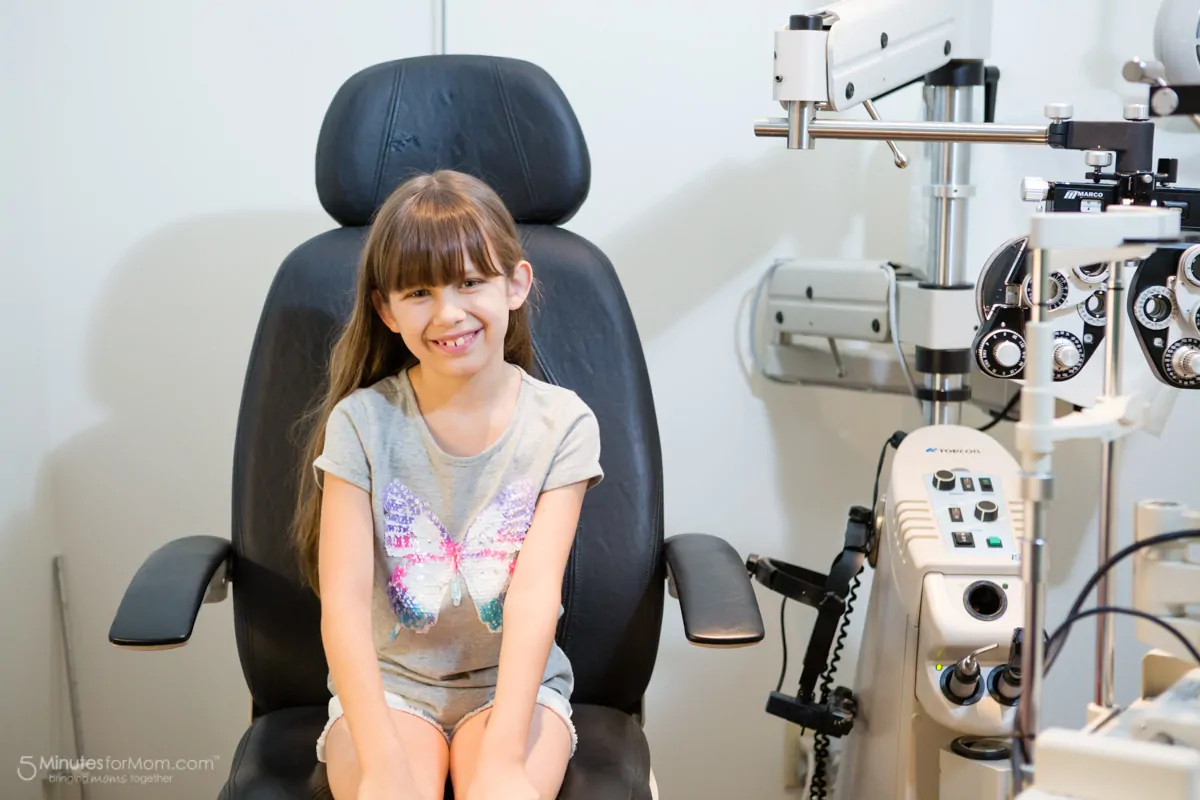 I've been wearing glasses since I was 3 years old.
My girls, Sophia and Julia are now 9 and 12 years old, and while they hadn't yet had to wear glasses, I've been expecting they will one day soon.
In fact, Sophia has been slowly coming to terms this year with the idea that she might have to start wearing glasses after her next eye exam.
At her eye exam last year, the optometrist had told us that her eyesight wasn't quite 20/20 but didn't yet require glasses. She warned Sophia not to spend too much time staring at her iPad and that by the following year she might need glasses.
Sophia was not happy about the idea of having to get glasses, but gradually over the year, she began to accept the fact.
So when we headed to Pearle Vision for her annual eye exam, we were both completely expecting she'd need glasses and we were ready for the adventure of picking out her first pair.
We arrived at the store early for her optometrist appointment, so we decided to start picking out her new glasses first.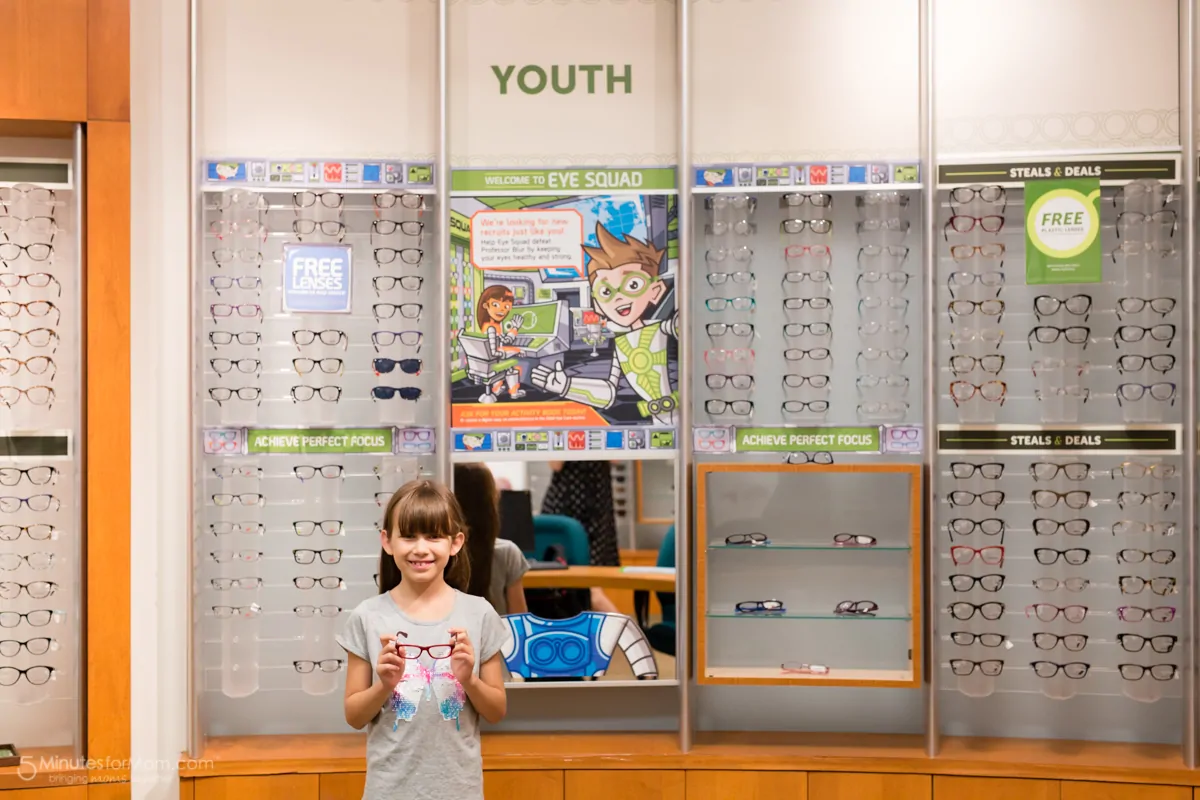 The staff were so attentive and helpful, they made Sophia feel completely relaxed and excited to try on frames.

Sophia enjoyed being the center of attention as the Pearle Vision associate asked her questions, talked about the various styles of frames and handed her different options to try on.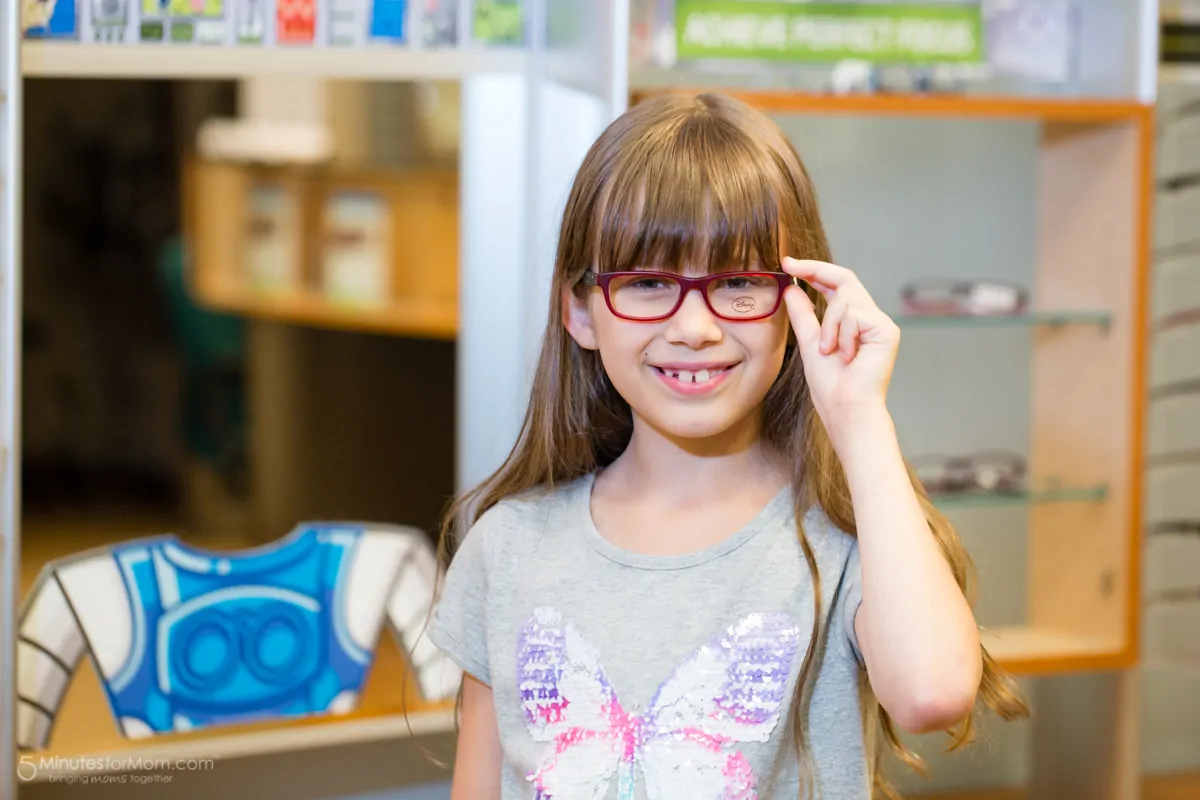 She modeled various frames for us, but the very first pair Sophia tried on turned out to be our favorite of them all.
When our appointment time came, Sophia was thrilled with her decision for her new frames.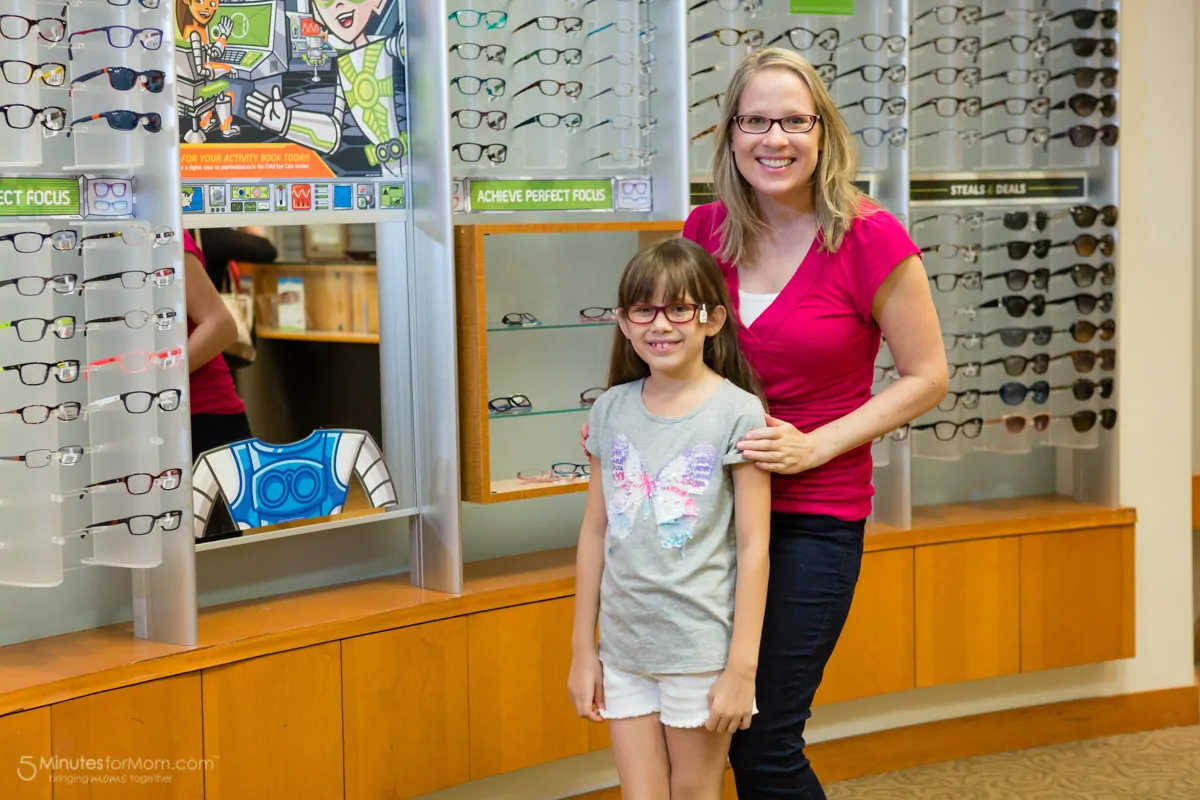 Time For Sophia's Eye Exam
The optometrist was welcoming and put Sophia immediately at ease. She asked Sophia questions about school, reading and if she had any troubles seeing the board at school.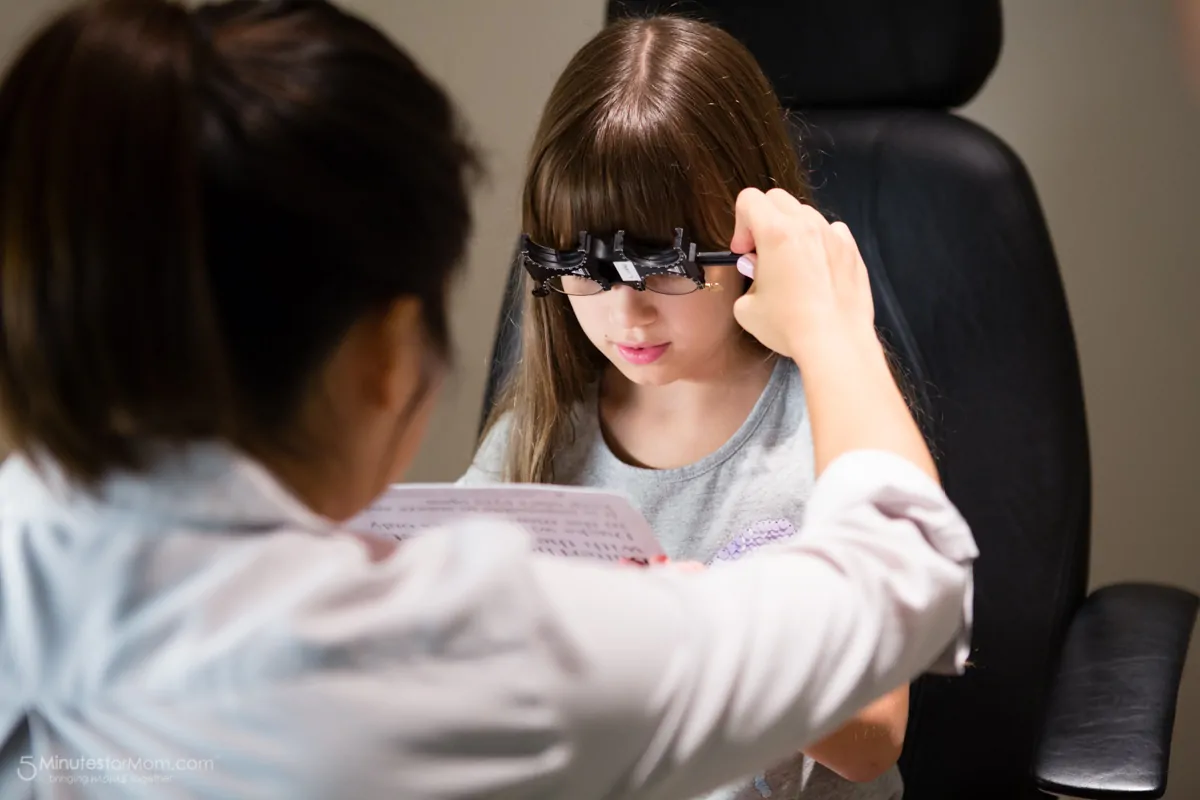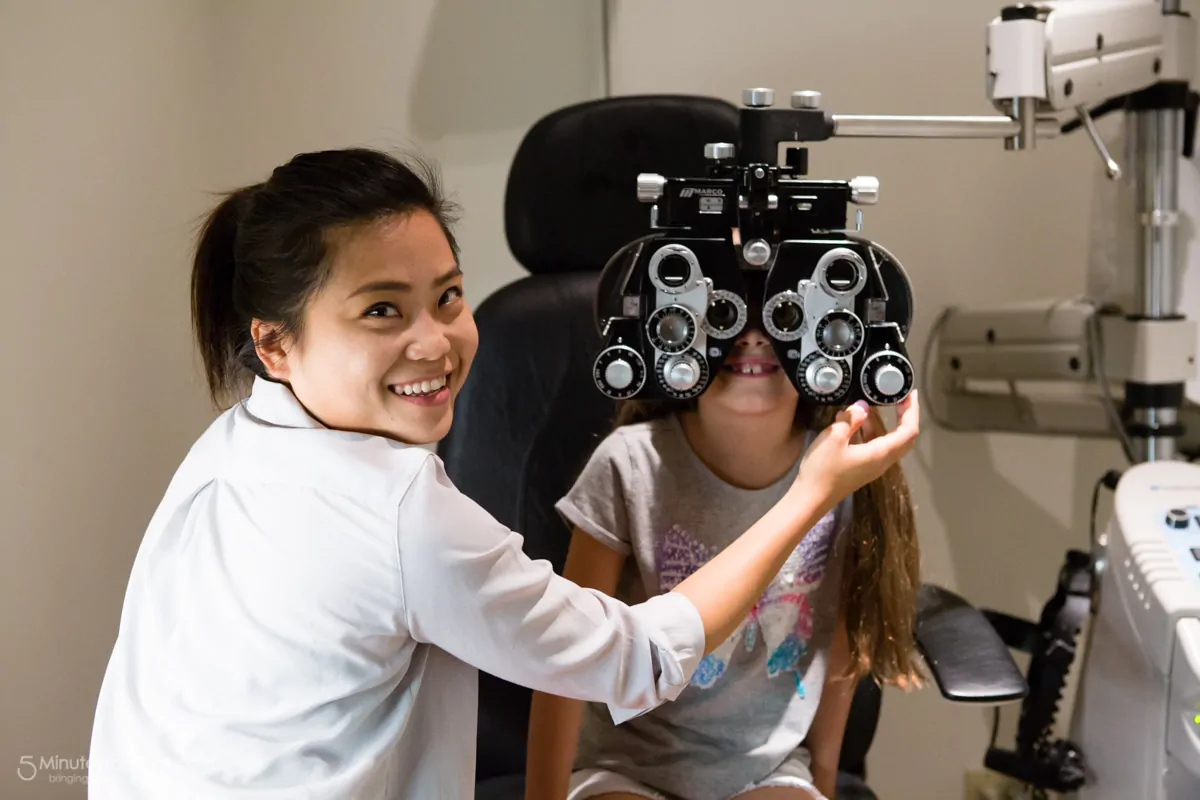 I was so relieved that the optometrist was able to get Sophia to relax and actually enjoy the process of getting her eyes examined.
The doctor took time to explain the steps of what she was doing and she asked me if I had any concerns with Sophia's eyesight.
The eye exam went so well and we couldn't believe the news…
Sophia does NOT need glasses, yet.
Like last year, her eyesight isn't perfect, but it hasn't gotten any worse and she doesn't yet need glasses.
We were completely shocked.
While Sophia was happy to hear that her eyesight has remained the same and that she doesn't need glasses, we were both actually a little disappointed that she wouldn't need those cute frames she'd picked out.
Overall, I'm thrilled that Sophia's eye exam went so well and that she had such a positive experience trying on glasses. Now if her eyesight does change and require that she wear glasses next year or in the future, she'll be ready and happy to head back to Pearle Vision to pick out glasses.
Getting Ready For A Year Of Learning
Did you ever consider how 80% of learning is visual?
I never really thought of it that way.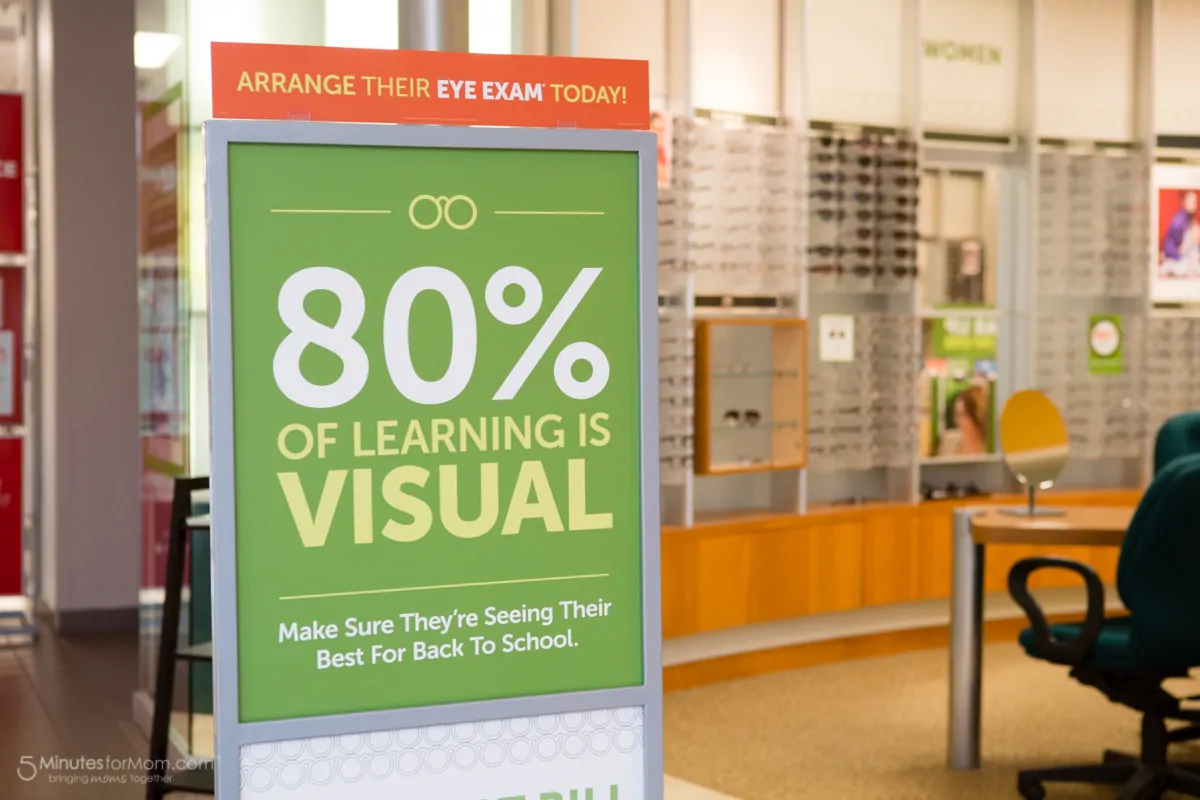 But as someone who can barely see a thing without her glasses, I'm constantly aware of the gift of eyeglasses. Glasses are so common we can easily take them for granted. But since my eyesight is so bad, I've always thought about what my life would be like if I didn't have glasses. And I'm truly thankful for optometrists and eyeglasses.
It's important to remember that children's eyesight is constantly changing and needs to be checked every year. In fact, 1 in 4 kids has an undiagnosed vision problem.
Just because your child didn't need glasses last year, doesn't mean he or she won't need them this year.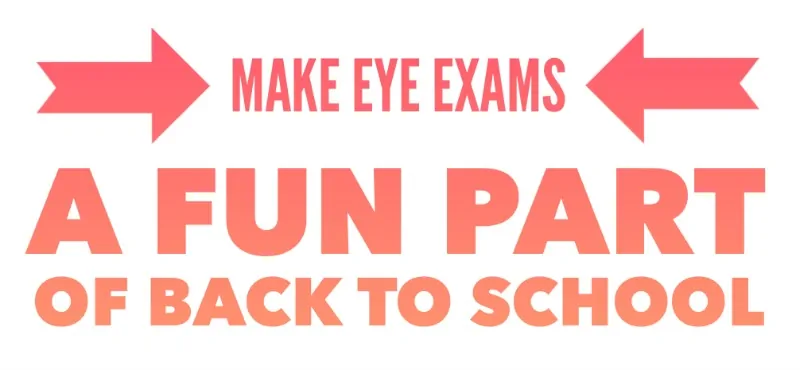 How To Make Eye Exams A Fun Part Of Your Back To School Routine
Book Your Eye Exam Online

Are you as busy as I am? Of course you are. Do you hate picking up the phone? I do. Honestly, I'd rather click a few times on a website than pick up a phone. It's just so much faster and easier.

So I love how quick and easy it is to book eye exams with the Pearle Vision online eye exam scheduler.


Try On Cool Frames And Maybe Sunglasses Too

Shopping for new glasses can be fun for everyone… including you. Perhaps you deserve an awesome new pair of prescription sunglasses. I know I do.

Since kids spend so much time staring at screens these days, more and more of them are going to need glasses at some stage of their childhoods.

If your child's eyesight is not quite perfect, but not yet requiring glasses, let them try on various frames to start getting comfortable with the idea of wearing glasses when the time comes.

Also, if your child is hesitant about getting his or her first pair of glasses, it's best to go right from the eye exam to a positive experience of trying on frames.

The idea of wearing glasses can seem scarier than the reality. There are so many stylish and great looking glasses for kids these days that trying on different frames is fun and kids will like how they look.


Grab A Snapshot

It's fun to grab a quick photo or two at each yearly appointment so you have a series of photos showing them get older and older at each eye exam.

If your child is a little older, she might have fun taking her own selfie next to the equipment.

I do this for dentist appointments too… my kids love looking back at all the old snapshots through time.


Splurge On A Sweet Treat

Make part of the back to school eye exam tradition be a special sweet treat.

After our trip to Pearle Vision, we splurged on some delicious gelato.

Kids love traditions and when you can turn a back to school checklist item into a fun trip with a special treat, it's a bonus for everyone.
Your Turn
Have you taken your kids to get their eyes examined recently?
What are you waiting for? Hop over and book an appointment now with the Pearle Vision online eye exam scheduler.
Arrange your child's eye exam today!
Pin it for Later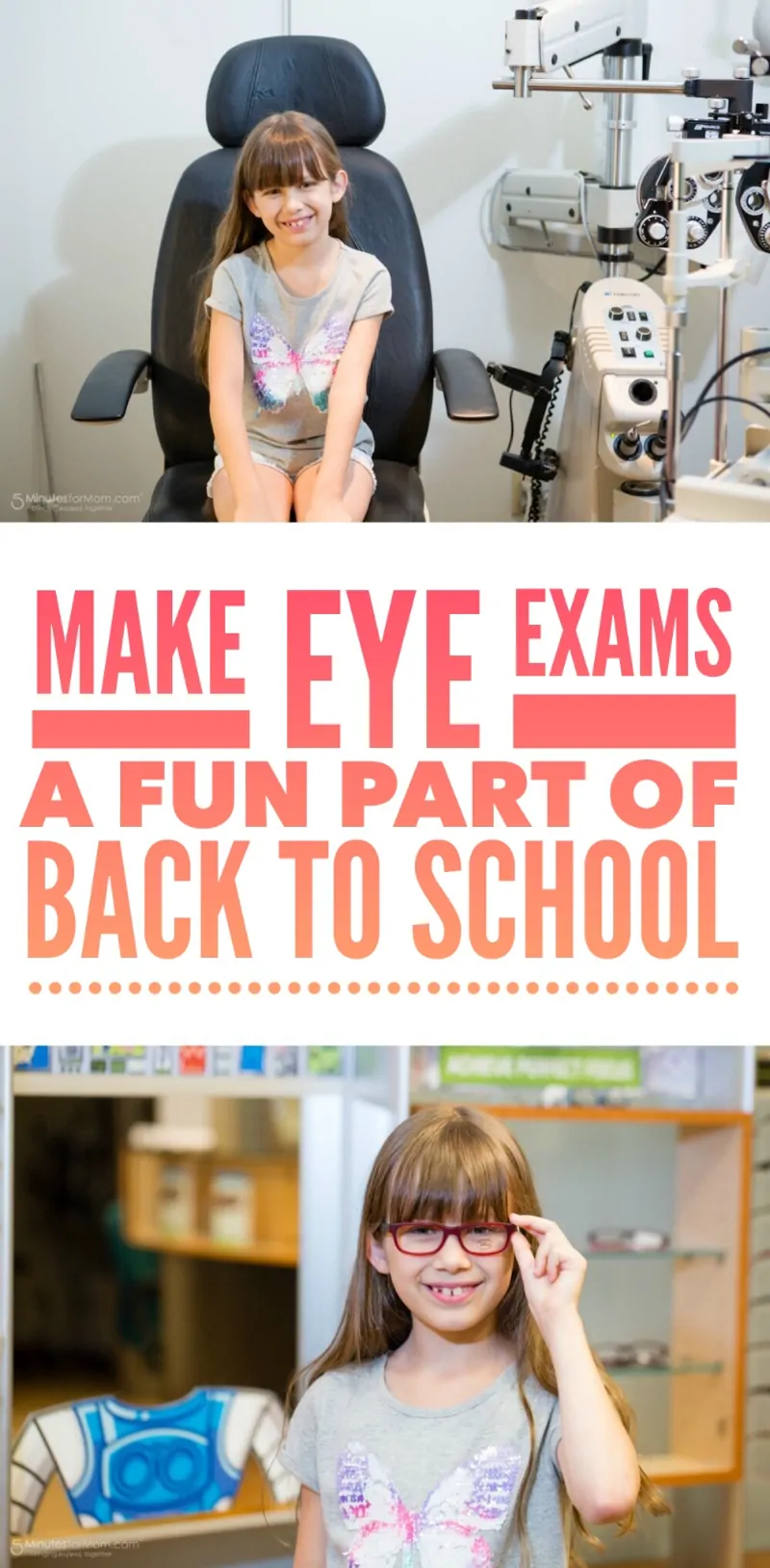 *Eye exams arranged by Pearle Vision.
Disclosure: This post is sponsored, so extra thanks for reading and sharing.
Written by Susan Carraretto, co-founder of 5 Minutes for Mom
Talk with me: @5minutesformom and Facebook.com/5minutesformom
Pin with me at pinterest.com/5minutesformom