This post may contain affiliate links. Read my disclosure policy here.
Tonya here… Do you love to cook with your kids as much as I do? I love creating both memories and a delicious recipe together. Also, I think it's important to teach children how to cook and how to clean up afterward. Have fun making these Gluten-Free Boysenberry Thumbprint Cookies and other #Messipes with your children. This post is sponsored by Palmolive Extra Strength, so extra thanks for sharing.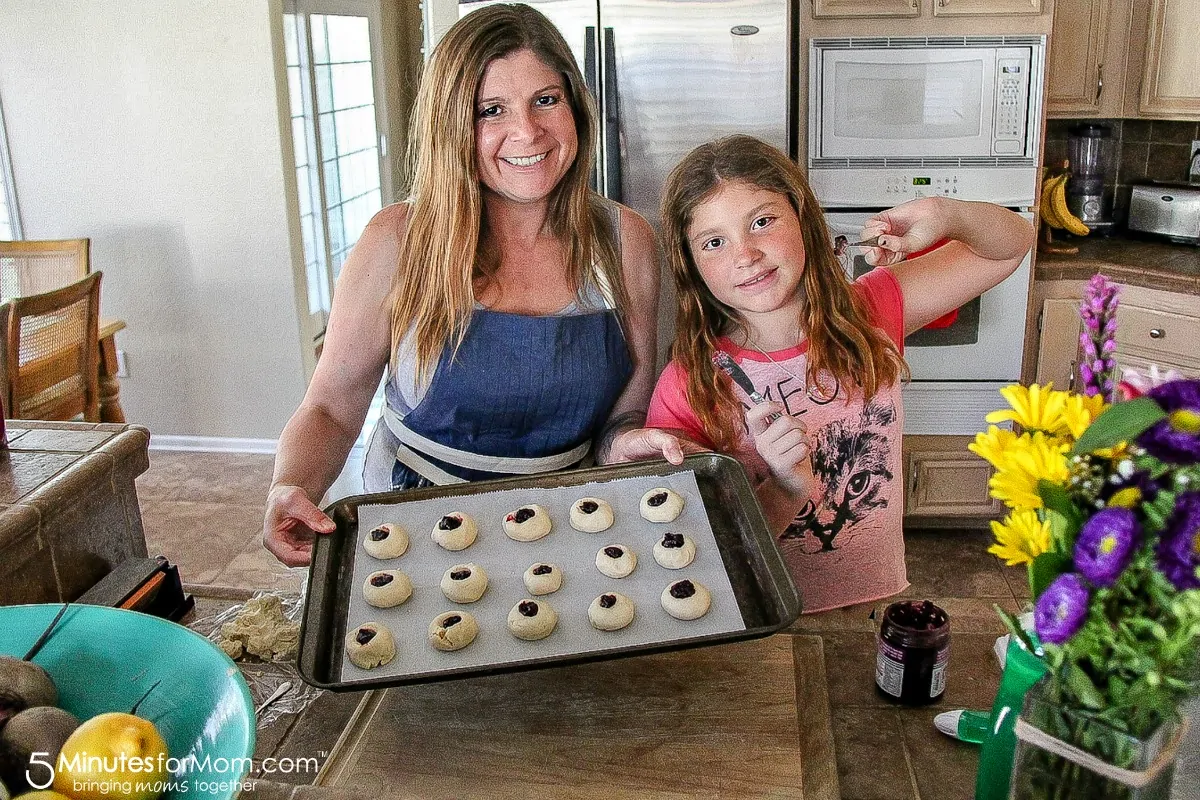 My daughter and I love to get into the kitchen together and create new recipes. I find that my kids are more willing to try new foods if they've helped create them. And sure it gets messy, but isn't that all just part of the fun?! The measuring, mixing, stirring, taste-testing, and spills are all part of the learning experience, as is the cleaning up.
Baking with Kids
We bake at least once or twice a week. My daughter packs a homemade lunch for school two to three times a week (when she doesn't like what is going to be on the school lunch menu). So between school lunches and snacks for afternoons when we have friends over, we are always in need of a few yummy treats. And she loves getting into the kitchen with me and learning how to cook and bake.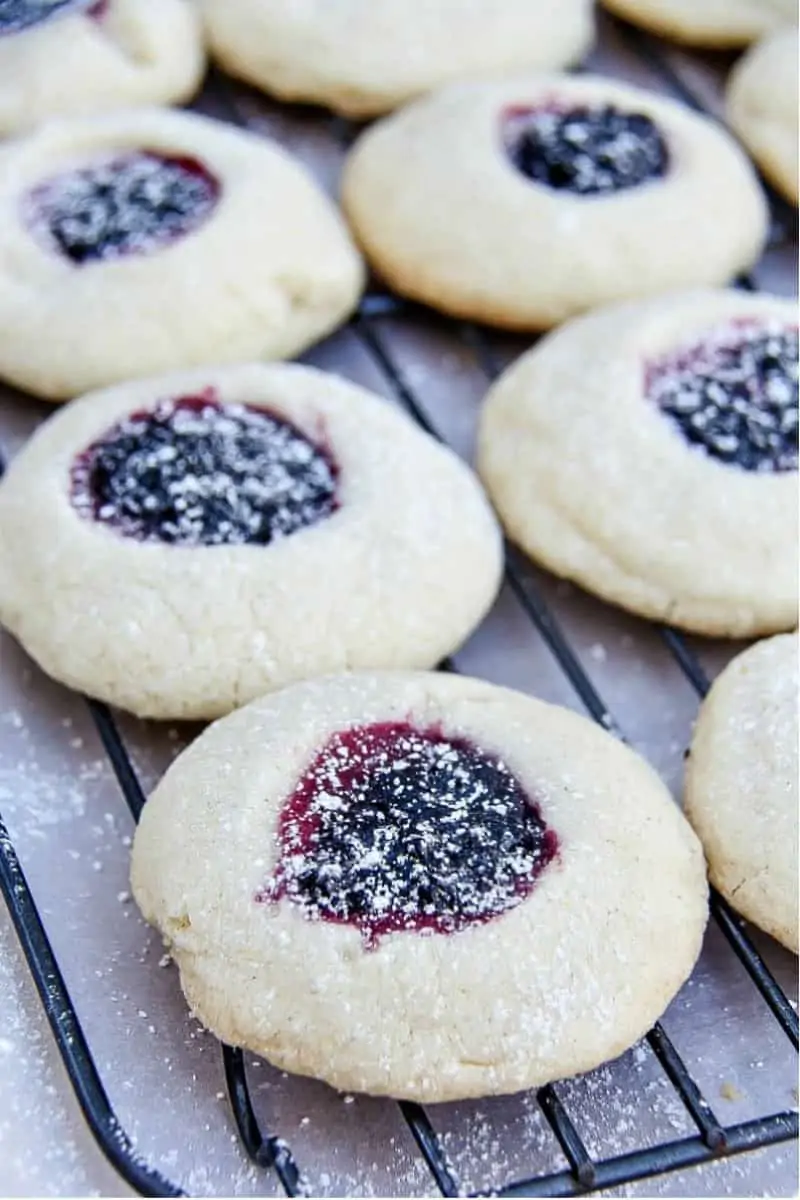 Last weekend I taught her how to make thumbprint cookies. We had some boysenberry jam on hand and it was nice and thick so it was perfect for filling these cookies. But you can make this recipe with whatever your favorite jam is, just as long as it's thick.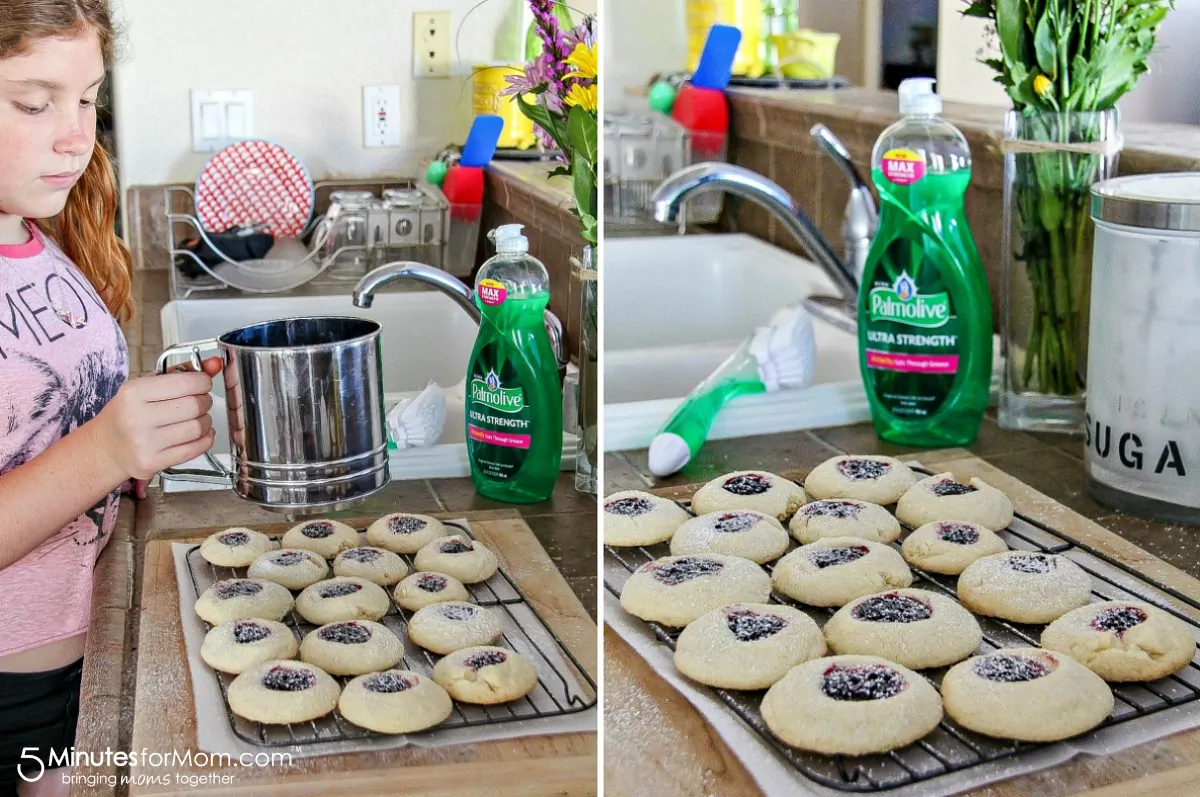 You can grab our recipe below along with the directions for making these Gluten-Free Boysenberry Thumbprint Cookies.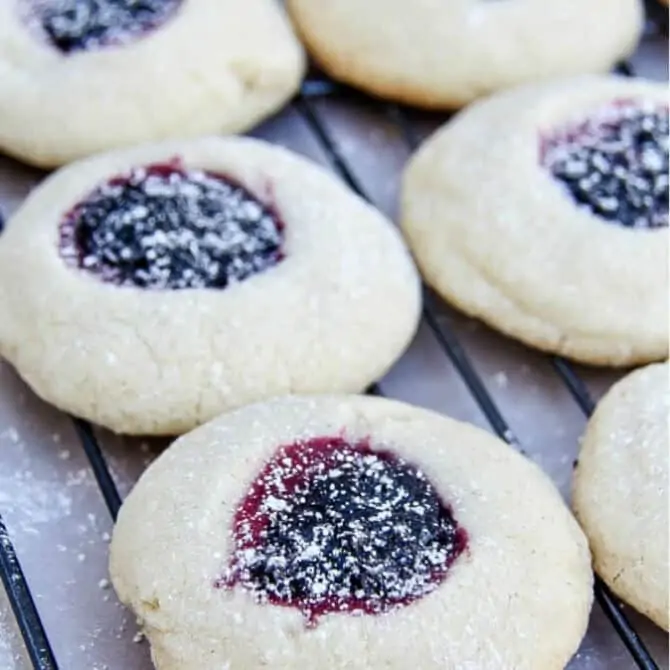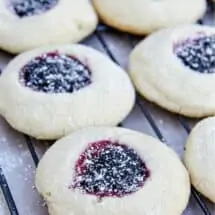 Gluten-Free Boysenberry Thumbprint Cookies
Delicious gluten free cookies and that quick and easy to make. Boysenberry jam is perfect for filling thumbprint cookies, but you can make this recipe with any flavor jam, as long as it's thick.
Print
Pin
Rate
Servings: 21 cookies
Calories: 163kcal
Ingredients
2 sticks unsalted butter - softened to room temperature
2/3 cup white sugar
2 tsp vanilla extract
2 cups gluten-free all-purpose flour
pinch salt
1/2 cup preserves
powdered sugar
Instructions
Preheat the oven to 325F.

Line a cookie tray with parchment paper.

Beat sugar and butter on high until creamy. Add the vanilla and salt and mix until combined.

Turn mixer down to low and add flour. Mix until just combined.

Form dough into a ball, cover in clear wrap, and then refrigerate for 1 hour.

Break off small pieces of dough and roll into balls about1.5" wide. Please each on the cookie tray about 2" apart and press a hole into the center.

Fill each hole with preserves.

Bake in the oven for approximately 20 minutes or until the edges start browning a little.

Transfer to a wire rack to cool. Once cool sift powdered sugar over cookies.
Nutrition
Calories: 163kcal | Carbohydrates: 20g | Protein: 1g | Fat: 9g | Saturated Fat: 6g | Cholesterol: 23mg | Sodium: 80mg | Potassium: 9mg | Fiber: 1g | Sugar: 11g | Vitamin A: 269IU | Vitamin C: 1mg | Calcium: 12mg | Iron: 1mg
Teaching Kids How To Clean Up
And of course once the baking is done, it's time to clean up. Lately my daughter has been asking me to teach her how to do the dishes. (I actually taught her how to do them a couple of years ago, but since I don't her do them often enough, she's forgotten.) But now that she's getting older and actually wants to help clean and organize around the home, teaching her to do everything from start to finish (cooking through cleaning up) is the perfect at-home learning experience for her.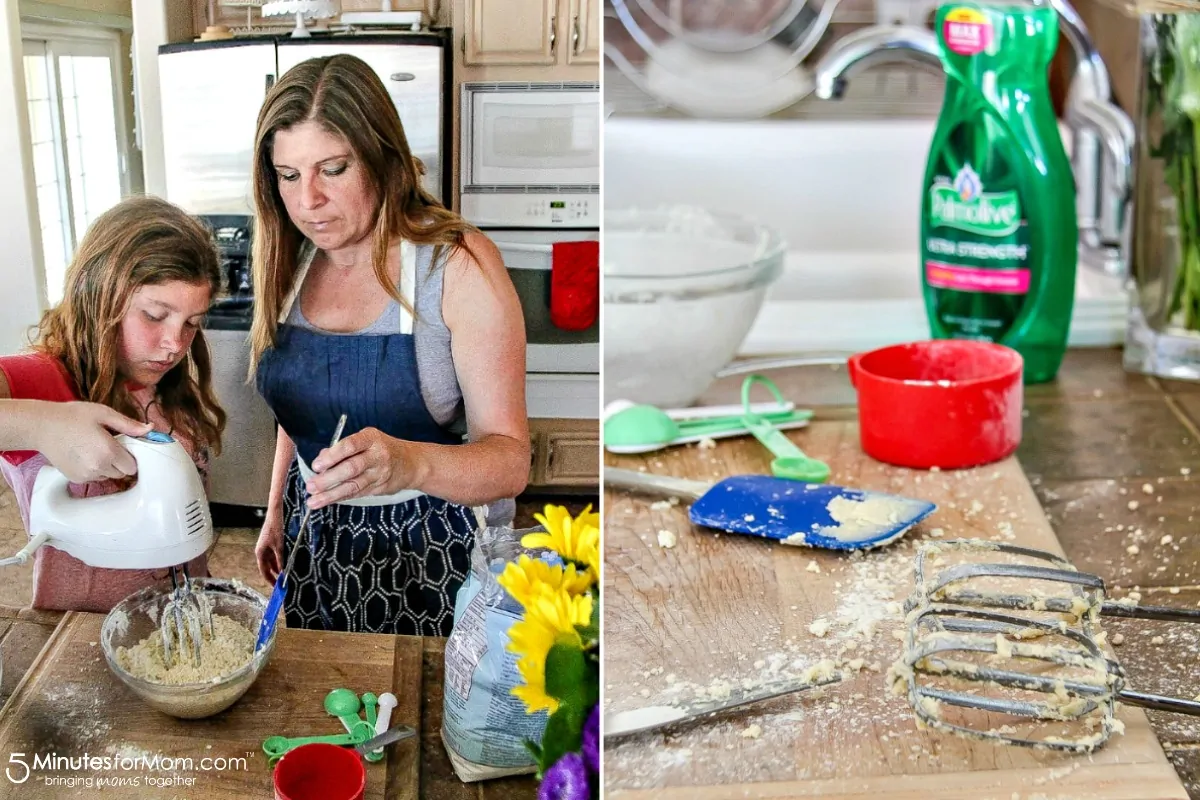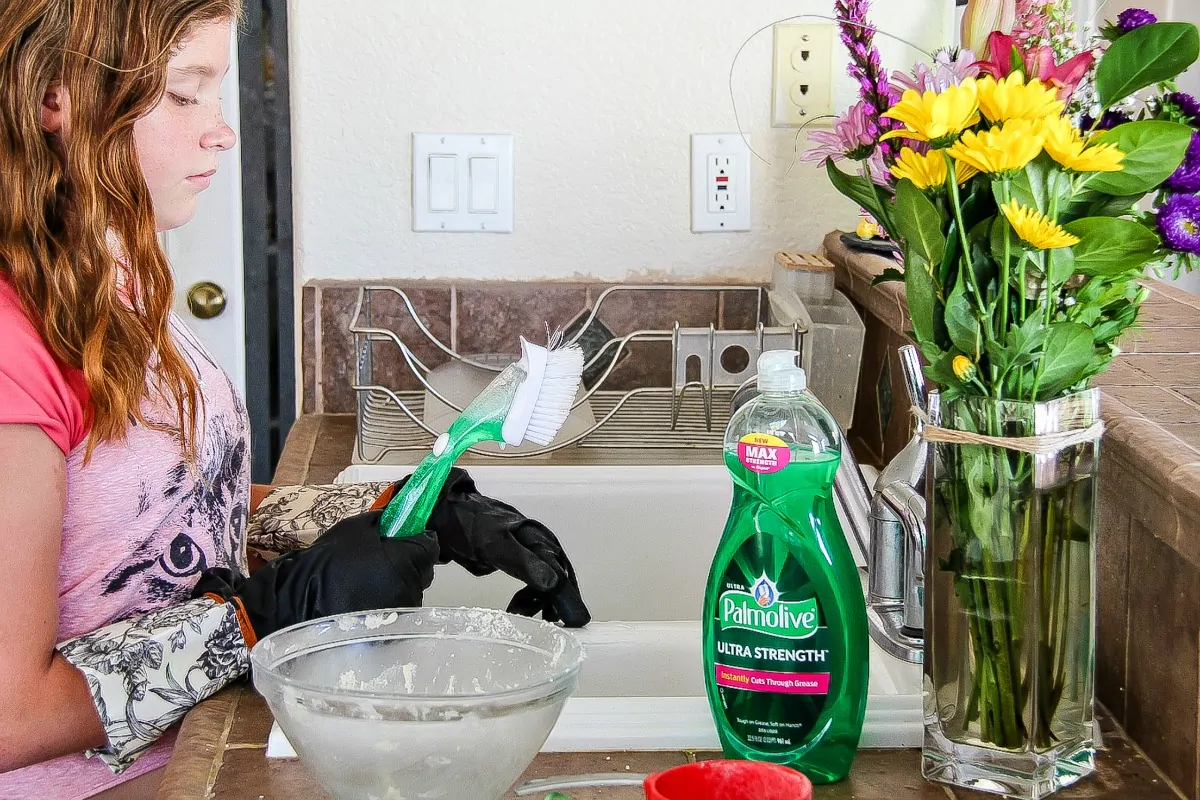 Here are a few handy tips for teaching your kids how to clean up the kitchen:
Safety first: show them what the garbage disposal does (if you have one) and how to safely use it, remove all sharp items such as knives for now, and ensure that they can reach the sink. If they can't, give them a step stool or step ladder to stand on.

Discarding leftovers: If you have a pile of dishes with leftover cereal or other foods on them, show kids' what can go into the garbage disposal and what needs to be scraped off the plates into the trash, or put aside for composting.

Necessary tools: Set them up with everything they will need including warm water, sponges (or a brush wand that you can add detergent to), clean kitchen towels for water that doesn't quite stay in the sink, and of course Palmolive Ultra Strength.

Dishwasher or hand-washing: We don't use our dishwasher for everything. There are certain prepping, cooking and serving tools, along with hand-painted items that we do not put into the dishwasher and require hand-washing. So, use the method of rinse, scrub, rinse, and place into the dish rack for air drying, or dry with a towel to immediately be put away.
This year, Palmolive Ultra Strength is partnering with Freddie Prinze Jr., who has created a series of "Messipes" (messy recipes) to inspire families to savor the fun that is the messy part of mealtime. Be sure to check out Freddie's Messipe Moments here!

Disclosure: As a participant of the Palmolive Ultra Strength program, I've received compensation for my time and product samples for review purposes. Opinions are my own.

Written by Tonya Staab, contributor at 5 Minutes for Mom
Talk with us: @5minutesformom and Facebook.com/5minutesformom
Pin with us at pinterest.com/5minutesformom

Find More Gluten Free Recipes
Gluten Free Oatmeal Chocolate Chip Cookies Recipe