This post may contain affiliate links. Read my disclosure policy here.
Camping is pretty great in itself, but being able to bring your pets along can make it even better.
But if you are thinking of camping with pets, you need to plan ahead. You may have some challenges when taking your pets camping, such as supervising them the whole time to make sure they don't run off and get lost or get into something they shouldn't. If you're worried about problems when camping with your dog or other pets, then you've come to the right place.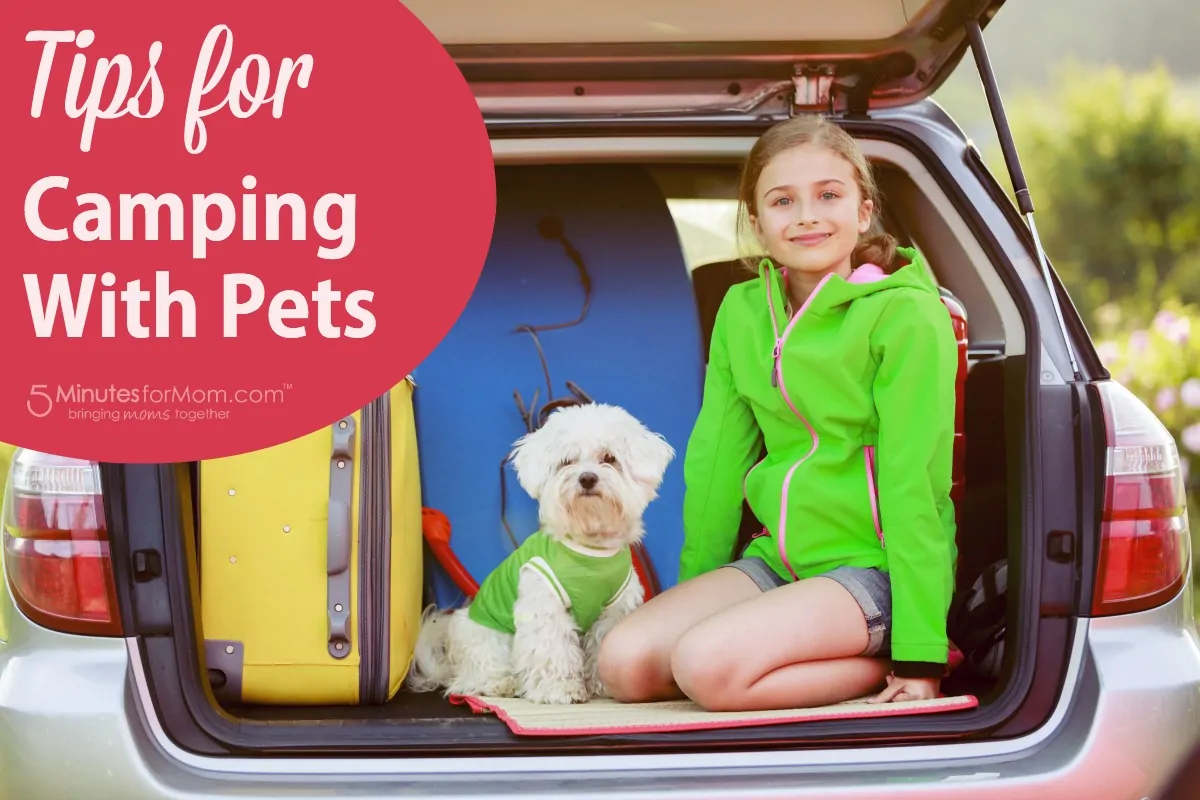 These tips for camping with pets will make everything much easier so you can have the best camping trip with your pets.
Before You Leave
There are a few things that are important to take care of before you even think about leaving on a camping trip with your pet.
First you need to make sure that the camping area allows pets. If they do, then find out what their rules are regarding pets and be sure to follow all those rules.
The second important thing you're going to want to take care of is making sure that your pet has a nice and appropriate harness/collar with an identification tag. Ensure the tag is up to date and has a phone number on it that you can be reached at ASAP like a mobile phone number. Chips are also good precautions, but again be sure that the information is up to date.

Finally, you'll want to take your pet/pets to the veterinarian to make sure that they are healthy and up-to-date on every required vaccination (especially rabies). It's also important to discuss the appropriate tick and flea control as well as asking if your pet needs to be vaccinated against Lyme Disease.
Packing
Yes, your read that right, packing for your pet is an essential thing to do before you go camping.
You might be surprised at all the things you need to pack for your pet for camping. There's a lot of stuff that you'd most likely end up forgetting.
To make sure you don't forget anything, here's a little list of everything you'll need to pack for your furry little friend that you're taking along on your camping trip.
Water if there's no water supply at the campsite (do not allow them to drink from standing bodies of water).
Food and Treats (it's important that your pet stays on their diet, so be sure to pack enough food and treats to last the entire trip).
Copy of Vaccinations Reports and Health Records
Toys (to keep them occupied).
Bedding
Food and Water Bowl
Leash
Collar/Harness
Medications if they have any
Carrier
Bags for poop
At The Campsite
Now that you've arrived at your campsite, its time for what to do to keep everything running smoothly when you're finally camping with your pet.
If your pet isn't trained to be off the leash, you'll want to keep them on their leash or confined in some way so you don't run the risk of them getting lost, injured, or disturbing your neighboring campers.
Be aware and keep your pet from anything that can injure them such as sharp utensils, the campfire, and anything strange around the campsite.
Check their fur regularly for everything from thorns, burrs, and especially ticks. Plants such as burrs can usually be brushed off/out of your pet's hair pretty easily but if sometimes it can get badly tangled. If that's the case then you may need to shave or cut it out of their hair.
If you decide to go adventuring or on a walk, it's best to take your pet with you. If you must leave your pets at the campsite, make sure they are properly confined while you're gone. Don't leave them tied up to anything or in a closed car. Use a portable fencing unit or a crate to keep them safe while you're gone.
With these tips for camping with pets, you'll now be able to comfortably take your pets on your next camping trip and have absolutely no worries of your pets being hurt or getting lost.
Do you have any tips for camping with pets? If so please share in the comments!
Pin it for Later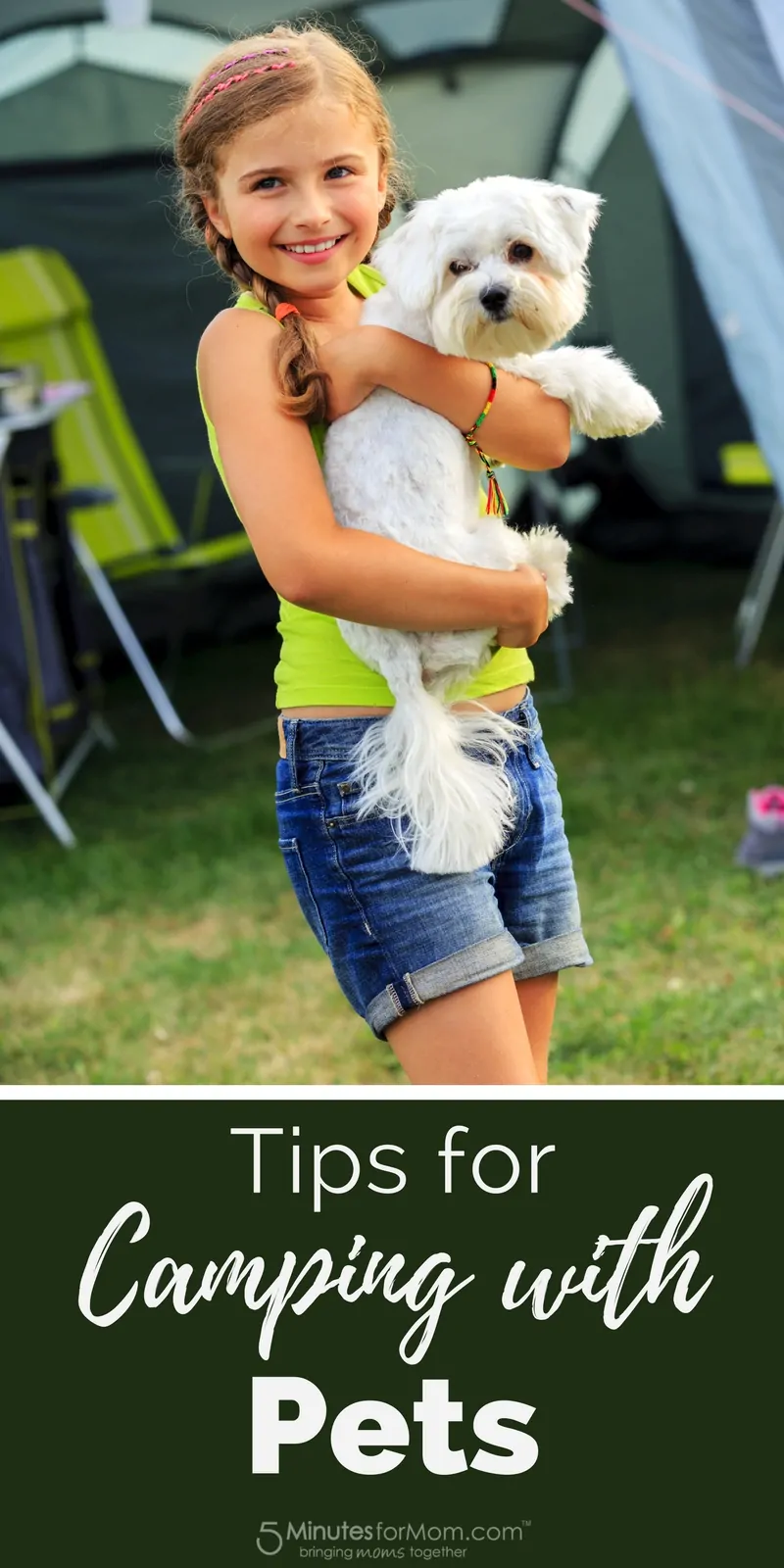 Written by the team at 5 Minutes for Mom
Talk with me: @5minutesformom and Facebook.com/5minutesformom
Pin with me at pinterest.com/5minutesformom