This post may contain affiliate links. Read my disclosure policy here.
This blog post was created with Hellmann's® and JONES Voice.
Where does our food come from? In our modern, urban lifestyle, we've become so detached from the process of harvesting our own food, that most kids don't think about where their food comes from. As parents, we want to inspire our kids to ask more questions about food and have fun discovering the answers. So we're working with Hellmann's to help families get excited about eating real food and learn where that food started.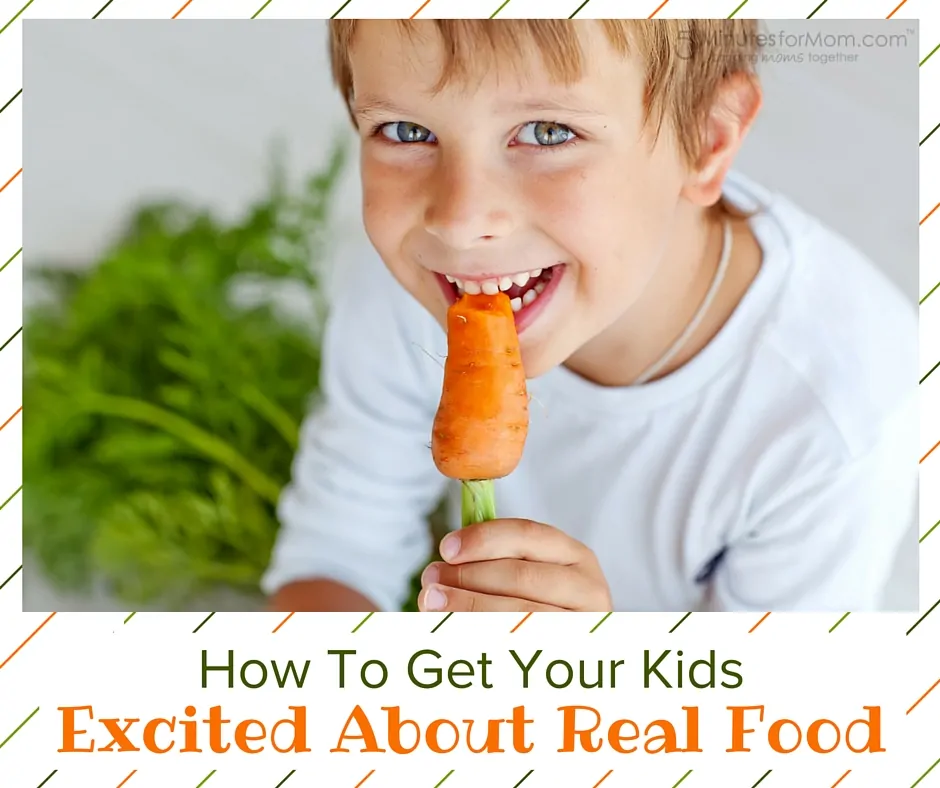 These days, life as a parent is BUSY!
I think my biggest challenge as a mother is battling the clock. There's simply not enough time in the day to get everything done. So we have to take shortcuts… and sometimes that means buying processed or fast food.
And the less we bake and cook "from scratch", the further we get from where our food began.
I grew up with a big vegetable garden in my backyard. We planted the seeds, watched them grow and then plucked our food from the soil where it started.
Sadly most families these days don't have the luxury of the space for a vegetable garden or the time to tend to it.
Personally, I live in a small townhouse and I'm a single mom working round the clock to provide for my family. While I do love to plant some small potted vegetables and flowers with my girls, we don't have a garden like I had growing up.
But the good news is even if you're living in a small place without a yard, you can still get your kids excited about real food and where it comes from.

Hellmann's recognizes this challenge and their #RealFoodMovement is all about helping families learn where their food comes from.
Hellmann's recently brought together a group of kids and their parents and took them to a Blue Ribbon canola farm, owned by the Stockbrugger's family, in Saskatchewan, Canada.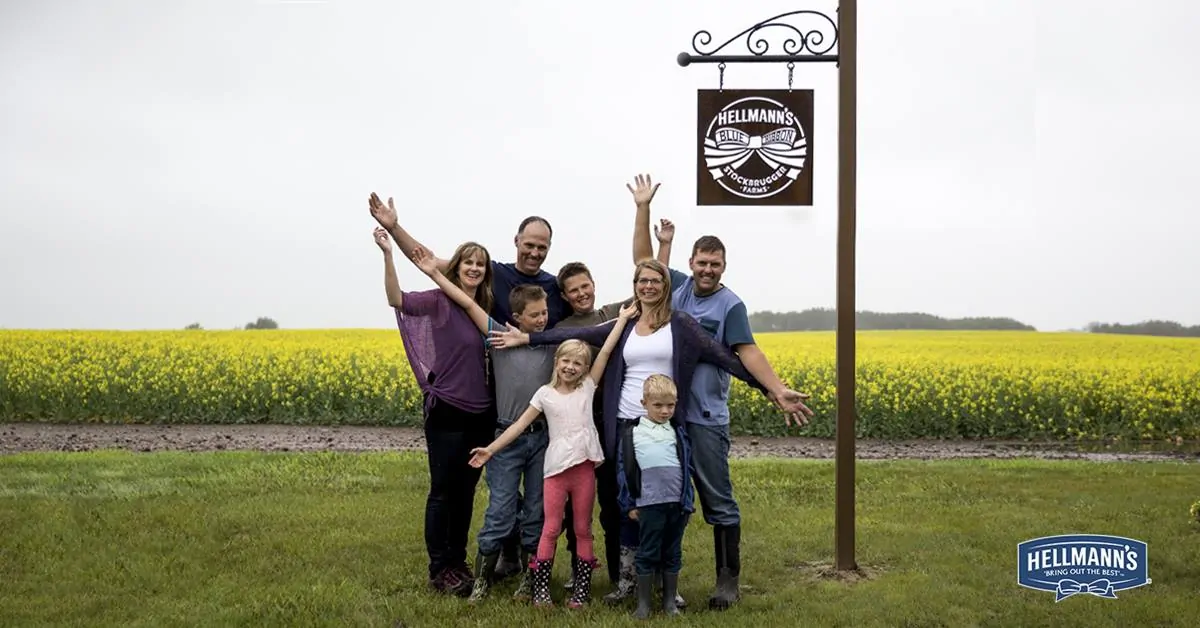 They toured the Stockbrugger's family farm and learned what goes into crafting the perfect jar of Hellmann's.
You can take a look for yourself in the video below…
You may not have the chance to tour a farm with your children, but you still can have fun teaching your kids about real food.
5 Tips for Getting Your Kids Excited About Real Food
Use Technology – While the fact that kids are constantly online can be a parenting challenge, you can also use it for good. Watch YouTube videos together and browse websites that talk about farming and let kids see food production in action. Start with the video above and then keep the learning going.

Plant Some Seeds – You don't need a backyard garden to watch seeds turn into vegetables you can eat. Get a pot and plant some carrot seeds.

Try Every Vegetable In The Grocery Store – Make a challenge with your kids to learn about and try every vegetable in the grocery store. You could make a chart together and rate which ones they like the best.

Do Nature Crafts – Get crafting with projects inspired by nature. We have an activity below for you to make with your kids. But don't stop there… keep your inspiration flowing as you get your hands dirty.

Keep Asking Questions – Kids ask lots of questions. (Sometimes it can feel like too many questions.) Encourage your kids to keep questioning where their food comes from. When you're eating dinner together, talk about your food, the ingredients and where they came from.
Activity – Create a Grass Head Person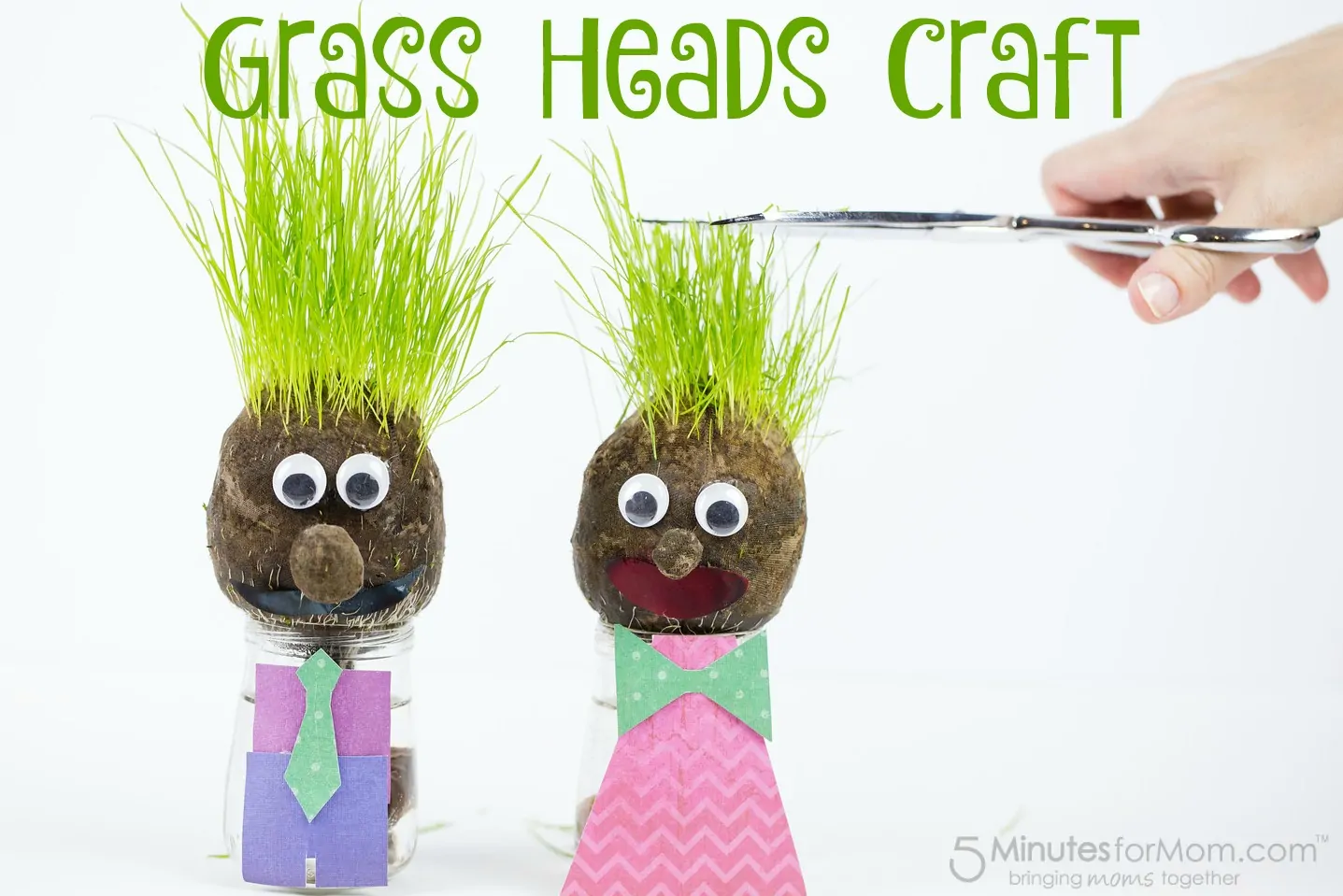 Here is a fun craft you can make with your kids to get them excited about how seeds grow.
Step 1 – Cut out the feet of an old pair of stockings just above the knee.
Step 2 – Fill up your stocking with grass seed and sphagnum moss. Tie it into about a tennis ball size shape to make a 'head'. (We also added a little potting soil to our mixture.)
Step 3 – Pinch the front of the 'head' to make a 'nose', hold in place with an elastic band.
Step 4 – Make a face, i.e. use googly eyes for the eyes, draw on a mouth, use pipe cleaner to make eyebrows or a mustache etc.
Step 5 – Glue some paper on a plastic cup or a baby food jar, and make an 'outfit' for your sprout head. You can even cut out a little tie etc to dress it up.
Step 6 – Hand fill your plastic cup or jar with water and place your 'head' on top, so that the stocking tail is dangling in the water.
Step 7 – Now place your grass head person on a window sill to get lots of sun. Water him/her with a spray bottle every day and watch them grow!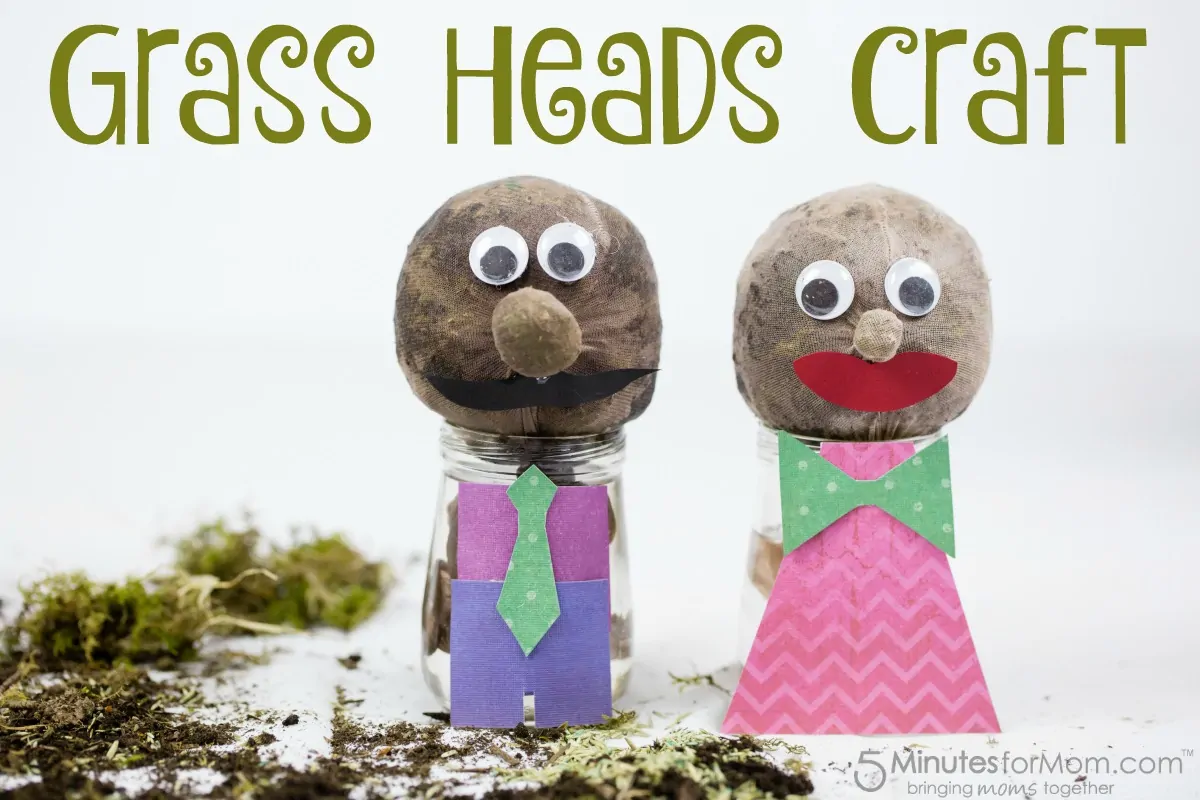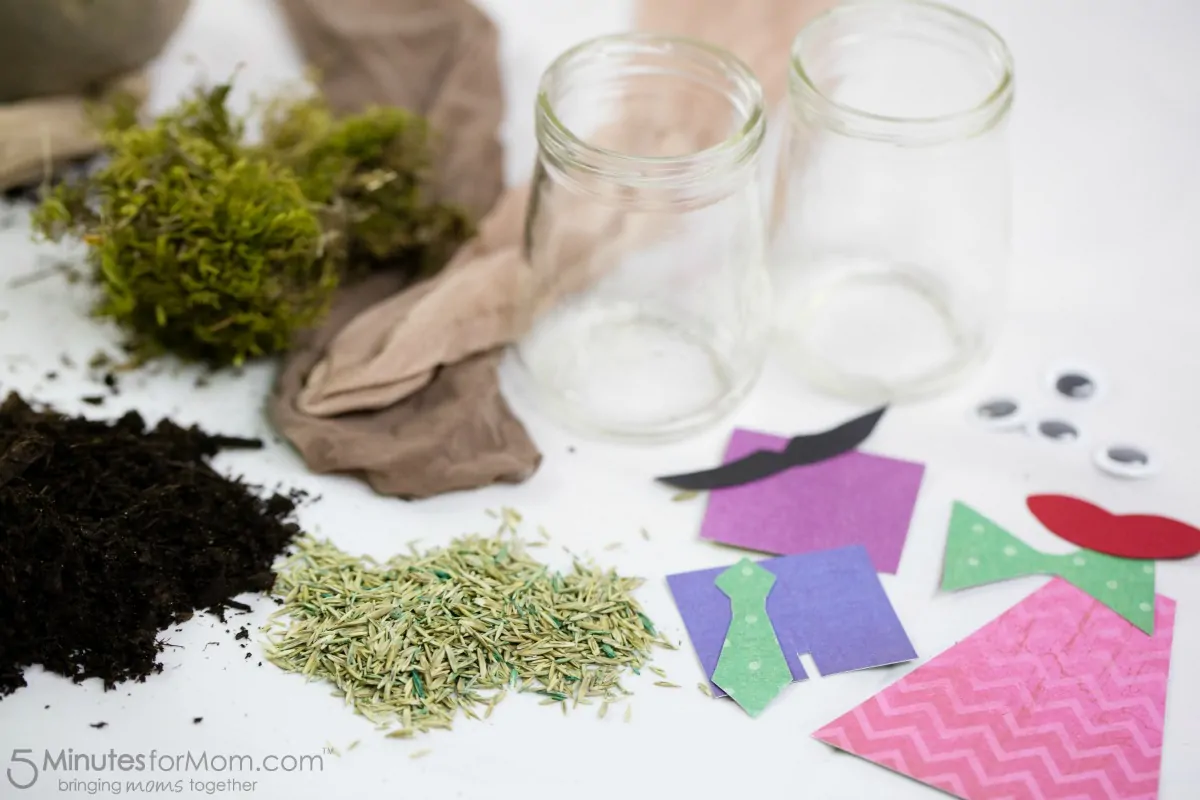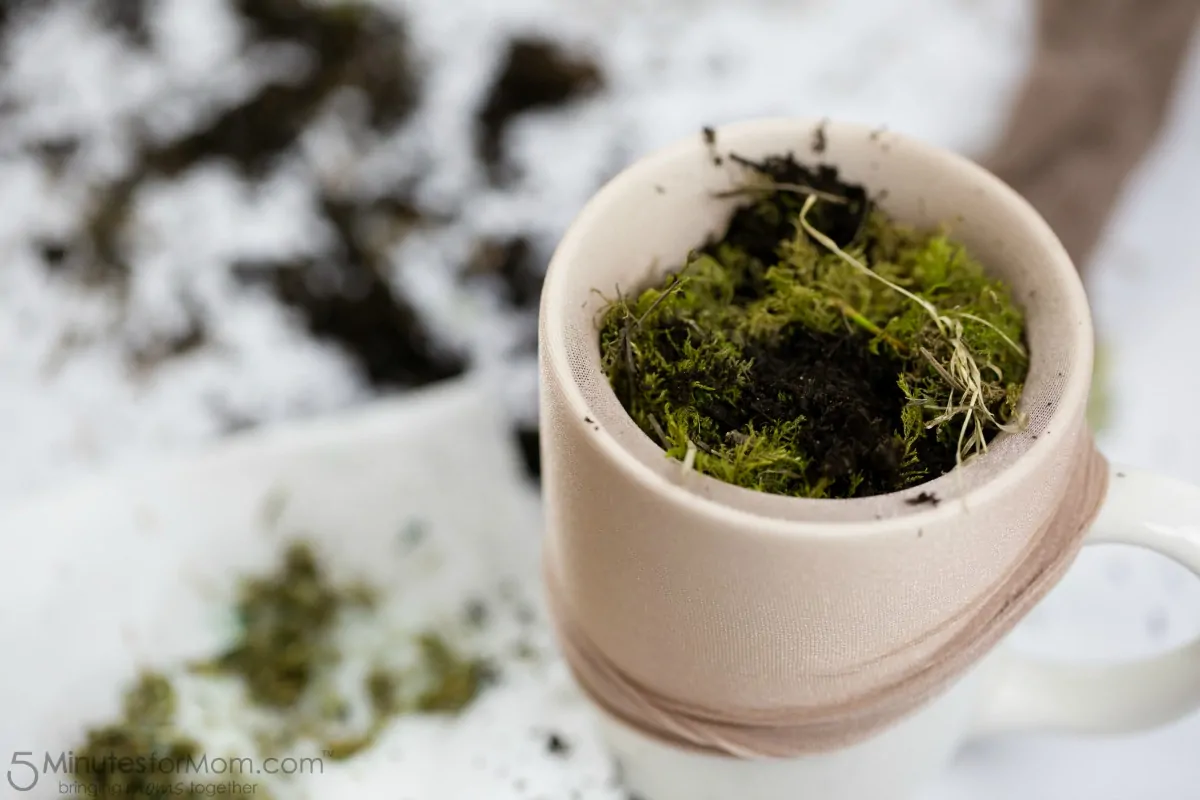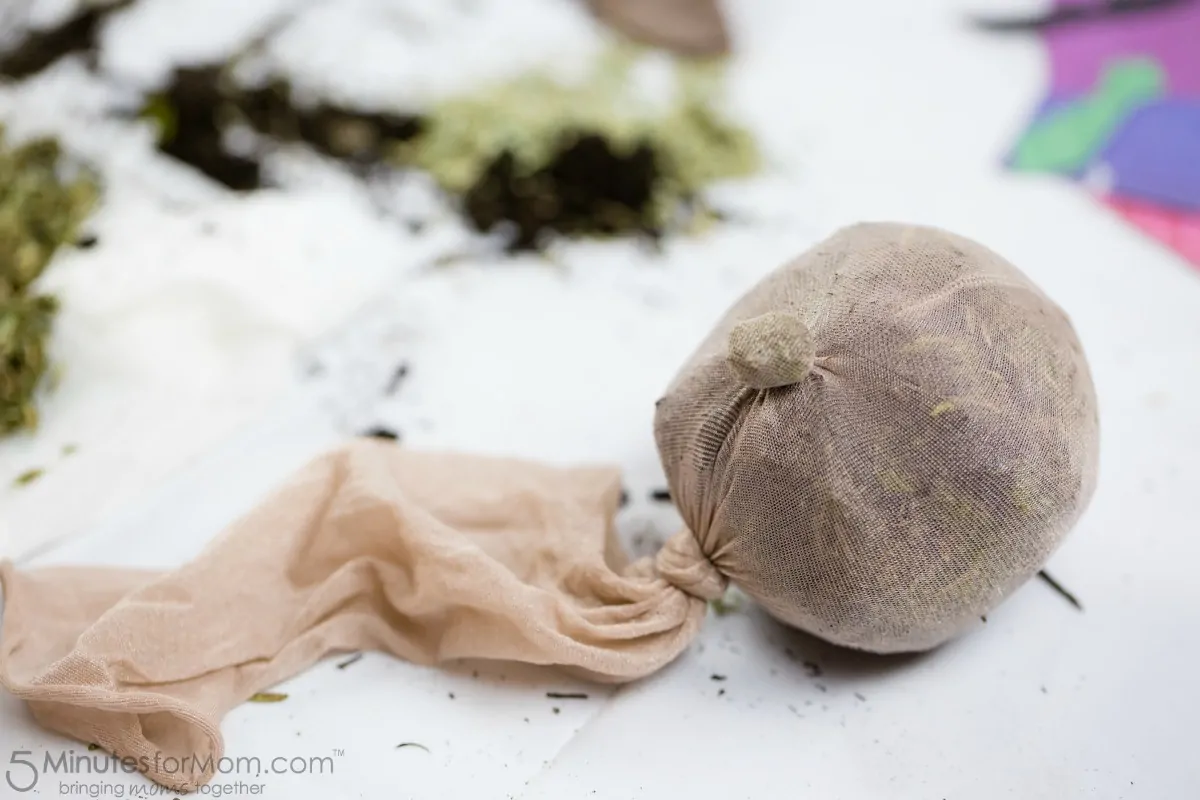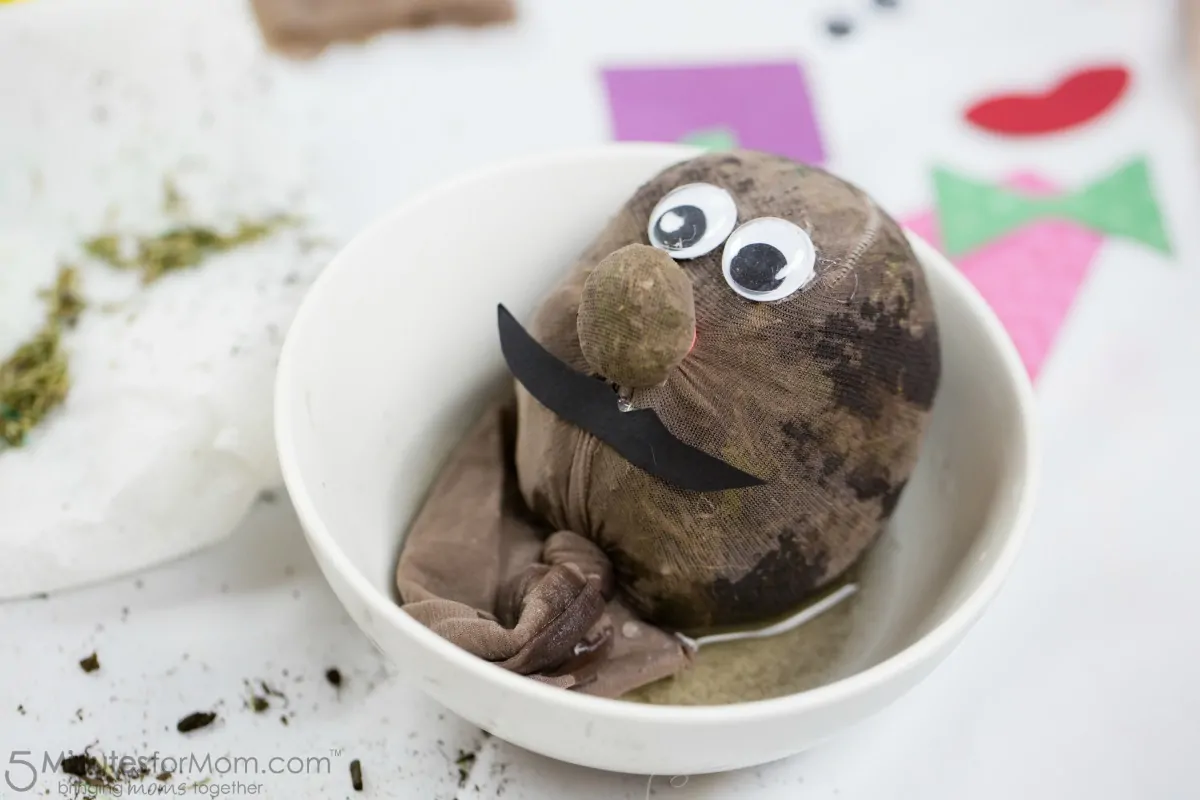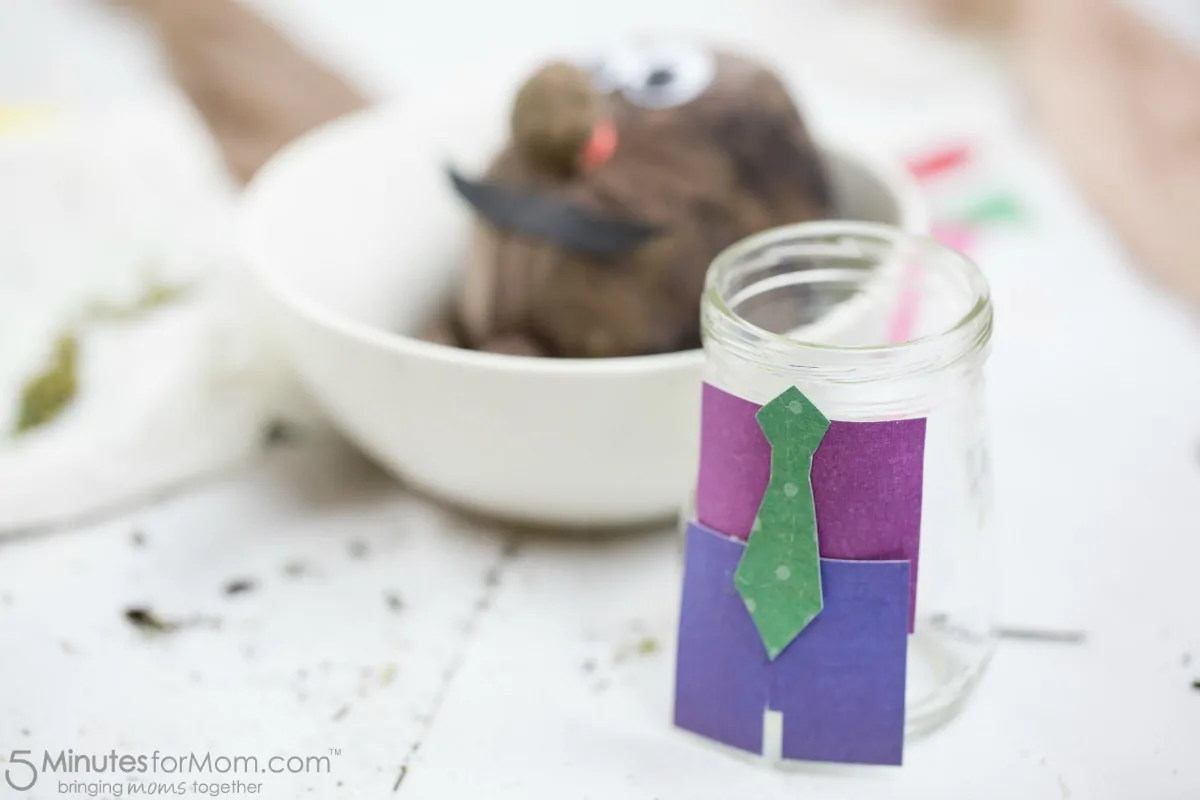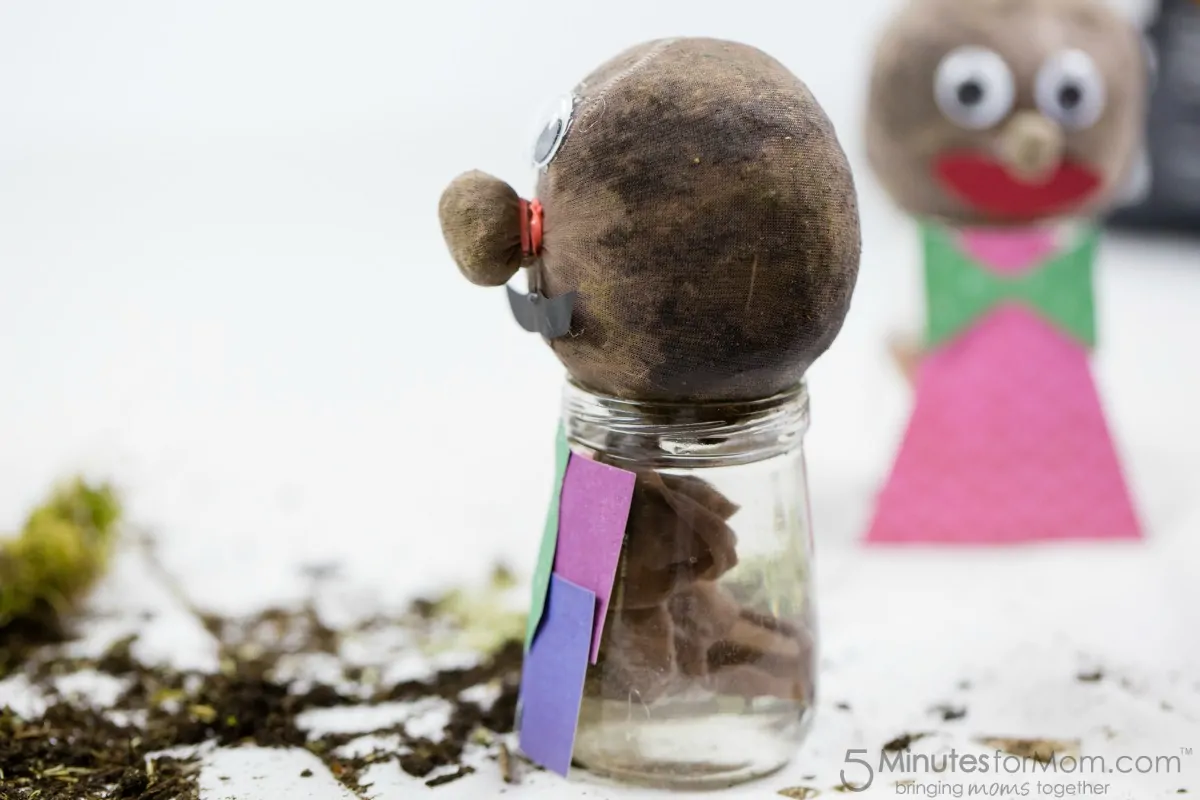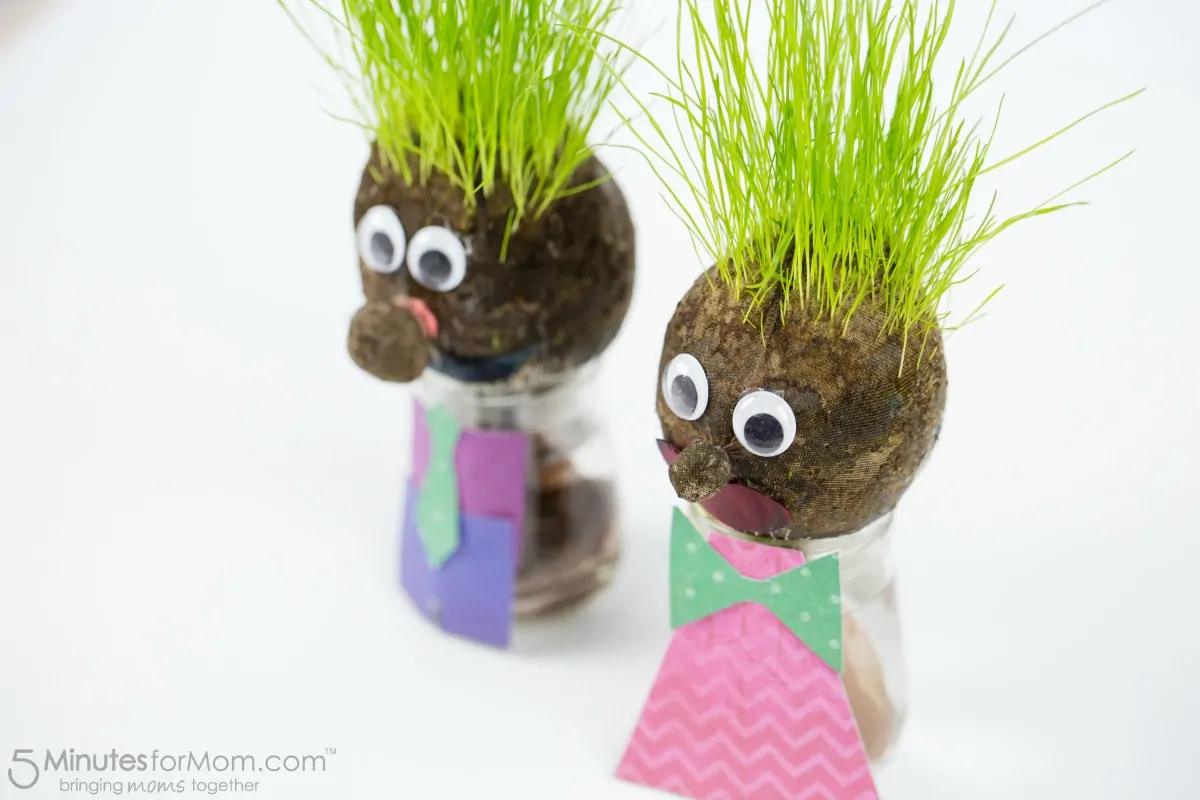 Learning about food is fun and it's doesn't have to be overwhelming. Use some of these ideas and keep asking questions and talking with your kids.
Remember, you and your family will enjoy your food even more when you understand its roots.
Check out more about Hellmann's and "Where does your food come from" by visiting Hellmann's on Facebook.
Pin it for Later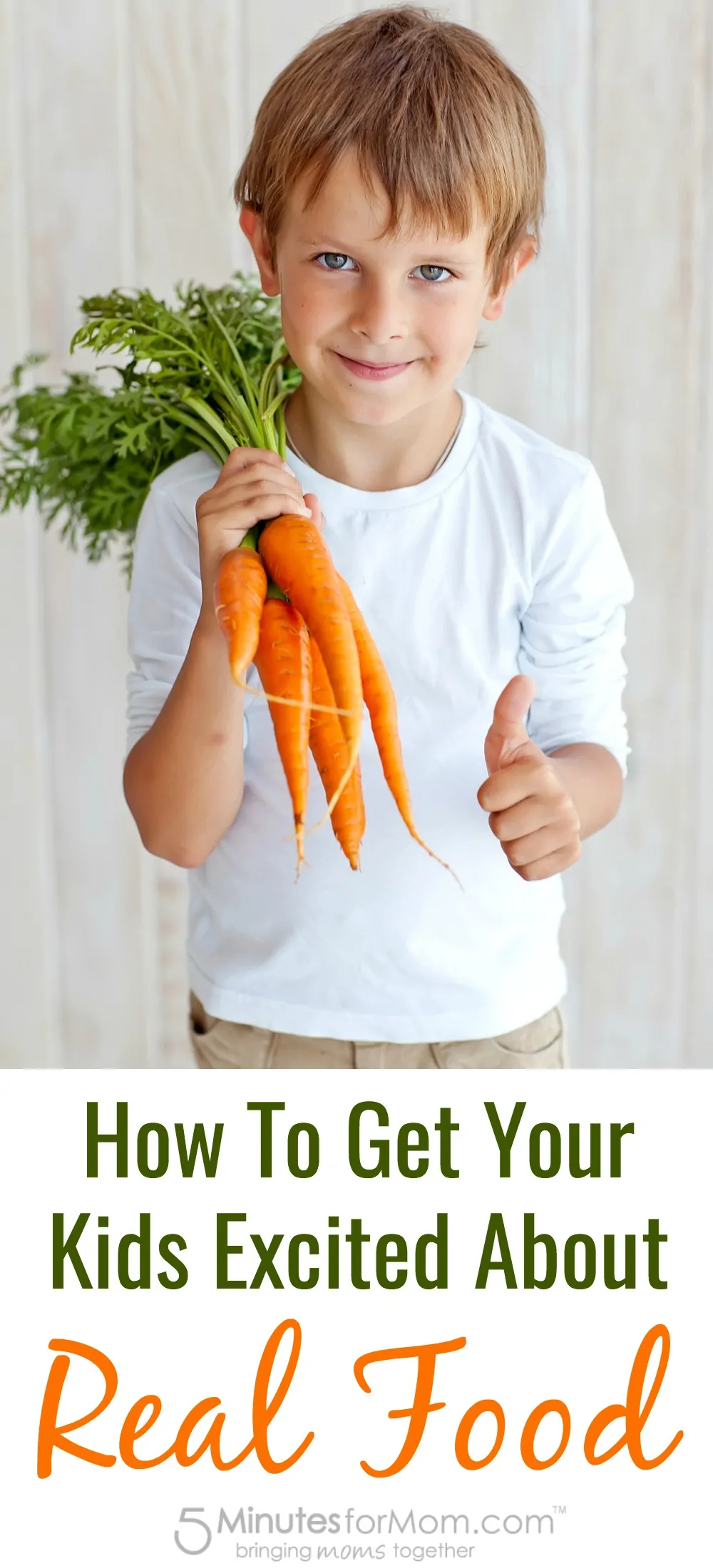 Disclosure: This post is sponsored, so extra thanks for reading and sharing.
Written by Susan Carraretto, co-founder of 5 Minutes for Mom
Talk with me: @5minutesformom and Facebook.com/5minutesformom
Pin with me at pinterest.com/5minutesformom