This post may contain affiliate links. Read my disclosure policy here.
Do you find it challenging to stay on your regular diet and continue eating healthy while traveling?
It can be tough… the temptations for treats are everywhere and the need for extra sugar and caffeine to boost your energy when you cross time zones can mean lots of extra calories.
I admit, I give in to tempting treats and gain weight when I travel. But my twin sister and co-blogger Janice is much more careful and more experienced when it comes to eating on the road. So today I'm going to share a few of Janice's tips along with advice from professional dietitian Ilene Gilbert P.Dt. who has teamed up with Hotels.com™ to help us all eat better while traveling.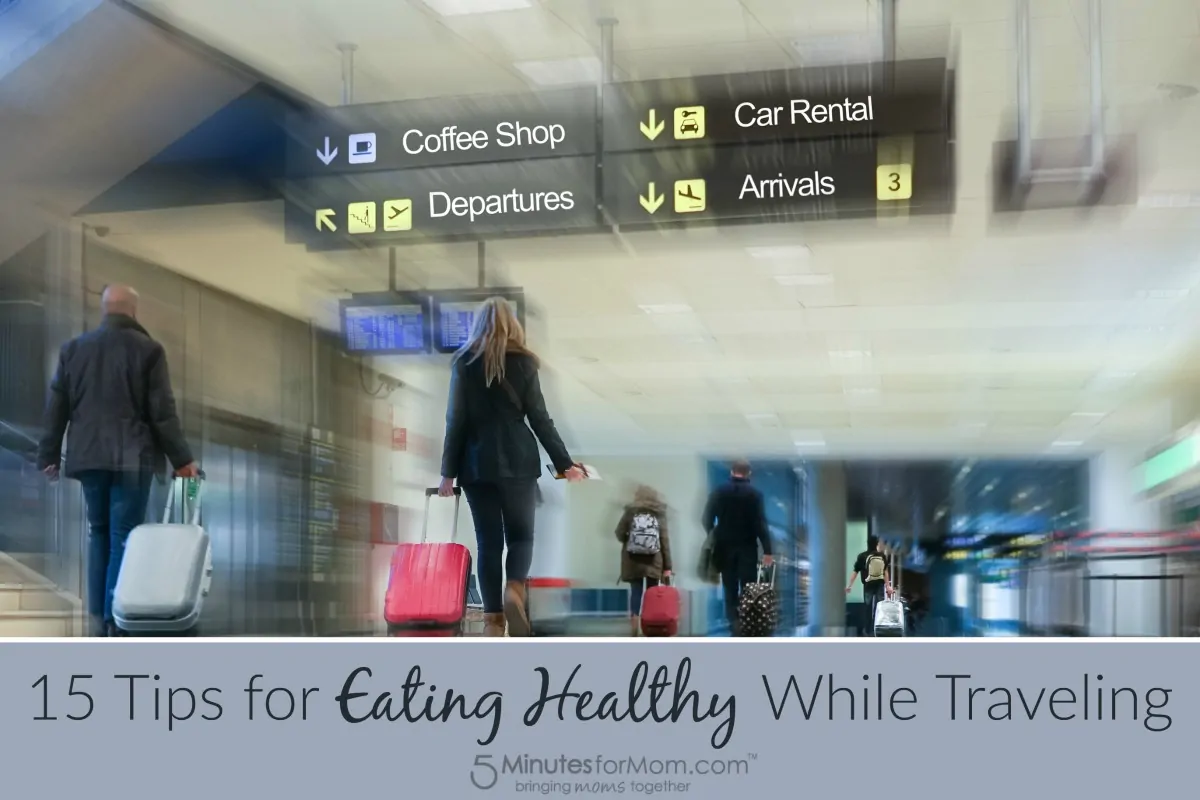 During the years of 2008 through 2014, Janice attended and spoke at more blogging conferences than I can count. She was constantly traveling. And in those days, Janice was pretty darn thin because she watched what she ate and wouldn't waste calories on banana bread and chocolate chip cookies at the airport — like I would. LOL
She discovered that you can actually eat healthy food and not gain weight when you're traveling. In fact, she'd tell you she found it much harder to stay slim once she stopped traveling so much.

Taylor L. Cole, APR travel expert for Hotels.com agrees.
"I travel constantly for work and for pleasure and have learned to plan ahead to make sure my diet stays on track," Taylor says. "Hotels and restaurants can be very flexible when it comes to meal preparation. Room service menus usually have healthy eating options highlighted, and hotel staff and the concierge are great resources on the best local spots to meet your dietary preferences."
As professional dietitian Ilene Gilbert P.Dt. says…
"Though you may be faced with food courts and unfamiliar restaurants, healthy eating while traveling is definitely possible, and can be very enjoyable. In fact, with the many food choices available to you it can actually be easier on a trip to stick to a diet or to find fresh, tasty and healthy foods."
Ilene suggest these 10 ways to make sure your nutrition doesn't suffer during vacation or business travel…
Plan ahead. There are a lot of stresses associated with modern travel – but the food you eat doesn't have to be one of them! Try packing portable snacks that pack a lot of nutrition – among them Greek yogurt, almonds and walnuts. Consider dried fruit such as figs or dates, but if sugar is an issue, skip these.

What if you are hungry in the middle of the morning and all you see are muffins and cookies at the hotel coffee shop? Grab a large skinny latte or cappuccino; the protein and carbohydrates from the milk will keep you going.

Most chain restaurants, including fast food chains, offer healthy alternatives, which can include wraps and salads with vinaigrette on the side. Also, many hotels offer free breakfast with lots of choices.

Often, you can order a sandwich or six inch sub on whole wheat bread. Ask for no butter or dressing on the bread and, if you skip the cheese, you can reduce the total fat and calories. Add a veggie or bean soup for a fast lunch but try to avoid cream soups.

If the only place you find yourself near at lunch is a grocery store or sushi shop get a sushi box, no tempura. Add a seaweed salad, and use only half the soy sauce to keep sodium low.

In hotel restaurants try to order the grilled or steamed options, not fried. Remember one tablespoon of oil has approximately 150 calories!

Make sure you stay well hydrated. Instead of diet or regular soft drinks, try lemon or other flavoured sparkling water. They have no calories, no salt and are refreshing.

It's not always possible to control the quality of the food, so try to control the portion. Order two appetizers instead of a main course. Avoid 3-course meals. If we pay for it we tend to eat it, even if we are not hungry.

Share a meal by adding an extra soup or salad.

Keep an eye on calories from adult beverages. A mixed drink can add up to 300 calories, a glass of wine depending on the size, can be 150 calories. Feel free to indulge periodically, but remember that Health Canada recommends a maximum of 10 drinks per week for women and 15 for men.
In addition to Ilene's advice, here are 5 secrets from Janice for eating healthy while traveling…
If your hotel doesn't offer free breakfast, pack a ziploc bag with healthy cereal such as Bran Flakes to eat in the morning in your hotel room. Janice packs a few disposable bowls and spoons as well. When you arrive at the hotel, buy a milk at the gift shop and keep it in the minibar. If you don't have a minibar or fridge in your hotel room, don't worry. Just fill the ice bucket with ice and put your milk in it to stay cold overnight.

At the airport, order a salad with grilled chicken and grab a banana and water bottle instead of a cookie and soda.

If you're arriving late at night to the hotel, buy extra nuts and water bottles at the airport that you can eat for a late night snack so you're not tempted to order a dessert from room service. If you're crossing the US/Canada border, you cannot take nuts with you, so you'll need to buy them at the airport, once you are through security.

Try to stop by a convenience store to buy yogurt and fresh fruit that you can keep in your hotel room.

Don't drink your calories. When you're at a conference or business meetings, soda is often free and readily available. Resist the temptation of a free drink, and choose water.
But don't limit your diet so much that you miss out on the local cuisine or feel like you've missed out on the fun of your trip.
Taylor reminds us that "your food experience during your travels can be as enjoyable as your travel journey with some simple planning and preparation."
When you don't over indulge while traveling you can enjoy your trip and not regret your choices when you get home.
Share With Your Friends
We'd love, love, love a tweet or a pin… Thanks so much! 🙂
[Tweet "15 Secrets for Eating Healthy While Traveling"]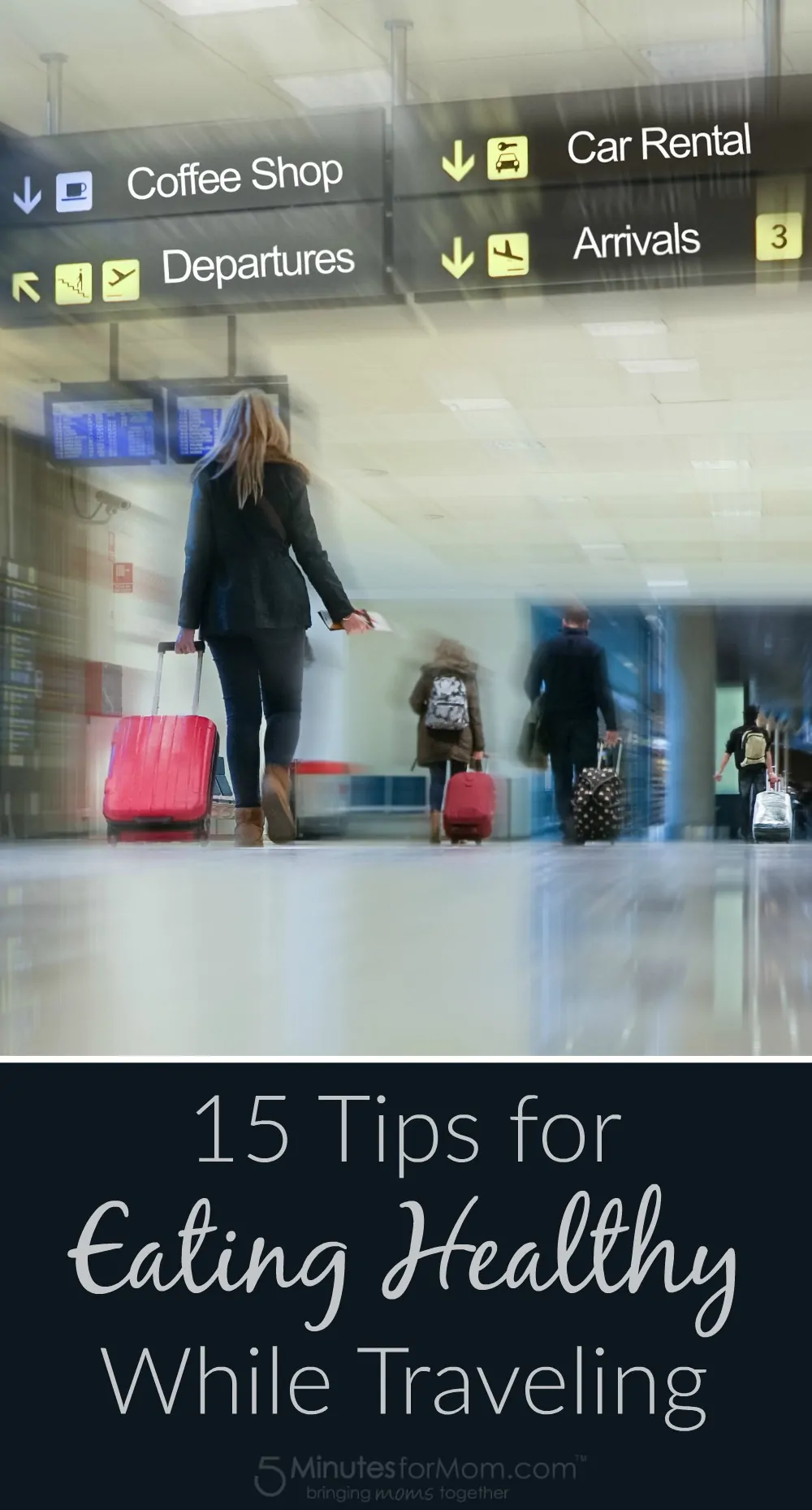 This post is sponsored, so extra thanks for reading and sharing.
Written by Susan Carraretto, co-founder of 5 Minutes for Mom
Talk with me: @5minutesformom and Facebook.com/5minutesformom
Pin with me at pinterest.com/5minutesformom