This post may contain affiliate links. Read my disclosure policy here.
It is a cruel truth — there are #NoSickDays for parents. Despite being constantly bombarded with germs, we parents have to push through our days, sick or not. Thanks to Vicks for supporting this post — and for helping parents survive without sick days.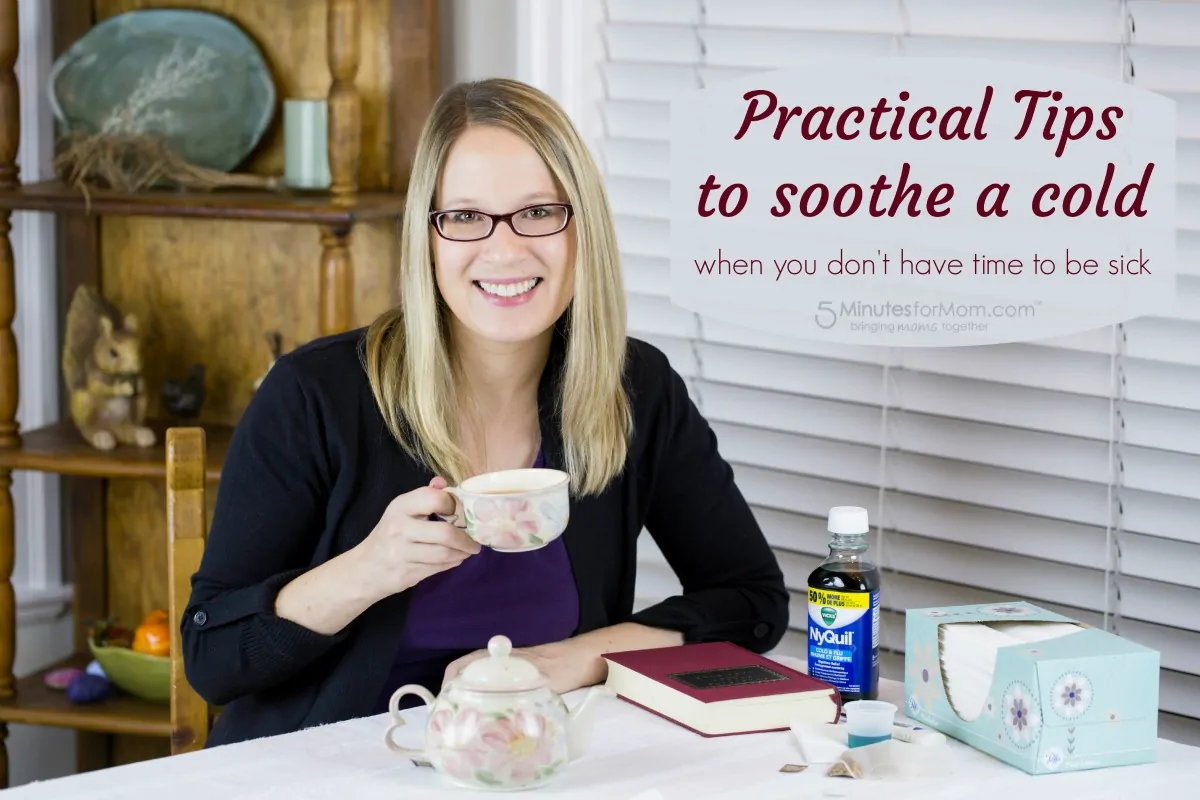 Parenting comes with countless blessings and almost as many challenges.
Before we are one week into our parenting career, we learn that sleep deprivation truly is a form of torture. We are thrown into a world where tiny humans depend on us for their survival, regardless of how we feel or what is going on in our lives.
For me, the exhaustion and lack of alone time are the hardest parts of parenthood.
Now that my kids are older and I get to sleep through the night, I look back at the years when I was nursing babies and co-sleeping with preschoolers and I wonder how I made it through. I was so darn tired.

I honestly lived in total fear of getting sick — because I could barely keep it together on a good day.
If someone mentioned they were sick, I would avoid them for two weeks.
But then my oldest started preschool and the germs came rushing in. When you have kids in school, it can seem like someone in the family is always either getting sick, being sick, or getting over being sick.
[Tweet "Winter means someone in my family is getting sick, being sick or getting over being sick #NoSickDays"]
And yet — there are #nosickdays for parents.
We have to keep on parenting, even if we have to do it from the couch.
So, to all of you fellow moms and dads who have to drag your sick, miserable selves out of bed when you really should get to sleep all day — I give you all my empathy, cyber hugs, and a virtual cup of tea.
But if that's not enough… here are some practical tips to help you power through a cold in the winter.
Tips to Power through a Cold
When you're a mom and you don't have time to give in to sickness, you need a plan of action.
First up, watch this quick video for my favorite tip for powering past your cold…
Now, here are 5 more tips to help you make it through a mom's life of #NoSickDays…
Go to sleep when your kids go to bed.

I know you have too much to do and your most productive time may be when the house is quiet in the evening, but if you're sick, you need to go to bed EARLY. And I mean super early… at the same time you put your kids to sleep!

If you can clock 9 to 10 hours of sleep when you're coming down with a cold, you just might nip it in the bud.

Drink water, juice and hot tea continually.

I rarely drink juice, but when I feel a cold coming on, I'll treat myself to some orange juice in the morning. The extra vitamins and fluids are worth a few extra calories.

Then I drink tons and tons of water and hot tea throughout the day and evening.

Take a hot bath and breathe in the steam.

The hot water and steam will soothe you and help clear your congestion.

Add Epsom Salt to the bath water to ease any muscle tension you may have.

Stay stocked up on supplies.

There's nothing worse than coming down with a cold and discovering your Puffs tissues is empty or you've run out of DayQuil and NyQuil.

So keep your pantries stocked with all sorts of essentials and add some comforting homemade chicken soup to your freezer.

Be kind to yourself.

As moms we usually pamper everyone else, and unfortunately, there's often no one there to look after us when we're sick. So try to be extra nice to yourself. Remind yourself what a great job you're doing as a parent and provider. Take some time to count your blessings and focus on being grateful for all you have.

Don't push yourself to do chores that could wait. Give yourself permission to read a chapter of a good book or rest on the couch while you watch TV.
For more tips on how to get rid of a cold or how to stop coughing, Vicks has your back. Check out their TREATMENTS section on their site for safe and effective tips on how to deal with coughs, colds and flu.
And don't miss these posts from a couple of blogging friends…
How to Relieve a Cold by @beautybrite
Every day should be a No Sick Day! by @eightymphmom
May your NyQuil taste sweet and your DayQuil stay strong.
Coupon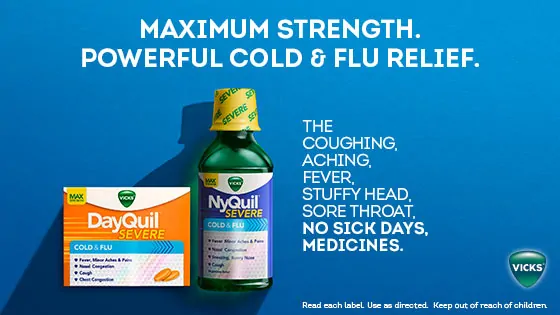 Click here to get a Vicks® coupon…
Share With Your Friends
We'd love, love, love a tweet or a pin… Thanks so much! 🙂
[Tweet "No time to be sick? Try these practical tips to soothe your cold… #NoSickDays "]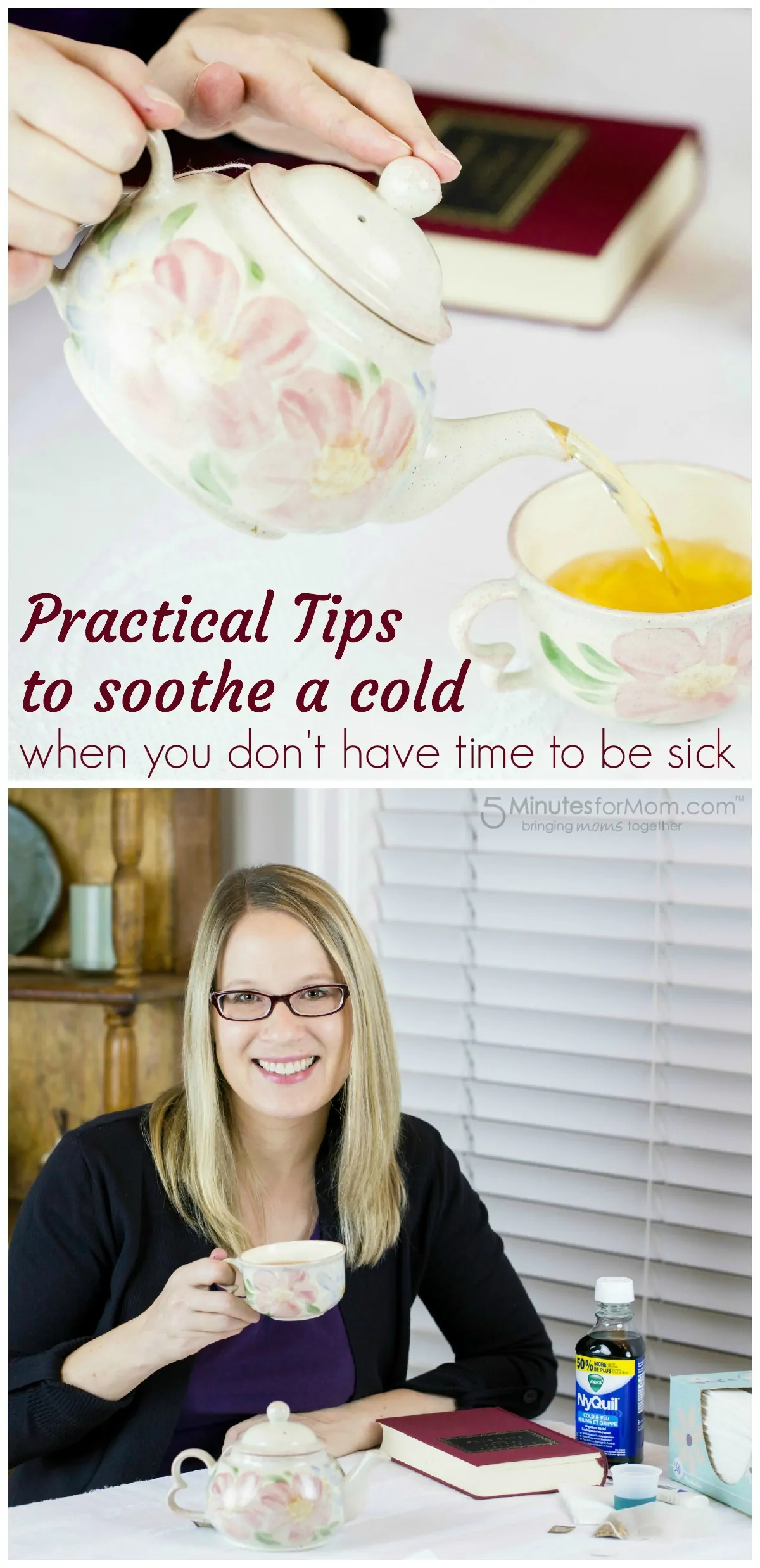 Disclosure: This post is sponsored, so extra thanks for reading and sharing.
Written by Susan Carraretto, co-founder of 5 Minutes for Mom
Talk with me: @5minutesformom and Facebook.com/5minutesformom
Pin with me at pinterest.com/5minutesformom