This post may contain affiliate links. Read my disclosure policy here.
If you're a girl with serious acne, it's hard enough to walk out the door without wearing makeup… I can't imagine the inner strength it takes to show millions of people your scarred face and have them continually spew disgust at you.
Please watch this video…
In the video, Em says 100,000 people have commented online about her skin. But now that number will be in the millions. Within 3 days this video has had almost 3 million views.
If you're a parent of a teenager struggling with acne or you're an adult still battling with your skin, let Em's bravery be encouragement.

The online world — especially YouTube and Facebook — is swarming with ignorant people just waiting to dump their own unhappiness and insecurities on the next person.
While in some ways our social media absorbed lives with photoshopped photos may be warping our sense of what real people really look like, a few brave bloggers — like Em from MyPaleSkin — are showing the truth while teaching and inspiring us.
Life With Acne
I've struggled with acne since I was about 15… moderate but severe enough that I took Accutane for a year in my early 20's which really helped.
I was always thankful that as a girl I had the option of wearing makeup whereas guys with acne don't get to cover it up.
Now with my life and business in social media and I confess that I love having a twin sister who is a photographer that can "photoshop" some of my photos to erase blemishes… although as I've gotten older, the photo editing is mostly for reducing dark circles under my eyes. (Unfortunately, I can't do that for videos.)
Some people who haven't dealt with acne, may not relate to the relief of how easy it is now to wipe out a pimple from a photo. When I was a teenager, I'd stay out of a photo if I had a pimple, but now I wouldn't worry because I can easily erase it afterward.
Photo-editing is actually a nice way to remind myself that a blemish on my face is totally unimportant. One click and it's gone.
So while I participate in the over-edited world of online media, I am aware and saddened by how it must affect young people growing up surrounded by such a false presentation of people.
In real life, I almost never wear makeup. My kids are always shocked when I actually put on makeup and know that it must be because I'm shooting a video or doing a photo shoot. As soon as the shoot is done, I wash my face and enjoy the feeling of no makeup.
But I'm 42 years old and a pretty self confident person… I can walk around without makeup and not really care much what people think.
I worry for my own girls when they hit the age when acne starts to appear… how will they feel? Will social media and edited photos make them feel worse?
What Do You Say?
Have you struggled with acne? How did it affect you? Did you wear makeup to cover it up?
Do you have kids that have acne? How has it affected them?
What Do Your Friends Say?
[Tweet "Have you seen this shockingly beautiful video? Warning… you might tear up. #YouLookDisgusting"]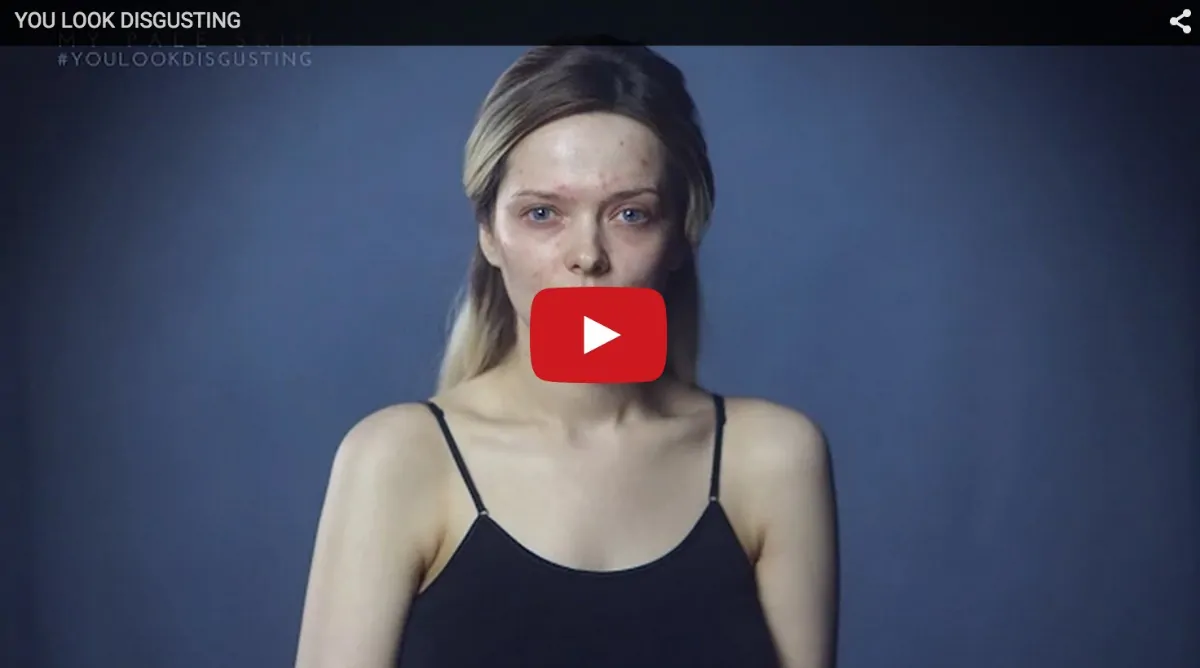 Written by Susan Carraretto, co-founder of 5 Minutes for Mom
Talk with me: @5minutesformom and Facebook.com/5minutesformom
Pin with me at pinterest.com/5minutesformom