This post may contain affiliate links. Read my disclosure policy here.
Every day we are faced with many types of pollutants. They can come from buses, autos, smoking, factories, detergents, pesticides and more.
Although it seems as though the safest place to be at times is your home, you may not be entirely right. Many indoor pollutants can trigger a LOT of different health issues. Asthma, allergies and carbon monoxide are just a few of the issues your home many have.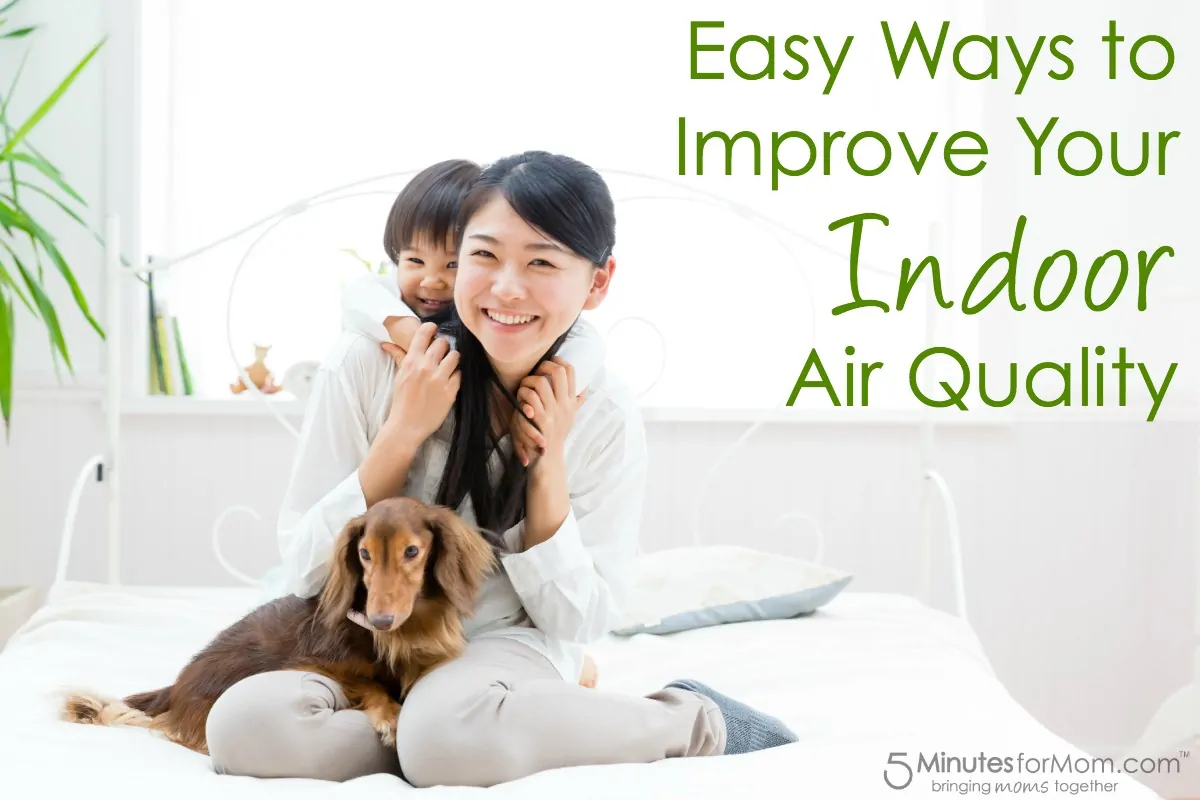 Luckily there are a few things you can do to make sure the IAQ (indoor air quality) in your house is up to par.

In the Bedroom:
Washing bed linens in warm water weekly and keeping a low humidity (30-50%) will keep dust mite levels low.
Dust mites also hide out in other places so wash stuffed toys, dust often, and vacuum regularly.
In the Bathroom:
Mold is the allergen here and can easily be remidied by proper ventilation. Open a window or install a fan
Wash floor mats often.
In the Basement:
Use a dehumidifier to aid with mold control.
Make sure furnaces/appliances, etc. are functioning properly and there are no leaks for gas or chemicals.
Make sure any chemicals stored there are sealed properly (paints, thinners, cleaning products) as many of these contain toxic fumes.
In the Kitchen:
I love using gas to cook, but it does have the tendency to let off a bit of carbon monoxide. This is easy remedied by opening windows while you cook, or, if this is not an option, having a hood in place.
Don't leave food out so you don't attract pests. This will cut down on pesticide use. If you MUST use a pesticide, please make sure your house is properly ventilated.
In the Living Room:
Make sure pets have designated sleep areas. Pet dander is a SERIOUS allergen. I love my doggy, so I know it's hard, but try to keep the pet/couch contact to a minimum.
Vacuum often to rid living room of dust, mites, dander and so much more pollution you may not even want to know about.
If you have a fireplace, make sure flue is functional.
Make sure you try to get natural candles. Many release very toxic fumes.
These simple tips will help ensure that your house is low in airborne pollutants. Contact a radon professional for help with this naturally occurring gas. You can find out more at the EPA website.
Written by Marizela of Potspoon. We originally published a version of this post on our 5 Minutes for Going Green sister site.
Share With Your Friends
We'd love, love, love a tweet or a pin… Thanks so much! 🙂
[Tweet "Easy Ways to Improve Your Indoor Air Quality"]