This post may contain affiliate links. Read my disclosure policy here.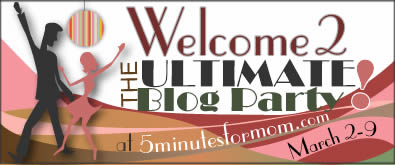 edited to add: PRIZE DEADLINE CHANGE! – We have changed the deadline to sign the Mr. Linky (to be eligible for the prize draw) to 2pm Eastern (11am Pacific) Friday, March 9, 2007. We will then have the draw and scramble to sort out from your wish lists who gets what prize. Our goal is to announce the prizes at 9pm Eastern (6pm Pacific) Friday, March 9, 2007.

We are thrilled to have you. Come on in, sign the Mr. Linky, browse the prize listings, and have a great time!
Oh – pardon me – did we forget to introduce ourselves?
We are Janice and Susan – twin sisters, work at home moms, and founders of 5 Minutes for Mom.
Along with our workhorse of a mom, Joan, we run two online stores, www.pedalcarsandretro.com and www.a-rocking-horse-to-love.com.
When we started 5 Minutes we had no idea that it would take over our lives! This site is growing so fast, we are scrambling to keep up with all our work. Thankfully we have our mom Joan – the best business partner (and the best mom) in the world – she is fantastic and works up to 16 hours a day with our stores.
As work at home moms, we quickly learned how incredibly difficult it is to try and earn a dollar and run a home. We have such deep respect for all moms – especially those moms who add entrepreneurship to their overcrowded plate – that we wanted to design a site that would help, encourage and entertain moms, while bringing exposure to mom-run blogs, sites and stores.
So at 5 Minutes for Mom we aim to do three things:
Build community and provide exposure to all women bloggers. We believe that living life in a "village" has some beautiful benefits that we lose out on as we parent in our suburban islands, often cut off from friends and family because of distance and busy schedules. Women need each other! Blogging provides an incredible tool for women to connect with each other – sharing their lives, praying for each other and forming deep friendships while they explore their creativity and create memoirs for their families to treasure.
Promote work-at-home moms and their efforts to provide financial support for their families. There are artisans and entrepreneurs out there, practicing their crafts and trying to support their families – in between diaper changes, homeschool lessons and soccer practice! We know how rough this can be and how alone a mom can feel as she tries so hard to get her business off the ground. So girls – we are here to rally around each other and help out! As consumers, we have power. We can use that buying power to tell work-at-home moms that we want them to succeed!
Make a great blog! We want 5 Minutes for Mom to be a valuable resource and a fun, inspiring site that you want to read daily. So we have combined genres to create a parenting/shopping/resource blog. Our directory isn't just a list of links. We have interactive, in depth interviews and descriptions of sites and blogs you will want to find. Our product reviews are personal and fun – and most often include a contest for you to win free stuff! And of course – we are mommy bloggers too, living life together with all of you!
We hope you enjoy 5 Minutes for Mom and if you aren't already included in our listings, don't miss out! Read about how we can promote you for free and then give us a holler!
Oh – and we are partying too – mommy style!
We decided to get the kids in on the action and so we partied with Julia and Jackson. First we got ready for the party – a little vacuuming and we even put some make-up on for you all! Then we started partying! We danced, decorated and had party food – grilled cheese sandwiches cut with cookie cutters – and made a cake. The kids were up way past their bedtime and we all had a blast!
Here are a few shots and a fun slide show so you can party with us too!
(If you are wondering about the adorable Chef costumes our kids are wearing – you can buy them at our store www.pedalcarsandstore.com. Our kids love these costumes and insist on wearing them every time they cook or bake.)
And here is the slide show – cause we just love slide shows! 🙂
Don't forget to sign the Mr. Linky. For you first timers – just fill in your name and paste in your URL – preferably the URL of your party post. All party goers who participate in the party by posting and linking from their blog, and sign the Linky by 12pm Eastern March 8, 2007, will be eligible for the prize draw.
Please DO NOT leave your link in this box if you are not a participating blogger. If you are a store or website – DO NOT leave your link. PLEASE respect the Mr. Linky – it is for people to find other party participants and for the contest draw. If you are not a blogger, you may still visit and comment the blogs listed here. But do not leave your link here.
We have specific prizes available for non-US shipping addresses. If you are a Canadian, please write (CDN) next to your name. If you are outside of the US or Canada, and do not have access to an American shipping address, please leave (INTL) next to your name.
Now go party hop! Attend as many parties as you can. Try to make sure you find names you don't recognize on the list so that you can find some new friends! (Remember that next week we are each going to write a post featuring some of our favorite new blogs we discovered this week.) And DO COMMENT on the parties you visit. People will want to know who stopped by their place. Please keep it friendly though. If someone isn't your style, hold your tongue (fingers) and move on to the next party.
If you haven't written a party post yet – or this is all new to you – you can read more about what we are doing here and here. As well, there is more info in our countdown to the Ultimate Blog Party post.
(And thanks to Heather for her fabulous banner and button designs for the party. You are free to grab them and use them on your posts. Thanks Heather – you are the best!)