This post may contain affiliate links. Read my disclosure policy here.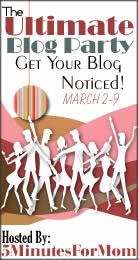 For Wordless Wednesday post please scroll down.
The Ultimate Blog Party is looking like it will be a huge bash, with tons of bloggers. (The prizes are rolling in too – we are trying to get them all listed, but we still have quite a few to go. We will be accepting prizes till the party starts, so there is still lots of time if you decide you want to become a prize host.)
We are also getting quite a few questions, so we thought we would take some time to answer them here. This info will be added to the post page as well.
Frequently Asked Questions
What is a Mr. Linky?

Mr. Linky is a great little invention that allows bloggers to leave their name and URL link in a convenient box. Bloggers use them for carnivals, parties and memes so participants can leave their link to their blog/post.

Head over to the official Mr. Linky site to learn all about them and how you can use them on your own blog. There is even a FAQ page to answer all your questions.

Please Note: Please do not put up a Mr. Linky in your Ultimate Blog Party post as this may confuse people. Only bloggers who are signed in at the central Mr. Linky at 5 Minutes for Mom will be eligible for prizes.

What does a Mr. Linky look like?

You can see a Mr. Linky in action by visiting one of our Wordless Wednesday or Tackle It Tuesday posts. Click here for our latest Wordless Wednesday.

When will the Mr. Linky be up?

The Mr. Linky for The Ultimate Blog Party will go up on the first day of the party (March 2, 2007) and participating bloggers who have their party post up can add their link any time during the week of the party. (The Linky will stay permanently in the post, so you can come back later and catch up on any blogs you may have missed.) Obviously linking earlier in the week will result in more people visiting your party, but you do not need to have your link in the Mr. Linky until March 8 at 12pm Eastern to be eligible for the draw.

PLEASE do not add your link until your party post is up on your blog. As well, please link to the URL of your party post or put your party post as a sticky at the top of your blog for the week so that other partiers can find your post.

To put the URL of your post in the Mr. Linky get the permalink for your post (by clicking on permalink or the title of your post) and then copy that URL into the Mr. Linky.

Do we need to post about The Ultimate Blog Party now AND the week of the party, or just the week of the party?

You can put up your invitation post anytime. You are only required to post once inviting your friends to come (in addition to putting the Invitation Button on your sidebar) in order to be eligible for the draw.

I imagine that many of the guests who have already put up an invitation post will also put up a reminder closer to the time of the party, but this is optional.

However, in your Ultimate Blog Party post during the week of the party, please link back to 5 Minutes for Mom so that other bloggers who may have not heard about it can come too. (Plus your readers might wonder who on earth you are partying with.)

What do we post about during the week of the party?

Only one post needs to be your Ultimate Blog Party post. (Of course you can party everyday if you want.) Just make sure that your "party post" is accessible – either linked in the Mr. Linky, or as a sticky at the top of your home page for that week (a sticky post is a post that remains at the top of your home page even when you add new posts.) Another option would be to link to your "party post" at the top of each recent post. We just want to make sure that your guests can find the "party room."

The rest of the week, just blog as you normally would.

What do we post about in our "party post"?

Your "party post" should include some sort of introduction to you or your blog. Other than that it is up to you. Go crazy. Be creative. Have fun. Party!

What about shipping to other countries?

To lower shipping costs for everyone involved, we will be separating Canadians, Internationals and Americans.

Americans will be in the main draw. (Sorry but the majority of the prize hosts are in America.)

Canadians will be eligible for prizes from Canadian prize hosts and/or downloadable prizes.

International participants will only be eligible for prizes that are downloadable.

In the Mr. Linky, we will ask Canadians to put (CDN) after their name and International bloggers to put (INT) after their name so we'll know who to put in which draw. We will assume all others are American. (If you do not have an American shipping address, your prize will not be shipped to you.)

How will we know who won?

Once we have done the draws, we'll publish the list of winners as a post on 5 Minutes for Mom at 7pm Eastern on March 9, 2007. Prize hosts will look up to see who won their prize and will contact their winner to get shipping information.
A Few More Thoughts:
Remember to comment on the party posts you visit so the blogger knows who has partied with them.
Keep track of some of your favorite new blogs you found so you can introduce them on your blog the following week.
Please be polite! If a blogger isn't your style and you are tempted to say something not so nice, just move on to the next party. Let's keep the neighborhood friendly.