This post may contain affiliate links. Read my disclosure policy here.
If you didn't win the prize pack during our #PowerDownLittleRobot Twitter Party where we were talking about solving bedtime battles with your little ones, you have another chance now. Enter below for a chance to win a "Sleepy Time Prize Pack" including the new book Power Down Little Robot. Prizes are open to US and Canada. This giveaway is sponsored by Macmillan Kids.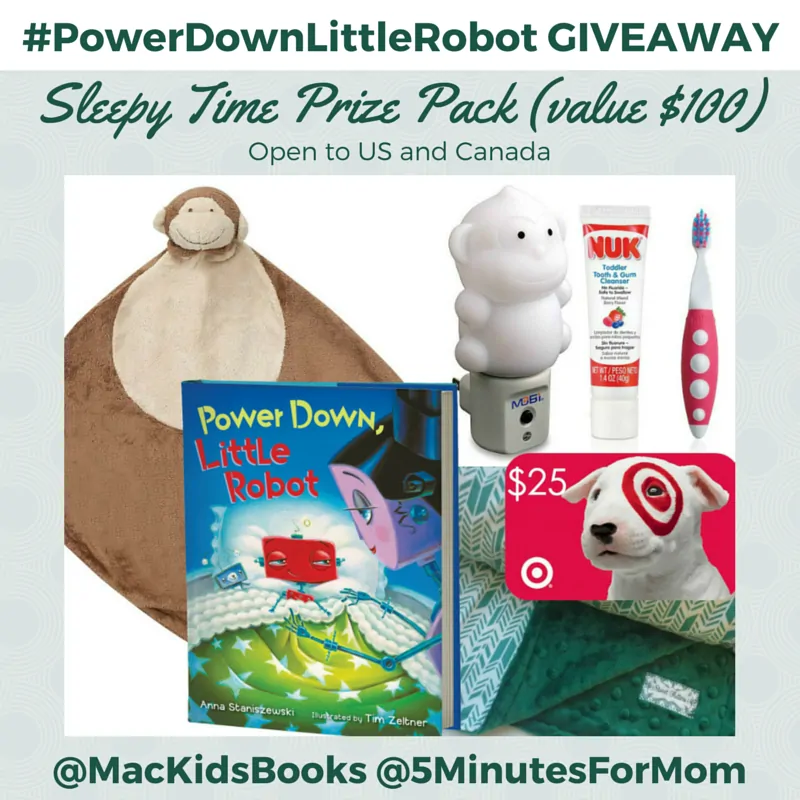 "Power Down Little Robot" – The Book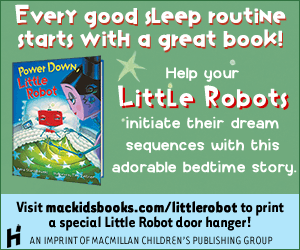 Have you seen this adorable new bedtime storybook for little kids?
It's time to power down for the night, but Little Robot isn't ready! He quickly opens his stalling program. Luckily, Mom Unit knows exactly how to get him into his sleep module.
If you have little ones who like to drag out their bedtime routines, you'll love this book.
#PowerDownLittleRobot Twitter Party
To celebrate the launch of this sweet new story, we hosted a Twitter Party about Sharing and Solving Bedtime Struggles sponsored by Macmillan Kids @MacKidsBooks on March 11 at 8pm ET. We had a great chat with some fabulous tweeps sharing tips and experiences about getting our little ones to sleep.
Community Panelists
(These awesome blogging moms joined the party as panelists.)
@Mommyoutside
@SavingsATLMoms
@tidbitsofexperi
@Janellcp
A Few Tweets From The Twitter Party
Welcome – Sharing & Solving Bedtime Struggles #PowerDownLittleRobot TwitterParty @MacKidsBooks http://t.co/Sn3Hew6Cs1 pic.twitter.com/bBEOVrXbPc

— 5minutesformom (@5minutesformom) March 12, 2015
Pls follow @MacKidsBooks & panelists @Mommyoutside @SavingsATLMoms @tidbitsofexperi @Janellcp #PowerDownLittleRobot pic.twitter.com/Y6NlxKUex2

— 5minutesformom (@5minutesformom) March 12, 2015
My 9yr old Julia has stalled every night of her life. Thankfully my 7yr old Sophia is always easy to get to sleep. #PowerDownLittleRobot

— 5minutesformom (@5minutesformom) March 12, 2015
Julia WILL NOT go to bed if you try to skip a step in her routine. Sophia just follows along with whatever. #PowerDownLittleRobot

— 5minutesformom (@5minutesformom) March 12, 2015
@5minutesformom Patience is a virtue and is definitely required at bedtime #PowerDownLittleRobot

— linda whalen (@lindaw_whalen) March 12, 2015
@5minutesformom Start an hr before bed, turn off all electronics, dim lights, bath and jammies, story time and kisses! #PowerDownLittleRobot

— Erika (@scrappiedoodle) March 12, 2015
TIP: Avoid electronics such as TV & smart phones before bed. More tips-> http://t.co/bi1uja75aP #PowerDownLittleRobot pic.twitter.com/J3dQUxy6MX

— 5minutesformom (@5minutesformom) March 12, 2015
DID YOU KNOW? Reading aloud 15 min every day for 5 yrs: 27,375 minutes! #PowerDownLittleRobot http://t.co/j1TEahgJA0 pic.twitter.com/ixCMHWGQHR

— 5minutesformom (@5minutesformom) March 12, 2015
"Children are made readers on the laps of their parents." ~ Emilie Buchwald #PowerDownLittleRobot #Reading #Quote

— 5minutesformom (@5minutesformom) March 12, 2015
At 5 yrs old, Julia got addicted to "Bartholomew and the Oobleck" – I wrote a post about it at http://t.co/aV4dmI5qgM #PowerDownLittleRobot

— 5minutesformom (@5minutesformom) March 12, 2015
@5minutesformom Reading and snuggles are also great bedtime routines, along with relaxing baths! 🙂 #PowerDownLittleRobot

— Lori Leal (@LoriLeal1) March 12, 2015
@5minutesformom A9. Yes they both have blanked that Grandma knit them! #PowerDownLittleRobot pic.twitter.com/xBBZqAZMci

— Melissa Finn (@MelissaFinn) March 12, 2015
@5minutesformom Start early w/ lowering lights; it's quiet time. No TV/flashy toys. Bath, bedtime stories/snuggles. #PowerDownLittleRobot

— Ashley DeSutter (@ashleyraye) March 12, 2015
@5minutesformom A10. Stick to your routine. Have downtime & enjoy those snuggles! #PowerDownLittleRobot

— Melissa Finn (@MelissaFinn) March 12, 2015
My best advice for a bedtime routine is to make reading books the focus of it and ENJOY. The early years end too soon. #PowerDownLittleRobot

— Janice Croze (@janicecroze) March 12, 2015
My advice is to understand and adapt to your individual child. Julia's bedtime needs are so different than Sophia's. #PowerDownLittleRobot

— 5minutesformom (@5minutesformom) March 12, 2015
Enter to Win
Leave us a comment letting us know if your tykes are bedtime battlers. Then enter to win a "Sleepy Time Kit"of approximate value $100 that includes: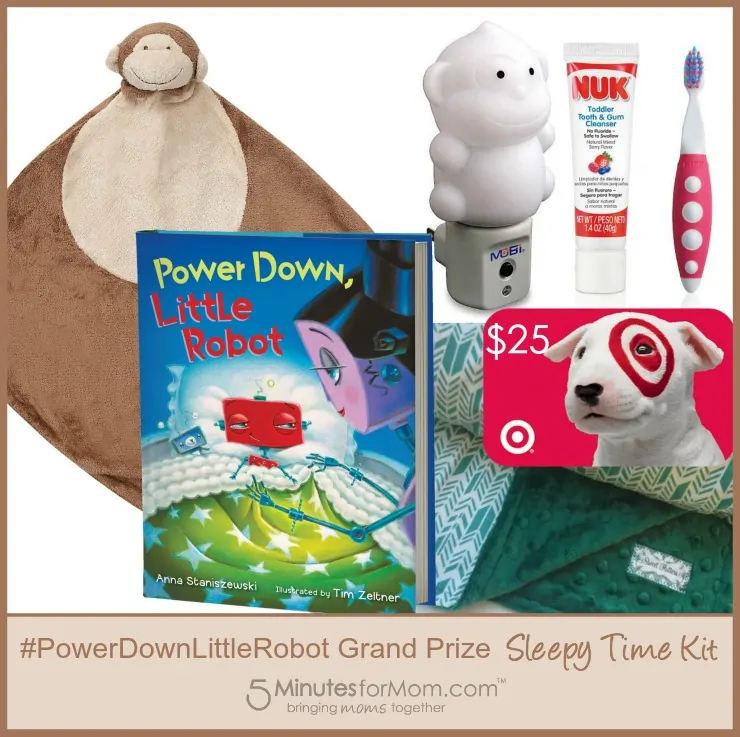 Disclosure: This Twitter Party is sponsored by Macmillan Kids and the new book Power Down Little Robot.
Written by Susan Carraretto, co-founder of 5 Minutes for Mom
Talk with me: @5minutesformom and Facebook.com/5minutesformom
Pin with me at http://pinterest.com/5minutesformom/