This post may contain affiliate links. Read my disclosure policy here.
Have you hugged your cat today? This is Susan here… with a reminder to all cat owners to show your feline friend some much deserved love. This post is sponsored, but as always my thoughts are my own.
Pets can be such important part of our lives and bring us much needed unconditional love. Regardless of whether you're more of a "dog person" or a "cat person", you can't deny how fabulously fun (and funny) cats can be. They make the best youtube videos and animated gifs… and who can resist a good lolcat photo.
If you are blessed by having a cat for a pet, be sure to shower her/him with lots and lots of love.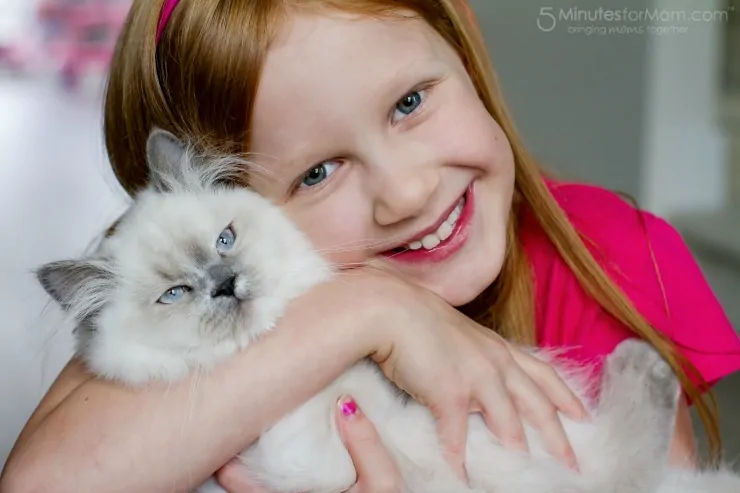 My girls are so happy to have a kitten (now almost full grown cat) at their dad's house. They so deeply love "Mittens" and she helps turn an otherwise negative situation of sharing time between two houses, into a more positive one.
You see, I'm allergic to cats and so it would never be possible for us to have a cat at my house. But since they spend part of their time at their dad's house and he's not allergic, they can finally have a cat of their own.
Mittens is a most beloved cat and a true blessing.

Do you have a cat? Here are a few reminders for how to show your cat some extra love… these tips come from our friends at Arm & Hammer.
How To Show Your Cat Extra Love
Attention – Life is busy these days, and bonding can take many forms, but nothing says "love" like spending time with them.

A Fresh Litter Box – You may not realize it, but litter boxes play a big role in your cat's happiness and comfort level. Make sure that you have at least one litter box per cat, preferably uncovered and that they are easily accessible. To keep your cat happy, clean the box often and use an odour neutralizing product like Arm & Hammer™ Clump and Seal™ Complete Odour Sealing Clumping Litter. This revolutionary cat Litter first seals, and then destroys odours for a 7-day odour free home, guaranteed!

Play – Sometimes it can seem like all they do is sleep, but cats get bored too. Give your cat something to do by making sure their environment is stimulating and engaging them in active play with toys. Sometimes, love can be found on the end of a string attached to a stick.

Treats – once considered the sole domain of canines, cats love a tasty nibble. Some pet parents even bake their own – extra love points if they are heart-shaped! Just make sure not to overindulge your kitty's appetite.
Is a Cat Right For Your Family?
Cats can be such awesome pets, but they're not for every family.
Sadly, according to the Ontario SPCA, nearly one-fifth of cats were returned to shelters in Ontario in 2013, post-holiday.
[Tweet "Before you get a cat, consider these 3 things…"]
Here are 3 things to consider before getting a cat for your family:
Allergies – Ensure nobody in your house is allergic to cats. This may seem obvious, but it's so important to find out ahead of time. If you've never spent time with a cat, you may not even realize you have an allergy or understand how severe that allergy is.

For instance, we had always known Janice was severely allergic to cats because as soon as she went in a house that had a cat, she'd start sneezing. I didn't seem to be as bad, but I assumed I was allergic if my identical twin was.

I'm so glad I never gave in to the begging of my kids and got a cat in my house, because now when I go to visit "Mittens", I can very quickly feel my eyes getting itchy and I soon start to sneeze.

Breed – You want to research and carefully select the breed of cat that is right for your family.

Even if you decide to adopt a cat from a rescue (which is a fabulous idea), you should have an idea ahead of time about which breeds will be a good fit for your household.

Responsibilities – While cats don't need to be walked like dogs, you still need to be very clear who will be changing the litter box, feeding and playing with the cat.

All pets require care and attention… and that does take time and effort. Kids may be quick to ask for a pet, but the rules, responsibilities and time commitments need to be determined before you bring home a cat.
If you're thinking about getting a cat, take time to talk about these points and then consider adopting a cat that needs a loving home.
Tweet It
[Tweet "How to Show Your Cat Extra Love on Valentine's Day and All-Year Round via @5minutesformom"]
Pin It
Disclosure: This post is sponsored by Arm & Hammer™.
Written by Susan Carraretto, co-founder of 5 Minutes for Mom
Talk with me: @5minutesformom and Facebook.com/5minutesformom
Pin with me at pinterest.com/5minutesformom