This post may contain affiliate links. Read my disclosure policy here.
Susan here to share a look into an online touch typing course for kids called TypeKids. My 9 year old daughter Julia received a login to the course to test it out.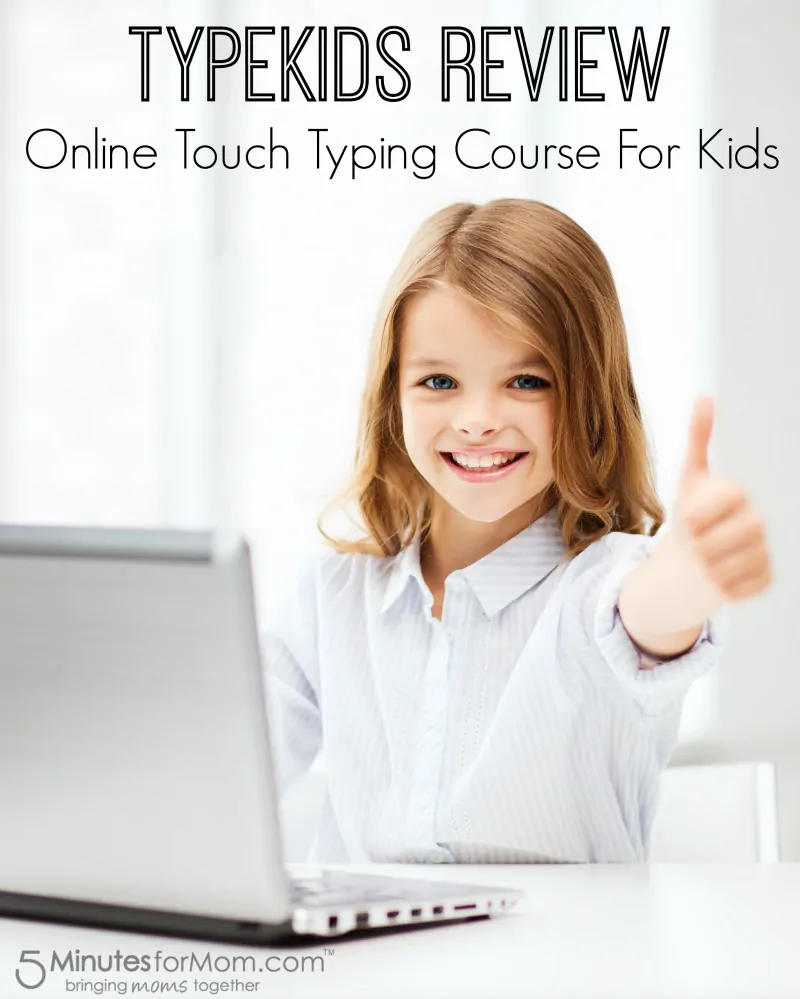 How old were you when you learned to touch type?
Chances are your children will be MUCH younger than you were when you mastered this crucial skill.
Personally, I remember struggling to learn to type on a TYPEWRITER at fifteen years old in my high school typing class. Needless to say, I did NOT ace that class.
But after many years of typing on a computer in college and later as a software developer and now as a blogger, I can touch type pretty quickly. (Although, I still don't think I'd rate very high next to an efficient secretary.)
Our kids do not have the option of waiting until they're in college to finally master touch typing. They need to get fast at typing before high school.
Middle school or even earlier is a great time to get your kids started touch typing.
I'm so thrilled to have found TypeKids.com which is a fun, game style touch typing online course for kids. It's an "intelligent" program that modifies the instruction based on where your child is needing extra practice.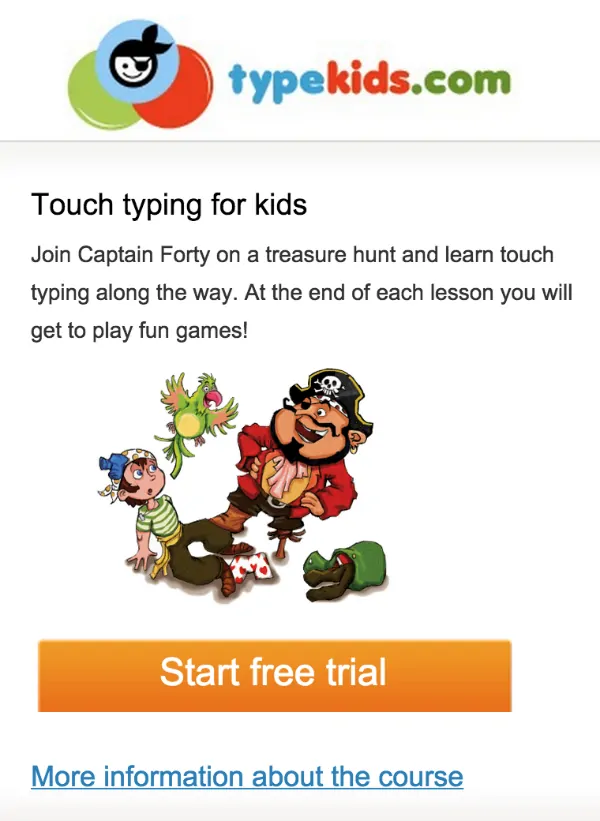 My oldest daughter Julia is 9 and in 4th grade. She came home from school a couple weeks ago frustrated that she didn't know how to type when some of her friends could.
It turns out she'd taken so long typing her little assignment in class that she'd had to stay in from recess to finish.
I felt terrible for her, but I immediately remembered having seen a review for TypeKids.com on a homeschooling blog.
We immediately got her started on the course.
She really liked the fun layout, characters, story and games of the program. I loved that it starts with basics and teaches correct style and even explains the importance of good ergonomics.
Julia has just spent a couple of sessions working through a few exercises and playing one of the games. I grabbed the following screenshots to give you a look.
These screenshots were taken while she was within the second lesson. There are 30 lessons in the course.
Lesson Exercises
During the course your student becomes a character in a treasure hunt with a pirate named Captain Forty. The story is fun and engaging for both boys and girls.
The lesson exercises have your student practise certain keystrokes and gradually add new keys in a logical learning sequence.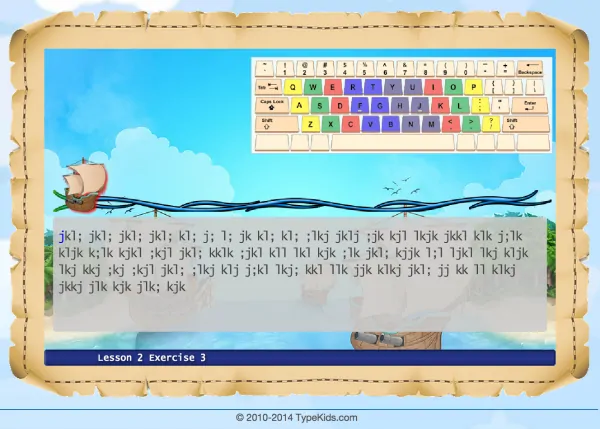 The course consists of 30 online lessons, each of which takes approximately 25 minutes to complete. All instructions are given as clear animations with audio. Explanations from previous lessons can be reviewed at any time.

You can learn touch typing at your own pace. Most participants complete 3 classes a week, which means that the whole course is finished in 10 weeks.
Review
On the review page, you can see which keys need more practise.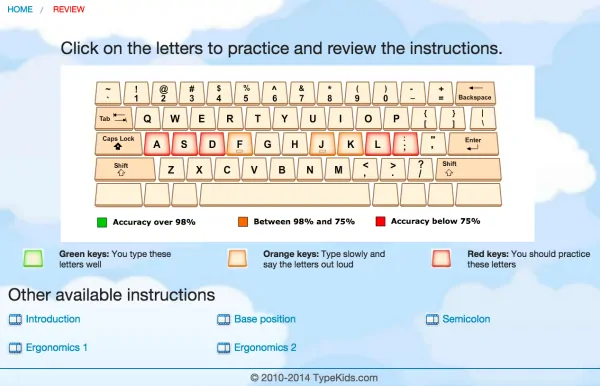 Home Page
When logged in to the course, the home page is an island where your student can mouse over sections to reveal Exercises, Games, Review, Story, and Messages.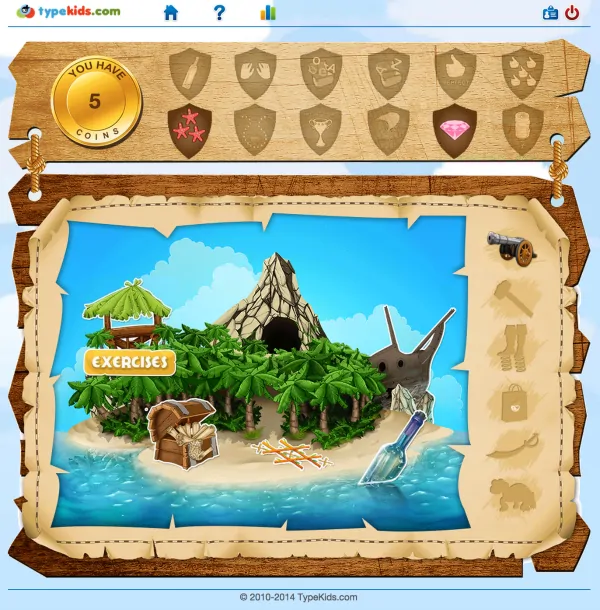 Games
As your child progresses through the course, more games will be unlocked.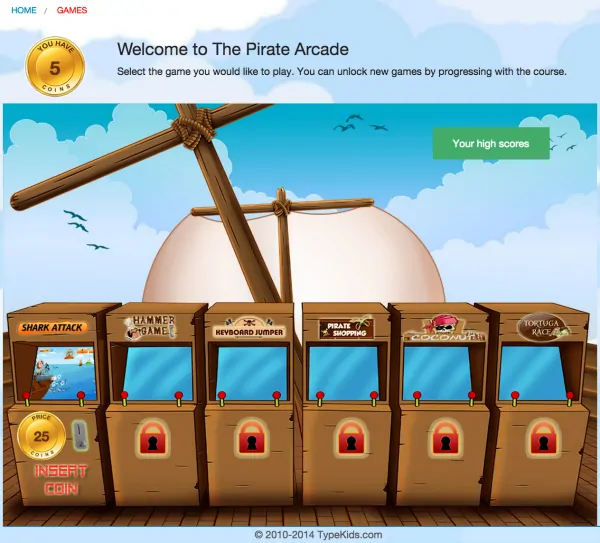 Ergonomics
There's even a couple of videos to explain to kids how to sit properly at a computer.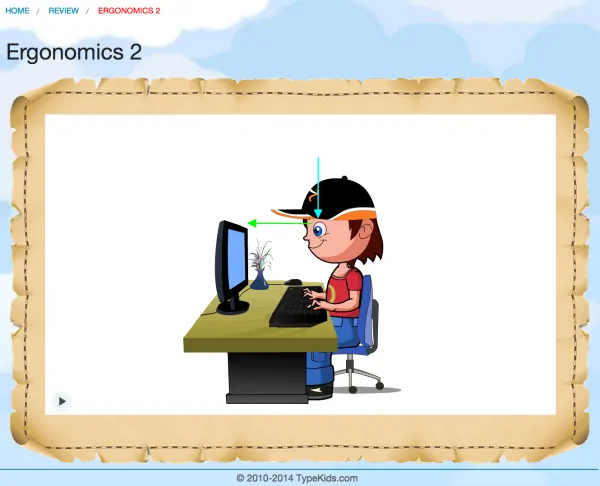 Progress Report
The progress report will show you and your child where he/she is at in the course and what letters need extra practise.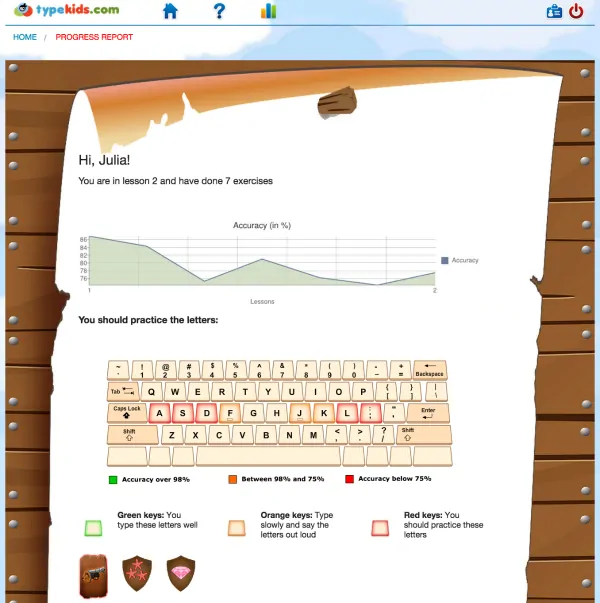 Demonstration Video
This short video will give you a further look into the course…
Overall, I'm extremely pleased with this unique course. It's a huge relief to me that Julia actually is interested and is enjoying the program. She likes to hear the story and is motivated to unlock the games. I'm very confident that as she progresses through the course, she will get a good start in typing and with practise, she will gain confidence and speed.
TypeKids has a free trial so you and your child can test it out. The cost for the complete online course consisting of 30 lessons is $89.95.
Disclosure: My daughter Julia received a complimentary review login.
Written by Susan Carraretto, co-founder of 5 Minutes for Mom
Talk with me: @5minutesformom and Facebook.com/5minutesformom
Pin with me at pinterest.com/5minutesformom