This post may contain affiliate links. Read my disclosure policy here.
5 Minutes for Mom contributor, Jennifer Donovan is here to share a look into a couple of educational iPad apps to help your child learn to read. This is a sponsored post from Reader Bee, but our writer Jennifer's opinions are her own.
When my kids were preschoolers, we had electronic games and educational system, but nothing like the inexpensive options available easily through iPads and other apps today.
I love what I've seen of Reader Bee's First Story Maker and Reader Bee and the Story Tree. I can't believe that products like this are out there for only $.99 and $1.99.
Reader Bee and the Story Tree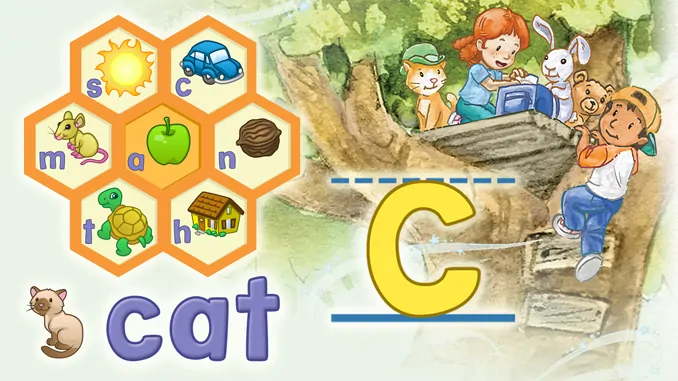 I love the look of this app. The illustrations are intuitive, beautiful, and professional.
Winner of the Children's Technology Review Editor's Choice Award, 2014. Every game in Reader Bee works together to create the golden "aha" moment when letters become words, words become stories and your child becomes a reader. Learning to read with this app is a joy because kids get just the right information at the right time for their growing brains to take in sounds and shapes of letters.
Kids get just enough letters at a time in a simple arrangement called a daisy – six consonants around one vowel – that gives them a physical experience of the vowel's special place in words. They learn it with their ears and with their fingers as well as with their eyes – a dynamic combination that research shows creates strong neural connections. With just that one daisy they can make real words. If you add the rest of the daisies, they have the whole alphabet at their fingertips.
About the Children's Technology Review Editor's Choice Award, 2014: "given to only the highest quality children's products in the interactive media category. These are 'no fail' products…able to keep children engaged for days at a time."
$1.99 at the itunes app store
Reader Bee's First Story Maker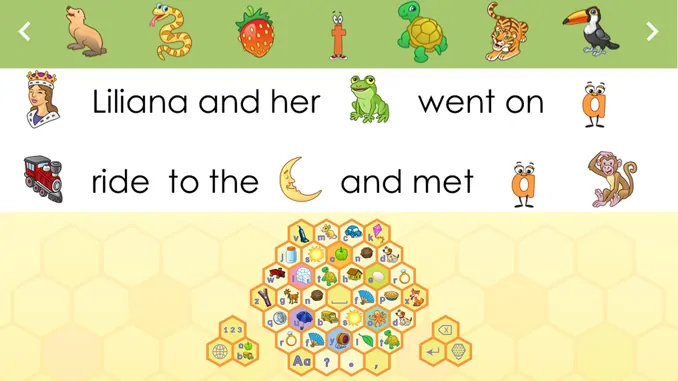 This one feels like more of a game, where children can select pictures that rhyme. Seeing the words and pictures together over and over again helps add sight words to a child's vocabulary. Kids can even use the honeycomb app in other contexts like emails and texts, really pushing literacy to the next level.
Now kids' stories can come to life with magic pictures that transform into words and back again with a tap. The Honeycomb Keyboard lets young children see and write rhyming words (cat, hat, sat) and sight words (with, the, and, is) with one swipe through the letters, helping them learn to read as well as write.
Kids can browse through dozens of fanciful pictures to inspire their tale-telling and jumpstart their spelling. Once a picture of an octopus, a strawberry or a violin has been pulled into the story, tapping changes it magically into the spelled word 'octopus', 'strawberry' or 'violin'. Even more surprising, type, "c a t" and pop – a cat will appear where that word was!

Kids and grownups also can use the Honeycomb keyboard in many other iPad apps – email, notes, messages and more.
$.99 at the itunes app store
Find out more
Follow @ReaderBeeGames on Twitter and Facebook.