This post may contain affiliate links. Read my disclosure policy here.
Jenny, 5 Minutes for Mom contributor, is here to share with you a great new app for keeping up with babies. This post is sponsored, but all opinions remain those of the writer.
The birth of a new baby is a wonderful time. It is also a time of many changes and challenges. Whether your new baby is the first or fifth it can be hard to keep track of their health when your body is healing and your mind is scattered and your hormones are going crazy.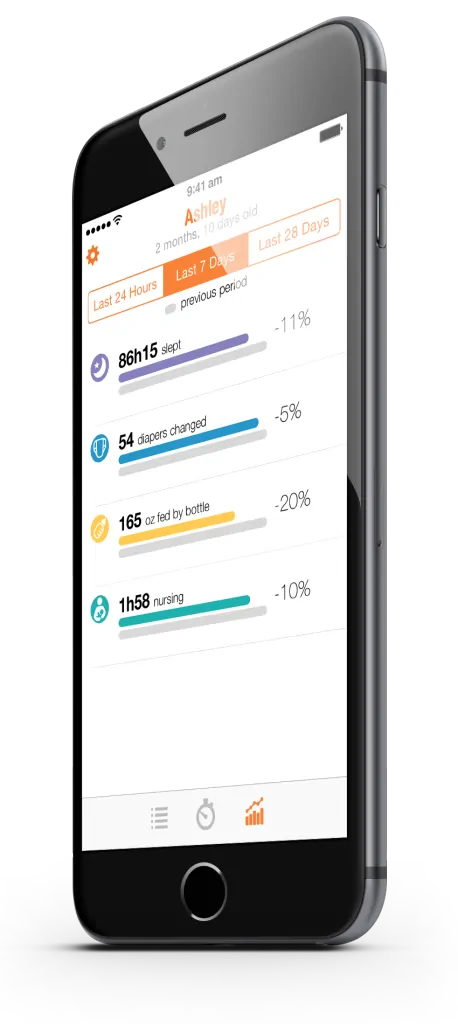 That's why I love using an App to keep track of my newborn's sleep, nursing, and bowel movements. The BabyTime App just does that by providing a user friendly and thorough baby tracking app.
With a clean and simple design, The BabyTime App allows the busiest of mom's to clearly record their child's activities. Because it was created by parents, this app includes many features that are handy to first-time and experienced moms.
For example, The Baby Time App will recognize your baby's patterns. This can be crucial when a baby passes the newborn stage of on-demand sleep and feedings and reaches the stage of scheduled naps and feedings. No more second guessing or trying to remember what time it was when the baby napped last. Instead, the BabyTime app, will record it all for you! Your baby's trends can be revealed to you weekly or monthly with the app.
The BabyTime App keeps track of:
Nursing/Breastfeeding –  Track time spent feeding on each breast. No more rubber bands on your wrist to remember which side you last fed on, no more filling out charts with how long baby nursed, The BabyTime App tells you!
Bottle – Track how much and whether the feed was formula or expressed breastmilk (EBM).
Sleep –  Track when and how long your baby sleeps, and find patterns or trends.
Diapers/Nappies –  During the newborn phase, you'll want to check if your baby is eating enough by tracking how many full diapers/nappies are produced over time. You might not remember, but The BabyTime App will!
Think of all the time this app will save when heading to the doctor for well visits. No more checking your purse for the notes you jotted down while nursing. No more trying to remember how many diapers you changed. Simply open up the app and present your doctor with the necessary information to ensure your child's health.
The BabyTime App is a convenient and practical app that can offer moms a peace of mind. Something we can use as we navigate life with a newborn! Babies change so rapidly, making it difficult to keep track of everything they do. That's why it's great to have an app do it for you with clarity and ease.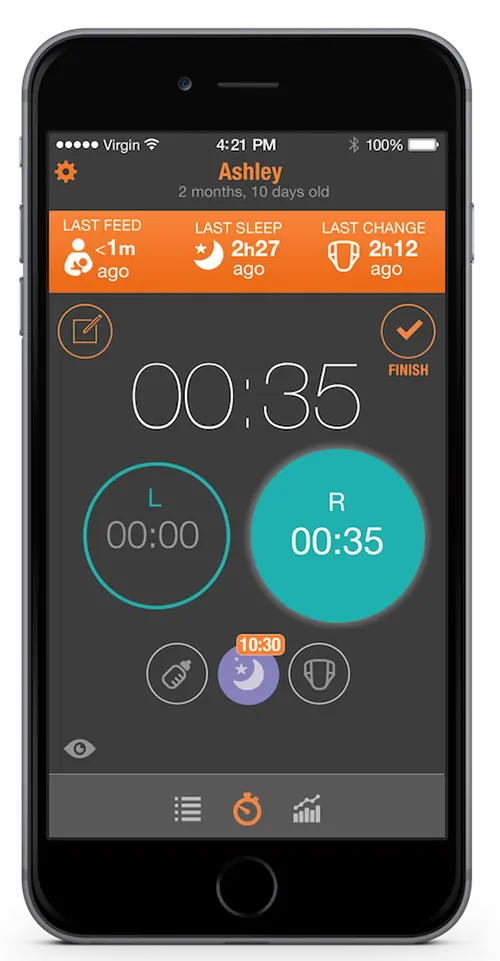 A few additional features of The BabyTime app are:
Share and/or sync your app with an additional caregiver. Is your husband staying with the baby? Are you heading to work and leaving your child in the care of a relative or babysitter?  You can still keep track of all the vital information!
Use night-mode for late night (or early morning) feedings. Much gentler on the eyes and less likely to disturb the baby, night mode can be easily turned off or on.
Record events after they happen. Did your toddler have a tantrum in the middle of a nursing session and you forgot to record it?  No worries!  This app allows you to add events after the fact!
Life with a newborn is beautiful and miraculous, but not without its challenges.  Let The BabyTime app manage some of those challenges for you!
The app can be downloaded for iPhones.
Disclosure: This post is sponsored, thank you for reading and sharing.
Written by 5 Minutes for Mom contributor, Jenny Nanninga.