This post may contain affiliate links. Read my disclosure policy here.
Disney sent 5 Minutes for Mom contributing blogger Dawn Cullo to Los Angeles to attend a BIG HERO 6 press day. Dawn's expenses were paid for the trip but no other compensation was paid and all opinions are Dawn's.
The BIG HERO 6 press day was held at the Roy E Disney Animation Building.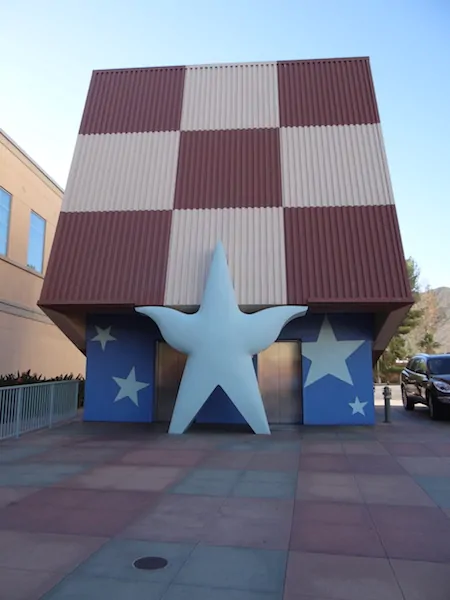 I always get really happy when we get to go inside this building because the artwork on the walls is amazing.  The lobby area is decked out in all BIG HERO 6 images.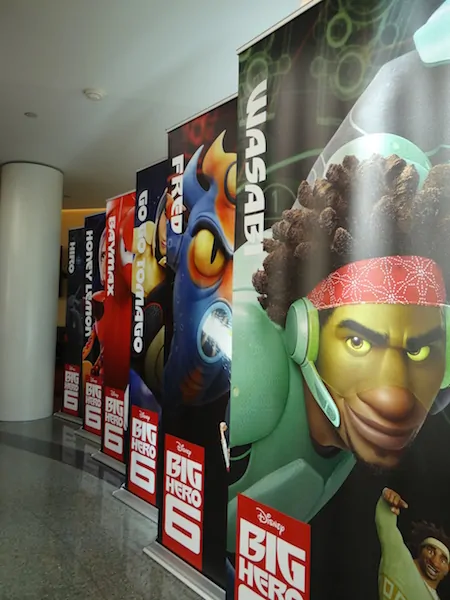 Interview with Jamie Chung & Genesis Rodriguez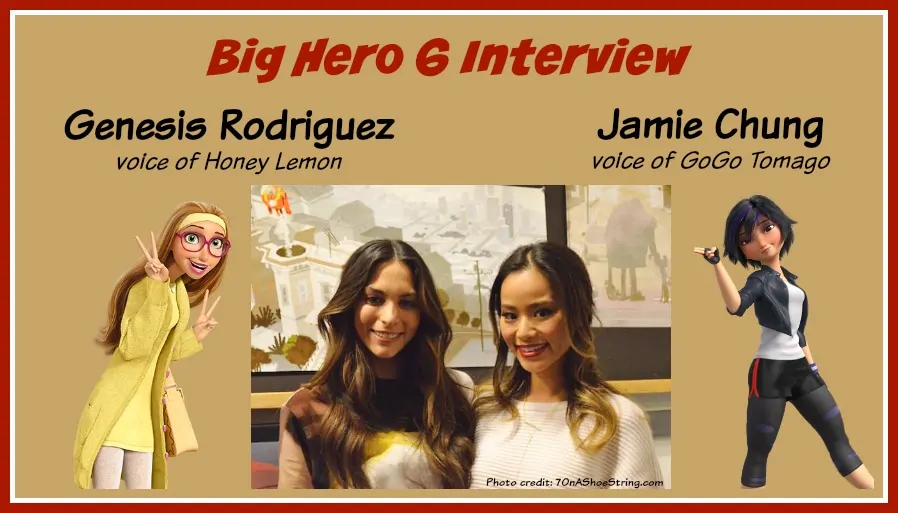 What was your favorite part about playing the character that you played?
Genesis Rodriquez: I had to be so positive all the time, I felt like I was acting like a fool but getting paid for it.  I loved playing a happy bubbly character.  It is a dream come true to be able to play these strong female characters and give them to future generations.
Jamie Chung: GoGo doesn't say a lot in the beginning of the movie, but when she does say something she really means it.  She was described to me as the female Clint Eastwood of the group.  It was fun to sass it up.  If I said a line with too much of a smile, the directors would say a little bit meaner.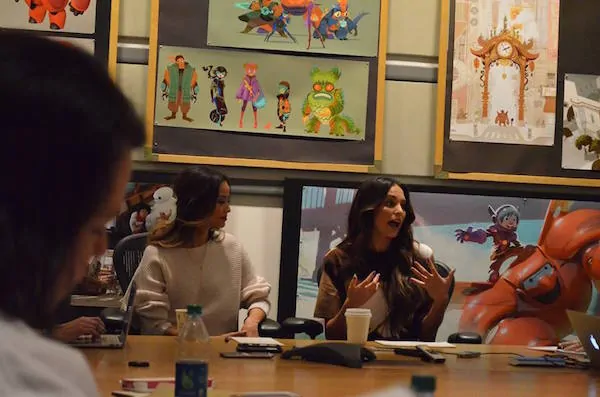 Jamie Chung and Genesis Rodriguez
Did you like having the strong female leads in the movie?
Jamie Chung: I love that there is no stereotypes in the movie, being a nerd is cool. Honey Lemon and GoGo are different but they represent strong women in different ways.
Do you move a lot when you are in the recording booth?
Jamie Chung: It was hard to remain still, I had to move because it helps with some of the sounds I had to make such as "pretend like you are falling 6 feet and land on the floor."
Genesis Rodriquez: I had to move, it was hard to remain still, I had nothing within 4 feet of me.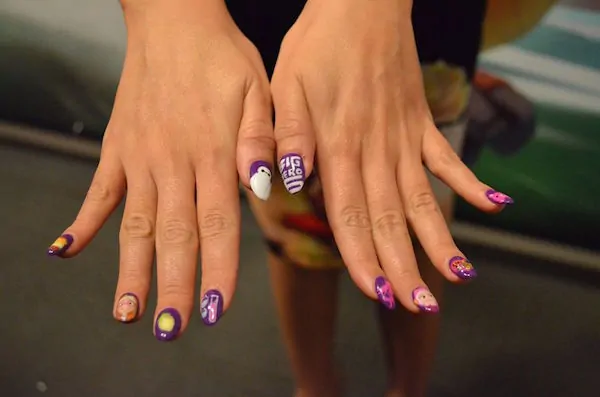 Genesis Rodriguez Nail Art – Big Hero 6
What was the audition process like?
Jamie Chung: Disney announced that they are doing their next project MOANA and I was called to do a table read and do the voice of the title character Moana. John Lasseter was in the room and later he asked me to audition for GoGo.
What was your favorite scene in the movie with your characters?
Both Jamie and Genesis said that their favorite scene is when they all have their new gear.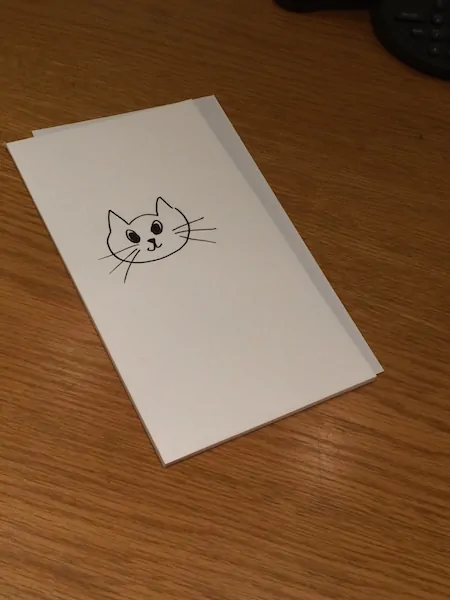 Kitty Cat drawn by Jamie Chung during our interview
Other than your Characters, who's your favorite character and not Baymax?
Genesis Rodriquez: Fred is hysterical, he has the best lines. T.J. is such a great Comedian and he's a lot like Fred too.
Jamie Chung: I liked Wasabi, I am a lot like him and I need to have organization like he does.  He is a worry wart and he cares about safety and the safety of everyone.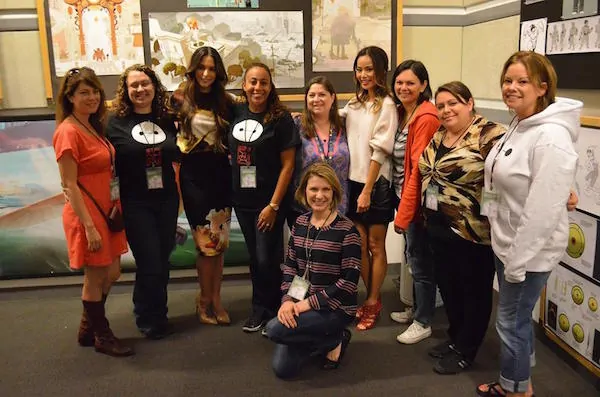 Blogger Group Photo with Genesis Rodriguez and Jamie Chung
Do you think that doing the Movie anyway changed your perspective on certain things?  
Jamie Chung: It is a Superhero movie but it stresses the importance of education and Science. I love the message that intelligence and smarts is not sex biased, nor is it race biased. Everyone has that same opportunity to reach that milestone in terms of education.  I think it's cool that in 10, 20, 30 years from now this movie still will be relevant.
Genesis Rodriquez: I was so excited to have a movie about Robots and Technology.  I was on a Robotics team and I'm an official Nerd.  I hope girls especially will be the first ones to raise their hands in class and realize that being smart is a super power.  Robotics is cool.  Science is cool.
Artwork
The interviews took place inside a conference room filled with concept art and character sketches.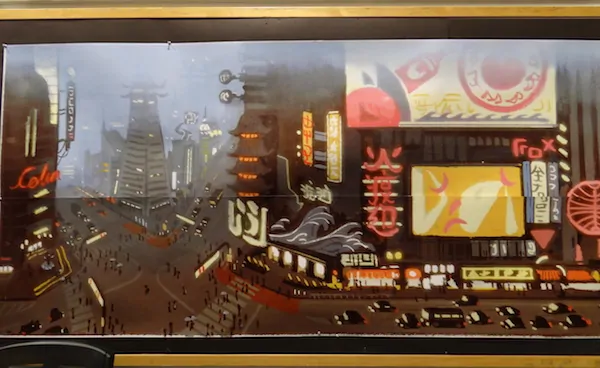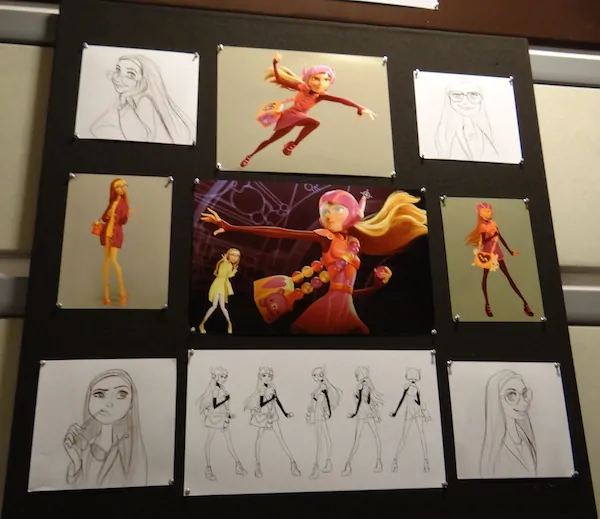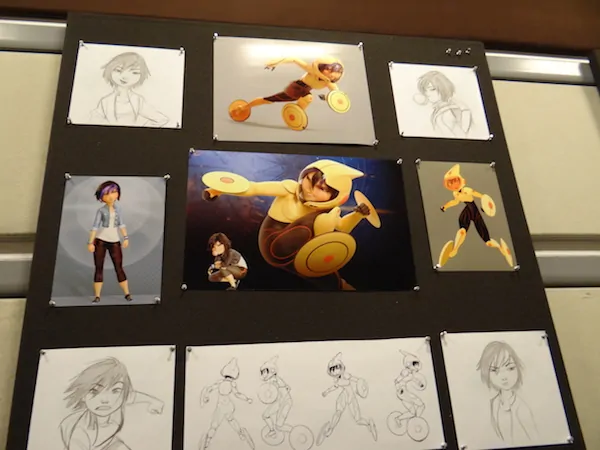 More concept artwork by the talented artists at Walt Disney Animation Studios on the walls of the second floor.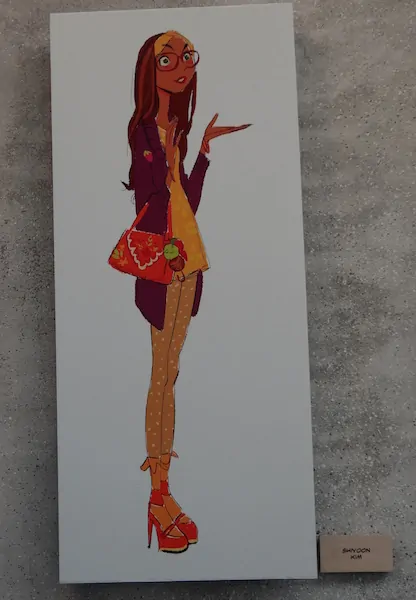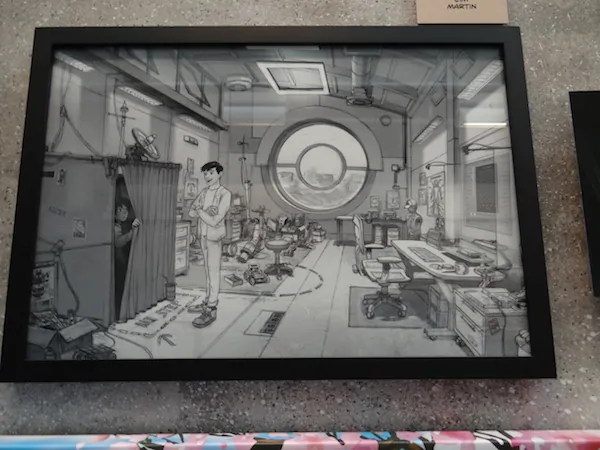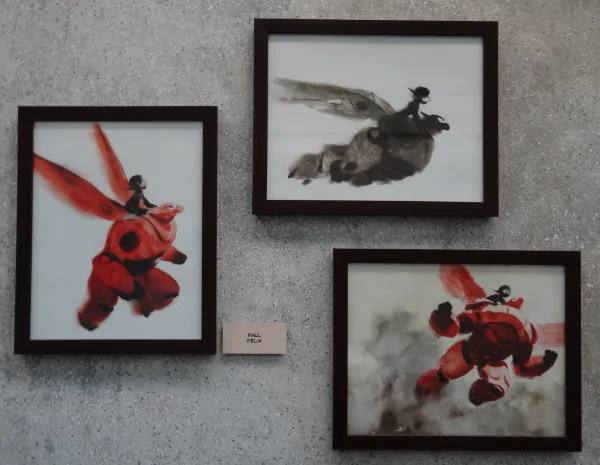 Be sure to come back later in the week for more pictures of inside the Roy E. Disney Animation Building when I share with you the time I voiced Baymax 😉
Written by 5 Minutes for Mom Contributor, Dawn Cullo.
Interview photography of Jamie Chung and Genesis Rodriguez provided by http://www.7onAShoestring.com