This post may contain affiliate links. Read my disclosure policy here.
Bonnie Way, 5 Minutes for Mom contributor, is here to let you know about a fun contest for your little ones. This post is sponsored, but our opinions are our own.
Earlier this summer, my six-year-old daughter Sunshine had the chance to participate in a little talent show. As soon as she heard about it, that was all I heard about. She decided to sing "Do You Wanna Build a Snowman?" (her favorite song) and so I had to play the track repeatedly in the truck so she could practice.
On the day of the talent show, she walked confidently to the front of the room, turned around to smile at her audience (twenty-some-odd parents and kids) and began belting out the song. She was a little off-key, but she made up for it with theatrical flourishes. When she paused at the end of the first verse, everyone clapped. I could tell instantly she was upset as she tried to wave her hands and shout, "It's not over." Finally the clapping subsided, but by then she was too flustered to sing the rest of the verses, and so she dashed back to me, a bit disappointed that everyone had applauded so prematurely.
Sunshine definitely enjoys being the center of attention and often dances around the living room, belting out her favorite songs. She'd be a perfect contestant for the Kid Trax Sing-A-Long Soul Contest!
Do you have a child who loves to sing along with their favourite songs? Capture them singing on camera and enter the video in Kid Trax's Sing-A-Long Soul Contest for a chance to win a set of wheels for them!
What song would your little superstar enjoy singing? The latest Frozen hits, like Sunshine? A good old classic like "The Wheels on the Bus?" Something from their favorite artist? Whatever they like singing, get it on video! Entering the contest is easy: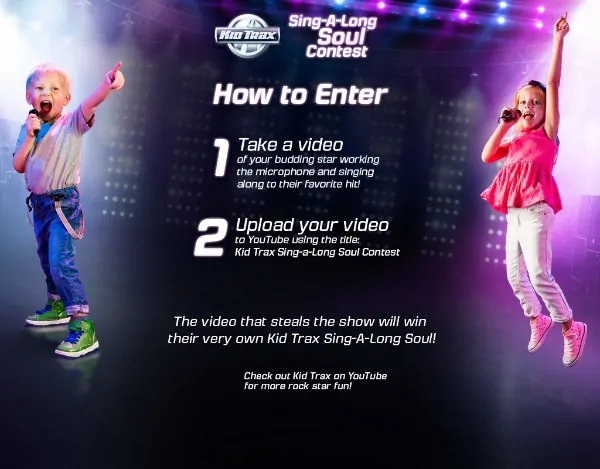 Find out more at the contest website or on the Facebook page. Make sure you read the fine print before uploading your video. Contest is open only to residents of the United States who have a Facebook and YouTube account. The contest ends November 9, 2014, at 9 pm E.T.
Kid Trax are available exclusively at Toys R Us. The Sing-A-Long Soul comes in three cool colours: purple, orange and green. It has two mega loud speakers with coloured LED lights and two connected microphones (so they can sing with a friend!). Real lights, working car doors, and engine and horn sounds add to the role-playing. It drives at up 5 mph, but parents can control the speed (oh, good!).
My girls love ride-on-toys and they would go wild over a car that plays music too. I guess I'd better start working on that video!
What will your little rockstar sing for the video?

Disclosure: This post is sponsored by Kid Trax.
Written by Bonnie Way, The Koala Bear Writer.