This post may contain affiliate links. Read my disclosure policy here.
Susan here… with another confession! Yes, I'm revealing another confession as part of the #DareToBare contest. Just so you know, I am a paid ambassador for Bare Snacks™, I am not eligible for the prizes and this post is compensated.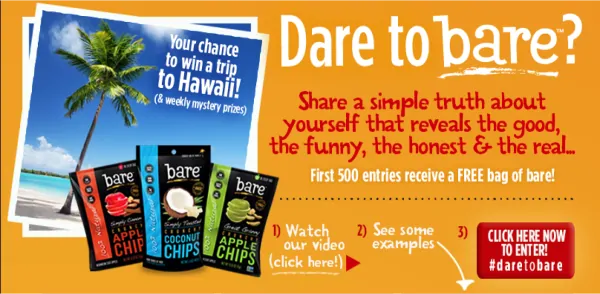 It's time to vote for the #DareToBare entry you think should win a trip to Hawaii.
My personal favorite is Linda and Mateo! Watch their adorable entry —>
I truly want to see Mateo win this contest! He has my vote… May I suggest you go vote for him? (You can vote daily.)
The deadline for submissions was September 28th. Now it's time for semi-finals voting.
Here's the contest timeline:
September 28 – #daretobare submissions close
September 29 – semi-finals voting begins
October 12 – semi-final voting ends
October 13 – grand prize voting begins
November 2 – grand prize voting ends and winner announced this week
Dare to Bare!
The truth always wins – whether it be the good, the funny, the honest or the real – that's what we all really want to hear, and so does Bare Snacks™! They're daring you to strip down and #daretobare the honest, quirky little things that make you…YOU!
So I love this contest idea from Bare Snacks™ – the creators of a line of delicious Snacks Gone Simple.
The #DareToBare contest is a fun way of highlighting their mission of stripping down to the basic goodness of nature's best foods and getting down to the bare truth.
If you submitted an entry, get your friends to vote. The more votes your moment receives by October 12, they better you're chances are of moving from the semi-finals to the grand prize voting round! If you haven't seen this fun video introducing the contest, watch it now…
For fun, I've shared another video entry below…
My Third #DareToBare Confession
Click Here to Watch on the DareToBare Facebook app.
(I'm not actually eligible for prizes. My submission is for fun and to be an example.)
Click Here to see more #daretobare entries and vote on Facebook.
Bare Snacks™
We all want delicious snacks with natural ingredients that we can actually pronounce. Bare Snacks™ gives us what we want with nothing artificial ever.


You'll be happy to know the products are gluten free, non-GMO, and all natural.
Enter Now
You can enter using the Facebook app or directly on the mobile-friendly website: www.baresnacks.com/dare-to-bare. (US Residents Only.)
Remember, you must submit your #daretobare moment by September 28 and vote, share and vote some more until the next deadline on October 12. The moments with the most votes move onto the final round and YOU might win a TRIP to HAWAII! Also, the first 500 approved submissions will win a FREE bag of bare.
Find out more at baresnacks.com and enter the #DareToBare contest on Facebook.
Disclosure: This post is part of a sponsored campaign.
Written by Susan Carraretto, co-founder of 5 Minutes for Mom
Talk with me: @5minutesformom and Facebook.com/5minutesformom
Pin with me at http://pinterest.com/5minutesformom/