This post may contain affiliate links. Read my disclosure policy here.
This is Janice, co-founder of 5 Minutes for Mom, here with a review and giveaway for my daughter's favorite Canadian clothing store. If you are in the US, no worries, they ship internationally. Triple Flip provided gift cards for review and giveaway purposes, but our opinions and love for Triple Flip is all our own.
Update: Sadly Triple Flip closed in 2017.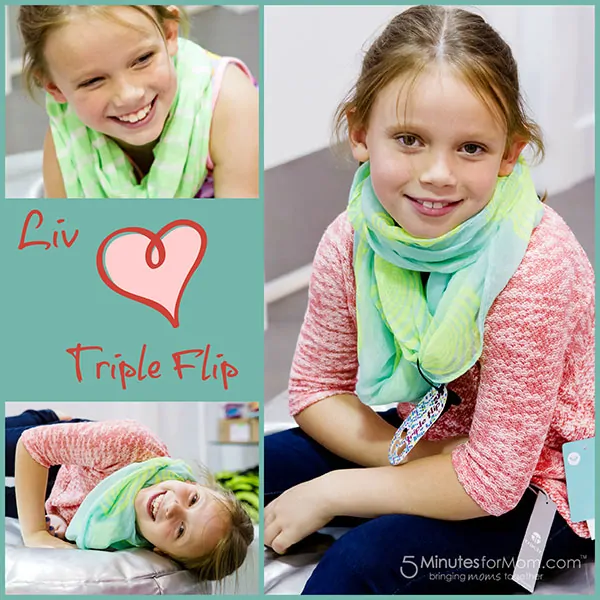 Imagine the PERFECT store for tween girls…
A store with clothes created just for them — for real girls, who want to express themselves with exciting, unique clothes designed to fit their bodies and their fun, cartwheeling lifestyles.
A store where tween girls are treated like the treasures they are — where the staff takes the time to teach them how to tie an infinity scarf or helps them choose the absolute perfect accessories for their new outfit.
A store that is totally tween girl cool — from funky dressing room decor, to the "Flip Girls" posters lining the walls. (Flip Girls are real tween girl customers who entered to win the random annual draw to be featured in Triple Flip ad campaigns. There are no celebrities or models for Triple Flip — this is the store for every Canadian girl.)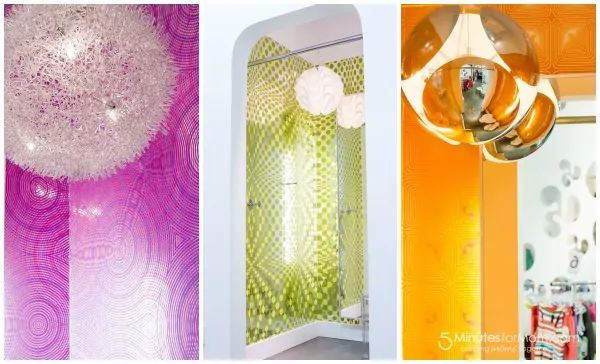 The Mom Behind the Brand
Triple Flip has become THE hit brand for Canadian tween girls, with new stores continuing to pop up across the country.
Almost every girl in my daughter's class owns one of their uber-popular Minky jackets — and from what I see on the playground, at least 80% of the girls in the entire school are sporting fashions from Triple Flip.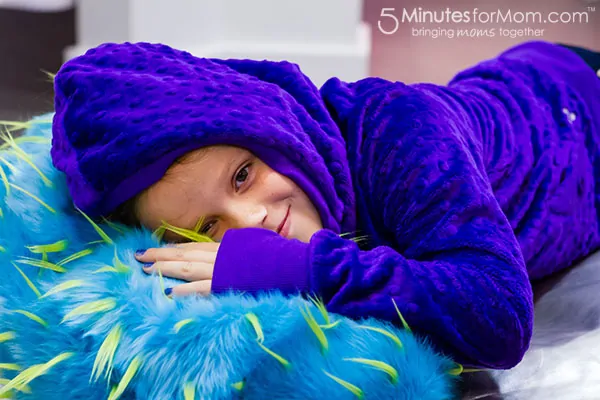 And it is no accident that Triple Flip resonates with tween girls — Calgary mompreneur Linda Maslechko launched the brand in 2005 with the goal of creating a store where girls like her daughters, who were 9, 11, and 13 at the time, would want to shop.
In fact, it was her youngest daughter who gave her idea for the store. Frustrated with the lack of shopping options for girls their age, her daughter said, "Mom, we have to do something."
And do something, she did!
Now, a decade later, with 11 stores across Canada, and shipping from their online store available internationally, Triple Flip continues to thrive by putting tween girls first.
The Shopping Experience
Recently, my daughter Olivia and I visited our local Triple Flip store for some Back to School clothes. Triple Flip is Olivia's favorite brand and she was super excited for our shopping trip.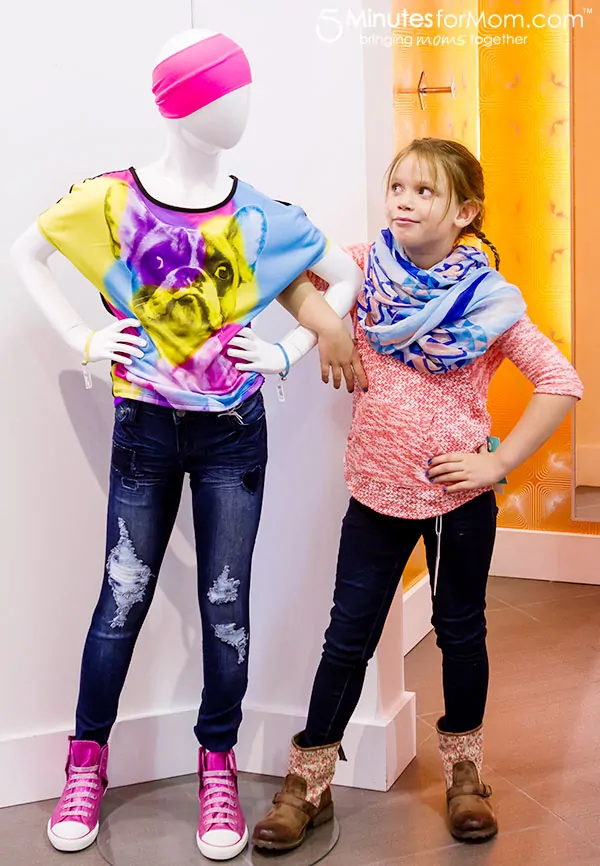 Triple Flip is a head-to-toe shopping dream — with awesome available for every part of a tween's active life. The clothes, shoes, accessories, and bags are the perfect mix of activewear and streetwear, outfitting girls from their dance class, to their school desks, to their weekend parties or play dates.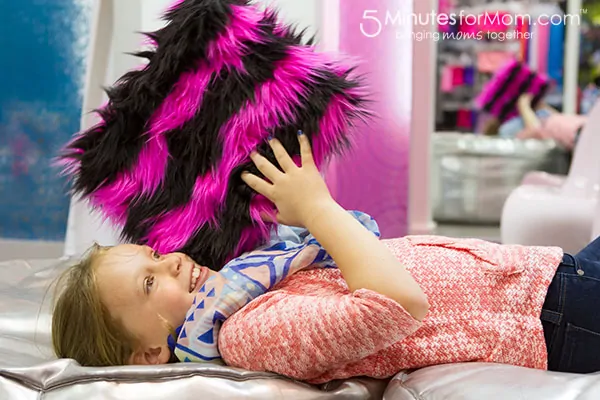 The store is set up for shopping ease, with the clothes grouped together in coordinated collections. The target age for Triple Flip girls is 9-12, but the sizes fit girls from age six to late teens. (My daughter is just turning seven, but has been wearing Triple Flip since she was five.)
Triple Flip created their own sizing based on their research of 400 Canadian teen girls. Their sizes range from Size 1, which is geared to fit girls around age 6, up to Size 6, which is designed to fit girls into their mid teens.
In addition to Triple Flip's own clothing lines, the stores carry popular active brands such as Roxy, and a range of fabulous accessories.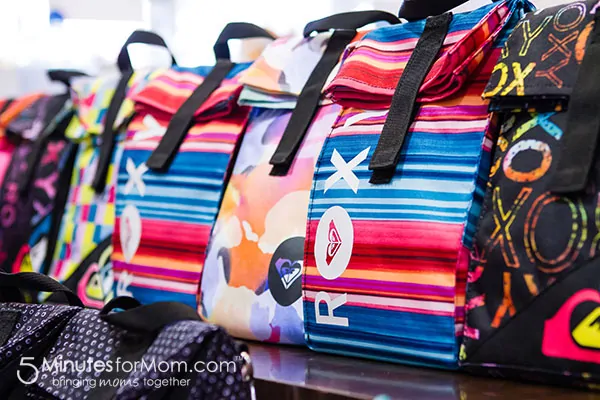 But perhaps the best part about shopping at Triple Flip is the spirit of the brand and the staff that live out their mission to help tweens stay happy, strong and confident as they grow.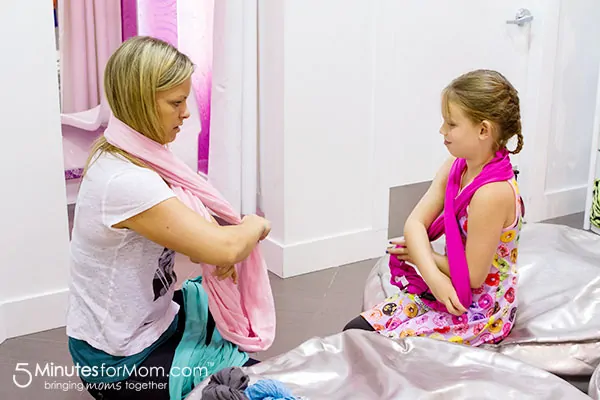 The store manager, Vanessa, gave Olivia amazing attention. She helped her customize outfits and choose accessories. She taught Olivia how to wear an Infinity scarf. She even searched boxes in the back of the store to find the perfect "furry" binder in the colours Livvie wanted.
But most of all, she had FUN with Olivia. Vanessa truly bonded with Olivia and made her feel special. It was unlike any other shopping experience.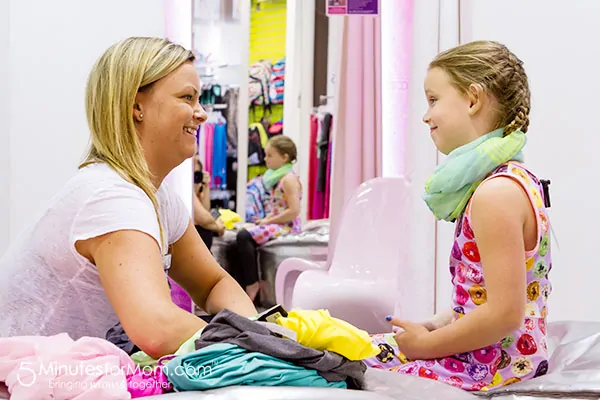 Triple Flip has done something amazing — it has made shopping for girls a healthy, rewarding experience, that allows girls to feel good about themselves. In a world where small chains and stores seem to be disappearing, Triple Flip has created a store that is relevant and flourishing.
Designed to Grow, Designed to Last
Triple Flip clothes are so well made, they make the best hand me downs. In fact, our neighbours have blessed Olivia with many of their out grown Triple Flip clothes!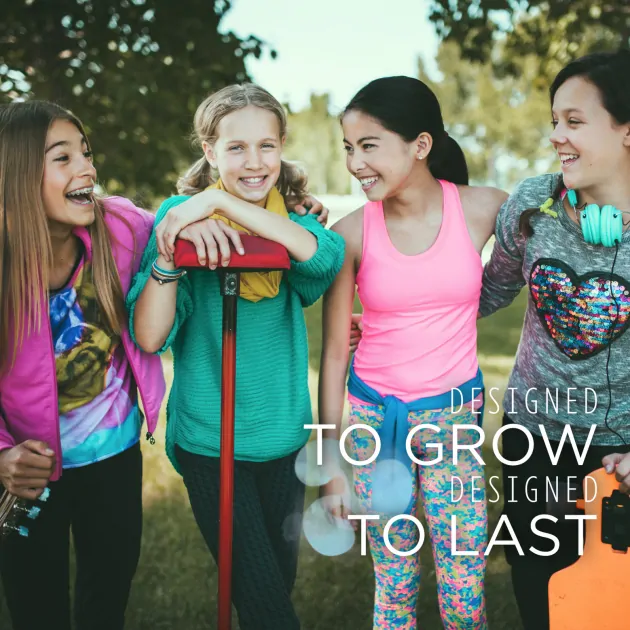 During the month of August, Triple Flip is running a program called Designed to Grow, Designed to Last, designed to help girls help other girls…
During the month of August, girls can bring in their much loved, outgrown, ready-to-wear Triple Flip clothing to any of our 11 stores
Triple Flip will then put them in the hands of women's shelters and select community charities so that they can reach girls in time for the first day of school
As a thank you, donors will get 10% off their Back to School purchase at Triple Flip
Written by Janice Croze, co-founder of 5 Minutes for Mom
Talk with me: @5minutesformom and Facebook.com/5minutesformom
Pin with me at http://pinterest.com/5minutesformom/