This post may contain affiliate links. Read my disclosure policy here.
Jenny Nanniga, 5 Minutes for Mom contributing writer, is here to introduce a new technology to help keep your family safe. This post is sponsored and she was compensated for her time, but all opinions remain her own.
Parents are always concerned for the safety of their children, from birth into adulthood.  We worry about their health as infants and their whereabouts as teenagers.
Now you can keep your entire family safe, at any stage, with OVAL.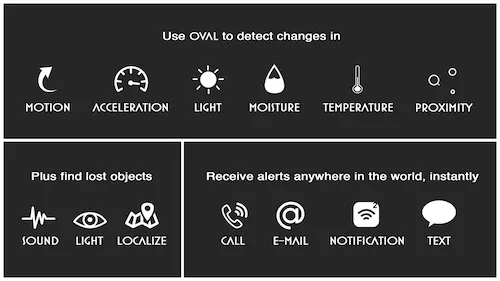 The Technology
OVAL is a unique sensor that can detect changes in motion, acceleration, light, moisture, temperature and proximity. This sensor will instantly send an alert to your phone or email, no matter where you are, whenever it's disturbed. For parents, OVAL is a wonderful tool as it can be attached to hazardous items such as cleaning products, toxic chemicals, medicine or liquor cabinets. You can also place them on doors and windows will allow you to be instantly alerted if someone entered or left your home.
Imagine the additional possibilities!
Protect your curious toddler from accessing harmful chemicals.
Ensure the safety of your teens when they are left home alone.
Keep track of your pets.
Create a home security system for protection against intruders.
OVAL is truly a simple tool that can be easily controlled through a website or smart phone app.
Use just one OVAL sensor for your front door, or distribute them around your home and create a virtual map that will notify you should any dangerous items be disturbed.
Being instantly notified in a convenient matters is one of the many benefits of OVAL.  OVAL can notify you via:
text
phone call
e-mail
push notification

The App
The app version of OVAL is a convenient method for safeguarding your loved ones.  You can set-up and control your devices online. You can choose and adjust your sensor, download software to stay current, and turn your OVAL on and off as needed!
With more uses than a traditional home security system and a much lower price, OVAL is ideal for parents looking to protect the ones they love.
How would you use OVAL?
You can preorder OVAL today at discounted rates for a limited time.   To learn more visit OVAL on their Facebook, website, and Twitter.
For more ideas to keep your family safe, check out our Safety Tips Pinterest Board…

Written by 5 Minutes for Mom contributor, Jenny Nanninga.