This post may contain affiliate links. Read my disclosure policy here.
Having a picnic with your family is one of the simplest ways to spend time together. You and your kids will love these picnic food ideas that only take minutes to make.
Thanks to Finish for sponsoring this post. Read on for four, super quick, picnic food ideas that you can make today…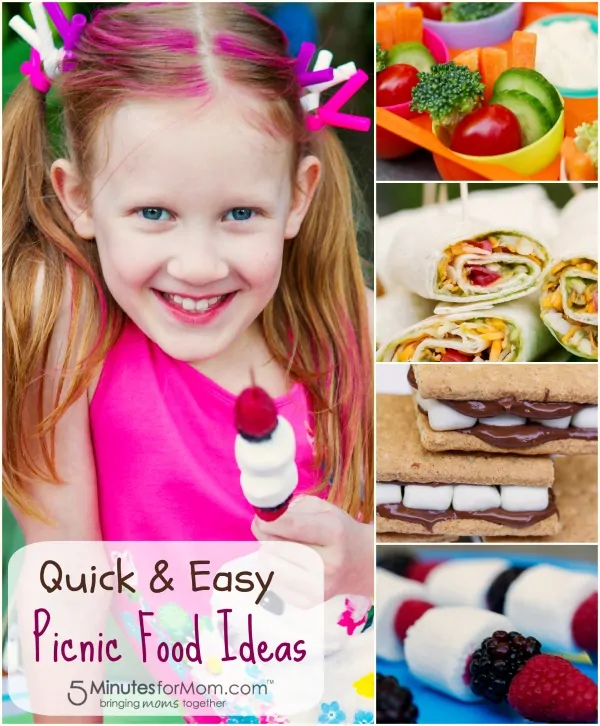 What is it about eating outside that makes food more fun?
The practical mom part of me wants to avoid the extra trouble of packing up food and heading outside for a picnic — but the fun mom part of me loves the extra squeals of joy from my daughter and her cousins when I announce we are going to have a picnic.
Even if the "picnic" is just outside on our front lawn, the very act of "picnicking" seems to make mealtime magical.
But… I don't exactly have extra time in my day. In fact, I am experiencing a serious time deficit in my life. So, finding time to create elaborate picnic recipes just isn't going to happen. While my kids jump up and down, begging for me to hurry up so we can go, I don't have time to fry up some southern-inspired drumsticks or whip up a batch of homemade potato salad.
No – when a last minute picnic plan gets thrown into my day, I need kid-friendly food fast. With ingredients my kids actually eat. And with food I have in my kitchen.
My bet is that you have the same requirements when you and your kids decide to head outdoors for an impromptu picnic…
So, here are four, super easy, kid-friendly, picnic food ideas. (I won't call them recipes, cause that would mean that you have time to follow instructions. Nope, these are ideas that you throw together while your kids scramble to grab their sunscreen and their favorite picnic blanket.)
Quick and Easy Picnic Food Ideas
Veggies in a Carton
Veggies can be a hard sell any day — but when there are extra distractions, kids may be even less likely to eat their vegetables.
But here is a new way to pack up veggies that makes them easy to carry and fun to eat.
I have seen a few versions on Pinterest of packing egg cartons with bite sized portions, including using plastic egg shells as mini containers. For mine, I used a plastic toy egg carton and plastic egg shells to serve my tiny vegetable offerings. I filled a couple with dip and the rest with veggies.

Nacho Wraps
We go through a lot of avocados in our house. A staple "sandwich" my kids have eaten since they were tiny are wraps with avocados and cream cheese.
But to make this fast meal a bit more exciting, I made nacho-inspired wraps.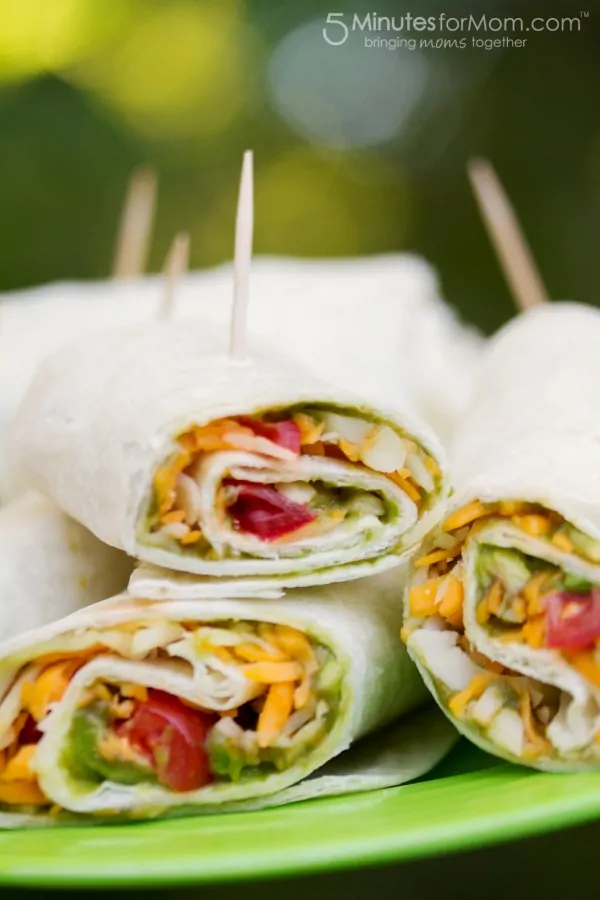 I simply smashed up a couple of avocados and added some lemon juice and salt to make guacamole.
I spread a thin layer of guacamole on each wrap, added salsa and sliced grape tomatoes, and sprinkled on some shredded cheese. Folded in the ends, rolled it up, and all done.

Fruit and Marshmallow Kabobs
With so much seasonal fruit available, my kids are eating fresh berries and fruit every day. We always have fruit ready to go in our fridge.
So it only took a couple seconds to get our berries picnic-fun ready with these sweet and special skewers.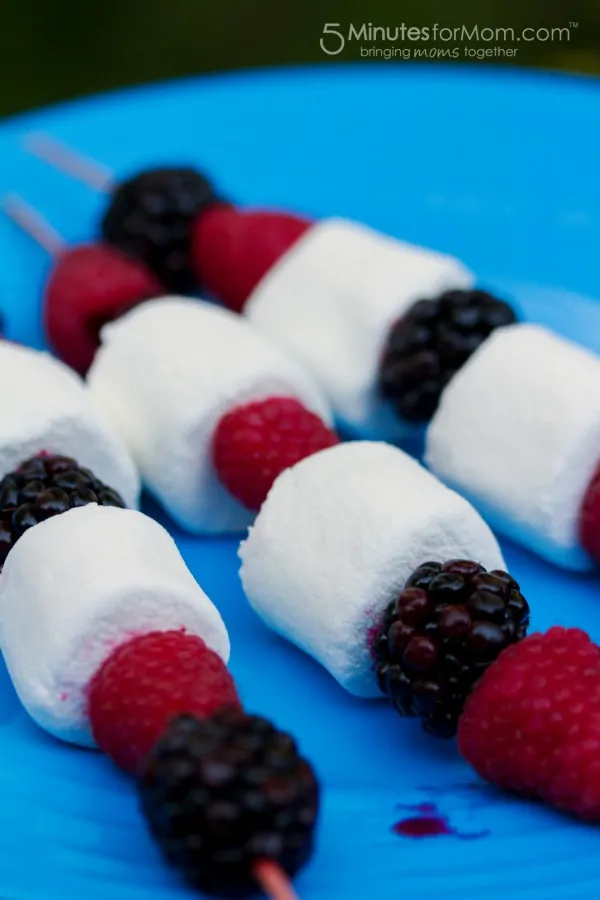 I have had skewers stashed in a kitchen drawer for at least a decade. I can't for the life of me remember buying them. But they sure came in handy when I decided to make these fruit and marshmallow kabobs. It doesn't get any easier than sliding berries and marshmallows onto a stick. Seriously? Why can't all forms of food prep be this easy?

S'mores to Go
A campfire is never complete without s'mores. But campfires can be hard to come by some days.
With a jar of Nutella and a bag of mini-marshmallows, we can have our s'mores even if we are missing out on the smoke and flames.
You can always find Nutella in our cupboard. It is odd really. I can't even imagine a world where my mother would have allowed me to smear chocolate spread on my toast. What have I become?!? I will never try and say it is good for us, but a spot of Nutella can sure sweeten up any dessert. (If Nutella is involved, it is dessert, no matter how much my daughter would like to tell me otherwise.)
And when your picnicking is done, you can clean it up in a snap with the new line of Finish Power & Free dishwashing products. (Yes, even those Nutella covered knives.) If your meals include baby bottles, dishes, or sippy cups, add them to the wash! This new line is designed to be less harsh so it can be used with baby products.
I hope you have some fun with these picnic food ideas — and maybe even get inspired to take your kids out for an impromptu summer picnic.

Find More Activities
Visit our Summer Fun Pinterest Board for more summer activities…
Disclosure: This post is sponsored, so extra thanks for reading and sharing.
Written by Janice Croze, co-founder of 5 Minutes for Mom
Talk with me: @5minutesformom and Facebook.com/5minutesformom
Pin with me at pinterest.com/5minutesformom