This post may contain affiliate links. Read my disclosure policy here.
Jennifer Donovan, 5 Minutes for Mom contributor, is here to let you know about a great photo contest and give you a chance to win a $50 Gift Card to Petco. This is part of a sponsored campaign, but as always, our writer's opinions are her own.

I have always enjoyed having pets from childhood through my life now. They enrich my life. They add fun and definitely increase the love in my household. My social feeds are always full of cute pictures of dogs and cats. Sometimes it's a sad story, like a missing pet or a recently departed pet, but usually pets just show up, highlighting those everyday moments of families enhanced by our furry friends. They always make me smile.
We want our pets to be healthy, and a happy, healthy pet has a glow that can be seen. See below to find out more about AvoDerm's formula.
AvoDerm has a fun "Glow & Tell" Facebook contest going on right now. Having a healthy pet can be seen from the outside in, share photos of your pets for a chance to win pet store gift cards, AvoDerm foods for your pet and a grand prize which will be a Photo Shoot with award-winning photographer, Mark Rogers.
Share your pet photos on Facebook between August 16th and August 29th. The category is "Friends for Life," and they are looking for photos that express your pet's love or affection. Be sure to use the hashtag #AvoDermGlow when you share your photos!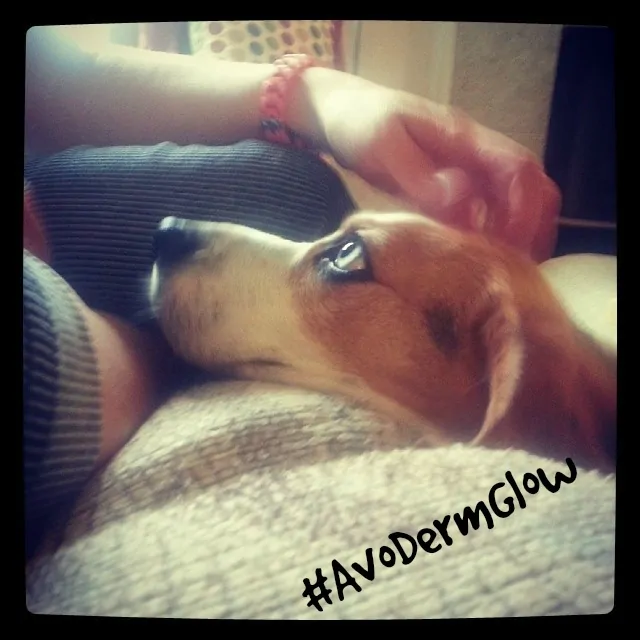 When I thought of that category, I immediately thought of this picture that my friend took of me and her affectionate dog Sinatra. Doesn't that gaze say love?
About AvoDerm
The best nutrition makes your pets shine with good health from the inside out. AvoDerm provides premium dog & cat food which include high-quality protein and avocado, a rich source of vitamins, fatty acids, & antioxidants that your pets need to look and feel their best. Visit AvoDerm to learn more about AvoDerm pet foods.

AvoDerm is giving away a $5 discount for you! Sign up for the AvoDerm newsletter here at AvoDerm Natural Pet Foods, then you will be able to download the coupon!
Enter to Win
Would you like to win a $50 Gift Card to Petco? Use the entry form below: