This post may contain affiliate links. Read my disclosure policy here.
This post is written by Janice Croze, co-founder of 5 Minutes for Mom. Please note that I was given a Target Gift Card to facilitate this post. But, gosh darn it, if you know me at all, you know I adore Target and get giddy every time I enter those magical red doors…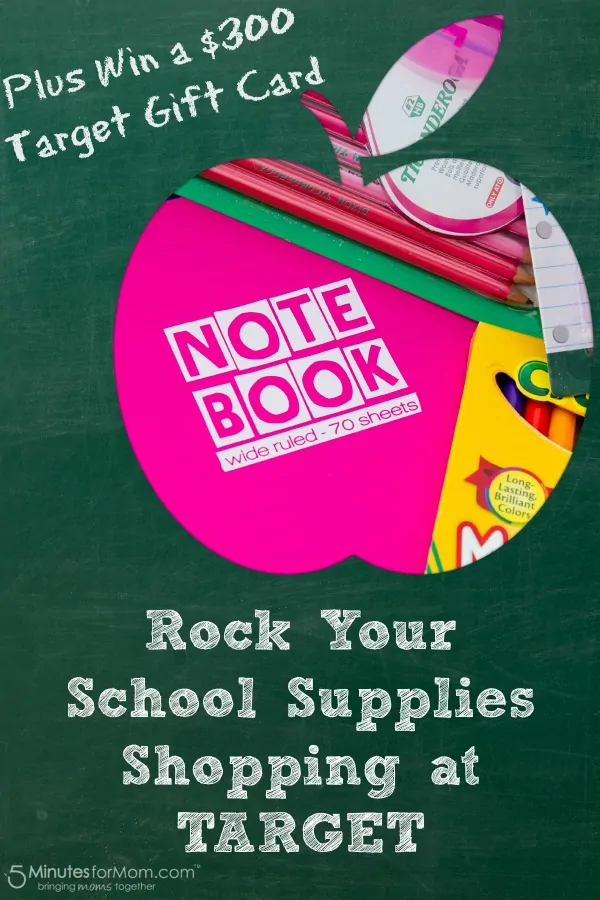 It is Saturday night. I just came home from Target with two backpacks full of school supplies, and I am in a fabulous mood.
Yes, I just rocked my back to school supplies shopping duties and I am ready to celebrate…
If you are wondering why I am in such a darn good mood, well, after making some bad decisions last year, I made some wise shopping decisions this year…
Tip 1. I Shopped Early
I never shop early for back to school supplies. First, I am a skilled procrastinator – so putting off shopping for school supplies is par for my course.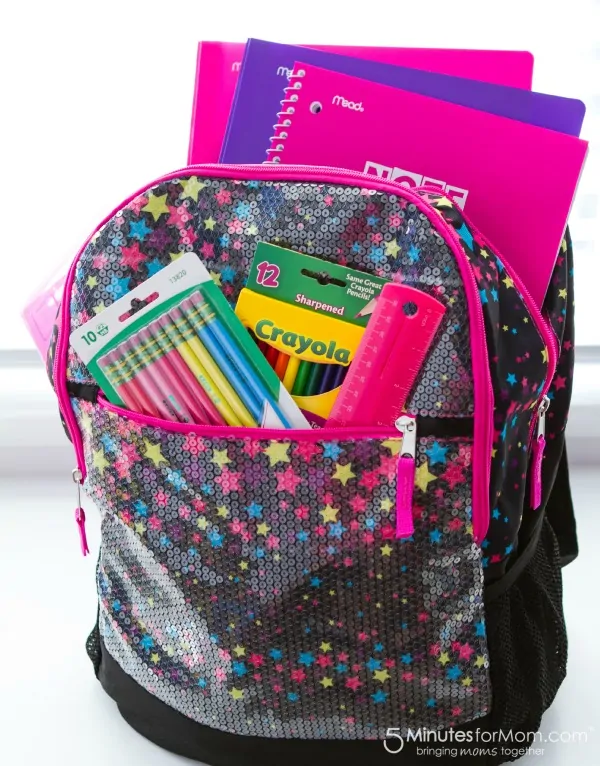 And second, I am not emotionally prepared to hear the words "Back to School" until we are so far into August that I can feel the September chill creeping in. And even then, I want to put my hands over my ears and sing "I can't hear you!"
But this year, I was organized. This year I shopped early! Okay — I had to shop early because I needed to get this post written for all of you who go back to school in August, not the day after Labor Day like we do. But man, am I grateful!
Not only is my school supplies shopping done and checked off my to do list, (before I even had a chance to write it on my to do list,) but I didn't have to worry about empty shelves or limited selection. Nothing was sold out yet. I got everything I wanted — in all the colors I wanted. Woohoo!
Tip 2. I Shopped on a Saturday Night
It might not seem like the most exciting thing to do on a Saturday night, but wow, did I have a perfect night at Target.
The aisles were clear, there were no lines at check out, and I had my choice of red-adorned suitors. I barely paused in an aisle before yet another smiling Target employee asked me if I needed help finding anything.
The whole affair couldn't have been more peaceful. I felt like I had enjoyed a quiet vacation in the sweet land of Target, where sale prices decorated the shelves and the store stayed open late just for me.
Tip 3. I Shopped for Homework Supplies, as well as School Supplies
When it comes to shopping for school supplies, we can't just buy what is on the list. Oh no — the well prepared parent must remember to shop for HOMEWORK supplies as well as school supplies.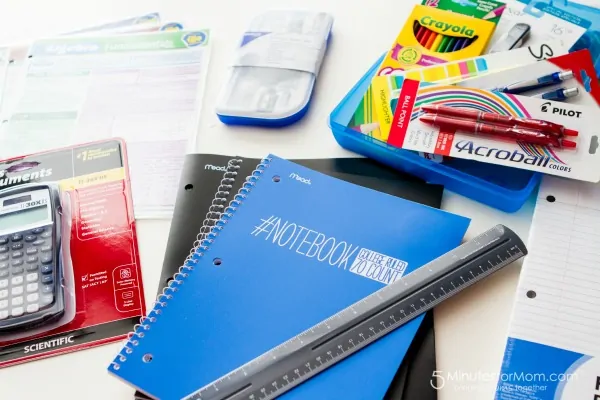 And, in addition to the extra pencil crayons, rulers, paper, etc. I bought to stock up my kids' homework stations, this year I also made sure to pick up a few things I forgot to buy myself last year — such as a three whole punch, an extra stapler, and new scissors that can cut everything from fabric to cardboard.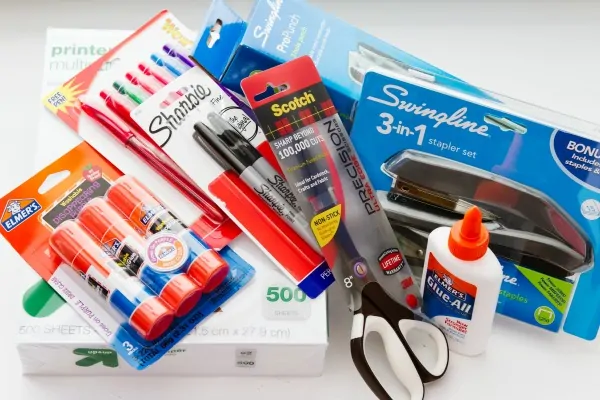 Oh, and lots of extra glue. Yes, this momma has glue!
Tip 4. I Shopped Alone
When it comes to school supplies shopping, do you shop with your kids or without?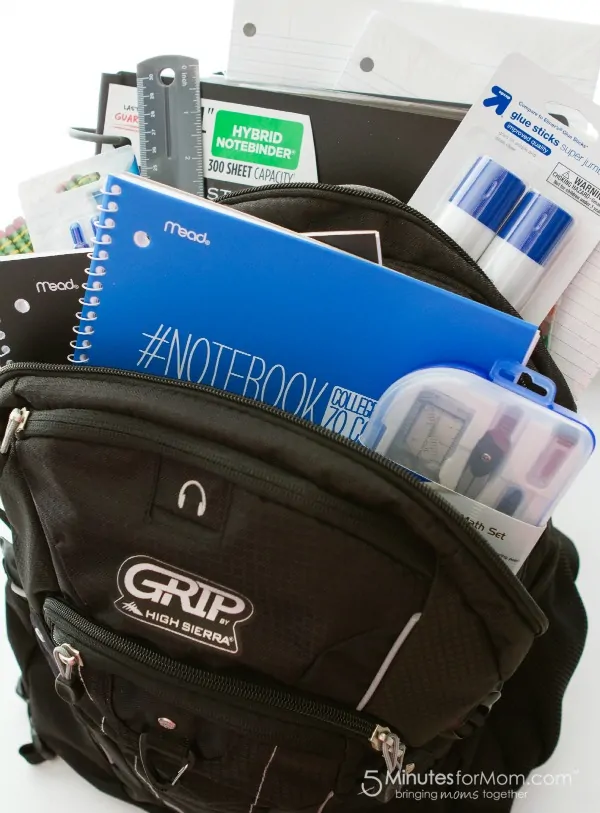 I am always torn on this one. I loved shopping for school supplies when I was a kid. I can still remember the excitement of choosing out my supplies and planning out my organizational systems, while begging my mother for the extras I didn't need, but I definitely wanted.
But, this year I decided to take just the school supplies list and go at it alone. While I did spend some extra time trying to decide which kinds of pens to get and which calculator my son would want, I felt like I had all the time in the world. I didn't have kids nagging, fighting, or whining. And, I get to come home bearing gifts!
Tip 5. I Shopped and Shared
Right now, Target has a special promotion running — for every select up&up school supply purchased at Target stores, Target will donate one school supply item to a student in need. Target's goal is to donate up to $25 million in supplies through this program and has already raised over $10 million.
Target has signs marking the up&up items included in the program, so it was easy to recognize which products I wanted to select.
This Buy One, Give One School Supply Program runs from July 13 through August 2. But if you miss it, no worries. Target modeled the program after the Target-exclusive brand of school supplies, Yoobi, who is founded on a "One for You, One for Me" mission, helping to support the Kids In Need Foundation.
The Yoobi line of school supplies is bright, colorful, and super fun — and no matter what time of year you purchase Yoobi, you are helping provide free school supplies for in-need students.
Do You Want to Win a $300 Target Gift Card?!?
Of course you do! And we want to give it to you.
So — enter now and we will cross all our fingers and toes for you…
Please note that the Target Gift Card can only be used in US stores.