This post may contain affiliate links. Read my disclosure policy here.
Susan here with a fun way to get your kids exercising through play. This post is sponsored, but as always, my opinion is my own.
My girls have fallen in love with hula hooping and "hoop dance" thanks to "Molly and the Hoola Monsters" children's hoop fitness DVD and handmade hoop.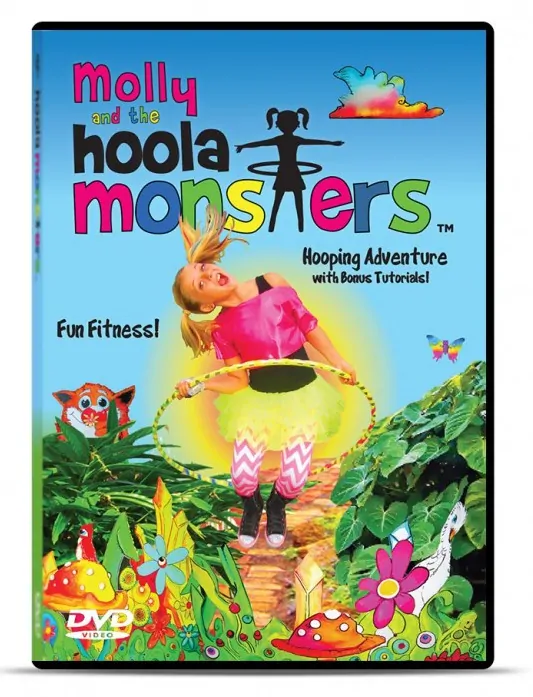 MOLLY AND THE HOOLA MONSTERS follows the magical story of Molly – the new kid at school – who discovers a golden tunnel that transports her to Hoolaville… a vibrant, funky village filled with super hooping creatures called Hoola Monsters.
My 9 year old Julia and 6 year old Sophia watched in awe as Molly transformed and learned to hoop dance. They grabbed their new hoops and followed through the lessons to learn to hoop dance themselves.
You couldn't measure the cuteness factor of my little Sophia as she quickly mastered the skill of "hula hooping" from watching this DVD. Sophia had not yet known how to hula hoop at all… she'd played with hula hoops before but had never been able to get the action going. But after watching the video show her the exact movements to make, my tiny 6 year old soon had her hoop spinning like crazy.
I can't even explain how proud she was of herself. She and Julia spent about 4 hours hula hooping that first day they got their hoops and watched the video.
The next morning Sophia jumped out of bed announcing, "I'm going to hula hoop! I didn't used to be able to hula hoop, but now I can!"
Watch and See Molly in Action
Learning to Hoop Dance
Hoop dance is the perfect way to combine fun and exercise. The high-energy DVD engages kids with creative characters, moves and lively music while teaching them the basics of hooping through to advanced tricks.
The tutorials section of the DVD includes 14 impressive tricks that make it easy for kids to learn the moves and follow along on Molly's adventure.
MOLLY AND THE HOOLA MONSTERS features original, dance-along music by Orlando-based funk band, Beebs and Her Moneymakers. The DVD also includes 3D artwork by visual artist, Bean Spence.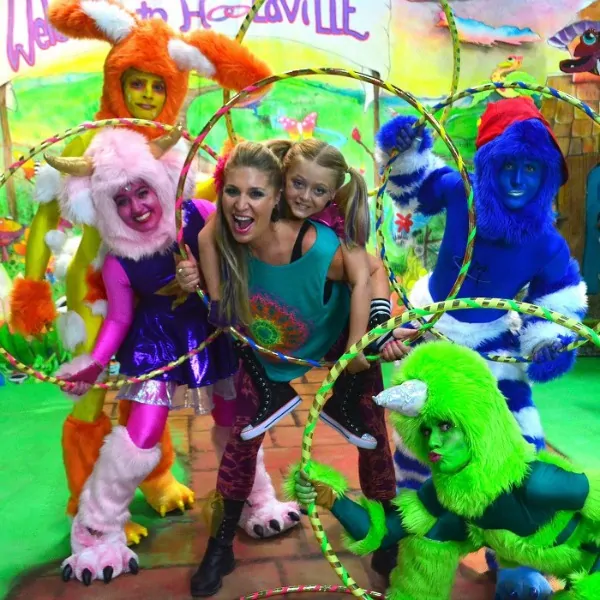 Handmade Hoops
A key to success hooping is using a quality hoop. These hand-made hoops are much easier to master than the plastic toy hoops found in stores. Signature sparkle hoops in the MOLLY AND THE HOOLA MONSTERS line are sold separately for $24.99.
The company also offers an economy line of hoops that start at $17.99. The DVD also retails for $17.99 or as a sparkle hoop/ DVD package for $34.99. All products are available online at hoolamonsterkids.com.
You can get your kids hoops and DVDs on hoolamonsterkids.com and if you'd like an adult hoop, you can order one hoolamonsters.com. All hoops are handmade by Abby and her business partner Suzanne.
Find Out More
Primary Website: www.hoolamonsterkids.com
Facebook: facebook.com/hoolamonsters
Twitter: twitter.com/hoolamonster
Secondary Website: www.hoolamonsters.com (adult hoop fitness, handmade hoops, teacher trainings and performances)

Disclaimer: This post is sponsored.
Written by Susan Carraretto, co-founder of 5 Minutes for Mom
Talk with me: @5minutesformom and Facebook.com/5minutesformom
Pin with me at http://pinterest.com/5minutesformom/