This post may contain affiliate links. Read my disclosure policy here.
This post is part of a sponsored campaign, all opinions remain those of the writer.
When I was thirteen, my mom enrolled me in a Red Cross babysitting course offered by one of her co-workers. I still remember the excitement I felt in learning how to hold and change a baby and what to do in cases of emergencies (which thankfully I never encountered!).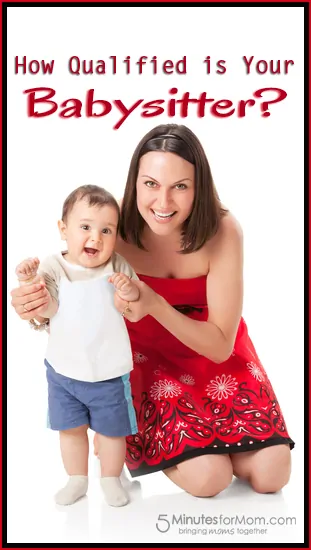 My first babysitting job was for a mom up the road, who'd drop her two boys (ages 4 and 2) off at my house once a week for a couple hours. By the time I reached university, I'd saved up enough babysitting money to pay for my first year's tuition.
As a mom, I'm now on the other side; I'm the one hiring the babysitter. And looking back, I'm a bit amazed at the trust those moms put in me when they left me in charge of their kids. Over the past six years, I've hired a lot of babysitters, particularly while my husband and I both returned to school. I've developed a list of sitters whom I like—young women whom I trust and whom my girls like. However, I'm also aware that a good babysitter needs to do more than just show up on time and have fun with the kids.
Is Your Babysitter Qualified?
Grant Hansen, a Red Cross director and the proud dad of Olivia, offers parents four questions to ask babysitters before hiring them. For example, if you're hiring a babysitter this summer, Grant recommends asking, "What do you know about kids and water safety? Being outside in the sun? What would you do if there's a thunderstorm?" Those are questions I wouldn't have thought of asking my sitters before leaving for an afternoon—but now I want to know how they'd answer.
Red Cross is a name I trust when it comes to safety. Besides doing their babysitting course myself a few decades ago, I also followed their swim program and am now putting my daughters through the Red Cross swim levels. My mom has volunteered for Red Cross for years as well. My Red Cross babysitting course gave me a good start to my babysitting career (which helped me earn the money to achieve other goals), and the new Red Cross Advanced Child Care Training course sounds even better.
Advanced Babysitter Training
This course is intended for a nanny, au pair, or babysitter age 16 and older (and can also be a resource for new parents or grandparents). Through both online and in-person training, caregivers will learn about first aid and CPR, basic care for infants and children, coping with emergency situations, and much more. I had the chance to check out portions of the online training and found the videos very informative and engaging. The videos cover a wealth of material, from seemingly small things like hand washing and bee stings to bigger emergencies such as seizures and choking. Even in the bee sting video, I learned things I hadn't known before.
I've been telling myself for years that I should get my first aid and CPR updated, because I haven't done a course since my very first babysitting course. This looks like a good way to update my skills. I'm also going to pass this link along to my babysitters… and ask them a few more questions next time I leave them watching my girls!
Do you know if your babysitters have first aid training? What questions do you recommend asking a new babysitter?
For more ways to keep your family safe, follow our Pinterest board Safety Tips – Protecting All You Love