This post may contain affiliate links. Read my disclosure policy here.
Marya, 5 Minutes for Mom contributor, is here to share a look into a tool to help prevent "summer brain drain". This is a sponsored post, but all opinions are our own.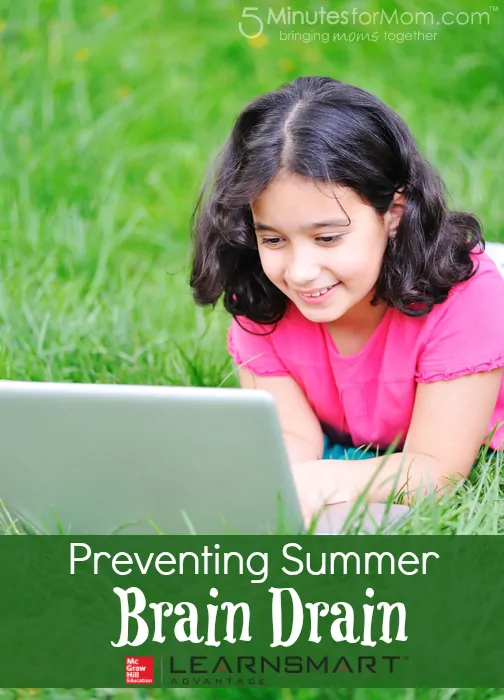 Parents of school aged children are often concerned about loss of academic skills over the long summer break. With kids spending their summers going to camps, pools, beaches as well as too much screen time, it's all too easy to let the months slip by without opening a book or practicing academic skills. This can result in Summer Brain Drain (regression of skills) and the need to spend extensive time reviewing material at the beginning of the school year.
One great tool to help with this is McGraw-Hill Education's LearnSmart program, which uses revolutionary learning technology to create an adaptive, personalized learning experience unique to each student's needs. LearnSmart works by identifying the topics a student knows and does not know. As the student progresses, LearnSmart adapts and adjusts the content based on his or her individual strengths, weaknesses and confidence. Every minute spent studying with LearnSmart will be result in a more efficient and productive study time.

Some students will regress during the summer. As LearnSmart gets to know each student, it will target the areas that a student is most likely to forget and encourages periodic review to ensure that the knowledge is truly learned and retained. This is more than just memorization, LearnSmart helps students to retain the material in their long term memory. Studies show that students who use LearnSmart are 35% more likely to complete their class; 13% more likely to pass their class; and have been proven to improve their performance by a full letter grade.
LearnSmart is a great way to help your student stay on track this summer and throughout the school year.
Find Out More…
Follow McGraw-Hill on Facebook and Twitter!



Disclosure: This post is sponsored by LearnSmart.
Written by Marya Mesa, 5 Minutes for Mom contributor.