This post may contain affiliate links. Read my disclosure policy here.
Susan here… I've got some laundry tips and an awesome giveaway for you thanks to the OxiClean Ambassador Program. This post is sponsored, but as always, my opinions are my own. If you'd like to "take a load off", read on…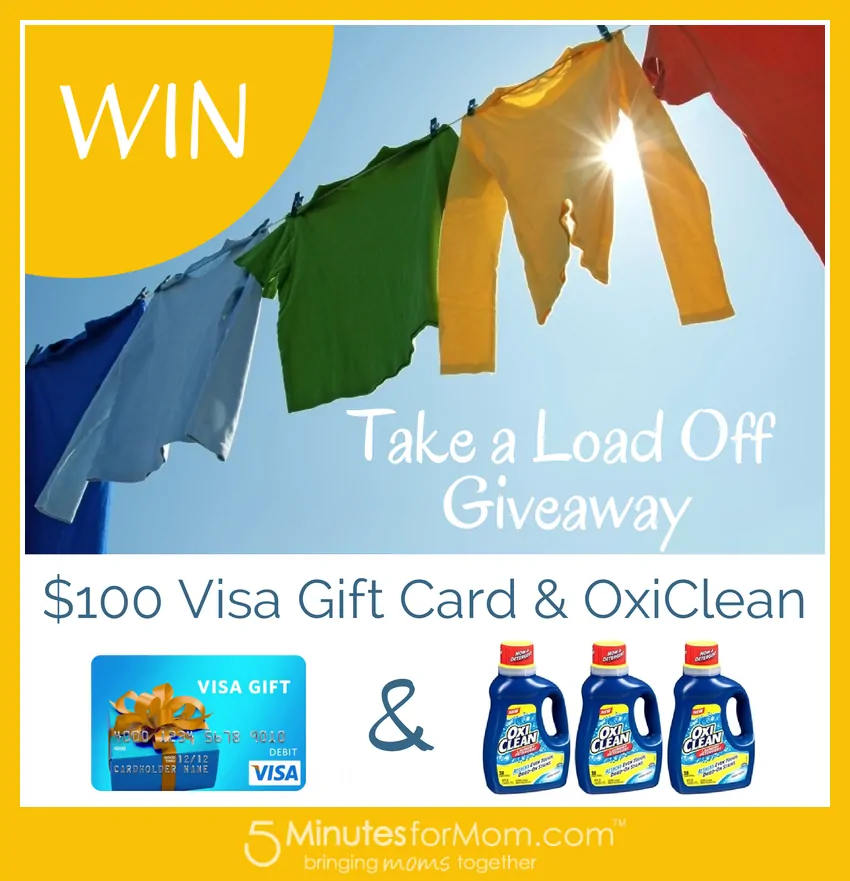 Every generation of mothers has been busy, but I'd say our modern mothering lives push the limits of what's possible.
We are just too busy! So we have to find ways to get it all done. Each woman's life is different and we've all got our own unique tools and support systems – whether it be new technologies, fabulous friends, or help from our families.
To survive and enjoy life, we need to find ways to "take a load off."
OxiClean Laundry Detergent's stain fighting power can help you "take a load off" by easing one of your daily chores and making laundry a little simpler.
How I "Take a Load Off"
I'm always looking for ways to simplify my routine and make my housekeeping chores easier. I love that OxiClean Laundry Detergent gets our family's clothes clean quickly and without a lot of scrubbing and pre-soaking.
Some of the other ways I juggle work, family and everything else are…
Support from Family – I don't have much family… but I'm thankful for my twin sister and my mom. Together we work as a team and help each other.
Smartphone Apps – A few simple apps, like those to help with to-do lists and grocery shopping, can really make a big difference.
A Simple Schedule – I try not to over-schedule our lives. For example, leaving Saturday morning free of activities gives us all a chance to sleep in and have a relaxing break.
Simple Summer Laundry Tips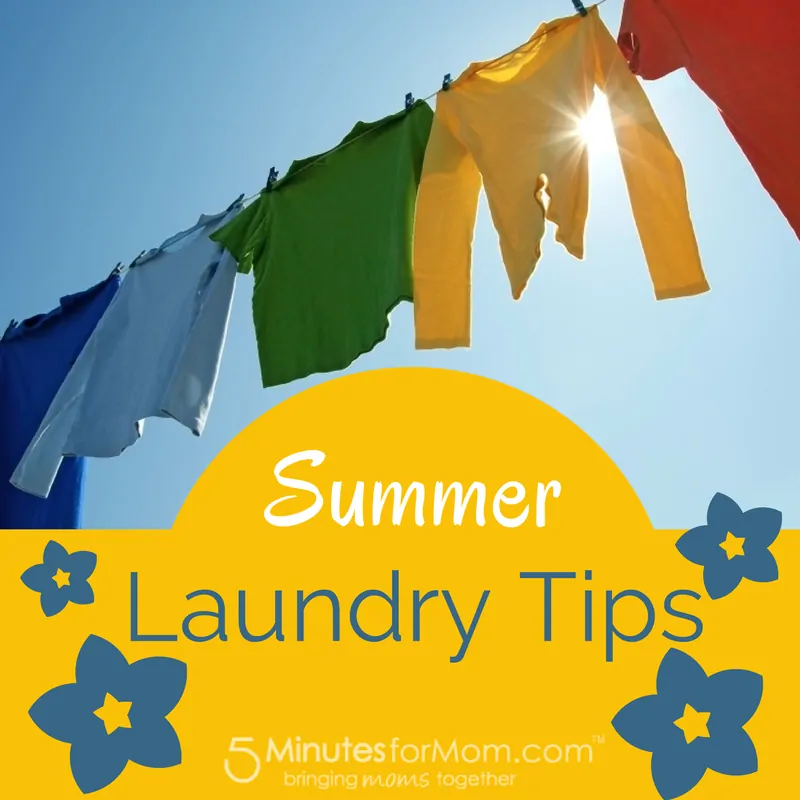 Here are 5 Laundry Tips to add to your list of ways to "take a load off".
Hang Your Laundry to Dry Outside

If you're lucky enough to have a backyard where you can hang your laundry to dry, take advantage of the summer weather and use a laundry line or drying rack. You'll save electricity and enjoy some sunshine while you hang your laundry.


Multi-Task

Laundry is boring! So activate your brain while you're doing laundry by listening to an audio book or a podcast. Use an app on your smartphone and pop in some ear buds and you can enjoy your book wherever you're doing your laundry.


Sort Laundry While Still In The Hampers

I use a hamper that's split into three sections as well as an additional hamper. In the three sections I have whites, darks, and colors. In the extra hamper I have delicates. That way the laundry goes straight from the hamper to the washing machine.


Don't Be A Perfectionist

Many women (my own mother included) are so picky about their laundry being washed and folded perfectly that they decline help from their husbands and kids. With the kids out of school, they have extra time to get involved. Lower your expectations and get help. If you have some high quality, delicate items that you want to ensure are washed with extra care, keep those in a separate hamper that only you wash.


Take a Day Off

I admit that I'm guilty of letting my laundry pile up so I have almost nothing to wear. But especially in the summer, I think it's good strategy to do a load a day except for certain "days off". You might pick one day a week or have special summer day trips where you never even think about laundry and other chores.
About OxiClean
OxiClean is America's #1 stain-fighting additive brand and it is also now a laundry detergent.
You'll love how OxiClean Laundry Detergent…
lifts out even tough, dried-on stains.
removes "summer stains" like grass, soil, fruit juice, iced coffee, chocolate ice cream, barbeque sauce and — everyone's favorite stain — ketchup.
deep cleans for brilliant whites and vivid brights with three color-safe OxiClean stain-fighters.
comes in Fresh Scent and Free (Perfume & Dye Free) formulas, as well as single-dose detergent paks and powder detergent.
available in food, drug, club and mass retailers nationwide.
For more information visit www.oxiclean.com and www.facebook.com/oxiclean
"Take a Load Off" Giveaway – Enter To Win
Leave us a comment telling us either a laundry tip or a way you like to "take a load off". Then enter using the Giveaway Tools widget below.
Grand prize: To help you "take a load off", this prize includes a $100 Visa Gift Card and 3 bottles of OxiClean Laundry Detergent.
Runner-up prize: 3 bottles of OxiClean Laundry Detergent.
Prizes awarded randomly and open to US and Canadian residents.

Disclosure: I am participating in a compensated Ambassador Program with OxiClean.
Written by Susan Carraretto, co-founder of 5 Minutes for Mom
Talk with me: @5minutesformom and Facebook.com/5minutesformom
Pin with me at http://pinterest.com/5minutesformom/