This post may contain affiliate links. Read my disclosure policy here.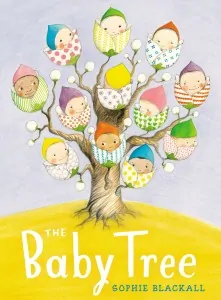 It's an inevitable rite of parenthood– answering the age-old question, "Where do babies come from?" Accomplished author/illustrator Sophie Blackall tackles this question in a beautifully rendered new picture book, The Baby Tree.
Now, let me tell you that I absolutely love this book. I'm already a huge fan of Blackall's illustrative style, ink and watercolor pictures with a soft quality that immediately conveys tenderness. In this story, a young boy's parents tell him that a new baby will soon be joining their family, and in his surprise, he is unable to respond immediately with anything other than asking for more cereal. Only later does he realize that he has a question, and he decides to ask a few other people in his life. He poses the question, "Where do babies come from?" first to his babysitter, then his teacher, followed by his grandfather, and finally, his mailman. The answers that he gets vary, and he ends up more confused than ever.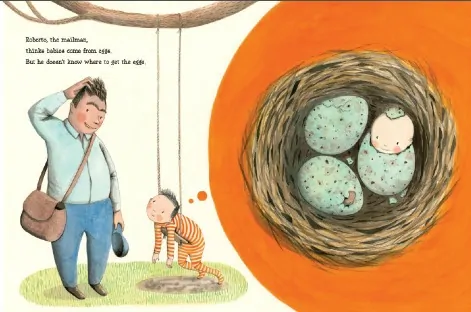 Thankfully, the boy's parents respond to his question with respect and love, providing factual information that is appropriate to his developmental level and easy to understand. Following the story is another page for parents to read as guidance or with their children to provide more specific, kid-friendly information about human development. As a parent, I've always been quite forthright with my own kids' questions, using real terminology with them from a young age about body parts and answering their questions with true information at a level they could understand. As the parent of a teenager now, I'm a huge advocate for on-going, open chats rather than one big "talk." As an educator, I truly appreciate the developmental appropriateness of this book, especially because it manages to be both entertaining and factual, a great story alongside Blackall's beautiful illustrations.
My eight-year-old daughter and I especially enjoyed this book, and we recorded some of our reactions in a video full of giggles, in the style of the official book trailer video (which definitely made us laugh, too!).
Enter to Win
Our giveaway today is two-fold, and I couldn't be more excited for the potential winner. Not only will the winner receive a copy The Baby Tree, but the prize also includes a custom Sophie Blackall print, chosen from one of these eight designs, with the option to personalize with a name. Enter using the widget below. Giveaway open to U.S. residents only, please.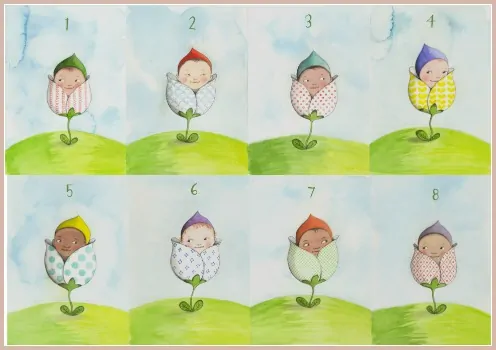 Also, be sure to:
· Visit the author's website