This post may contain affiliate links. Read my disclosure policy here.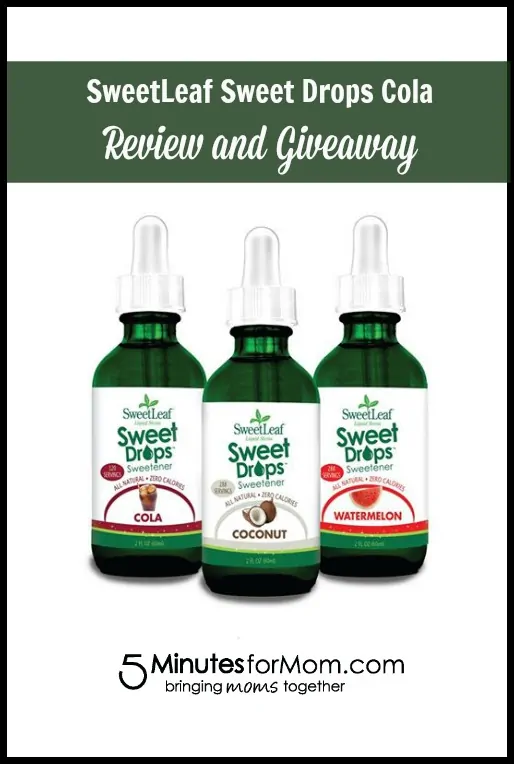 Trying to cut back on calories and sugar in your drinks but concerned about using artificial sweeteners? SweetLeaf Liquid Stevia Sweet drops are a wonderful natural alternative to diet sodas. They can be added to a variety of foods or beverages such as water, seltzer, coffee, smoothies or yogurt for a naturally delicious sweetener.
SweetLeaf products are a chemical free, gluten free, zero-calorie, zero-carb natural sweetener made from the leaves of the stevia plant.
I received a trial size of the Cola flavor of the Liquid Stevia Sweet Drops to review. I tried using it in club soda and water and found it to be a nice, subtle flavoring alternative.
Liquid Stevia Sweet Drops are an economical alternative to stevia based sodas and you can keep one in your purse to use on the go. I'll definitely keep some one hand in the future.
There are 17 flavors in all: Coconut, Watermelon, Lemon drop, Valencia Orange, Berry, Chocolate Raspberry, English Toffee, Vanilla Creme, Hazelnut, Peppermint, Root Beer, Grape, Apricot Nectar, Chocolate, Cinnamon and Stevia Clear.
Follow along with the SweetLeaf Company on Facebook, Pinterest, & Instagram!
The SweetLeaf Company is offering 5 Minutes for Moms readers a chance to try out the SweetLeaf Sweet Drops Cola in a giveaway! The winner will receive 25 trial size bottles of SweetLeaf SweetDrops Cola. Use the entry form below: