This post may contain affiliate links. Read my disclosure policy here.
Ordinary life as a girl and a woman means a continual internal battle against jealousy. When you add blogging and social media, that battle can multiply into a full-on war within yourself.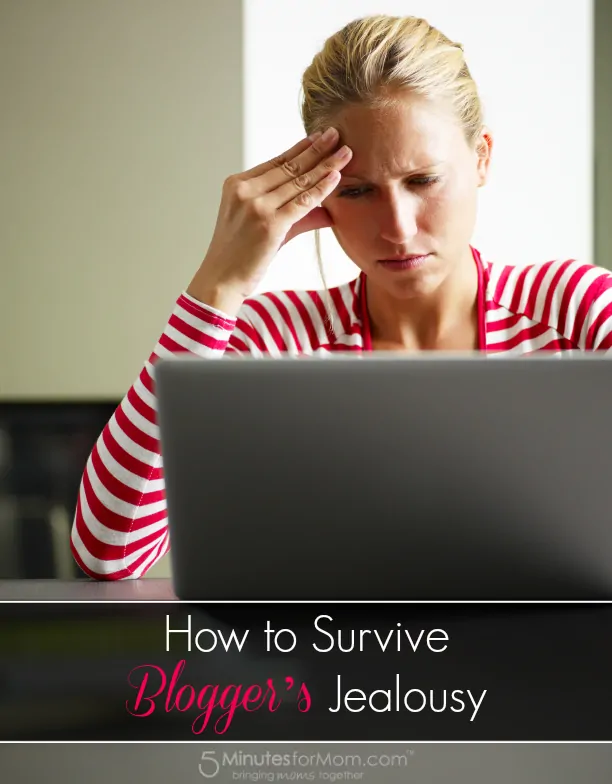 Likes, page views, and other stats constantly remind us that we're not as good as everyone else.
Beautiful photos and Facebook updates show perfect lives that we wish we had.
If you're a blogger depending on your income to pay your mortgage, the game gets really brutal.
It can knock you down each time you climb back up.
Here is how to Survive Blogger's Jealousy…
Acknowledge it.

The urge to compare yourself, your life and your stats is real. The pangs of jealousy are not a sign of weakness, but they need to be controlled.
Remember the Comparisons Are Skewed.

As it is said, you're comparing their outsides with your insides. People present the best view of themselves online and you compare it to the worst view of yourself that you carry in your mind. And remind yourself, we each have a different hand of cards to play. We have different support systems and different goals.

Be Your Own Cheerleader.

Be as nice to yourself as you would to your best friend. Think of what a coach would say to inspire her star player and say that over and over to yourself.
Get Inspired.

We continually see blog posts, photos, crafts and recipes that we wish we'd made ourselves. So be inspired. Learn and grow your own skills and then make something you love.

Collaborate.

Find a group of like-minded blogging friends and form a tribe. We grow together in this business. If you try to make it alone, you won't get far and you'll be unhappy along the way.
Celebrate Successes.

Take time to pause and pat yourself on the back when something goes well. I struggle with remembering to do this step, but I know it's important.
Have Fun.

Life should be fun. It often isn't, but we should strive to have as much fun as we can. As bloggers we need to remember how amazing the world of technology is that we're able to blog in the first place. We're so lucky to live in this digital age. Social media is a gift. Let's have fun with it.
How Do You Conquer Jealousy?
I'd love to hear if you ever feel jealous of other bloggers or friends online and how you push past those feelings?
Written by Susan Carraretto, co-founder of 5 Minutes for Mom
Talk with me: @5minutesformom and Facebook.com/5minutesformom
Pin with me at http://pinterest.com/5minutesformom/