This post may contain affiliate links. Read my disclosure policy here.
Susan here with an innovative new product to tell you about along with a giveaway. This is a sponsored post, but as always my opinions are my own.
I love my trusty old couch. My mom gave it to me as a gift about 17 years ago when I bought my first apartment. It's nothing fancy (actually a low end IKEA couch) but it's remarkably comfortable. I'm actually sitting on it as I type this post.
While it remains comfy and sturdy, this poor old couch has seen more than it's share of spills and has stains all over it. Fortunately, it's navy blue color tends to hide some of the marks. But when you look closely, you see them.
So I was sincerely thrilled when the inventors of Clean Safe Products Green Mitt™ System contacted us to test out their upholstery cleaning system.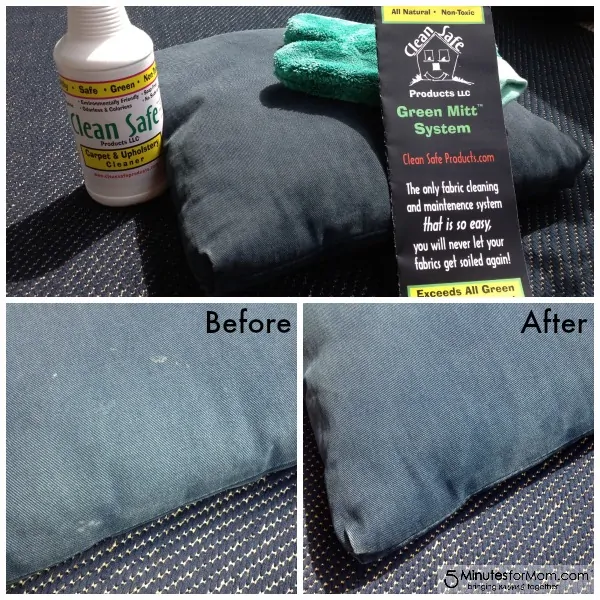 My top concern when choosing a cleaning product for my couch and carpets is that it's natural and safe. My kids are on this couch daily and I don't want them exposed to harsh chemicals.
And second, I want it to be easy!
I first tested out the Clean Safe Products Green Mitt™ System on one of the pillows from my couch. You can see above that it removed the stains and marks from the pillow. It was as easy as wiping down a counter and it dried in minutes.
The video below shows how it works…
Keith DiGregorio, an industry certified upholstery cleaning professional with 30 years experience, created this product and started this business with his son.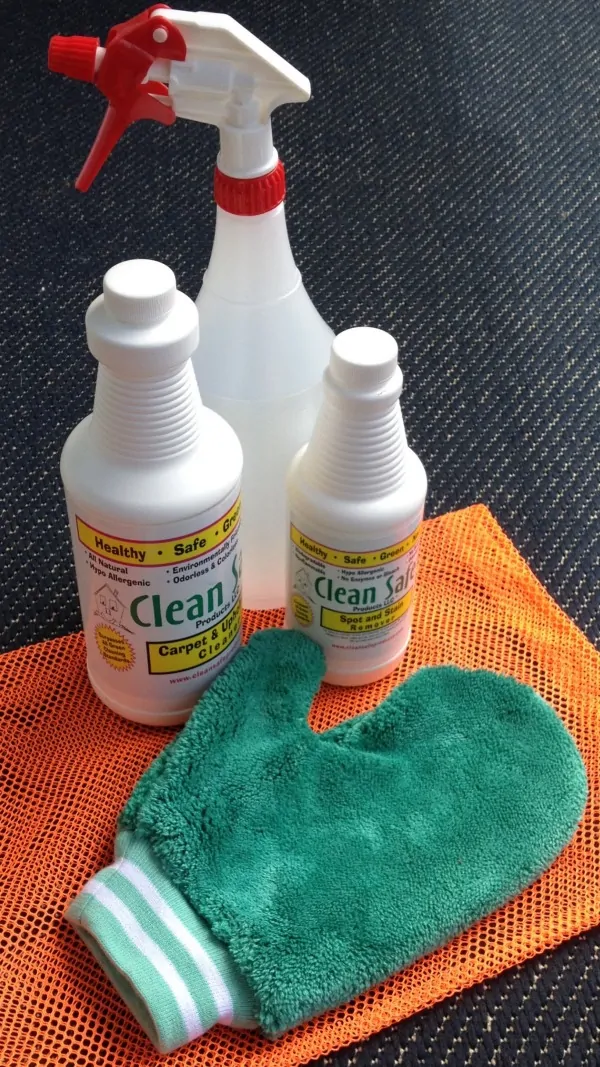 Their mission is to help us clean the fabrics on our sofa's and chairs as easily as many of the other surfaces in our homes. Clean Safe Products Green Mitt™ System makes keeping your expensive fabrics clean as easy as wiping down a countertop.
The all natural, odorless and colorless soap free cleaner, used in conjunction with the special microfiber GreenMitt™, revolutionizes the way we care for our fabrics. No more paralysis from fear of damaging our fabrics. No struggling with bulky rental equipment that leave fabrics too wet, or paying for costly professional services.
Just like wiping down a hard countertop with a damp towel effectively and easily removes spots, the damp Green Mitt™ will easily remove soils from soft fabrics. With recommended seasonal wipe downs, you will keep your fabrics always looking new.
The process is like dusting furniture. The residue free carpet and upholstery cleaner easily dissolves ground in soils and spots, while the Green Mitt™ traps and holds them to be rinsed out in clean water.
I'm absolutely thrilled with Clean Safe Products Green Mitt™ System and I'm so thankful that I had the chance to test it out.
Discount Code
We've arranged a special Coupon Code for you…
Get a $5 off coupon when you use the code 5FORMOM
Enter to Win
Win a Clean Safe Products Green Mitt™ System kit including…
One microfiber Green Mitt™
One 32oz bottle of Clean Safe Products all natural cleaner
One 16oz bottle of Clean Safe Products spot and stain remover
One heavy duty trigger spray bottle
We're happy to say this giveaway is open to both US and Canadian residents.
Written by Susan Carraretto, co-founder of 5 Minutes for Mom
Talk with me: @5minutesformom and Facebook.com/5minutesformom
Pin with me at http://pinterest.com/5minutesformom/