This post may contain affiliate links. Read my disclosure policy here.
Join us in celebrating the life and wisdom of Maya Angelou with 50 favorite quotes…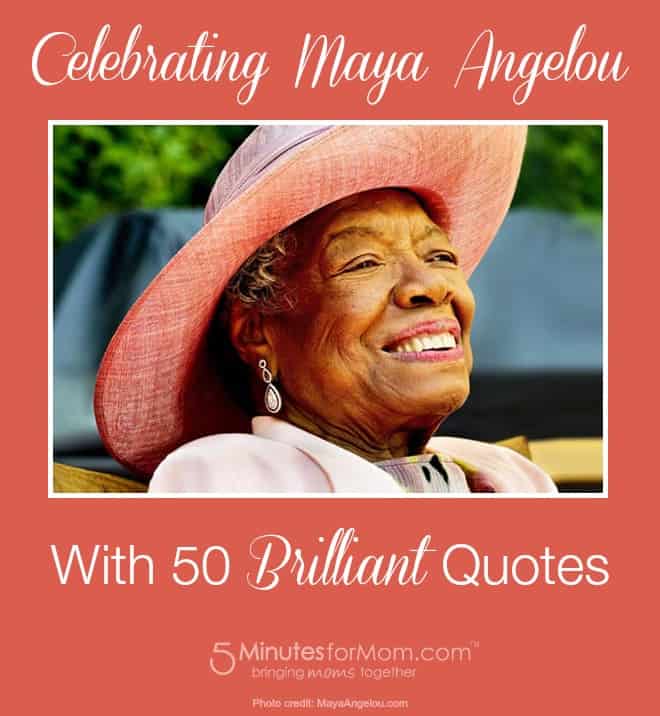 "When you learn, teach, when you get, give."

"Success is liking yourself, liking what you do, and liking how you do it."

"When you know better, you do better."

"I've learned that people will forget what you said, people will forget what you did, but people will never forget how you made them feel."

"You may not control all the events that happen to you, but you can decide not to be reduced by them."

"My mission in life is not merely to survive, but to thrive; and to do so with some passion, some compassion, some humor, and some style."

"We may encounter many defeats but we must not be defeated."

"Love recognizes no barriers. It jumps hurdles, leaps fences, penetrates walls to arrive at its destination full of hope."

"There is no greater agony than bearing an untold story inside you."

"If you are always trying to be normal you will never know how amazing you can be."

"The first time someone shows you who they are, believe them."

"Courage is the most important of all the virtues because without courage, you can't practice any other virtue consistently."

"You can only become truly accomplished at something you love. Don't make money your goal. Instead pursue the things you love doing and then do them so well that people can't take their eyes off of you."

"We need much less than we think we need."

"Prejudice is a burden that confuses the past, threatens the future and renders the present inaccessible."

"If I am not good to myself, how can I expect anyone else to be good to me?"

"Be a rainbow in someone else's cloud."

"You alone are enough. You have nothing to prove to anybody."

"The desire to reach for the stars is ambitious. The desire to reach hearts is wise."

"Success is loving life and daring to live it."

"Life is pure adventure, and the sooner we realize that, the quicker we will be able to treat life as art."

"Hate, it has caused a lot of problems in the world, but has not solved one yet."

"Be present in all things and thankful for all things."

"You can't use up creativity. The more you use, the more you have."

"The idea is to write it so that people hear it and it slides through the brain and goes straight to the heart."

"The caged bird sings with a fearful trill,
of things unknown, but longed for still,
and his tune is heard on the distant hill,
for the caged bird sings of freedom."

"Love life. Engage in it. Give it all you've got. Love it with a passion because life truly does give back, many times over, what you put into it."

"Poetry puts starch in your backbone so you can stand, so you can compose your life."

"To those who are given much, much is expected."

"We can learn to see each other and see ourselves in each other and recognize that human beings are more alike than we are unalike."

"Nothing will work unless you do."

"I know for sure that love saves me and that it is here to save us all."

"Live as though life was created for you."

"History, despite is wrenching pain, cannot be unloved, but if faced with courage, need not be lived again."

"If you don't like something, change it. If you can't change it, change your attitude about it."

"Everything in the universe has a rhythm, everything dances."

"If you have only one smile in you, give it to the people you love."

"When you do nothing you feel overwhelmed and powerless. But when you get involved you feel the sense of hope and accomplishment that comes from knowing you are working to make things better."

"A person is the product of their dreams. So make sure to dream great dreams. And then try to live your dream."

"I'm convinced of this: Good done anywhere is good done everywhere. For a change, start by speaking to people rather than walking by them like they're stones that don't matter. As long as you're breathing, it's never too late to do some good."

"While I know myself as a creation of God, I am also obligated to realize and remember that everyone else and everything else are also God's creation."

"Each time a woman stands up for herself, without knowing it possibly, without claiming it, she stands up for all women."

"It's one of the greatest gifts you can give yourself, to forgive. Forgive everybody."

"The truth is, no one of us can be free until everybody is free."

"In diversity there is beauty and there is strength."

"We are only as blind as we want to be."

"My great hope is to laugh as much as I cry; to get my work done and try to love somebody and have the courage to accept the love in return."

"No sun outlasts its sunset but will rise again and bring the dawn."

"Still I'll rise."

And @DrMayaAngelou's final tweet…
"Listen to yourself and in that quietude you might hear the voice of God."

We are so blessed by Dr. Maya Angelou's words. While we are devastated by her passing today, we celebrate and thank God for her life.
Written by Susan Carraretto, co-founder of 5 Minutes for Mom
Talk with me: @5minutesformom and Facebook.com/5minutesformom
Pin with me at http://pinterest.com/5minutesformom/