This post may contain affiliate links. Read my disclosure policy here.
The Search for WondLa is a 3-book series by Tony DiTerlizzi (author of The Spiderwick Chronicles). A Hero for WondLa is the finale in the trilogy and has just been published and released on audiobook.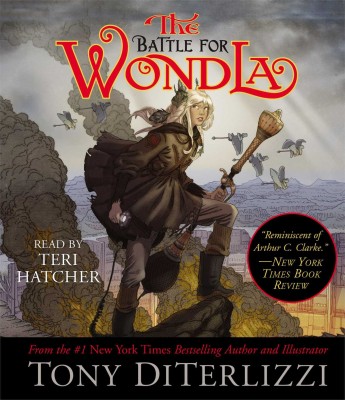 I haven't listened to more than just a sample of the audiobooks, but I actually have had a copy of the first book on my shelf since it first came out, so I finally started reading it aloud with my 10-year-old son. We're almost finished, and we're hooked!
DiTerlizzi creates a magical and imaginative world that will appeal to 4th graders and up. It is sort of a combination of Star Wars (with the mythical creatures and worlds) and some of the futuristic dystopian works that are so popular with teens now. Eva Nine has lived all alone in a subterranean sanctuary, being raised by a robot Multi-Utility Task Help Robot (Muthr). When their sanctuary is attacked, Eva sets off alone, meeting all sorts of interesting lifeforms, some helpful and some dangerous.
We're 2/3 through the first one and there many questions left unanswered, so we'll definitely be listening to the audio versions that we were sent copies of. Audiobooks are great for family road trips or simply driving around from one activity to another, or even listening at home while doing household chores or during mealtimes.
Teri Hatcher on the WondLa series
Visit the Simon & Schuster page to read the first chapter and watch a video about it.
The Complete Series
You can find the complete set of all 3 audiobook CDs: The Search for WondLa, The Battle for WondLa and the finale A Hero for WondLa.
Follow the instructions it the widget to earn one or more entries. Start off by telling me "When do you listen to audiobooks with your kids? Or when do they listen? Or when would you like to try?"