This post may contain affiliate links. Read my disclosure policy here.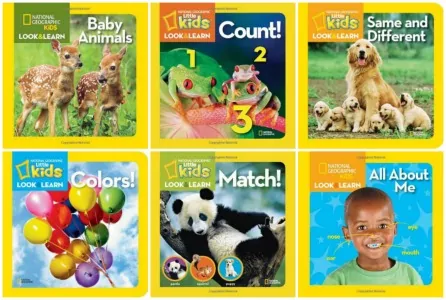 Board books introduce our youngest children to the world of reading- a world filled with captivating images and fun words to be read aloud. Providing babies and toddlers with sturdy books that they can explore both independently and with their caregivers leads children down the path of becoming readers. With the National Geographic Kids Look & Learn series of board books, toddlers and preschoolers can explore a variety of concepts and topics with just the level of high-quality photographs that we've come to expect from National Geographic.
I received copies of the six titles in this fun series shown above:
When the two-year-old daughter of a friend came over next, I stood up all six books on a raised surface in my living room, and my toddler pal immediately went over to check them out. We spent a while that morning reading one after another. The pictures definitely kept her interested, and the interactive nature of the text– asking young readers to make matches, point out differences, and count along, for example– allowed for extended conversation beyond just reading the words on the pages.
Each of the books also features side bubbles titled "Guess what?" with quick facts related to its theme, offering up tidbits most appropriate and best understood by children on the older end of age range for the series. I have found that my own kindergarten-aged son, a newly independent reader, has enjoyed reading these books to our young friend, and those facts are the very things that he has most delighted in sharing.
Board books are meant to be read again and again, and these haven't lost their luster with my toddler pal, and they provide a fun intro to concepts we teach young children, complete with bright, colorful, and crisp images.
Enter to Win
Interested in adding all six of these cool board books to your child's collection? Enter to win the Look & Learn Prize Pack by following the directions below. This giveaway is open to U.S. residents only, please.