This post may contain affiliate links. Read my disclosure policy here.
Disney sent 5 Minutes for Mom contributing blogger Dawn Cullo to cover the screening of "Muppets Most Wanted". Dawn's expenses were paid for the trip but no other compensation was paid and all opinions are Dawn's.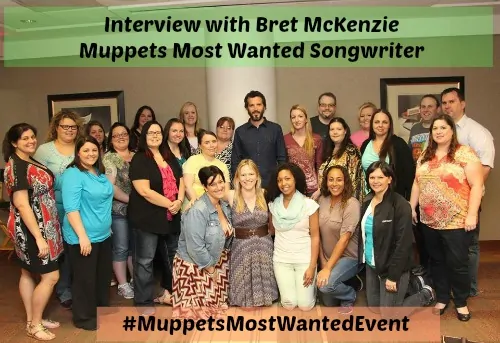 Bret McKenzie won an Oscar for best original song for "Man or Muppet" from his work on the 2011 release of "The Muppets". He returns to the newest Muppet Movie "Muppets Most Wanted" as the music supervisor.
The songs in the film are filled with puns and general muppet mayhem – just as you would expect a Muppet soundtrack to be.  Each song helps to drive the movie along and I consider them to be toe tapping fun and I think the music is brilliant. He found inspiration from looking at YouTube and song books of show tunes and villain songs.
When Bret starts to work on the songs he is given the script and a loose idea of the songs.  The first song "We're Doing a Sequel" tells the audience right away that the Muppets are doing a sequel and it may not be as good as the one before. For the song "Something So Right" he was nervous to have Miss Piggy sing it alone as she isn't the best singer so they were happy to get Celine Dion to help out on the ballad.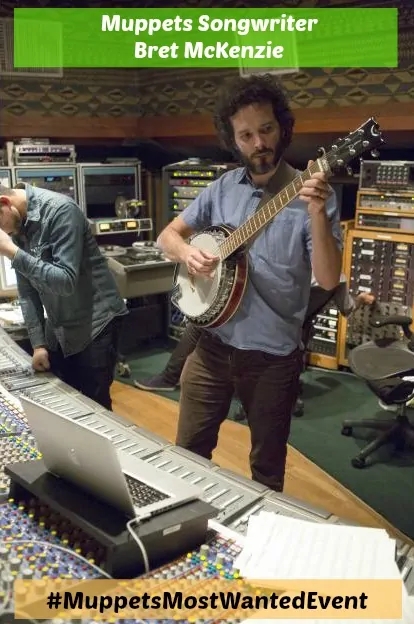 Tina Fey's song  "The Big House" is one that Bret wanted to perform as a doo-wop song.  He adjusted the song to work with her voice and mold it around her talents. Because he was the song writer and the supervisor he was able to easily make changes when needed.
Bret can do some impressions of the Muppets and often times he would need to go to the Disney offices and sing the songs for some of the Disney executives and sing like Miss Piggy or Constantine. If he could be any Muppet he would be either Statler and Waldorf (the old guys) or Animal. He said that he also gets a great laugh from the kids at home when he does the Swedish Chef.
His favorite song is "I'll Get You What You Want" and it is my favorite song too.  He said that it was fun to make a Russian frog sing in the style of an early 80's Lionel Ritchie and Michael McDonald sound.
With that being said – I have a treat for you….I suggest only watching this video if you have seen the movie or else it could ruin a part of the movie for you.  This is a video of Bret McKenzie playing the part of Constantine and singing the song "I'll Get You Want You Want"
This soundtrack is jam packed with great songs and some dialog from the movie. I really like how they included the dialog prior to most of the songs because it helps to set up the song. My kids love it too because then they are also reciting lines from the movie.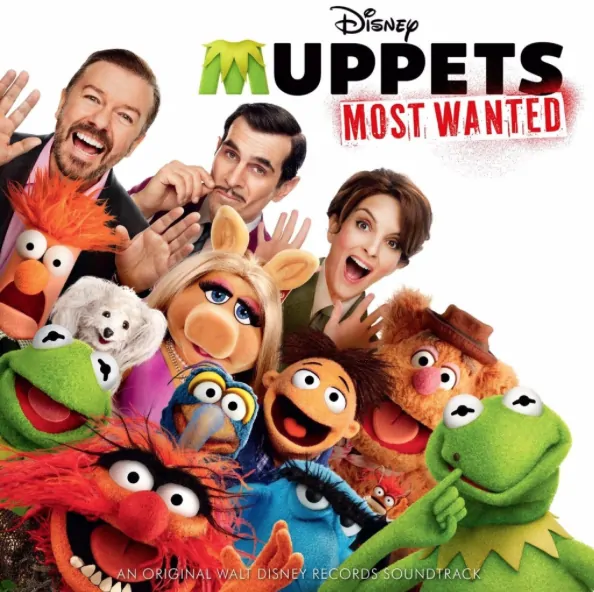 The sound track also includes four demos and one outtake. The four demos are sung by Bret McKenzie and he even does the Muppets voices. The outtake on the soundtrack is called "What You Want" and if you have seen the movie you know that this song is hilarious and done in an early 80's type of tempo. The outtake is done in a rock and roll style and is still funny but I am glad they went with the early 80's version for the film.
Here is the full track listing and you can buy the soundtrack on Amazon.
1. They've Ordered a Sequel (Walter, Statler and Waldorf)
2. We're Doing a Sequel (The Muppets with Lady Gaga and Tony Bennett)
3. My Name First ___ Your Name (Constantine and Ricky Gervais)
4. I'm Number One (Constantine and Ricky Gervais)
5. The Casa Grande (Kermit, Tina Fey, Jemaine Clement, Danny Trejo and Ray Liotta)
6. The Big House (Tina Fey with Josh Groban)
7. Stick with Me (Constantine and Miss Piggy)
8. I'll Get You What You Want (Cockatoo in Malibu) (Constantine)
9. The Muppet Show Theme (Los Muppets)
10. Answer Some Questions (Ty Burrell)
11. Interrogation Song (Ty Burrell, Sam Eagle and The Muppets)
12. Oh Foo Foo, It's Always Been a Fight (Miss Piggy and Foo Foo)
13. Something So Right (Miss Piggy, Kermit, Celine Dion and The Muppets)
14. We're Goin' Underground (Kermit)
15. Working in the Coal Mine (Jemaine Clement)
16. The Gulag Finale (Kermit)
17. Together Again (The Muppets with Josh Groban)
18. Moves Like Jagger (Scooter and the Penguins featuring Pepé the King Prawn)
19. Macarena (Bayside Boys Remix) (Miss Piggy and The Flamingos)
20. Muppets Most Wanted Score Suite (Christophe Beck)
21. We're Doing a Sequel Demo (Bret McKenzie)
22. The Big House Demo (Bret McKenzie)
23. What You Want Outtake (Bret McKenzie)
24. I'll Get You What You Want (Cockatoo in Malibu) Demo (Bret McKenzie)
25. Something So Right Demo (Bret McKenzie)
For more exclusive Muppets news see my previous post about my interview with Director of Muppets Most Wanted James Bobin. You can follow along on my Muppets Most Wanted adventure on social media by searching the hastag #MuppetsMostWantedEvent
Written by 5 Minutes for Mom Contributor, Dawn Cullo.