This post may contain affiliate links. Read my disclosure policy here.
Disney sent 5 Minutes for Mom contributing blogger Dawn Cullo to cover the screening of "Muppets Most Wanted". Dawn's expenses were paid for the trip but no other compensation was paid and all opinions are Dawn's.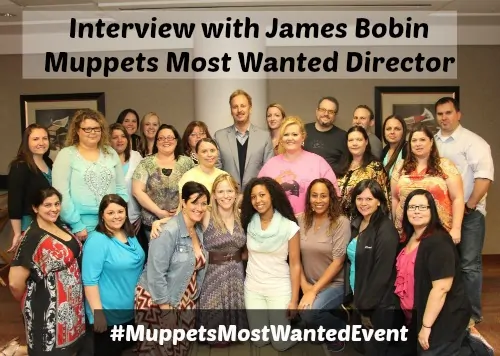 I had the opportunity to participate in a group interview with James Bobin, the director of Muppets Most Wanted.  I loved hearing the backstory to the making of the newest Muppet movie "Muppets Most Wanted".
The first question that was asked was "Who was the most difficult Muppet to work with?"  James chucked but refused to answer and told us we could guess as to who it might be.  My guess is that it was Miss Piggy, what do you think?
Like many of us he grew up watching the Muppets. Kermit was his hero growing up so it was an honor writing lines for him.  Bobin said that Steve Whitmire is so good at doing Kermit that it almost feels like he is a separate person, Bobbing often wonders what Kermit is up to during the day.
The 2011 film "The Muppets" was a huge learning curve for Bobin as he had never worked with puppets before. With this latest movie "Muppest Most Wanted" he was excited to work on a grander scale with the Muppets in this caper movie with biger action sequences. It is hard to have puppets in an action sequence but he likes a challenge. He strived to make a different movie than the 2011 release and was happy try new things.
Bobin feels that adult humor and child humor can be the same but sometimes it is useful to have something in the film that works on two levels. As adults we like it for a reason, but the kids also like it for another reason. For children they see a silly Muppet like Gonzo with his hook nose and crazy hair doing something funny, but for adults we hear smart and funny dialog. This is what helps make the humor of the Muppets work for children as well as adults.
Bobin feels that the Muppets have a global interest not just the US and the UK. He elaborated on the locations that were chosen for the world tour during the movie. The locations of Berlin, Madrid and London were selected because he felt those helped give the movie the International flair he was looking to portray. However, they avoided Sweden on the tour because then we would find out that the Swedish Chef doesn't really speak Swedish, he speaks more of a gibberish.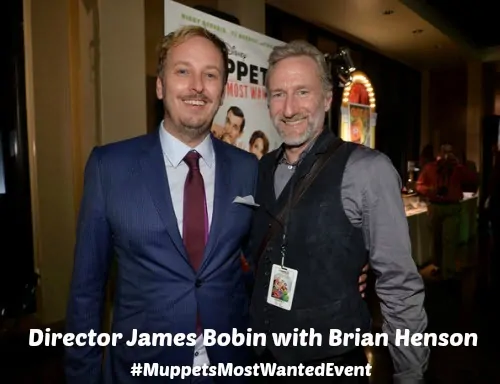 95% of the movie was shot at Pinewood studios in the United Kingdom, even the Berlin and Madrid scenes were shot in or around London. Going to Berlin with the entire cast and crew would be too expensive. Bobin said that it was nice to be in London to shoot the film because the Muppet Show back in the 70's was made in London, it was a type of homecoming for the Muppets. Louise Gold lives in London and worked on the Muppet Show in the 70's as the puppeteer for Annie Sue Pig.  This character appears in the movie only because Louise Gold was available.
Muppet movies always seem to have a long line of celebrity cameos.  Sometimes they write them in with the specific person in mind, such as with Usher in "Muppets Most Wanted". But for other celebrities they just write generic rolls and fill in the celebrities as they see fit.
On this film Bobin is the writer and director, but on the previous film he was just the director. He feels that this movie is more personal as he was writing the material.  The toughest scene to shoot is when a muppet is shown full body. He tries to avoid these types of scenes but sometimes you can't avoid them. That last sequence of the film was especially complex to shoot as we see a lot of full muppet bodies.
When asked what his favorite scene from the movie was he confessed that he liked the song that Miss Piggy sings about Kermit and Constantine with Celine Dion.  He likes it because the scene has Celine Dion as well as some humor.
James has some input in writing the songs.  He lets Bret McKenzie know where the songs could go and he writes a paragraph about what the song would be about. Then Bret develops the song and they collaborate until they have a final version but Bret does the writing of the song.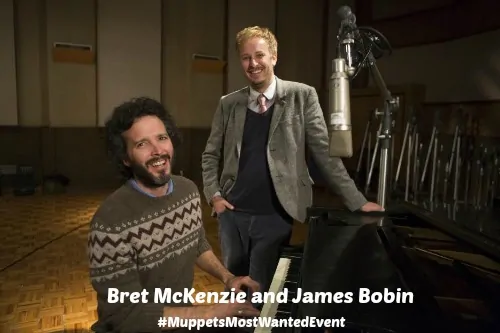 There were not any particular scenes that had to be cut out for time. However there are some scenes that ran long so they were trimmed down.  Currently there will be at least 15 minutes of extra material on the DVD when it is released.
James has never left Muppet mode since the last Muppet movie release in 2011.  He was writing ideas for "Muppets Most Wanted" when he was doing press for the previous "The Muppets" movie. The film was finished in November 2013.
Bobin feels this movie is more Muppet focused and unlike the previous movie where 1/2 of the movie was getting them back together. In this movie we can see what the Muppets can do and hopefully this sets it up for more Muppets movies in the future. However, he is currently not working on a future Muppet movie.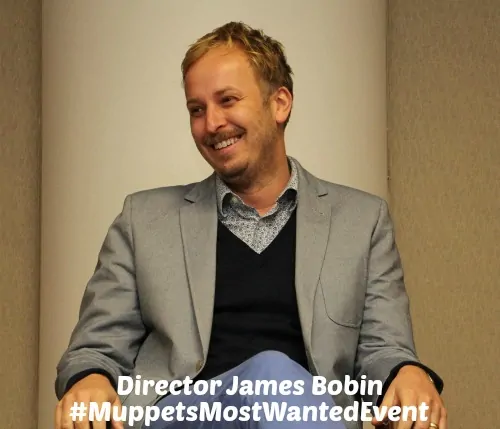 You can listen to the entire interview for your self here, it runs a little over 15 minutes.

Trailer
Follow the Muppets Online
Find The Muppets on Facebook and on Twitter. Miss Piggy even has her own Twitter account. They have tons of photos on Instagram and on Pinterest.
See my previous post about walking the red carpet at the Muppets Most Wanted premiere. You can follow along on my Muppets Most Wanted adventure on social media by searching the hastag #MuppetsMostWantedEvent
Written by 5 Minutes for Mom Contributor, Dawn Cullo.