This post may contain affiliate links. Read my disclosure policy here.
Contributor Michelle of Honest & Truly! shares insights on the My KODAK Moments app provided by KODAK Alaris. We were provided an item to review and to giveaway, however all opinions remain her own.
I love taking pictures, and over the past few years, much of my picture taking has evolved to using my phone since it is the device I always have with me. Unfortunately, I am even worse about downloading photos and printing the ones I've taken with my phone than I am the ones using my regular camera. In fact, the only phone photos that I've printed are the ones I ended up stealing to make up my annual calendar last year. Fortunately, there is a perfect solution with the My KODAK Moments app, available for free via iTunes and the Google Play stores.

The app is easy to use and intuitive and allows you to either create products using your phone or wirelessly beam them to an in-store Kiosk at most Target stores. You can of course simply print your photos – something I was thrilled to be able to do instead of having them live on my phone for me to periodically flip through – but there are other options, as well. You can create simple picture books either 4×6 ($5.99) or 5×7 ($8.99), as well as photo cards.
Cards are available for just about any occasion you could imagine from school or teacher to Chinese New Year to Congratultions to sympathy and more. It's easy to add the photo(s) you choose and customize the card's writing. There are a variety of sizes for both flat and folded cards available starting at $0.44 for a 4×8 flat card and up to $1.99 for a 5×7 folded card, all of which also include envelopes and same day pickup. I sense me using this the next time I forget a birthday and want to look like I had been thinking ahead!
The picture books are my favorite, as it saves me the step of having to then put the photos into an album. The books allow you to place one photo per page with the photo extending to the edge with no borders. The price includes 10 photos on single sided pages of photos per book. You can also add up to 10 additional pages (photos), at a cost of $0.75 per page.
Because there are no borders, the book works best if the photos are all either landscape or portrait (and personally, I prefer the look of landscape photos because it feels more natural on the page) as the photos go to the edge of the page, meaning you either cut off part of the photo or you have to rotate the book if your photos aren't all the same orientation. I would love to see future versions of the app allow you to select a portrait or landscape option with borders so that you can more easily fit photos on the pages when you've taken them in different orientations.
While you can't truly edit the photos in the app, you can rotate them and resize them easily. To edit them, simply tap on a photo. A small button will pop up for you to choose to rotate the photo if you need to, or you can use your thumb and forefinger to resize the photo like you resize your screen on your phone regularly. Once you're finished, simply tap anywhere else on the screen, and you can flip to the next page. You can also reorder them by drag and dropping them to a new spot so that the photo book tells the exact story you want. If you forget to add a photo, you can click on the back button and add additional photos, as well.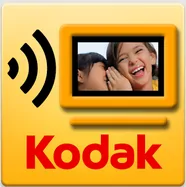 The My KODAK Moments photo books are available for same day pickup at the Target stores (and it's really easy to choose which store you want to use), and I love the fact that you don't have to wait for them to be created and shipped to you. The black matte hardcovers make this a great gift and keepsake. I know I will certainly be printing more photos from my phone, whether I choose to wirelessly beam them to a KODAK picture kiosk at a Target, CVS, or Bartell Drugs store or print directly from my phone to Target.
Currently, you are able to print either from your any of your phone's albums, though I wish that you could access online albums as well, as I have many additional photos stored on Google+ that don't fit on my phone's memory card anymore. This is a great incentive to be timely in my printing, however!
Enter to win a $25 Gift Card to either CVS or Target so that you can also create your own fun photo products.
Michelle may never stop running around Chicagoland, but she always makes time for the important things in her life – her wee ones, cooking, reading, and spending time with friends – and of course, writing. You can see what she's up to on her blog Honest & Truly! or on Twitter where she tweets as @HonestAndTruly.