This post may contain affiliate links. Read my disclosure policy here.
Disclosure: I received a special code to purchase this iPad app and have been compensated for my time in writing this post.
My daughter is 3 1/2 and loves books. We read every night before bed and then she picks out some to "read" herself to help her fall asleep. I love her enthusiasm and am anxious to teach her how to read, although I have no clue where to start.
When I heard about this new preschool reading app featuring Caillou, I knew I had to check it out.
The iPad app called Caillou: What's That Funny Noise?, is based on the hit TV series and it's an animated story that's part of iRead With. You and your child can follow Caillou and his parents as they try to put Caillou to bed. Caillou hears funny noises and can't fall asleep. Mommy and Daddy are always around to help Caillou and show him what the funny noises and shadows really are.
iReadWith is a new read-aloud program created to foster language development and help preschoolers get ready to read. The animated stories are designed to make children talk and participate in the shared reading activity.
How it works: Parents follow a prompting system that encourages them to start a conversation with the child, by asking questions about the story. Children become actively involved in the narrative and get stimulated in a multi-sensory level.
Parts of the story are punctuated by prompts and conversation starters, inviting to talk about the story.
Toddlers can learn and develop skills in: Speech and oral language, vocabulary, phonological awareness, emergent literacy concepts, narrative skills and comprehension strategies.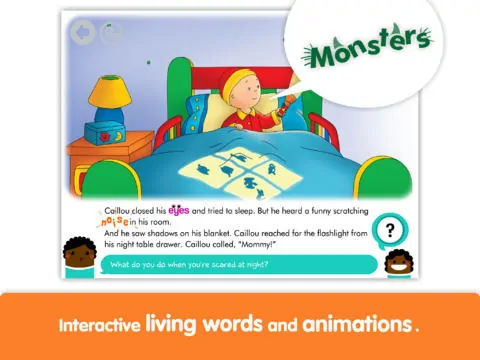 My daughter's favorite part was being able to tap words to hear sounds and see character's come to life. She also is obsessed with recording her voice as part of the story. We had a lot of fun with that. Within the story, important words are recorded using the iPad's microphone. When parents read the sentence with the highlighted word, your child can press it and hear their voice. Children can also create and record their own dialogue lines.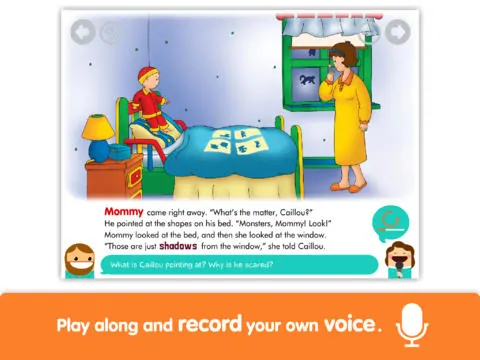 You'll notice at the bottom of the story page there are also avatars. Your child can select an avatar to personalize their reading experience.
There are three reading levels included in this app, with more words to discover and new prompts to engage conversation. Which is great, because the app can grow with my daughter, seeing as how we started at level 1.
While this app and story is meant for the parent to read, it was a great introduction to discussing the story and sharing an activity together. The ebook comes to life on every page, making story-telling fun!
And when you're done reading Caillou: What's That Funny Noise?, there's an extra surprise in the Story Theatre.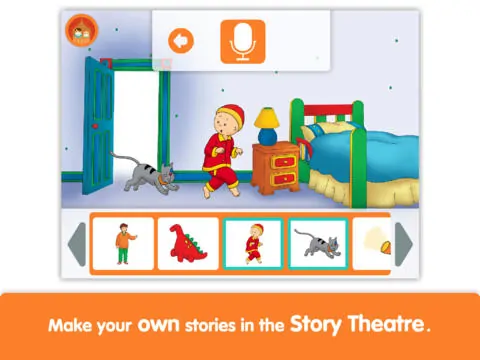 We had a lot of fun with this too, as your child can be creative with story puppets and create their own animated stories.
Find out more about this ebook program onwww.ireadwith.com.
Courtney is a super charged mom who loves taking care of her toddler daughter, infant son and Lhasa Poo.
Courtney is a life-long Rhode Island resident. When she's not blogging about parenting, food and pets on her website www.ModMommy.com, she's writing local news at a Providence TV station. Follow Courtney on Twitter: www.twitter.com/CourtneyCal