This post may contain affiliate links. Read my disclosure policy here.
Jennifer D. is here to tell you about her experience with the Canoodle Building Toys and offer a giveaway to one of you. She was compensated for this post and received a sample set so she could share her experience with the product.
My kids do not love to play outside. I wish they did, but they don't. In the summer, we spend a lot of time outside in our pool, and I can occasionally convince them to bike or scooter to the neighborhood park.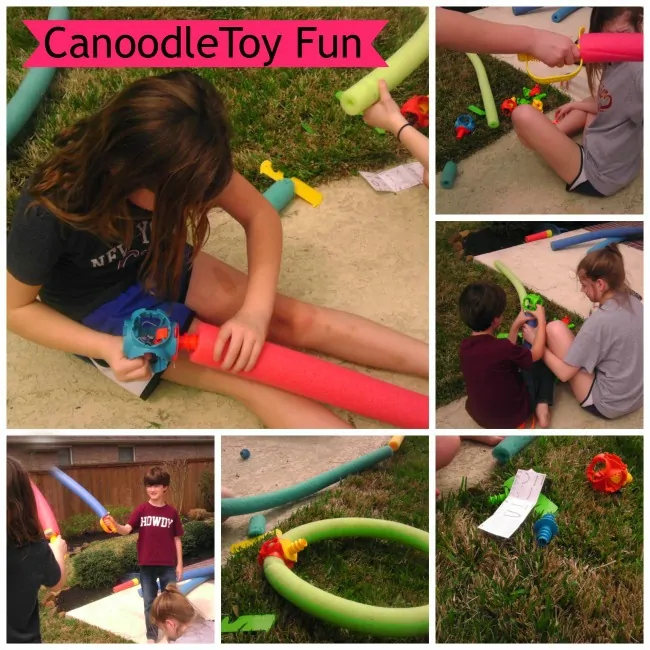 When I was offered the opportunity to try out the Canoodle Toy, I jumped at it. It arrived to coincide with a cousin visit as well. Knowing that it's easier to say "Go outside!" if you have someone to play with, I knew I could convince my son to try it out.  Since my kids are over 5 years apart, they don't always have built-in playmates.
I love the idea that we can combine pool play with building fun, because even though my 9 1/2 year old likes to be outside in the pool, even that can be "boring," if there's no one swimming with him.
The info from the Canoodle press materials explain it well:
The Canoodle toy story goes back to our own childhood. Remember when we played outdoors until sunset? As kids, we would entertain ourselves with a simple ball and a stick or building a go-cart made of wood. We would build tree houses or forts and our imagination was our best friend and companion. Canoodle toy is about going back to the good ol' days of inspiring kids to think and to challenge their creativity. This erector type building set will encourage your child's interests allowing them to live in an environment of creation, ideation, concept building, mental development, problem solving and pure PLAYTIME FUN.

The set includes lots of cool connectors and ideas to use on the noodles. The sword set is fun and makes for immediate fun inside or outside.
These noodles are similar to the pool noodles, but seem to be a little sturdier. We supplemented the two we received in our sample kit with some of our old ones. Canoodle toys float, have a UV protectant which will not allow the toy to fade or crack due to the harmful effects from the sun and are made of a poly plastic resin that is of food grade quality and completely safe for kids.
The Skinny from the Kids
When they opened up the package, they loved all the different colors and shapes of the connectors. The swords were immediately picked up (and even customized). The kids who were playing were 9, 10, 14 and 15. The older kids definitely had to help the younger ones out. They said it was hard to put them together by themselves.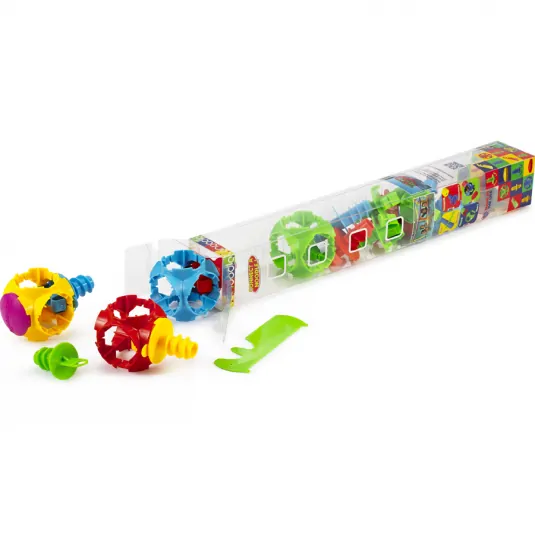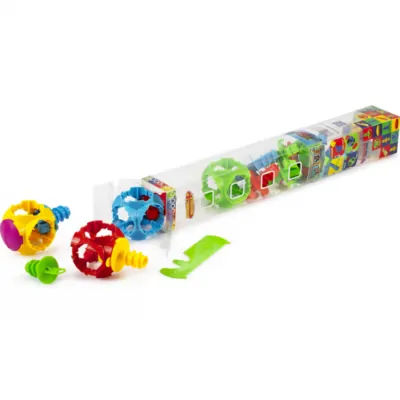 But in reading Canoodle's press materials, I noticed that one of their goals is to build creativity, learn while playing, and encourage quality time for families together. Letting kids take the lead in building but helping where needed is a perfect compromise.
Canoodle is a truly unique toy. I love the indoor/outdoor crossover, and I think that we will enjoy some fun creative family play this summer.
Get Connected
Enter to win
1 Mini building set (pictured above)
2 Pirate noodle sword
1  3 pc building set
1 Noodle cutter
Give away value $ 68.99