This post may contain affiliate links. Read my disclosure policy here.
As moms, we are inundated with information and advertising on products that promise to be useful for our children.
It can be overwhelming to know which products are the best and which are really necessary to own.

I love it when I find a company and products that I trust.
The 4moms company was created through a focus group of four moms, an engineer, and a business man.  This winning combination produced products that are practical and effective!
We recently added a new baby to our family of three.  Life with a toddler and a newborn threw some new challenges at us.  I no longer had two arms free for rocking a crying baby whenever there was a need.  My husband bemoaned the fact that we had never purchased a baby swing when our first daughter was born. I was delighted to receive a rockaRoo for our two-month-old to try.
The moment it arrived, my husband set it up. Literally.
It took him less than a minute to put together and required no tools.  I was in love already. I skeptically placed my little one in the plush swing and buckled her in, selecting one of the five speed settings.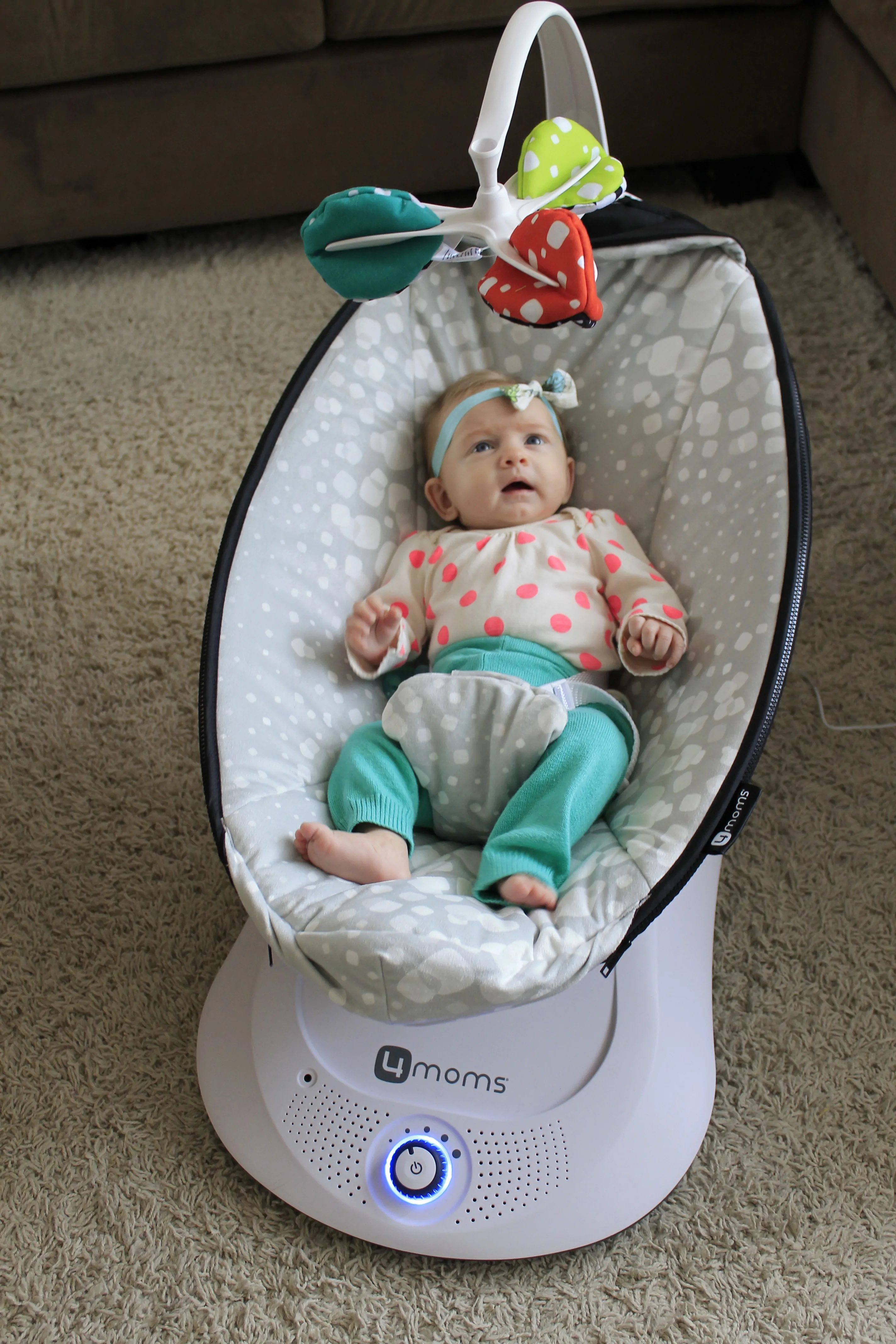 The gentle swaying of the swing, which mimics the motion of a rocking horse, lulled her easily to sleep. This has quickly become one of my favorite baby products. When mama's arms are busy feeding or corralling big sister, the rockaRoo comes to the rescue. The soft material makes the transition from mama's arms to swing less abrupt.  Add to that the fact that it can be turned on with a simple push by your foot, makes its design invaluable.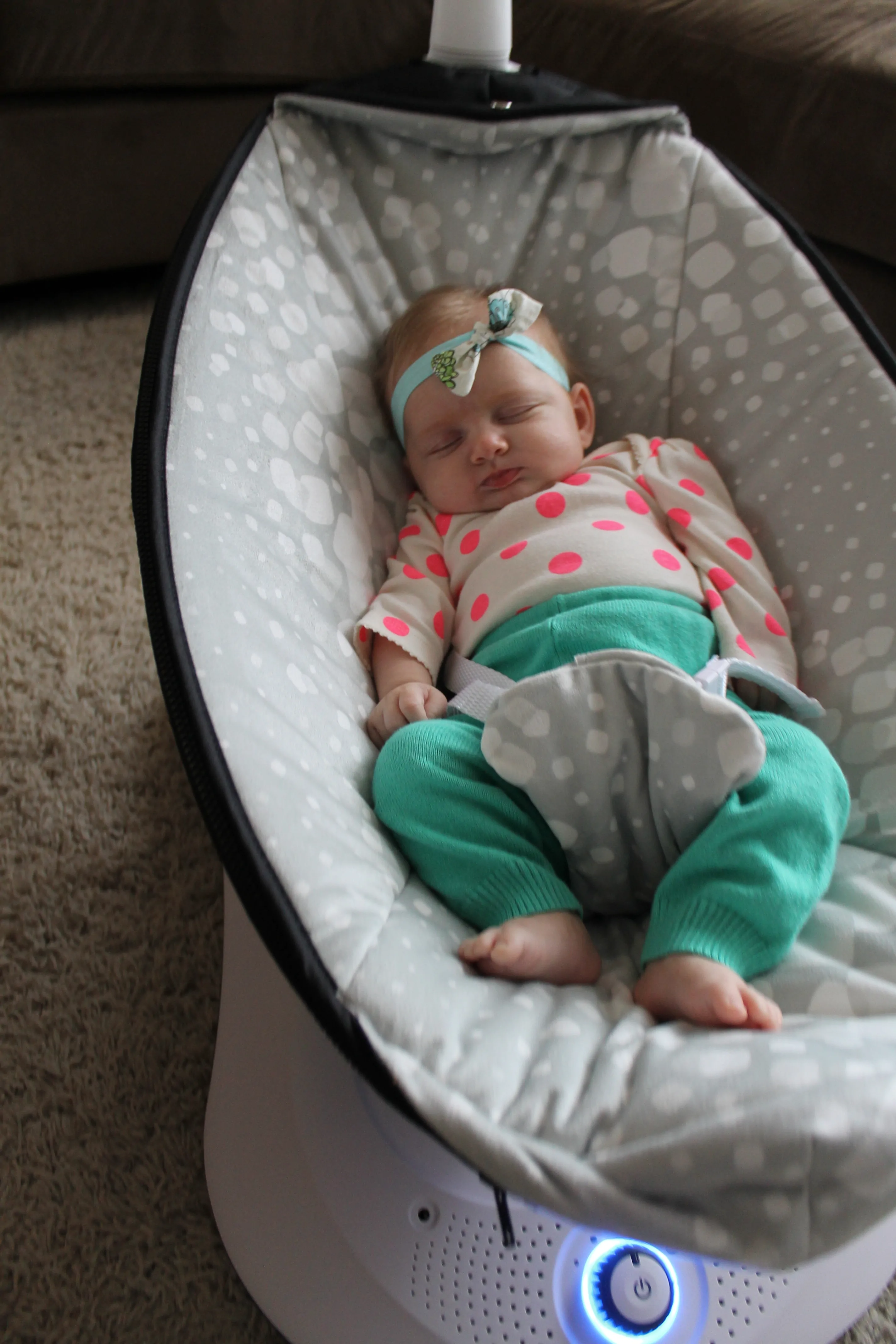 There are so many other features that I love about this swing.
easy-to-remove and washable cover. (I love the basic designs that don't clash with my home decor)
Removable toy balls. (They come in vibrant colors for baby)
5 speeds
Mp3 plug-in (Great for using white noise to calm baby)
Unique rocking motion
 In addition to the challenge of putting little ones to bed, there is the challenge of being outdoors with a child who can not sit-up unassisted or a child who is too mobile and is able to get into anything and everything that may be potentially hazardous. This is where another of 4moms products comes in handy. The breeze play yard if a streamlined version of your typical pack 'n' play. It opens and closes in one step.  Moms know how useful this is.
 Typical play yards require each side to be locked into place individually, hardly convenient when balancing a child in your arms. The breeze requires a simple push or pull for set-up and take down.  I was amazed at the simplicity and ease of this process. In fact, everything about the breeze is, well, a breeze.  There are no snaps or buckles to deal with.  Even the bassinet attachment fits snugly and simply onto the play yard.  The soft mat is a perfect place for baby to lay and enjoy the fresh air while free from the dangers of pets or older siblings.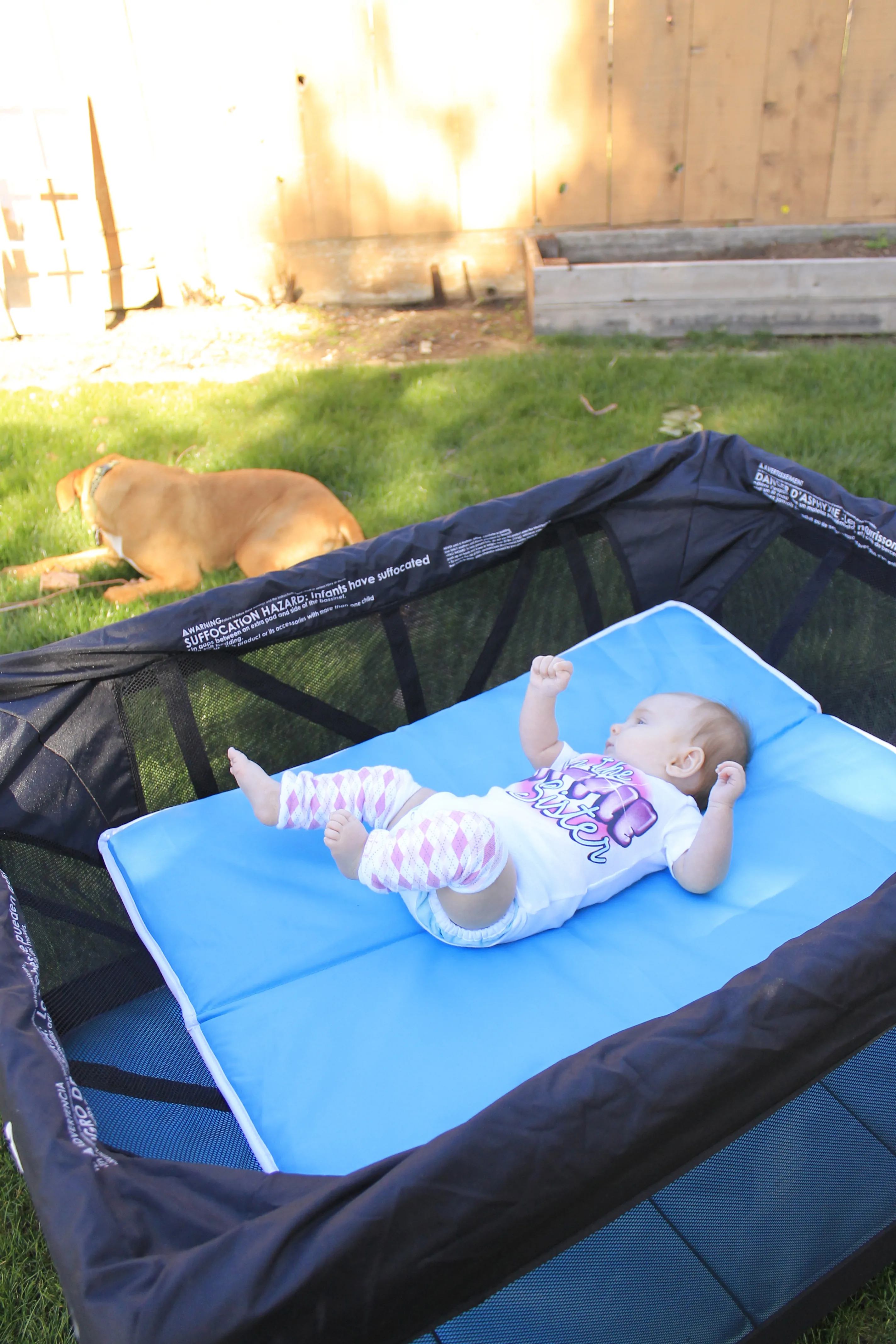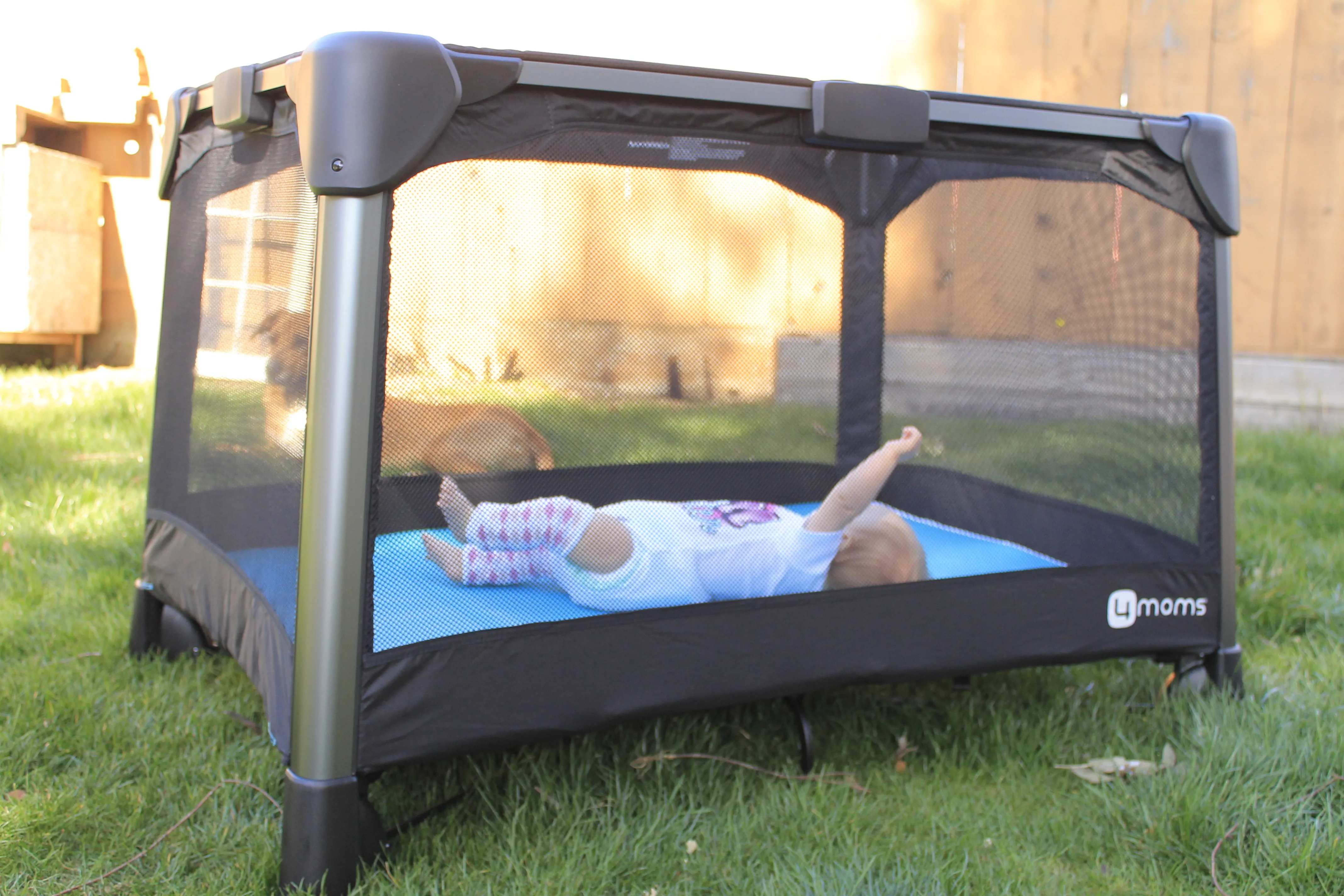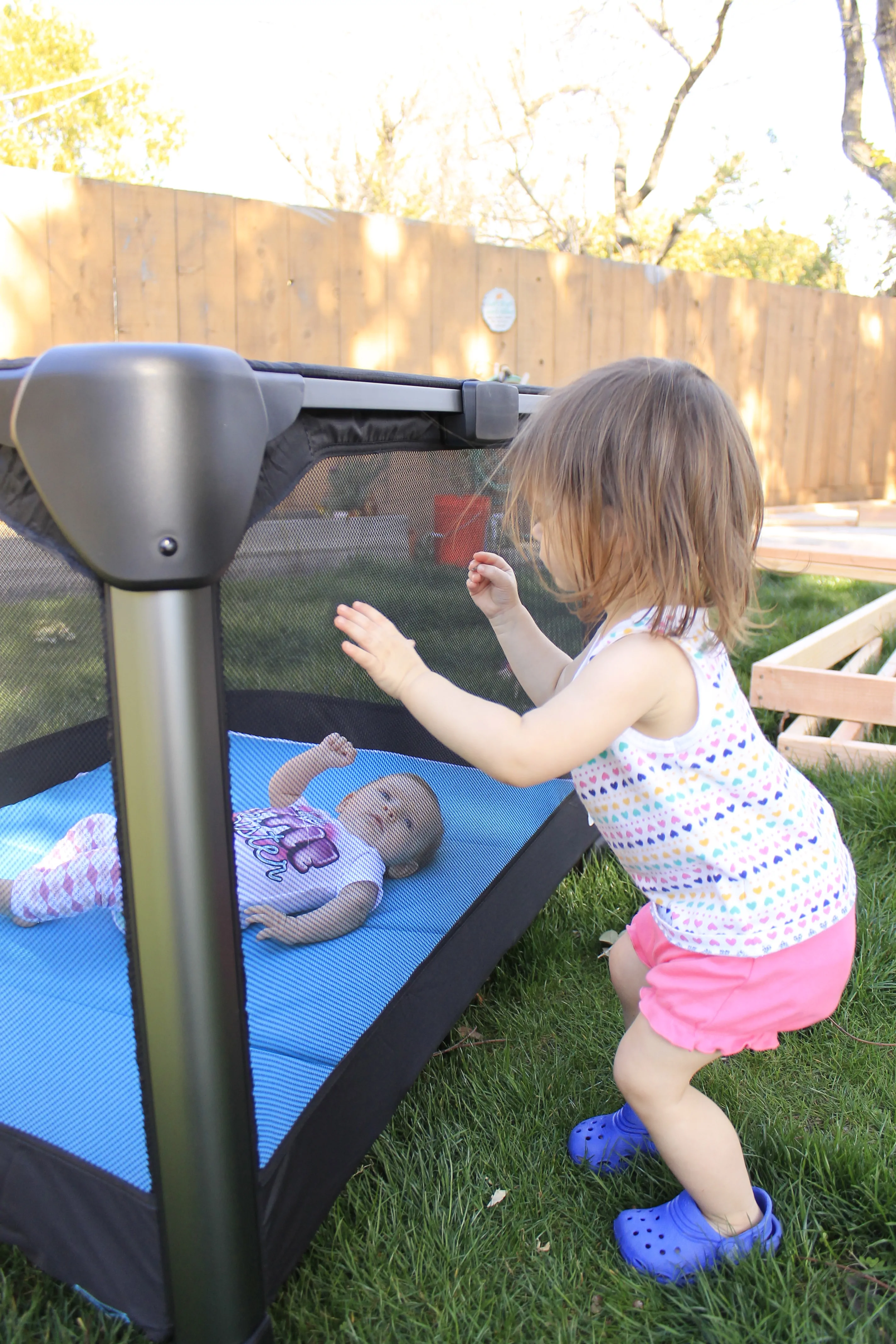 We tried out our breeze while working on a shed project in the backyard and it was perfect.  Our baby was able to enjoy being outdoors from a safe place within the walls of her play yard. In addition to its complicity, the breeze boasts:
A bassinet attachment.
A waterproof changing pad.
A carrying case.
    4moms is all about making life easier for moms and I am all about that!  I love these products and they will be a staple for us during our child-raising years.  They are built to last and can be used for many years to come.
You can learn more about their amazing products on their website, Facebook page, twitter account, or follow them on instagram.
4moms wants to make your life easier as well! They are giving away a rockaRoo and a breeze!

Hi! I'm Jenny! I blog at www.thesweetstuff.blogspot.com all about my home, family (husband and sweet baby girl), being a mom, crafting, cooking, my faith in God, and more. I love the outdoors, living in a small town on the Central Coast and being a mom!