This post may contain affiliate links. Read my disclosure policy here.
Disney sent 5 Minutes for Mom contributing blogger Dawn Cullo to cover the screening of "Muppets Most Wanted". Dawn's expenses were paid for the trip but no other compensation was paid and all opinions are Dawn's.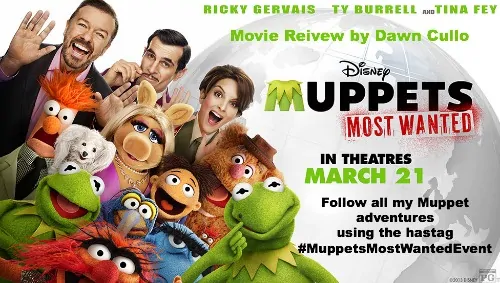 I've had the pleasure of seeing "Muppets Most Wanted" a few times and with a variety of audiences. I've seen it with my blogging friends, entertainment industry folks and my family. All three types of those audiences can be tough on a movie. However, I can tell you that each audience that I saw the movie with roared with delight at the newest Muppets movie.
The Cast
There are a lot of Muppets in the movie. If you are a Muppet nerd be on the look out for some rarely seen Muppets such as Annie Sue.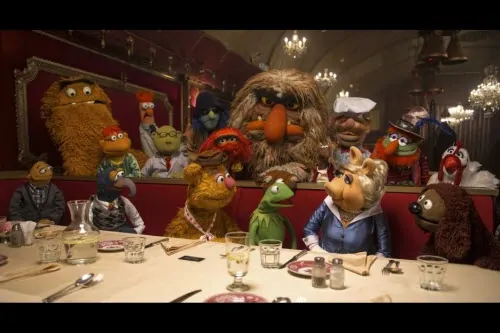 The film stars Tina Fey as Nadya, a feisty prison guard.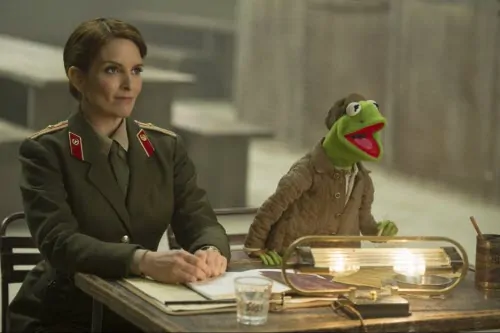 Ty Burrell as Interpol agent Jean Pierre Napoleon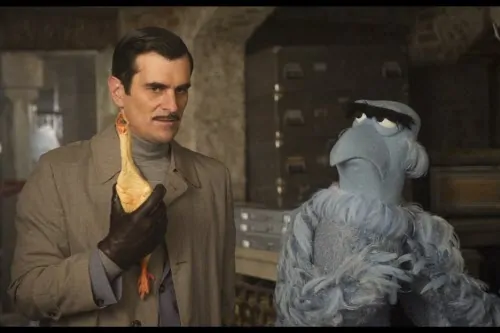 Ricky Gervais is Dominic, aka Number Two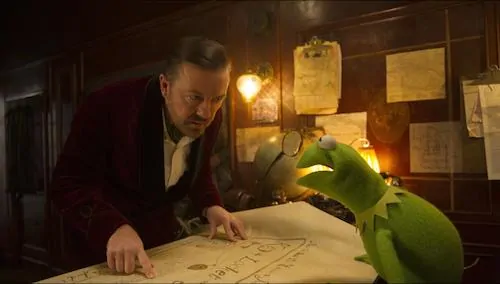 About the Film
Disney's "Muppets Most Wanted" takes the entire Muppets gang on a global tour, selling out grand theaters in some of Europe's most exciting destinations, including Berlin, Madrid, Dublin and London.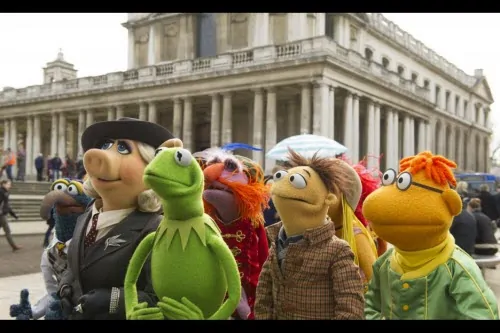 But mayhem follows the Muppets overseas, as they find themselves unwittingly entangled in an international crime caper headed by Constantine—the World's Number One Criminal and a dead ringer for Kermit the Frog—and his dastardly sidekick Dominic, aka Number Two.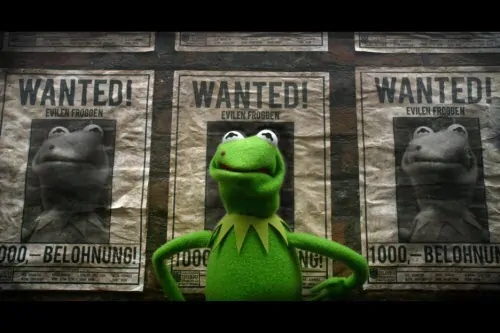 Disney's "Muppets Most Wanted" is directed by James Bobin and produced by David Hoberman and Todd Lieberman with brilliant music by Bret McKenzie.
My Review
The "Muppets Most Wanted" is a toe tapping good time. The chemistry between the human characters and the Muppets work well. The storylines are filled puns, singing and dancing. There are also a lot of fun cameos in the movie from Celine Dion, Ross Lynch, Christoph Waltz, Danny Trejo, Tom Hiddleston, Sean Combs, Lady Gaga and Ray Liotta.
Constantine is a new Muppet character with a Russian accent. According to him "In film, I am Number One Criminal". He further goes on to explain "I have secret plan with Number Two to steal the crown jewels of London. This plot has never been done before–well, at least not with Muppets".
After I saw the movie with my family they like to call him "bad kermit" because he looks just like Kermit but as you can tell….he is bad.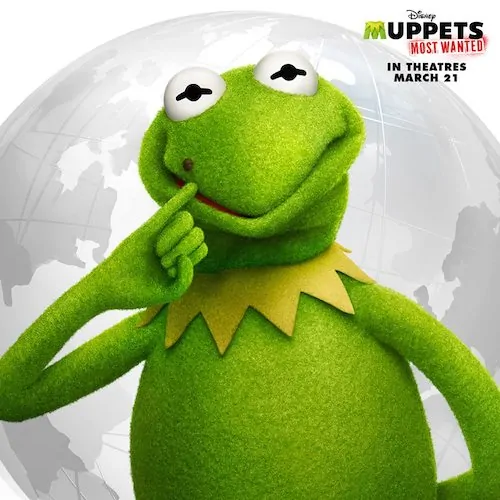 According to director James Bobin "It's an old-style caper movie and needed to be set in Europe to give it a classic feel."
The Muppets visit Berlin, Madrid, Dublin and London on their world tour. We also get to visit Siberia, Russia because that is where the Gulag is located.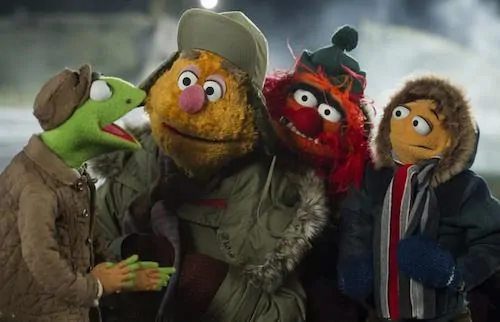 The Muppets are timeless, their last movie appearance was in 2011 in "The Muppets" but haven't been seen regularly on TV since 1981. Even though my girls did not have a lot of exposure to the Muppets prior to seeing "Muppets Most Wanted" they still loved the movie. They are quoting lines from the movie and singing the songs all the time, the last movie they did that for was Disney's "Frozen".
This movie will have you singing and dancing along with the soundtrack and laughing about the jokes from the movie for a while. I highly recommend this movie to anyone who loves to laugh and enjoys funny musical numbers. Even if for some crazy reason you don't like the Muppets you will still find this movie entertaining.
The Music
The music by Oscar-winner Bret McKenzi is brilliant. The songs are filled with puns but they also help drive the storylines. My family has listened to the soundtrack non stop since seeing the movie.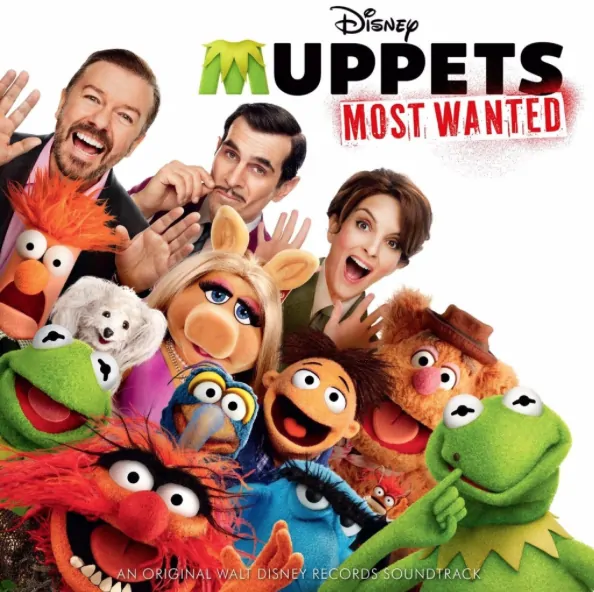 I did not listen to the soundtrack prior to the movie. I am glad that I didn't because there are some songs that you need to see in the movie first in to be fully appreciated. One of the songs I am referring to is sung by Constantine and is called "I'll Get You What You Want (Cockatoo in Malibu)". I highly suggest waiting until after the movie to listen to the soundtrack because you will like how the songs and the story unfold together.
Tina Fey, Ty Burrell and Ricky Gervais also sing during the movie and produce three totally different songs. I really like how the songs in the movie are so different from each other, they aren't just show tunes or broadway style numbers. They all have their place in the movie and help progress the movie along nicely.
Muppets Most Wanted opens March 21, 2014
Party Central
Don't be late to the movie or else you will miss the hilarious Monsters University short "Party Central". See what happens when the boys at Oozma Kappa try to throw a party.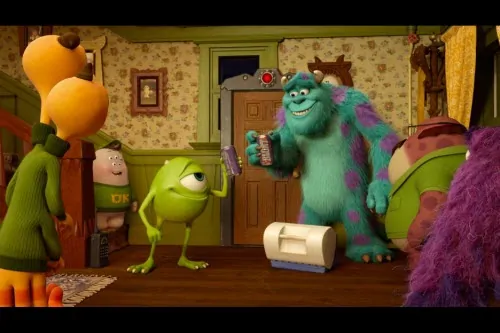 Follow the Muppets Online
Find The Muppets on Facebook and on Twitter. Miss Piggy even has her own Twitter account. They have tons of photos on Instagram and on Pinterest.
See my previous post about walking the red carpet at the Muppets Most Wanted premiere. You can follow along on my Muppets Most Wanted adventure on social media by searching the hastag #MuppetsMostWantedEvent.
Written by 5 Minutes for Mom Contributor, Dawn Cullo. All Photo credit: Disney