This post may contain affiliate links. Read my disclosure policy here.
Disney sent 5 Minutes for Mom contributing blogger Dawn Cullo to cover the screening of "Muppets Most Wanted". Dawn's expenses were paid for the trip but no other compensation was paid and all opinions are Dawn's.
As part of my trip to Los Angeles I had the opportunity to interview Kermit the Frog, Miss Piggy and Constantine. If the name Constantine doesn't sound familiar it's because he is a new character to the Muppets. He is the World's Number One Criminal—and a dead ringer for Kermit.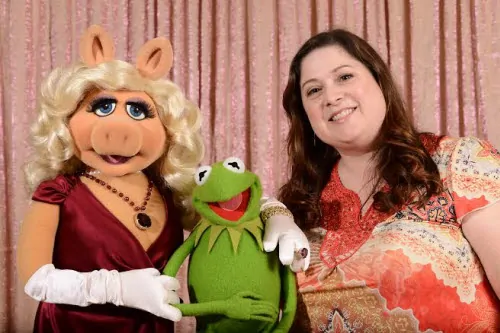 Miss Piggy, Kermit and Dawn Cullo (me). Photo Credit: Araya Diaz
Imagine being in the same room with Kermit and Miss Piggy for an interview. It was a surreal moment for me as I grew up watching the Muppet Show every week. When the interview started everyone had a lot of questions for the trio. I had a list of questions as well, mainly I wanted to know about the long standing feud between Miss Piggy and Joan Rivers. I had also heard that Miss Piggy was going to launch a new line on QVC called
Moi by Miss Piggy
and I wanted to know more about that.
The Interview
There was a lot of banter between the trio which resulted in a lot of laughter from our group. Miss Piggy dreams of marrying Kermit and becoming a Mommy Blogger, at one point she looked at us and said "You are the future me".
Miss Piggy told us that she looks great after all these years by refusing to age, she said that aging isn't for her, it's a waste of time. Instead she drinks coffee and gets her nails done. However, Constantine said that she has a good plastic surgeon.
Miss Piggy talked to us about her outfits she wore in the movie and working with designer Vivienne Westwood. Miss Piggy is especially fond of the wedding gown she wore in the movie and told us that is was made from recycled plastic bottles. She didn't get to keep any of the outfits for the movie, but said that she could call Vivienne to get the wedding dress loaned to her for a day.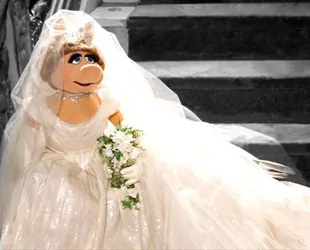 The feud with Joan Rivers was addressed and Miss Piggy feels that she has won. Their latest incident involved Joan being shoved into a cake by Miss Piggy. She explained that Joan wanted some cake and she gave it to her. See E! Online for the latest on their feud and exclusive video of the cake incident. Miss Piggy explained that the feud started a long long long time ago when Joan auditioned for her role on The Muppets show. There is a lot of history between the two of them. Miss Piggy says it is ancient history considering how old Joan is.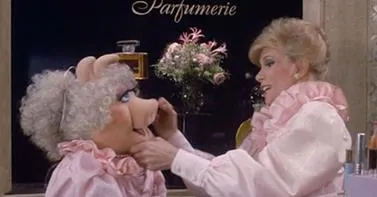 Photo Credit: E! Online
Constantine confessed that he was doing the best acting of his career pretending that he liked "the pig". Miss Piggy explained that she was acting too, but Constantine doesn't believe her. Constantine enjoyed being a villain in the movie, it was the greatest pleasure of his life. He feels that it is easy being mean. He liked blowing things up and stealing things during the movie. He enjoined stealing the movie from "the pig" and "the frog". He wants to steal more things like Modern Family and appear on 60 Minutes. Constantine said that his skills are natural, some things he learned in the Gulag and some skills from the stunt coordinator that was on the set.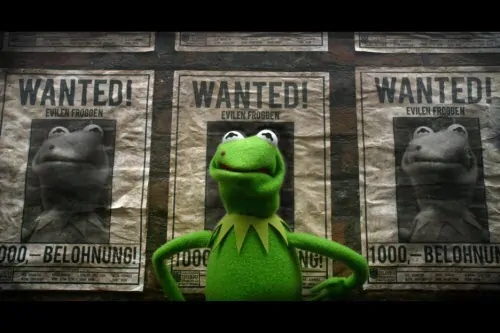 Miss Piggy even did an impression of Fozzie Bear and Animal during the interview. Her favorite song to sing is anything that was written for her. She informed us that "Wrecking Ball" was actually written for her.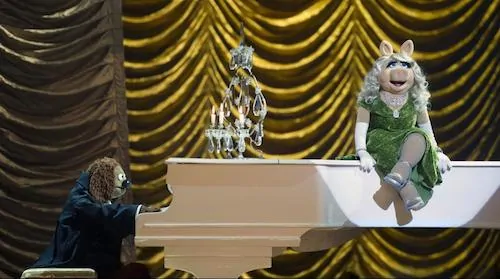 Kermit says that the Muppets are timeless, they live in the real world just like all of us and they try to stay current. The Muppets like to keep up with things that are going on. Kermit said that he hopes we all see an aspect of someone we know or ourselves when we watch the movie.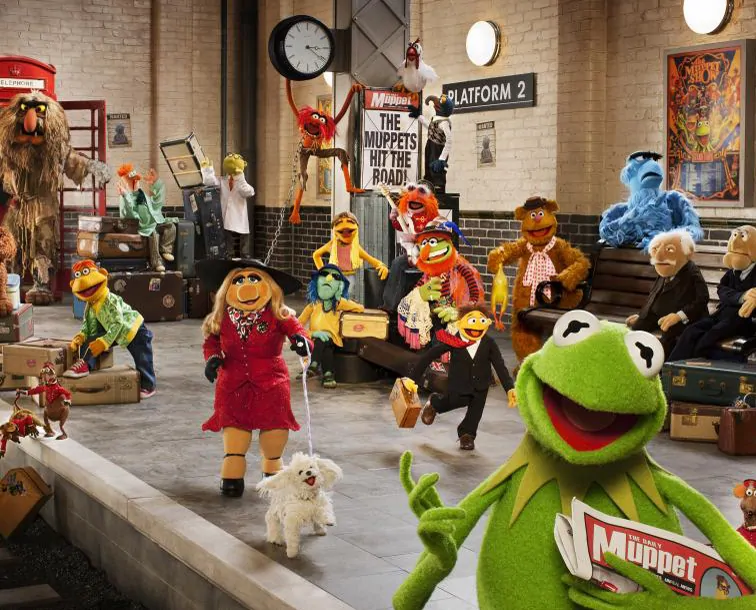 Kermit hopes that you enjoy the movie, they worked really hard on it.
The interview is epic and luckily I got my hands on a recording of it. You can experience all the fun for yourself by listening to the recording. The interview lasts for a little over 15 minutes and is a real hoot.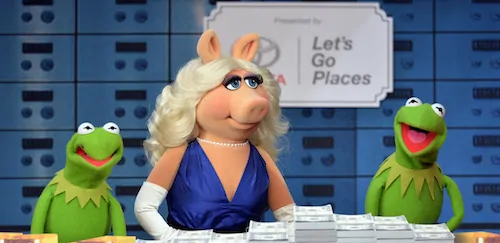 Photo Credit: Disney
About the Movie
Disney's "Muppets Most Wanted" takes the entire Muppets gang on a global tour, selling out grand theaters in some of Europe's most exciting destinations, including Berlin, Madrid, Dublin and London. But mayhem follows the Muppets overseas, as they find themselves unwittingly entangled in an international crime caper headed by Constantine—the World's Number One Criminal and a dead ringer for Kermit the Frog—and his dastardly sidekick Dominic, aka Number Two, portrayed by Ricky Gervais.
The film stars Tina Fey as Nadya, a feisty prison guard, Ty Burrell as Interpol agent Jean Pierre Napoleon and Ricky Gervais as Dominic Badguy (pronounced Bad-gee). Disney's "Muppets Most Wanted" is directed by James Bobin and produced by David Hoberman and Todd Lieberman.
Muppets Most Wanted opens March 21, 2014.
Follow the Muppets Online
Find The Muppets on Facebook and on Twitter. Miss Piggy even has her own Twitter account. They have tons of photos on Instagram and on Pinterest.
See my previous post about walking the red carpet at the Muppets Most Wanted premiere. You can follow along on my Muppets Most Wanted adventure on social media by searching the hastag #MuppetsMostWantedEvent
Written by 5 Minutes for Mom Contributor, Dawn Cullo.