This post may contain affiliate links. Read my disclosure policy here.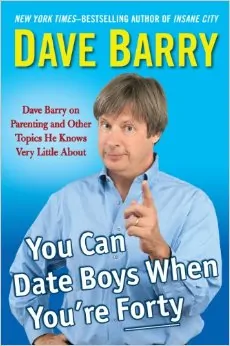 Heeeeee's back! I don't know about you, but I used to love reading Dave Barry's weekly column in my local paper, back in the day when we got the paper. I discovered his books, collections of his columns, and avidly read those too. But in recent years, we've drifted apart. I don't know if he hasn't been writing as much or if it's the lack of a paper in my life, but although every New Year's I google his "Year in Review," other than that I haven't read much new stuff in about 10 years.
So I was thrilled to see he's back, nattering on about parenting and other topics he knows very little about, in as fine a form as ever.
This new collection is great. He takes his 13-year-old daughter to a Justin Bieber concert, he reads 50 Shades of Grey in order to find out what women really want, Mr. Language Person returns to explain grammar to us, Dave, his wife Michelle, and their daughter Sophia tour Israel, and so much more.
Dave's gift is always to be a kind of clueless Everyman who ends each story with something unexpected. He explains that "It turns out that the noise teenage girls make to express rapturous happiness is the same noise they would make if their feet were being gnawed off by badgers." (p 12) His take on 50 Shades of Grey (which, for the record, I have not read) is hysterical while confirming in my mind yet again the many reasons I don't want to read it. "This is the kind of book where, instead of saying things, characters muse them, and they are somehow able to muse them matter-of-factly." (p56)
Dave is 65 now (I know!) and contemplating his own mortality, mostly thanks to the mail he gets, and the commercials for Viagra that insist on coming on during family appropriate television. (Aside: I have been amazed at this myself) He makes a comparison chart  for prescription drugs whose names sound like characters in The Lord of the Rings (p.86).
The title of You Can Date Boys When You're Forty: Dave Barry on Parenting and Other Topics He Knows Very Little About
comes by way of explanation: Sophie is not allowed to date boys til she's 40. "This is the only rule I've laid down for her and I think it's reasonable, based on the known scientific fact that boys–even intelligent, thoughtful, loving, sensitive and caring boys–are scum." (p 87) And he plans to monitor her closely even after she commences dating–even if he's dead. As he explains in the introduction, this book covers a variety of topics, but the publishers rejected many of Barry's title suggestions such as Dave Barry: A Dave Barry Book, by Dave Barry or Dave Barry: You Probably Thought He Was Dead.
You Can Date Boys When You're Forty
explains how to be manly in various situations, how to become a best-selling author, and how to walk backwards off a cliff without sending anything unfortunate down onto the heads of those below. It explains how to avoid run-on sentences, which Barry shows are sentences that continue beyond where they should have stopped. While it may sound like a practical book, its best use is to provide hours of enjoyment to the whole family. Because I don't know about your husband, but mine loves it when I snort, quietly to myself and in a lady-like fashion of course, and then insist on sharing with him a snippet of what I'm reading. But I can tell you that right now, next to me on the couch, my daughter is discovering Dave Barry for the first time and is snorting with laughter herself. And sharing snippets with me.
Hours of fun, this latest book shows that age hasn't slowed Dave Barry down a bit! It's a delightful read, highly recommended.
Win it
Best of all, one of you can win a free copy for yourself. Follow the instruction in the widget to enter. Start off by leaving a comment telling me how old you were when you had your first date.