This post may contain affiliate links. Read my disclosure policy here.
Written by 5 Minutes for Mom contributor Michelle of Honest & Truly! who received FluNada product for review. We are also compensated to write this post, but all opinions remain our own.
There is something nasty floating around Chicago. It's ugly, and it's very, very contagious. I've done my best to keep it away from my family, but it struck me down a couple weeks ago, and I was miserable. What I would have done to have FluNada™ in my possession then. We do our best to use homeopathic remedies whenever possible, but I didn't have a good one on hand for the flu-like symptoms when I needed it.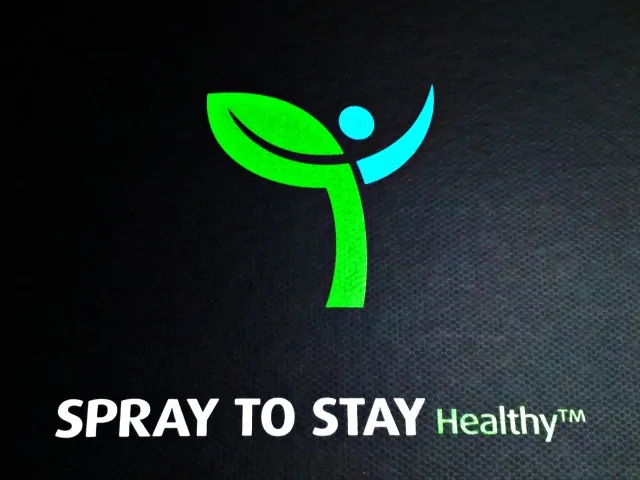 We dose up on homeopathic remedies all season long, but sometimes our Vitamin D and elderberry fail us, and that's when we turn to fixes like FluNada™. This throat and nasal spray is a homeopathic remedy that provides relief from cold and flu-like symptoms, such as nasal congestion, runny or blocked nose, post nasal drip, sore throat, cough, and headache. Since it's safe for children ages 4 and up, I love that this is something I can use for the wee ones when they start their sniffles, too.
It includes eucalyptol, eucalyptus, mentholum, sambuca, gaultheria, all homeopathic ingredients in the Homepathic Pharmacopeia of the United States, the official "bible" of homeopathy. The good news is that it has no known drug interactions, is non-drowsy, and safe. It's been labratory tested against multiple flu strains, coronovirus, rhinovirus, and RSV and found to be effective.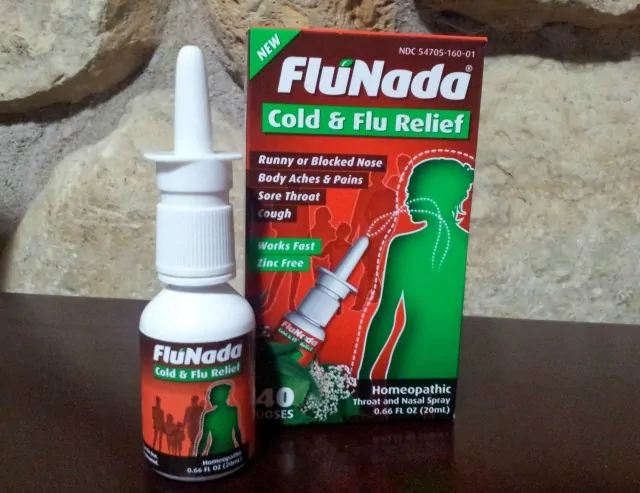 You should take FluNada at the first sign of illness for best results, and the spray is easy to use.  You can use it up to four times per day for up to 5 days, as needed. Simply spray it to the back of your throat three times and swallow, then spray once into each nostril, tilting your head back to let it drip, then swallow. It sounds a little unorthodox, but it fights infection where it's more prone to enter your body – through your mouth and nose.
With the eucalyptus and mentholum, it has a minty herbal taste to it that isn't unpleasant but has a little bite to it. It tingles for a short time, but it doesn't last long, and it isn't unpleasant. The key is to get it all the way back in your throat rather than spraying your tongue, which could be a challenge where small children are involved, but mine have it figured out.
I love the natural ingredients, as I feel better about giving it to my children, especially with all the recalls on medications over the past several years due to unintended side effects. At just $0.45 per dose ($17.99 for a 40 dose bottle), it's an economical solution, too. You can also save $3.00 on your next purchase of FluNada by printing a coupon to use at your local retailer. FluNada is readily available at your local Walgreens or Duane Reade drug store or online at Amazon.
Having a natural and safe solution in my medicine cabinet for the next time someone in my family starts to complain about a tickle in the back of a throat or a sniffle makes me feel far more secure. I've been sick, and I know how miserable this season's cold and flu illnesses are. We don't have time to be sick, and having a solution that stops the replication of 99.9% of the viruses within 5 minutes gives me a safety net that I know I'll need.
Would you like to try it out for yourself? We are giving away 1 box to two lucky winners! Enter in the entry form below.
Michelle may never stop running around Chicagoland, but she always makes time for the important things in her life – her wee ones, cooking, reading, and spending time with friends – and of course, writing. You can see what she's up to on her blog Honest & Truly! or on Twitter where she tweets as @HonestAndTruly.