This post may contain affiliate links. Read my disclosure policy here.
Is it true? Is Miss Piggy getting married during the all new movie "Muppets Most Wanted"? I am unable to confirm if this is true or not, I will need to see the movie to find out. However, I have received this quote from Miss Piggy herself
"Vivienne Westwood is fabulous—just like moi," said Miss Piggy. "When I asked her to design this wedding dress for moi's new movie "Muppets Most Wanted," she was thrilled and I was thrilled. The only one a bit 'iffy' about it was the Frog."

Miss Piggy's wedding gown is made from recycled plastic bottles, accessorised with an ivory tulle veil.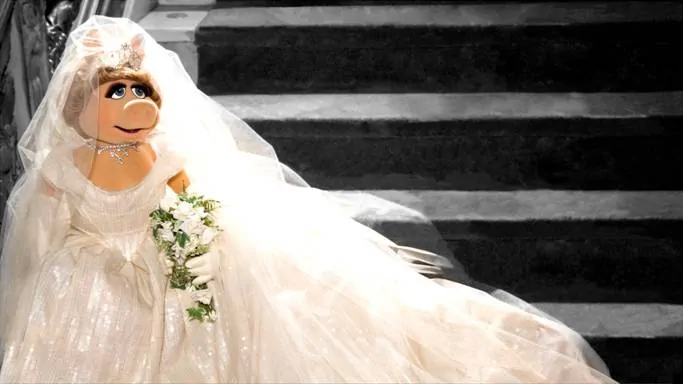 For the film, Miss Piggy also entrusted the designer with additional looks for the film, including a Vivienne Westwood couture Harris Tweed houndstooth check coat and matching beret worn in a scene set at Tower of London. Miss Piggy also chose a long silver hand-embroidered floral lace gown for a very special number in the film. WOW! Miss Piggy is going to look stunning during her new movie, I can't wait to see what she is going to wear on the red carpet.
Will we see Miss Piggy marry her beloved Kermie in "Muppets Most Wanted," and will she finally get to wear her dream Vivienne Westwood gown down the aisle? I guess we will need to see the movie to find out.
Disney's "Muppets Most Wanted" takes the entire Muppets gang on a global tour, selling out grand theaters in some of Europe's most exciting destinations, including Berlin, Madrid, Dublin and London. But mayhem follows the Muppets overseas, as they find themselves unwittingly entangled in an international crime caper headed by Constantine—the World's Number One Criminal and a dead ringer for Kermit the Frog—and his dastardly sidekick Dominic, aka Number Two, portrayed by Ricky Gervais.
5 Minutes for Mom will be at the red carpet premier event in March. You can follow all the updates on Twitter and search the hashtag #MuppetsMostWantedEvent.
For more information about Vivienne Westwood visit www.viviennewestwood.com