This post may contain affiliate links. Read my disclosure policy here.
I am obsessed with the Ninja Ultima™ Blender. Since I opened the box and assembled my Ninja, I cannot stop blending and creating my own recipes — from cookies and bars to smoothies and juices…
The Ninja Ultima Blender is not just a blender — it is a crushing, chopping, blending machine! Imagine if your blender had the power and capabilities of a food processor – if you could crush ice, nuts, vegetables in seconds – and you have the Ninja.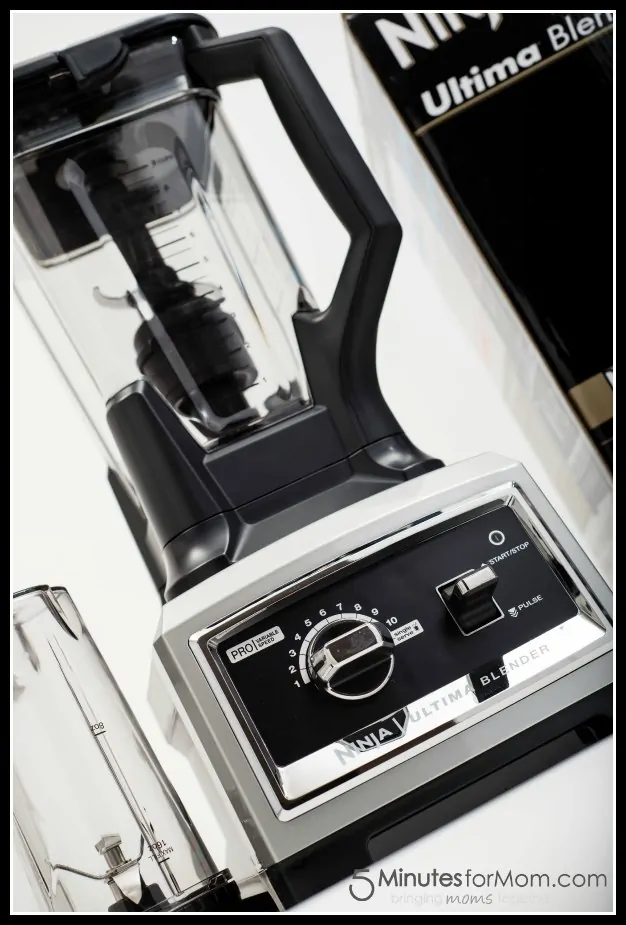 The Ninja Ultima™ Blender is the only blender with Dual Stage Blending Total Crushing™ & High Speed Cyclonic Blades which allows you to easily chop and mix whole fruits, vegetables and ice while the High Speed Cyclonic blades blend ingredients into smooth, delicious consistency.
The Ultima also features PRO Variable Speed which provides a wide range of speeds to blend anything from sauces to smoothies.
One of my favorite features of the Ninja Ultima is the option to blend with single serve cups. If I want to whip up a quick smoothie or juice for myself, I just use one of the single serve cups. I don't even need to use the full pitcher, which it makes it even faster and quicker for clean up too. If you are choosing which Ninja is for you, check out this comparison page. I highly recommend getting a model that comes with the single serve cups.
The price for the Ninja Ultima Blender is incredibly low considering its power and versatility. At 1/3 of the price of a Vitamix, I am so impressed with the Ultima.
The Ninja website also has a wealth of healthy recipe ideas — I am just beginning to make my way through some of them.
My New Favorite Snack
I made these Seeded Snack Bars using the Ninja Ultima Blender and I love them!
These wheat free and nut free bars are quick and easy to make — and delicious and filling too.
The combination of dates, toasted oats, and sunflower butter make them taste like dessert but they are perfect as a snack or quick on the go breakfast. (I toasted my oats in a pan on my stove. Super easy to do.)
I used dark chocolate chips in mine, since I love dark chocolate. And I also found that it works best to chop the dates first before adding the other ingredients.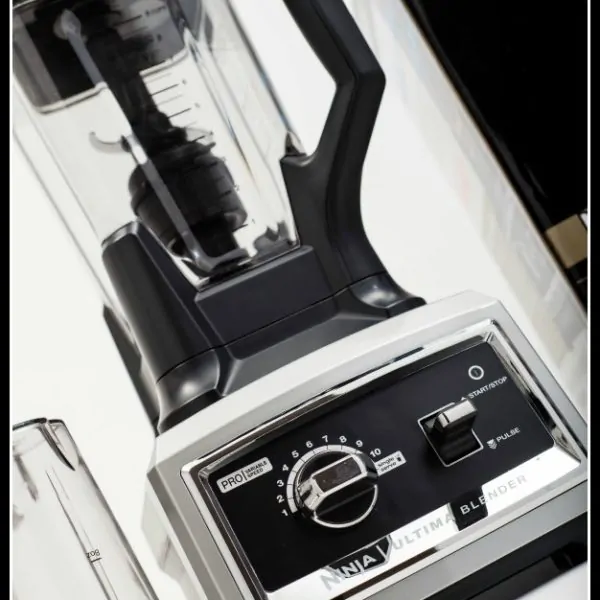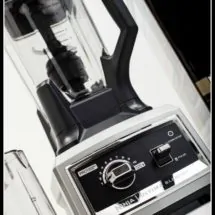 Seeded Snack Bars
If you're looking for an alternative to nuts, look no further than seeds. Unlike nuts, seeds aren't common allergens, so they are better tolerated by people with food sensitivities. Flax and hemp seeds are rich in hard-to-get nutrients, such as omega-3 essential fatty acids, which have anti-inflammatory benefits. Plus, these bars are gluten free!
Print
Pin
Rate
Servings: 16
Ingredients
3/4 cup toasted rolled oats
9 dates
½ cup pumpkin seeds
½ cup sunflower seeds
¼ cup dried cherries
2 tablespoons hemp seeds
1 tablespoon sesame seeds
1 tablespoon flax seeds
3 tablespoons coconut flakes
¼ cup semisweet chocolate chips
3 tablespoons sunflower butter
1 tablespoon maple syrup
2 tablespoons water
½ teaspoon sea salt
Instructions
Combine all ingredients into the Ninja Ultima Pitcher.

Pulse until well combined, scraping down Pitcher as necessary.

Line an 8x8-inch pan with plastic wrap and spread the mixture evenly, pressing down.

Chill for at least one hour, remove from pan and cut into 16 portions.
Your Chance to WIN a Ninja Ultima Blender
Please Note: We received a Ninja Ultima Blender for the purpose of this review and giveaway. As always our opinions are 100% our own.
Written and photographed by Janice, co-founder of 5 Minutes for Mom and owner of Janice Croze Photography.